Abstract
Purpose
Due to population growth, urban water demand is expected to increase significantly, as well as the environmental and economic costs required to supply it. Rainwater harvesting (RWH) systems can play a key role in helping cities meet part of their water demand as an alternative to conventional water abstraction and treatment. This paper presents an environmental and economic analysis of RWH systems providing households with water for laundry purposes in a life cycle thinking perspective.
Methods
Eight urban RWH system scenarios are defined with varying population density and storage tank layout for existing buildings. Storage tank volume required is calculated using Plugrisost software, based on Barcelona rainfall and catchment area, as well as water demand for laundry, since laundry is a fairly constant demand of non-potable water. Life cycle assessment (LCA) and life cycle costing (LCC) methodologies are applied for this study. Environmental impacts are determined using the ReCiPe 2008 (hierarchical, midpoint) and the cumulative energy demand methods. Net present value (NPV), internal rate of return (IRR), and payback (PB) time were used in LCC. Savings from laundry additives due to the difference in water hardness was, for the first time, included in a RWH study.
Results and discussion
LCA results indicate that the best scenario consists of a 24-household building, with the tank spread on the roof providing up to 96% lower impacts than the rest of scenarios considered. These results are mainly due to the absence of pumping energy consumption and greater rainwater collection per cubic meter of built tank capacity. Furthermore, avoided environmental impacts from the reduction in detergent use are more than 20 times greater than the impacts generated by the RWH system. LCC indicates that RWH system in clusters of buildings or home apartments offer up to 16 times higher profits (higher NPV, higher IRR, and lower PB periods) than individual installations.
Conclusions
LCA and LCC present better results for high-density scenarios. Overall, avoided environmental and economic impacts from detergent reduction clearly surpass environmental impacts (in all categories except terrestrial acidification) and economic cost of the RWH system in most cases (except two scenarios). Another important finding is that 80% of the savings are achieved by minimizing detergent and fabric softener by using soft rainwater; and the remaining 20% comes from replacing the use of tap water.
Access options
Buy single article
Instant access to the full article PDF.
USD 39.95
Price excludes VAT (USA)
Tax calculation will be finalised during checkout.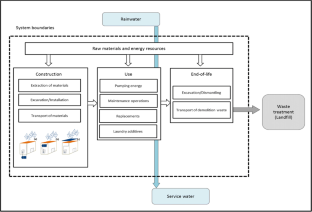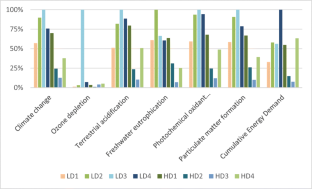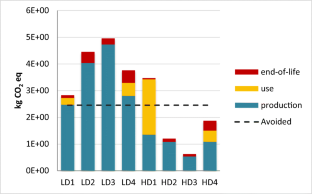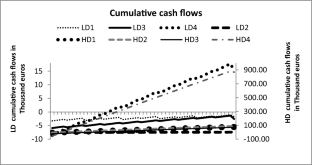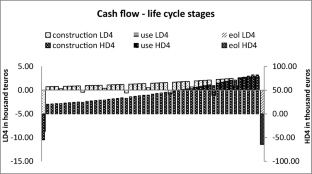 References
Abdulla FA, Al-Shareef AW (2009) Roof rainwater harvesting systems for household water supply in Jordan. Desalination 243:195–207

Aguadelluvia (2012) Aguadelluvia catalog 2012. http://www.aguadelluvia.es/?cookies_ok=1. Accessed 25 Nov 2012

Alavian V, Qaddumi HM, Dickson E, Diez SM, Danilenko AV, Hirji RF, Puz G, Pizarro C, Jacobsen M, Blankespoor B (2009) Water and climate change : understanding the risks and making climate-smart investment decisions (English). Washington, DC: World Bank. http://documents.worldbank.org/curated/en/362051468328208633/pdf/529110NWP0Box31ge0web0large01128110.pdf. Accessed 13 Oct 2018

Anand C, Apul DS (2011) Economic and environmental analysis of standard, high efficiency, rainwater flushed, and composting toilets. J Environ Manag 92:419–428

Angrill S, Farreny R, Gasol CM et al (2011) Environmental analysis of rainwater harvesting infrastructures in diffuse and compact urban models of Mediterranean climate. Int J Life Cycle Assess 17:25–42

Angrill S, Petit-Boix A, Morales-Pinzón T, Josa A, Rieradevall J, Gabarrell X (2017) Urban rainwater runoff quantity and quality—a potential endogenous resource in cities? J Environ Manag 189:14–21

Baeza Group (2012) BAEZA catalog 2012. http://mobile.baeza-sa.com/files/catalogos-pdf/Calorama_13.pdf. Accessed 21 Nov 2012

Banco de España (2013) Interest rate. http://www.bde.es/webbde/es/estadis/infoest/a1901.pdf. Accessed 14 Mar 2013

Barcelona City (2015) Superfície i densitat dels districtes i barris 2015. http://www.bcn.cat/estadistica/catala/dades/anuari/cap01/C0101050.htm

Barrera-Escoda A, Cunillera J (2011) Primer informe sobre la generació d'escenaris climàtics regionalitzats per a Catalunya durant el segle XXI. Barcelona

Blanco A (host) (November 15th, 2013) Telediario - 21 horas - 15/11/13 In Televisión Española (producer), Telediario. Spain. TVE

Campisano A, Modica C (2012) Optimal sizing of storage tanks for domestic rainwater harvesting in Sicily. Resour Conserv Recycl 63:9–16

Campisano A, Butler D, Ward S, Burns MJ, Friedler E, DeBusk K, Fisher-Jeffes LN, Ghisi E, Rahman A, Furumai H, Han M (2017) Urban rainwater harvesting systems: research, implementation and future perspectives. Water Res 115:195–209

Catalonia Meteorological Service (SMC) (2011) Daily time series of rainfall in Barcelona. http://www.meteo.cat/servmet/index.html. Accessed 20 Dec 2011

Cellura M, Ardente F, Longo S (2012) From the LCA of food products to the environmental assessment of protected crops districts: a case-study in the south of Italy. J Environ Manag 93:194–208

Colegio Oficial de Aparejadores (2012) COAATGU Guadalajara. Precio Centro de la Construcción. Gabinete Técnico. Aparejadores Guadalajara, SLU. http://www.preciocentro.com/

Debacker W, Allacker K, Spirinckx C, Geerken T, de Troyer F (2013) Identification of environmental and financial cost efficient heating and ventilation services for a typical residential building in Belgium. J Clean Prod 57:188–199. https://doi.org/10.1016/j.jclepro.2013.05.037

Ebara (2012) Ebara Catalog 2012. http://www.ebara.es/documentacion_ebara.asp. Accessed 20 Nov 2012

European Commission (2007) Legislation. Off J Eur Communities 50:23 ISSN 1725-2555

European Environment Agency (2014) Environmental Terminology Discovery Service. http://glossary.eea.europa.eu/EEAGlossary/W/water_stress. Accessed 2 Jan 2014

Eurostat (2013) Concepts and Definitions Database. http://ec.europa.eu/eurostat/ramon/nomenclatures/index.cfm?TargetUrl=LST_NOM_DTL_GLOSSARY&StrNom=CODED2&StrLanguageCode=EN. Accessed 26 Feb 2013

Eurostat (2014) Eurostat regional yearbook 2013. Luxembourg

Farreny R, Gabarrell X, Rieradevall J (2011) Cost-efficiency of rainwater harvesting strategies in dense Mediterranean neighbourhoods. Resour Conserv Recycl 55:686–694

Food and Agriculture Organization of the United Nations (FAO) (2012) Water scarcity. www.fao.org/nr/water/topics_scarcity.html. Accessed 10 Mar 2012

Fragkou MC, Vicent T, Gabarrell X (2015) An ecosystemic approach for assessing the urban water self-sufficiency potential: lessons from the Mediterranean. Urban Water J:1–13

Frijia S, Guhathakurta S, Williams E (2011) Functional unit, technological dynamics, and scaling properties for the life cycle energy of residences. Environ Sci Technol 46:7

Gabarrell X, Morales-Pinzón T, Rieradevall J et al (2014) Plugrisost: a model for design, economic cost and environmental analysis of rainwater harvesting in urban systems. Water Pract Technol 9:13

Goedkoop M.J., Heijungs R, Huijbregts M., De Schryver A.;Struijs J., Van Zelm R, ReCiPe (2008) A life cycle impact assessment method which comprises harmonised category indicators at the midpoint and the endpoint level; First edition Report I: Characterisation; http://www.lcia-recipe.net. Accessed 6 Jan 2009

Graf Ibérica (2012) Graf Catalog 2012. http://www.grafiberica.com/descargas/catalogos.html. Accessed 25 Nov 2012

Haque MM, Rahman A, Samali B (2016) Evaluation of climate change impacts on rainwater harvesting. J Clean Prod 137:60–69

Hasa (2012) Hasa catalog 2012. http://www.bombashasa.com/descargas. Accessed 20 Nov 2012

Howard G, Bartram J, World Health Organization, United Kingdom. Dept. for International Development & United States of America. University of North Carolina at Chapel Hill. (2010). Vision 2030 : the resilience of water supply and sanitation in the face of climate change: technical report / Guy Howard, Jamie Bartram. Geneva : World Health Organization. http://www.who.int/iris/handle/10665/70462. Accessed 10 Jul 2013

Imteaz MA, Shanableh A, Rahman A, Ahsan A (2011) Optimisation of rainwater tank design from large roofs: a case study in Melbourne, Australia. Resour Conserv Recycl 55:1022–1029

Imteaz MA, Ahsan A, Shanableh A (2013) Reliability analysis of rainwater tanks using daily water balance model: variations within a large city. Resour Conserv Recycl 77:37–43

INSEE National Institute of Statistics and Economic Studies—France (2013) Insee—population. http://www.insee.fr/fr/themes/theme.asp?theme=2

International Monetary Fund (IMF) (2012) World Economic Outlook Database. http://www.imf.org/external/pubs/ft/weo/2012/02/weodata/download.aspx. Accessed 25 Feb 2013

IPCC (2000) Special report emissions scenarios (SRES). Cambridge University Press, Cambridge

ISO (2006) ISO 14040: environmental management—life cycle assessment—principles and framework. International Organization for Standardization, Geneva

ISO (2008) ISO 15686-5—buildings and constructed assets—service-life planning—part 5: life-cycle costing. Nederlands Normalisatie-Institut, Delft

ITeC (2012) Institut de Tecnologia de la Construcció de Catalunya. MetaBase ITeC, Online ITeC database: prices, technical details, companies, certificates, product pictures and environmental data http://www.itec.es/nouBedec.e/bedec.aspx. Accessed 28 Sep 2012

Kisakye V, Akurut M, Van der Bruggen B (2018) Effect of climate change on reliability of rainwater harvesting Systems for Kabarole District, Uganda. Water 10:71

Kossoy A, Guigon P (2012) State and Trends of the Carbon Market 2012. World Bank, Washington, DC. © World Bank. https://openknowledge.worldbank.org/handle/10986/13336 License: CC BY 3.0 IGO. Accessed 21 Mar 2014

Leflaive X (2012) Water Outlook to 2050: the OECD calls for early and strategic action. GWF Discussion Paper 1219. Canberra, Australia

Marín D, Juncà S, Massagué A et al (2012) Impacts on climate change of three drinking water treatment plants supplying Barcelona Metropolitan Area. In: World congress on water, climate and energy. International Water Association, Dublin, pp 1–8

Maxwell S (2010) Historical water price trends. J Am Water Work Assoc 102:24–28

Morales-Pinzón T, Rieradevall J, Gasol CM, Gabarrell X (2015) Modelling for economic cost and environmental analysis of rainwater harvesting systems. J Clean Prod 87:613–626

Peri G, Traverso M, Finkbeiner M, Rizzo G (2012) The cost of green roofs disposal in a life cycle perspective: covering the gap. Energy 48:406–414

Rahman A, Keane J, Imteaz MA (2012) Rainwater harvesting in Greater Sydney: water savings, reliability and economic benefits. Resour Conserv Recycl 61:16–21

Rahman S, Khan MTR, Akib S et al (2014) Sustainability of rainwater harvesting system in terms of water quality. Sci World J 2014:721357

Remosa (2012) Remosa Catalog 2012. http://www.remosa.net/productos/. Accessed 29 Jul 2014

Roebuck RM, Oltean-Dumbrava C, Tait S (2011) Whole life cost performance of domestic rainwater harvesting systems in the United Kingdom. Water Environ J 25:355–365

Saci (2012) Saci catalog 2012. http://www.sacipumps.com/docs.cfm/esp/catalogos.htm. Accessed 21 Nov 2012

Sandin G, Peters GM, Svanström M (2014) Life cycle assessment of construction materials: the influence of assumptions in end-of-life modelling. Int J Life Cycle Assess 19:723–731

Sanjuan-Delmás D, Petit-Boix A, Gasol CM, Farreny R, Villalba G, Suárez-Ojeda ME, Gabarrell X, Josa A, Rieradevall J (2015) Environmental assessment of drinking water transport and distribution network use phase for small to medium-sized municipalities in Spain. J Clean Prod 87:573–582

Saouter E, van Hoof G (2002) A database for the life-cycle assessment of Procter & Gamble laundry detergents. Int J Life Cycle Assess 7:103–114

Solomon, S., D. Qin, M. Manning, Z. Chen, M. Marquis, K.B. Averyt, M. Tignor and H.L. Miller (eds.) (2007) Climate Change 2007 - The Physical Science Basis. Contribution of Working Group I to the Fourth Assessment Report of the Intergovernmental Panel on Climate Change. Cambridge University Press, Cambridge

United Nations Environment Programme (UNEP) (2007) Fourth global environment outlook: environment for development. http://www.unep.org/geo/GEO4/report/GEO-4_Report_Full_en.pdf. Accessed 21 Jan 2012

Vargas-Parra MV, Villalba G, Gabarrell X (2013) Applying exergy analysis to rainwater harvesting systems to assess resource efficiency. Resour Conserv Recycl 72:50–59

Wastewater Gardens International (2010) International water consumption. http://www.wastewatergardens.com/pdf/WWG_InfoSheet_InternationalWaterConsump.pdf. Accessed 30 Jul 2014

Water Quality Research Foundation (WQRF) (2010) Softened water benefits study: energy savings and detergent savings. Lisle: Water Quality Association

Watkins K(2006) Human Development Report 2006 Beyond scarcity: Power, poverty and the global water crisis. New York, USA United Nations Development Programme. http://www.undp.org/content/undp/en/home/librarypage/hdr/human-development-report-2006.html. Accessed 1 Aug 2013

Wong NH, Tay SF, Wong R, Ong CL, Sia A (2003) Life cycle cost analysis of rooftop gardens in Singapore. Build Environ 38:499–509

World Water Assessment Programme (WWAP) (2006) The state of the resource, world water development report 2, chapter 4. http://www.unesco.org/water/wwap/wwdr2/pdf/wwdr2_ch_4.pdf

World Water Assessment Programme (WWAP) (2009) The United Nations world water development report 3: water in a changing world. http://unesdoc.unesco.org/images/0018/001819/181993e.pdf. Accessed 8 Jan 2013

World Water Assessment Programme (WWAP) (2012) The United Nations world water development report 4: managing water under uncertainty and risk. París
Acknowledgements
Special thanks to Michaël Grelaud and Rainer Zahn for their help understanding and calculating climate change precipitation forecasts and to Jeroen Van Den Bergh for his ongoing suggestions and valuable inputs to this research.
Funding
This work is financially supported by the project "Análisis ambiental del aprovechamiento de aguas pluviales" (Spanish Ministry for Science and Innovation, ref. CTM 2010-17365) and the authors express appreciation for the grant awarded to M. Violeta Vargas-Parra by Conacyt (National Council of Science and Technology, decentralized public agency of Mexico's federal government).
Additional information
Responsible editor: Edeltraud Guenther
Electronic supplementary material
About this article
Cite this article
Vargas-Parra, M.V., Rovira-Val, M.R., Gabarrell, X. et al. Rainwater harvesting systems reduce detergent use. Int J Life Cycle Assess 24, 809–823 (2019). https://doi.org/10.1007/s11367-018-1535-8
Received:

Accepted:

Published:

Issue Date:

DOI: https://doi.org/10.1007/s11367-018-1535-8
Keywords
Financial analysis

Hardware

Industrial ecology

Laundry additives

LCA

LCC

Rainwater

Urban planning

Urban sustainability