Abstract
Purpose
An online review was conducted on the availability of life-cycle assessment (LCA), water, and carbon footprinting studies in Sweden. The main purpose was to quantify the number of available studies, which may be of general interest to non-specialists or as background data for LCA practitioners. Additionally, results from the Global Reporting Initiative (GRI) reports were also included.
Methods
The study used online searches conducted in Google and Google Scholar to obtain the publically available reports. Additionally, searches in ScienceDirect, Scopus, and Wiley were performed to obtain other peer-reviewed academic papers. Only English language results were included.
Results and discussion
LCAs and carbon footprinting studies were the most commonly conducted studies (13 LCA and 12 carbon footprinting studies), whereas water footprinting reports, while still largely available, were fewer in number. A number of GRI reports were also available with the majority of studies conducted for the financial services and real estate sectors. Several studies were in the form of university theses, while companies and research organizations conducted the remainder of research projects.
Conclusions
While several life-cycle assessments, carbon, and water footprinting studies were accessible via Google searches, given the interest in LCA in the country, e.g., the LCM2013 conference in Gothenburg and The Swedish Life Cycle Centre, more studies were expected.
Access options
Buy single article
Instant access to the full article PDF.
USD 39.95
Price excludes VAT (USA)
Tax calculation will be finalised during checkout.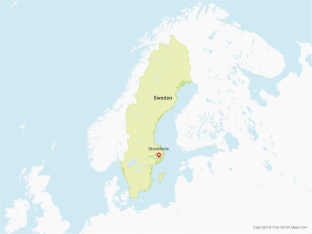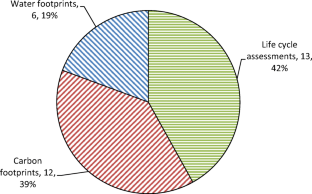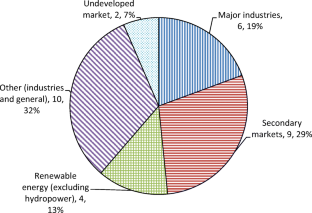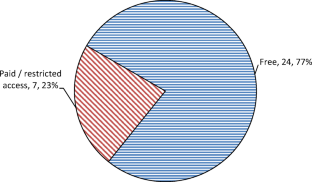 References
Berlin J (2002) Environmental life cycle assessment (LCA) of Swedish semi-hard cheese. Int Dairy J 12:939–953

Bodunrin MO, Burman NW, Croft J, Engelbrecht S, Goga T, Ladenika AO, MacGregor OS, Maepa M, Harding KG (2018) The availability of life-cycle assessment, water footprinting, and carbon footprinting studies in Brazil. Int J Life Cycle Assess 23:1701–1707

Börjesson P, Tufvesson L, Lantz M (2010) Life cycle assessment of biofuels in sweden life cycle assessment of biofuels in Sweden

Burman NW, Croft J, Engelbrecht S et al (2018) Review: life-cycle assessment, water footprinting, and carbon footprinting in Portugal. Int J Life Cycle Assess 8:1693–1700

Chen S (2009) Life cycle assessment of wood pellet. Chalmers University of Technology

CIA (2017) The world factbook — Central Intelligence Agency

Dahlgren L, Stripple H, Oliveira F (2015) Life cycle assessment - Comparative study of virgin fibre based packaging products with competing plastic materials

Danielsson L (2014) Water footprint calculation for truck production Beräkning av vattenfotavtryck vid produktion av lastbilar. Uppsala University

Engelbrecht S, Ladenika AO, MacGregor OS et al (2018) A discussion on the availability of life-cycle assessment studies in New Zealand. Int J Life Cycle Assess 23:1708–1713

Enso S (2011) Case Study on the Water Footprint of Stora Enso's Skoghall Mill

Eriksson E, Ek M, Öman A et al (2011) Water Profile for the Swedish forest industry. IVL Svenska Miljöinstitutet

Eriksson O, Jonsson D, Hillman K (2016) Life cycle assessment of Swedish single malt whisky. J Clean Prod 112:229–237

Finnveden G, Johansson J, Lind P, Moberg Å (2005) Life cycle assessment of energy from solid waste—part 1: general methodology and results. J Clean Prod 13:213–229

Flysjö A, Henriksson M, Cederberg C, Ledgard S, Englund JE (2011) The impact of various parameters on the carbon footprint of milk production in New Zealand and Sweden. Agric Syst 104:459–469

González-García S, Hospido A, Agnemo R, Svensson P, Selling E, Moreira MT, Feijoo G (2011) Environmental life cycle assessment of a Swedish dissolving pulp mill integrated biorefinery. J Ind Ecol 15:568–583

González-García S, Mola-Yudego B, Murphy RJ (2013) Life cycle assessment of potential energy uses for short rotation willow biomass in Sweden. Int J Life Cycle Assess 18:783–795

GRI (2017) SDD - GRI database. In: Glob. Report. Initiat

Holmner Å, Ebi KL, Lazuardi L, Nilsson M (2014) Carbon footprint of telemedicine solutions - unexplored opportunity for reducing carbon emissions in the health sector. PLoS One 9:e105040

Johansson D (2015) Life cycle assessment (LCA) of apples – A comparison between apples produced in Sweden, Italy and Argentina. Swedish University of Agricultural Sciences

Jönsson Å, Tillman A-M, Svensson T (1997) Life cycle assessment of flooring materials: case study. Build Environ 32:245–255

Lan X, Liu Y (2010) Life cycle assessment of lawnmowers -Two mowers' case studies. Chalmers University of Technology

Liptow C, Tillman AM, Janssen M (2015) Life cycle assessment of biomass-based ethylene production in Sweden—is gasification or fermentation the environmentally preferable route? Int J Life Cycle Assess 20:632–644

Maepa M, Bodunrin MO, Burman NW, Croft J, Engelbrecht S, Ladenika AO, MacGregor OS, Harding KG (2017) Review: life cycle assessments in Nigeria, Ghana, and Ivory Coast. Int J Life Cycle Assess 22:1159–1164

Malmodin J, Lundén D (2016) The energy and carbon footprint of the ICT and EaM sector in Sweden 1990–2015 and beyond

Minx J, Scott K, Peters G, Barrett J (2008) An Analysis of Sweden's Carbon Footprint 2 Report for WWF

Netz J, Sundin J (2015) Water Footprint of Concrete. KTH Royal University of Technology

Nilsson A, Brandt N (2013) Consumption-Based Carbon Accounting of Swedish and Stockholm Households

North Sea Foundation (2008) Seas at Risk: Climate and the Oceans - The carbon footprint of fisheries

Röös E (2013) Analysing the Carbon Footprint of Food Insights for Consumer Communication. Swedish University of Agricultural Sciences

Röös E, Karlsson H (2013) Effect of eating seasonal on the carbon footprint of Swedish vegetable consumption. J Clean Prod 59:63–72

Ruuska A (2013) Carbon footprint for building products. VTT

Scholz K (2013) Institutionen för energi och teknik Carbon footprint of retail food wastage a case study of six Swedish retail stores

Sundberg H (2012) The Water Footprint of Winter Wheat in Sweden – Introduction SUMMARY. Lund University

Swedish Energy Agency (2015) Energy in Sweden 2015. 115. doi: https://www.energimyndigheten.se/globalassets/statistik/overgripande-rapporter/energy-in-sweden-till-webben.pdf

Trading Economics (2017) Sweden Exports | 1960–2017 | Data | Chart | Calendar | Forecast | News

von Uthmann H, Lindfors A, Lundgren G (2010) Life-cycle assessment Vattenfall's electricity in Sweden

Wärmark K (2015) Assessment of water footprint for civil construction projects. Uppsala University

Weather And Climate (2017) Climate and average weather in Sweden

Weather Online (2017) Climate of the World: Sweden | weatheronline.co.uk

Zamani B (2016) The challenges of Fast fashion- Environmental and Social LCA of Swedish clothing consumption. Chalmers University of Technology

Zamani B, Svanström M, Peters G, Rydberg T (2015) A carbon footprint of textile recycling: a case study in Sweden. J Ind Ecol 19:676–687
Additional information
Responsible editor: Mary Ann Curran
About this article
Cite this article
Croft, J., Engelbrecht, S., Ladenika, A.O. et al. Review: the availability of life-cycle studies in Sweden. Int J Life Cycle Assess 24, 6–11 (2019). https://doi.org/10.1007/s11367-018-1510-4
Received:

Accepted:

Published:

Issue Date:

DOI: https://doi.org/10.1007/s11367-018-1510-4
Keywords