Abstract
The 67th Discussion Forum on Life Cycle Assessment (LCA), organised by partners of the European project RELIEF (RELIability of product Environmental Footprints), focused on methods for better understanding the impacts of land use linked to agricultural value chains. The first session of the forum was dedicated to methods that help in retrospective tracking of land use within complex supply chains. Novel approaches were presented for the integration of increasingly available spatially located land use data into LCA. The second session focused on forward-looking projections of land use change and included emerging, predictive methods for the modelling of land change. The third session considered impact assessment methods related to the use of land and their application together with land change modelling approaches. Discussions throughout the day centred on opportunities and challenges arising from integrating spatially located land use information into Life Cycle Assessment. Increasing amounts of spatially located land use data are becoming available and this could potentially increase the robustness and specificity of Life Cycle Assessment. However, the use of such data can be computationally expensive and requires the development of skills (i.e. use of geographical information systems (GIS) and model coding) within the LCA community. Land change modelling and ecosystem service modelling are associated with considerable uncertainty which must be communicated appropriately to stakeholders and decision-makers when interpreting results from an LCA. The new approaches were found to challenge aspects of the traditional LCA approach—particularly the division between the life cycle inventory and impact assessment and the assumption of linearity between scale and impacts when deriving characterisation factors. The presentations from the DF-67 are available for download (www.lcaforum.ch), and video recordings can be accessed online (http://www.video.ethz.ch/events/lca/2017/autumn/67th.html).
This is a preview of subscription content, log in to check access.
Access options
Buy single article
Instant access to the full article PDF.
US$ 39.95
Price includes VAT for USA
Subscribe to journal
Immediate online access to all issues from 2019. Subscription will auto renew annually.
US$ 99
This is the net price. Taxes to be calculated in checkout.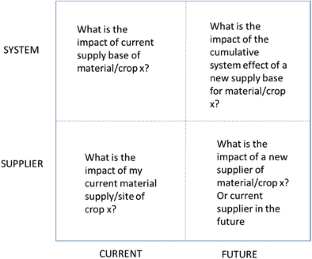 References
Alkemade R, van Oorschot M, Miles L, Nellemann C, Bakkenes M, ten Brink B (2009) GLOBIO3: a framework to investigate options for reducing global terrestrial biodiversity loss. Ecosystems 12(3):374–390. https://doi.org/10.1007/s10021-009-9229-5

Asselen S, Verburg PH (2013) Land cover change or land-use intensification: simulating land system change with a global-scale land change model. Glob Chang Biol 19(12):3648–3667. https://doi.org/10.1111/gcb.12331

Baitz M, Makishi Colodel C, Kupfer T et al (2012) GaBi database & modelling principles 2012. PE International AG, Leinfelden-Echterdingen

Blonk Consultants (2014) Direct land use change assessment tool. Version 2014.1. Blonk Consultants. Gouda. Netherlands

Blonk H, Ponsioen T, Kool A, Marinussen M (2012) The Agri-footprint method. Methodological LCA Framework, Assumptions and Applied Data. Blonk Consultants, Gouda. Netherlands.

Chaplin-Kramer R, Sim S, Hamel P, Bryant B, Noe R, Mueller C, Rigarlsford G, Kulak M, Kowal V, Sharp R, Clavreul J, Price E, Polasky S, Ruckelshaus M, Daily G (2017) Life cycle assessment needs predictive spatial modelling for biodiversity and ecosystem services. Nat Commun 8:15065. https://doi.org/10.1038/ncomms15065

Chaudhary A, Verones F, de Baan L, Hellweg S (2015) Quantifying land use impacts on biodiversity: combining species—area models and vulnerability indicators. Environ Sci Technol 49(16):9987–9995. https://doi.org/10.1021/acs.est.5b02507

Ermolieva T, Havlík P, Ermoliev Y, Mosnier A, Obersteiner M, Leclère D, Khabarov N, Valin H, Reuter W (2016) Integrated management of land use systems under systemic risks and security targets: a stochastic global biosphere management model. J Agric Econ 67(3):584–601. https://doi.org/10.1111/1477-9552.12173

Kanemoto K, Moran D, Hertwich EG (2016) Mapping the carbon footprint of nations. Environ Sci Technol 50(19):10512–10517. https://doi.org/10.1021/acs.est.6b03227

Koch P, Salou T (2013) Agribalyse: rapport méthodologique—version 1.1. ADEME, Angers. France

Moran D, Kanemoto K (2016) Tracing global supply chains to air pollution hotspots. Environ Res Lett 11:94017. https://doi.org/10.1088/1748-9326/11/9/094017

Moran D, Kanemoto K (2017) Identifying species threat hotspots from global supply chains. Nat Ecol Evol 1:23

Nemecek T, Bengoa X, Lansche J, Rossi V, Humbert S (2014) Methodological guidelines for the life cycle inventory of agricultural products. Version 2.0. Quantis and Agroscope. Lausanne and Zurich. Switzerland

Nemecek T, Schnetzer J, Reinhard J (2016) Updated and harmonised greenhouse gas emissions for crop inventories. Int J Life Cycle Assess 21(9):1361–1378. https://doi.org/10.1007/s11367-014-0712-7

Newbold T, Hudson LN, Hill SLL (2015) Global effects of land use on local terrestrial biodiversity. Nature 520(7545):45–50. https://doi.org/10.1038/nature14324

Newbold T, Hudson LN, Arnell AP (2016) Has land use pushed terrestrial biodiversity beyond the planetary boundary? A global assessment. Science 353(6296):288–291. https://doi.org/10.1126/science.aaf2201

Prestele R, Alexander P, Rounsevell MDA (2016) Hotspots of uncertainty in land-use and land-cover change projections: a global-scale model comparison. Glob Chang Biol 22(12):3967–3983. https://doi.org/10.1111/gcb.13337

Schipper A, Bakkenes M, Meijer J et al (2016) GLOBIO 3.5 technical model description. PBL publication number: 2369, The Hague
Acknowledgements
The authors would like to thank all the presenters for their contributions. Special thank you to ETH Zurich, Agroscope and the ecoinvent board for accommodating this Discussion Forum. Thank you to Giles Rigarlsford and Edward Price for reviewing the manuscript.
Funding
The workshop was organised by partners of the RELIEF project and funded within the European Union's Horizon 2020 research and innovation programme under the Marie Sklodowska-Curie grant agreement No. 641459.
Additional information
Responsible editor: Mary Ann Curran
About this article
Cite this article
Kulak, M., Sim, S., King, H. et al. Tracking current and forecasting future land-use impacts of agricultural value chains. 67th Discussion Forum on Life Cycle Assessment, 3rd of November 2017, Zurich, Switzerland. Int J Life Cycle Assess 23, 1520–1524 (2018). https://doi.org/10.1007/s11367-018-1441-0
Received:

Accepted:

Published:

Issue Date: