Abstract
Purpose
This paper compares environmental impacts of the rental business model with the conventional model of manufacturing and selling. The case study examines a home use-water purifier by defining scenarios for operation and maintenance of the conventional and rental business models. Another purpose is to explore the potential improvement for the environmental performance of the rental business model in terms of the resource consumption and climate change.
Methods
The functional unit was supplying hot/cold drinking water for 15 years between 1998 and 2013. Primary data were from a Korean company that manufactures and servicizes water purifier; secondary data were from the Korean national LCI database, literatures, and interviews. Scenarios associated with all life cycle stages of a water purifier including operation and maintenance were based on current sales and rental market. Impact assessments were conducted according to the International Organization for Standardization's 14044, and impact categories considered were global warming and abiotic resource depletion. The key issues and improvement potential of the rental business model were determined with the impact categories of global warming and abiotic resource depletion.
Results and discussion
This study indicates that the rental business model is more environmentally friendly than the conventional model in the impact on global warming while the conventional model shows lower abiotic resource depletion. Product operation was the most significant contributor to the selected environmental impacts for both conventional and rental models. Product maintenance was the second major contributor for the rental business model in terms of abiotic resource depletion. For the conventional model, however, production was a more significant contributor to the selected environmental impacts. The rental model showed approximately 32~37% improvements in the selected environmental impacts by focusing on the environmental education or information to consumers.
Conclusions
This quantitative life cycle assessment can be a tool for service business providers to understand the life cycle environmental impacts of Korean water purifier and explore potential improvement opportunities for sustainability. The lower life cycle impacts of the water purifier-rental business model can be attributed to the following: the preparation of instruction or environmental education regarding the consumer's turning off behavior when the product is not in use, thus lower energy consumption during the use stage and shorter distance traveled for maintenance.
Access options
Buy single article
Instant access to the full article PDF.
USD 39.95
Price includes VAT (USA)
Tax calculation will be finalised during checkout.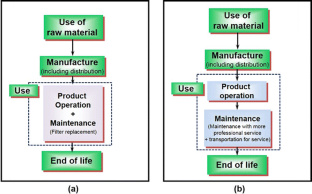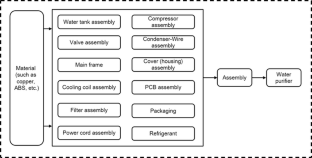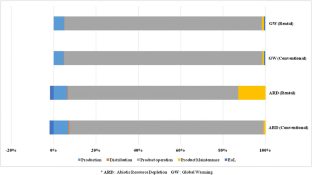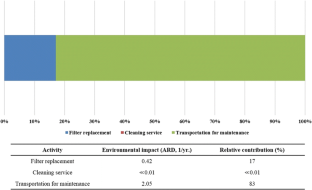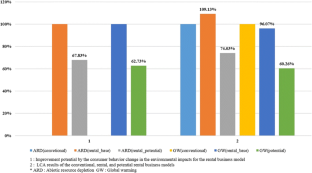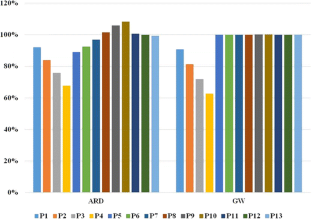 Notes
1.

A definition of PSS varies by authors, but this paper define PSS as a new business paradigm that generates profit by providing customers with integrated solutions of products and services that reduce the environmental impact while generating equal to or greater than those of the conventional business model (Chun and Lee 2013).
References
Alonso-Rasgado T, Thompson G, Elfström B–O (2004) The design of functional (total care) products. J Eng Design 15(6):515–540

Baines TS, Lightfoot HW, Evans S et al (2007) State-of-the-art in product-service systems. JEM 221 (Part B):1543–1552

Chun Y-Y, Lee K–M (2013) Life cycle-based generic business strategies for sustainable business models. J S D 6(8):1–15

Coway Corporation (2015) 2014 Coway Sustainability Report. http://www.cowayir.co.kr/coway/kor/ir_library/annual_report2.asp. Accessed May 2016 (in Korean)

Coway Corporation (1998) The webpage of Coway's Cody service for water purifiers. http://www.coway.co.kr/service/heart/heart_in_purifier.aspx?from=s_100_00112. Accessed May 2013 (in Korean)

Coway Corporation (2013) Coway's CHP-06DL Mannual. Accessed May 2016 (in Korean)

Derwent RG, Jenkin ME, Sandra M et al (1998) Photochemical ozone creation potentials for organic compounds in Northwest Europe calculated with a master chemical mechanism. Atmos Environ 32(14/15):2429–2441

Fair Trade Commission (2009) Consumer dispute settlement regulation. https://www.ftc.go.kr/laws/laws/popRegulation.jsp?lawDivCd=10&firstFtcRelLawNo=209. Accessed May 2016 (in Korean)

Goedkoop MJ, van Halen CJG, te Riele HRM et al. (1999) Product service systems, ecological and economic basics. Report for Dutch Ministries of Environment (VROM) and Economic Affairs (EZ). PRé Consultants, Amersfoort, The Netherlands

Goedkoop MJ, Heijungs R, Huijbregts M, De Schryver A, Struijs J, van Zelm R (2013) ReCiPe 2008, First edition (revised)—a life cycle impact assessment method which comprises harmonized category indicators at the midpoint and the endpoint level http://www.lcia-recipe.net. Accessed June 2016

Halme M, Jasch C, Scharp M (2004) Sustainable homeservices? Toward household services that enhance ecological, social and economic sustainability. Ecol Econ 51(1–2):125–138

Hauschild M, Wenzel H (1998) Acidification as a criterion in the environmental assessment of products in environmental assessment of products. Volume 2 scientific background. Chapman & Hall, London

Heijungs R, Guinée JB, Huppes G et al (1992) Environmental life cycle assessment of products, guide and backgrounds. Centre of Environmental Science, Leiden

Intergovernmental Panel on Climate Change (IPCC) (1996) In: Houghton JT, Filho MLG, Callander BA, Harris N, Kattenberg A, Maskell K (eds) Climate change 1995—the science of climate change. Cambridge University Press, Cambridge

International Organization Standardization (ISO) (2006) ISO 14044: Environment management—life cycle assessment—requirements and guidelines. ISO, Geneva

Jenkin ME, Hayman GD (1999) Photochemical ozone creation potentials for oxygenated volatile organic compounds: sensitivity to variations in kinetic and mechanistic parameters. Atmos Environ 33(8):1275–1293

Khumboon R, Kara S, Manmek S et al. (2009) Environmental impacts of rental service with reconditioning—a case study. In: 1st CIRP Industrial Product-Service Systems (IPS2) Conference, 1–2 April, Cranfield University, UK

Kondoh S, Kurakwa K, Kato S et al. (2006) Analysis of key success factors for eco-business through case studies in Japan. In: 13th CIRP International conference on life cycle engineering, 31 May–2 June, Leuven, Belgium

Korea Consumer Agency (2002) A questionnaire survey report of consumers using a water purifier in Korea. http://www.kca.go.kr/brd/m_46/view.do?seq=1189&itm_seq_1=4. Accessed May 2016 (in Korean)

Korea Energy Economics Institute (2012) Energy consumption survey. The 11th Edition published by the Ministry of Knowledge Economy, Korea

Korea Energy Management Corporation (KEMCO) (2010) The webpage of energy efficiency management & rating system: monthly energy consumption per water purifier model. http://kempia.kemco.or.kr/eStari/view/GDViewPCodeList.aspx?pcode=140. Accessed May 2013 (in Korean)

Korea Environmental Industry & Technology Institute (KEITI) (2009) The webpage of carbon footprint label: water filter (CHP-06DL). http://www.edp.or.kr/carbon/english/list/list_view.asp?page=2&search_colume=&search_text=&idx=99&Gubun=&category=3. Accessed May 2013 (in Korean)

Korea Power Exchange (KPX) (2013) 2013 Analysis report on the penetration rate and power consumption behavior for home appliances. http://epsis.kpx.or.kr/epsis/ekkn/board/n/list.do?bbs_id=100232&cd_upper=100200&left_pos=100232\. Accessed May 2016 (in Korean)

Lindahl M, Sundin E, Öhrwall Rönnbäck A et al. (2009) Integrated Product Service Engineering (IPSE) project—final report. Linköping, Department of Management and Engineering, Linköping University: 48, Sweden

Lindahl M, Sundin E, Sakao T (2014) Environmental and economic benefits of integrated product service offerings quantified with real business cases. J Clean Prod 64(1):288–296

Lingegård S, Lindahl M, Sundin E (2010) Organizational changes in connection with Integrated Product Service Offerings. In: 2nd CIRP Industrial Product-Service Systems (IPS2), 14–15 April, Linköping, Sweden

Meijkamp R (1998) Changing consumer behavior through eco-efficient services: an empirical study of car sharing in the Netherlands. Bus Strateg Environ 7(4):234–244

Ministry of Environment (MOE) (2010) Report of the grade for the automobile emission gas in Korea. MOE, in Korean

Ministry of Land, Infrastructure and Transport (MOLIT) (2012) Motor Vehicle Registration Data. Sejong-si; Motor Vehicles Policy Division; Transport Policy Office. http://www.index.go.kr/egams/stts/jsp/potal/stts/PO_STTS_IdxMain.jsp?idx_cd=1257. Accessed June 2013 (in Korean)

Mont O (2000) Product service-systems, shifting corporate focus from selling products to selling product-services: a new approach to sustainable development. Stockholm, Swedish EPA, AFR-report 288:83

Mont O (2002) Clarifying the concept of product-service system. J Clean Prod 10(3):237–245

Mont O (2004) Product-service systems: panacea or myth?. Ph.D dissertation, Sweden: IIIEE, University of Lund

National Institute of Environmental Research (NIER) & Korea Environment Corporation (KECO) (2008) Designated waste statistics and the current waste treatment in Korea. http://webbook.me.go.kr/DLi-File/pdf/2009/04/187766.pdf. Accessed June 2013 (in Korean)

Oracle (2012) Crystal ball 11.1.2 user's guide, Redwood 43

Seoul Metropolitan Government (2013) A press release report about saving energy on water purifier. http://spp.seoul.go.kr/main/news/news_report.jsp?search_boardId=18212&act=VIEW&boardId=18212. Accessed May 2016 (in Korean)

Sundin E, Lindahl M, Larsson H (2010) Environmental and economic benefits of Industrial Product/Service Systems. In: 2nd CIRP Industrial Product-Service Systems (IPS2), 14–15 April, Linköping, Sweden

The Federation of Korean Industries (FKI) (2011) A feasibility analysis on selected items for a business suitability for small and middle-sized companies. http://www.fkilsc.or.kr/data/view.asp?ctype=pub&idx=5437&page=8&search=&keyword=. Accessed June 2013 (in Korean)

Tomiyama T, Shimomura Y, Watanabe K (2004) A note on service design methodology. In: 16th International Conference on Design Theory and Methodology, 28 September–2 October, Salt Lake City, Utah, USA

Tukker A (2004) Eight types of product-service system: eight ways to sustainability? Experiences from SusProNet. Bus Strateg Environ 13(4):246–260. doi:10.1002/bse.414

Tukker A, Tischner U (2006) Product service as a research field: past, present and future. Reflections from a decade of research. J Clean Prod 14(17):1552–1556

The Freedonia Group (2014) World consumer water treatement systems: industry study with forecasts for 2017 & 2022. http://www.freedoniagroup.com/industry-study/3110/world-consumer-water-treatment-systems.htm. Accessed May 2016

U.S. Energy Information Administration (EIA) International Energy Statistics 2000; 2002. http://www.eia.gov/cfapps/ipdbproject/iedindex3.cfm?tid=5&pid=53&aid=1&cid=regions&syid=2000&eyid=2013&unit=TBPD. Accessed December 2015

U.S. Geological Survey (USGS) (2001) Mineral commodity summaries 2001. US Department of the interior, Reston, VA

U.S. Geological Survey (USGS) (2002) Mineral commodity summaries 2002. US Department of the interior, Reston

United Nations Environment Programme (UNEP) Ozone Secretariat (2000) The Montreal protocol on substances that deplete the ozone layer. United Nations Environment Programme, Nairobi

US Environmental Protection Agency (EPA) (2009) Green servicizing for a more sustainable us economy: key concepts, tools and analyses to inform policy engagement. US EPA, Office of Resource Conservation and Recovery, Washington, D.C 20460, EPA530-R-09-006 http://www.epa.gov/wastes/conserve/tools/stewardship/docs/green-service.pdf

van Halen C, Vezzoli C, Wimmer R (2005) Methodology for product service innovation: how to implement clean, clever and competitive strategies in European industries. Koninklijke van Gorcum, Assen

Von Weizsäcker E, Lovins A, Lovins H (1997) Factor 4-doubling wealth, halving resource use. Earthscan, London
Acknowledgements
This study was conducted as part of the "Development of Green Design Index" project (Grant No. M0000342) and financially supported by a grant from the R&D Program of the Korea Railroad Research Institute, Republic of Korea.
Additional information
Responsible editor: Guido W. Sonnemann
Electronic supplementary material
About this article
Cite this article
Chun, YY., Lee, KM. Environmental impacts of the rental business model compared to the conventional business model: a Korean case of water purifier for home use. Int J Life Cycle Assess 22, 1096–1108 (2017). https://doi.org/10.1007/s11367-016-1227-1
Received:

Accepted:

Published:

Issue Date:
Keywords
Business model

Greenhouse gas (GHG) emissions

Life cycle assessment (LCA)

Product-service system (PSS)

Rental

Water purifier