Abstract
Purpose
The life cycle impact assessment (LCIA) guidance flagship project of the United Nations Environment Programme (UNEP)/Society of Environmental Toxicology and Chemistry (SETAC) Life Cycle Initiative aims at providing global guidance and building scientific consensus on environmental LCIA indicators. This paper presents the progress made since 2013, preliminary results obtained for each impact category and the description of a rice life cycle assessment (LCA) case study designed to test and compare LCIA indicators.
Methods
The effort has been focused in a first stage on impacts of global warming, fine particulate matter emissions, water use and land use, plus cross-cutting issues and LCA-based footprints. The paper reports the process and progress and specific results obtained in the different task forces (TFs). Additionally, a rice LCA case study common to all TF has been developed. Three distinctly different scenarios of producing and cooking rice have been defined and underlined with life cycle inventory data. These LCAs help testing impact category indicators which are being developed and/or selected in the harmonisation process. The rice LCA case study further helps to ensure the practicality of the finally recommended impact category indicators.
Results and discussion
The global warming TF concludes that analysts should explore the sensitivity of LCA results to metrics other than GWP. The particulate matter TF attained initial guidance of how to include health effects from PM2.5 exposures consistently into LCIA. The biodiversity impacts of land use TF suggests to consider complementary metrics besides species richness for assessing biodiversity loss. The water use TF is evaluating two stress-based metrics, AWaRe and an alternative indicator by a stakeholder consultation. The cross-cutting issues TF agreed upon maintaining disability-adjusted life years (DALY) as endpoint unit for the safeguard subject "human health". The footprint TF defined main attributes that should characterise all footprint indicators. "Rice cultivation" and "cooking" stages of the rice LCA case study contribute most to the environmental impacts assessed.
Conclusions
The results of the TF will be documented in white papers and some published in scientific journals. These white papers represent the input for the Pellston workshop™, taking place in Valencia, Spain, from 24 to 29 January 2016, where best practice, harmonised LCIA indicators and an update on the general LCIA framework will be discussed and agreed on. With the diversity in results and the multi-tier supply chains, the rice LCA case study is well suited to test candidate recommended indicators and to ensure their applicability in common LCA case studies.
Access options
Buy single article
Instant access to the full article PDF.
USD 39.95
Price excludes VAT (USA)
Tax calculation will be finalised during checkout.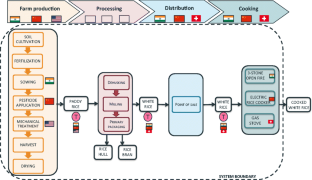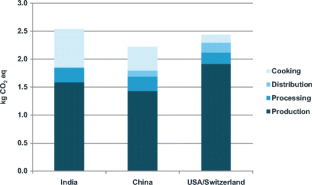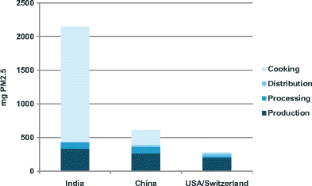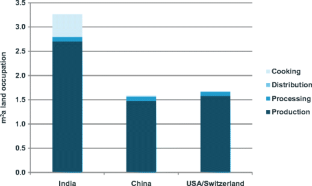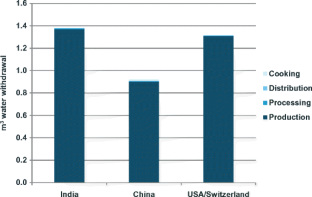 Notes
A Pellston workshop™ is an intensive, week-long event format developed by the Society of Environmental Toxicology and Chemistry (SETAC) in the 1970s. Each of the more than 50 such workshops held to date has adhered to the same structure, format and ground rules. Among these are the requirements that each of the invited participants agrees to engage as an individual expert, not as a representative of an organization, participate for the entire duration, contribute to a major publication derived from the effort and respect the consensus building process employed during the conduct of the workshop. SETAC Pellston workshops™ have produced seminal publications across a variety of environmental science topics and issues, including five such publications on LCA.

The inclusion of GWP values for NTCFs in life cycle impact assessment will substantially increase the uncertainty associated to GWP values. The global warming impact of non-fully mixed pollutants with short lifetime depends on local short-term processes that are very complex to model and vary depending on the location of emission. The IPCC 5th assessment report does not provide consolidated GWP or GTP values for these NTCFs but compiles the findings of various scientific research and publications (see (IPCC 2013, Section 8.7.2.2 and Tab. 8.A.3 to Tab. 8.A.6)).

Personal communication, April 30, 2015
References
Apte JS, Marshall JD, Cohen AJ, Brauer M (2015) Addressing global mortality from ambient PM2. 5. Environ Sci Technol 49:8057–8066

Bayart J-B, Bulle C, Deschênes L, Margni M, Pfister S, Vince F, Koehler A (2010) A framework for assessing off-stream freshwater use in LCA. Int J Life Cycle Assess 15:439–453

Blengini GA, Busto M (2009) The life cycle of rice: LCA of alternative agri-food chain management systems in Vercelli (Italy). J Environ Manag 90:1512–1522

Blonk Agri-footprint BV (2014) Agri-footprint—part 2—description of data—Version 1.0. Gouda

Boulay A-M, Bare J, Benini L, Berger M, Klemmayer I, Lathuilliere M, Loubet P, Manzardo A, Margni M, Núñez M, Ridoutt B, Worbe S, Pfister S (2014) Building consensus on a generic water scarcity indicator for LCA-based water footprint: preliminary results from WULCA. In: LCA Food 2014, San Francisco, 2014

Boulay A-M, Bare J, De Camillis C, Döll P, Gassert F, Gerten D, Humbert S, Inaba A, Itsubo N, Lemoine Y (2015) Consensus building on the development of a stress-based indicator for LCA-based impact assessment of water consumption: outcome of the expert workshops. Int J Life Cycle Assess 20:577–583

Brodt S, Kendall A, Mohammadi Y, Arslan A, Yuan J, Lee I-S, Linquist B (2014) Life cycle greenhouse gas emissions in California rice production. Field Crop Res 169:89–98

Burnett RT, Pope CA, Ezzati M, Olives C, Lim SS, Mehta S, Shin HH, Singh G, Hubbell B, Brauer M (2014) An integrated risk function for estimating the global burden of disease attributable to ambient fine particulate matter exposure. Environ Health Perspect 122:397–403

Caiazzo F, Malina R, Staples MD, Wolfe PJ, Yim SH, Barrett SR (2014) Quantifying the climate impacts of albedo changes due to biofuel production: a comparison with biogeochemical effects. Environ Res Lett 9:024015

Chapagain A, Hoekstra A (2011) The blue, green and grey water footprint of rice from production and consumption perspectives. Ecol Econ 70:749–758

Chaudhary A, Verones F, de Baan L, Hellweg S (2015) Quantifying land use impacts on biodiversity: combining species–area models and vulnerability indicators. Environ Sci Technol 49:9987–9995

Cherubini F, Bright RM, Strømman AH (2013) Global climate impacts of forest bioenergy: what, when and how to measure? Environ Res Lett 8:014049

Coelho CR, Michelsen O (2014) Land use impacts on biodiversity from kiwifruit production in New Zealand assessed with global and national datasets. Int J Life Cycle Assess 19:285–296

De Baan L, Mutel CL, Curran M, Hellweg S, Koellner T (2013) Land use in life cycle assessment: global characterization factors based on regional and global potential species extinction. Environ Sci Technol 47:9281–9290

Fantke P, Jolliet O, Apte JS, Cohen AJ, Evans JS, Hänninen OO, Hurley F, Jantunen MJ, Jerrett M, Levy JI, Loh MM, Marshall JD, Miller BG, Preiss P, Spadaro JV, Tainio M, Tuomisto JT, Weschler CJ, McKone TE (2015) Health effects of fine particulate matter in life cycle impact assessment: conclusions from the Basel guidance workshop. Int J Life Cycle Assess 20:276–288

Fusi A, Bacenetti J, González-García S, Vercesi A, Bocchi S, Fiala M (2014) Environmental profile of paddy rice cultivation with different straw management. Sci Total Environ 494:119–128

Guinée JB, Gorrée M, Heijungs R, Huppes G, Kleijn R, de Koning A, van Oers L, Wegener Sleeswijk A, Suh S, Udo de Haes HA, de Bruijn H, van Duin R, Huijbregts MAJ, Lindeijer E, Roorda AAH, Weidema BP (eds) (2001) Life cycle assessment; An operational guide to the ISO standards; Part 3: scientific background. Ministry of Housing, Spatial Planning and Environment (VROM) and Centre of Environmental Science (CML), Den Haag and Leiden, The Netherlands

Hodas N, Loh M, Shin H, Li DS, Bennett D, McKone TEM, Jolliet O, Weschler CJ, Jantunen M, Lioy P, Fantke P (2015) Indoor inhalation intake fractions of fine particulate matter: review of influencing factors. Indoor Air. doi:10.1111/ina.12268

Hokazono S, Hayashi K (2012) Variability in environmental impacts during conversion from conventional to organic farming: a comparison among three rice production systems in Japan. J Clean Prod 28:101–112

IPCC (2013) The IPCC Fifth Assessment Report—climate change 2013: the physical science basis. Working Group I, IPCC Secretariat, Geneva

Jolliet O, Frischknecht R, Bare J, Boulay A-M, Bulle C, Fantke P, Gheewalaf S, Hauschild M, Itsubo N, Margni M, McKone T, Milà i Canals L, Postuma L, Prado-Lopez V, Ridoutt B, Sonnemann G, Rosenbaum RK, Seager T, Struijs J, van Zelm R, Vigon B and Weisbrod A (2014) Global guidance on environmental life cycle impact assessment indicators: Findings of the Glasgow scoping workshop. Int J Life Cycle Assess 19:962–967. doi:10.1007/s11367-014-0703-8

Jungbluth N (1997) Life-cycle-assessment for stoves and ovens. Eidgenössische Technische Hochschule, Zürich

Motoshita M, Ono Y, Pfister S, Boulay A-M, Berger M, Nansai K, Tahara K, Itsubo N, Inaba A (2014) Consistent characterisation factors at midpoint and endpoint relevant to agricultural water scarcity arising from freshwater consumption. Int J Life Cycle Assess. doi:10.1007/s11367-014-0811-5

Myhre G, Shindell D, Bréon F, Collins W, Fuglestvedt J, Huang J, Koch D, Lamarque J, Lee D, Mendoza B (2013) Anthropogenic and natural radiative forcing, chapter 8 in climate change 2013: the physical science basis. Contribution of Working Group I to the Fifth Assessment Report of the Intergovernmental Panel on Climate Change. IPCC Secretariat, Geneva

Nemecek T, Heil A, Huguenin O, Meier S, Erzinger S, Blaser S, Dux D, Zimmermann A (2007) Life cycle inventories of agricultural production systems. Agroscope FAL Reckenholz and FAT Taenikon. Swiss Centre for Life Cycle Inventories, Dübendorf

OECD/FAO (2014) OECD-FAO Agricultural Outlook 2014. doi:10.1787/agr_outlook-2014-en

Pfister S, Ridoutt BG (2013) Water footprint: pitfalls on common ground. Environ Sci Technol 48:4–4

Ridoutt BG, Huang J (2012) Environmental relevance—the key to understanding water footprints. Proc Natl Acad Sci U S A 109:E1424–E1424

Ridoutt BG, Sanguansri P, Nolan M, Marks N (2012) Meat consumption and water scarcity: beware of generalizations. J Clean Prod 28:127–133

Ridoutt B, Fantke P, Pfister S, Bare J, Boulay A-M, Cherubini F, Frischknecht R, Hauschild M, Hellweg S, Henderson A, Jolliet O, Levasseur A, Margni M, McKone T, Michelsen O, Milà i Canals L, Page G, Pant R, Raugei M, Sala S, Saouter E, Verones F, Wiedmann T (2015a) Area of concern: a new paradigm in life cycle assessment for the development of footprint metrics. Int J Life Cycle Assess. doi:10.1007/s11367-015-1011-7

Ridoutt B, Fantke P, Pfister S, Bare J, Boulay A-M, Cherubini F, Frischknecht R, Hauschild M, Hellweg S, Henderson A, Jolliet O, Levasseur A, Margni M, McKone T, Michelsen O, Milà i Canals L, Page G, Pant R, Raugei M, Sala S, Saouter E, Verones F, Wiedmann T (2015b) Making sense of the minefield of footprint indicators. Environ Sci Technol 49:2601–2603

Shantappa D, Tirupataiah K, Yella RK, Sandhyrani K, Mahendra KR, Malamasuri K (2014) Yield and water productivity of rice under different cultivation practices and irrigation regimes. Irrigated Water Resources Management (IWRM-2014)

Shine KP (2009) The global warming potential—the need for an interdisciplinary retrial. Climate Change 96:467–472

Singh P, Gundimeda H, Stucki M (2014) Environmental footprint of cooking fuels: a life cycle assessment of ten fuel sources used in Indian households. Int J Life Cycle Assess 19:1036–1048

Teixeira RF, de Souza DM, Curran MP, Antón A, Michelsen O, Milà i Canals L (2015) Towards consensus on land use impacts on biodiversity in LCA: UNEP/SETAC Life Cycle Initiative preliminary recommendations based on expert contributions. J Clean Prod 112:4283–4287

TERI (2013) TERI energy data directory & yearbook 2012/13. TERI (The Energy and Resource Institute), New Delhi
Acknowledgments
The authors acknowledge the contributions from the participants of the Basel, Barcelona and Adelaide workshops and of the different TFs, as well as the UNEP/SETAC Life Cycle Initiative for funding this activity.
Disclaimer
The designations employed and the presentation of the material in this publication do not imply the expression of any opinion whatsoever on the part of the UNEP/SETAC Life Cycle Initiative concerning the legal status of any country, territory, city or area or of its authorities or concerning delimitation of its frontiers or boundaries. Moreover, the views expressed do not necessarily represent the decision or the stated policy of the UNEP/SETAC Life Cycle Initiative, nor does citing of trade names or commercial processes constitute endorsement.
Additional information
Responsible editor: Mary Ann Curran
Electronic supplementary material
Below is the link to the electronic supplementary material.
About this article
Cite this article
Frischknecht, R., Fantke, P., Tschümperlin, L. et al. Global guidance on environmental life cycle impact assessment indicators: progress and case study. Int J Life Cycle Assess 21, 429–442 (2016). https://doi.org/10.1007/s11367-015-1025-1
Received:

Accepted:

Published:

Issue Date:

DOI: https://doi.org/10.1007/s11367-015-1025-1
Keywords