Abstract
Purpose
In the process of developing Product Environmental Footprint Category Rules (PEFCR)—currently tested in various pilots in the Single Market for Green Products initiative of the European Commission—the definition of product category benchmarks and environmental performance classes is a crucial element of each PEFCR. Whilst life cycle assessment (LCA) methodology developed over the last 20 years can be used for many other topics to be tackled in the pilots, there is a clear lack of methodology for the determination of benchmarks and environmental performance classes. In this article, hence, we address this gap and develop a procedure for benchmarking and environmental performance classes in LCA.
Methods
To do this, given requirements and definitions of the PEF guidelines on both subjects are taken as a basis and are refined by using common LCA techniques like hot spot and sensitivity analyses. The specific steps of the procedure are applied systematically in a case study using sports shoes as an example.
Results and discussion
The resulting procedure involves the definition of a scenario vector, which is composed of relevant life cycle phases as well as the lifetime of the product (i.e. sports shoes) as variables. On the basis of the hot spot and sensitivity analyses, these variables are quantified, first, to generate the benchmark and, second, to determine the environmental performance classes around the benchmark for each considered impact category individually. In addition, the influence of data uncertainty on the class distribution is assessed with the help of the Monte Carlo simulation.
Conclusions
The results of the application in the case study demonstrate the high impact of the product's lifetime on the final environmental performance classes, and the importance of data quality. Limitations are identified regarding data availability and the harmonisation of the classes to potentially create a PEF label. A debate is induced on the validity of such a label when considering the fact that the characterisation methods and factors proposed in the PEF guidelines may not be complete or accurate enough.
This is a preview of subscription content, log in to check access.
Access options
Buy single article
Instant access to the full article PDF.
US$ 39.95
Price includes VAT for USA
Subscribe to journal
Immediate online access to all issues from 2019. Subscription will auto renew annually.
US$ 99
This is the net price. Taxes to be calculated in checkout.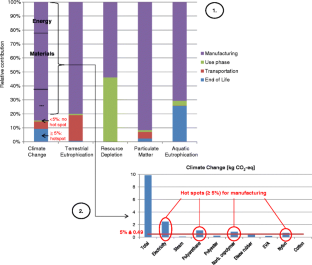 Notes
1.

For the case of sports shoes: There is no BREF document for apparel products available, but only for the materials used (see also Joint Research Centre 2015).
References
Centre for the Promotion of Imports from developing countries – CBI (2010) The EU market for sports footwear. CBI Market Information Database

Cheah L, Duque Ciceri N, Olivetti E et al (2013) Manufacturing-focused emissions reductions in footwear production. J Clean Prod 44:18–29

European Commission (2010a) Commission Delegated Regulation (EU) No 1060/2010 of 28 September 2010 supplementing Directive 2010/30/EU of the European Parliament and of the Council with regard to energy labelling of household refrigerating appliances. Off J Eur Union

European Commission (2010b) Regulation (EC) No 66/2010 of the European Parliament and of the Council of 25 November 2009 on the EU Ecolabel. Off J Eur Union

European Commission (2013) Commission Recommendation (2013/179/EU) of 9 April 2013 on the use of common methods to measure and communicate the life cycle environmental performance of products and organisations—annex II: product environmental footprint (PEF) guide. Off J Eur Union 54

European Commission (2014a) Single market for green products initiative. http://ec.europa.eu/environment/eussd/smgp/index.htm. Accessed 02 June 2014

European Commission (2014b) Environmental Footprint Pilot Guidance document. Guidance for the implementation of the EU Product Environmental Footprint (PEF) during the Environmental Footprint (EF) pilot phase, v. 4.0, May 2014

European Commission – Joint Research Centre (2011) International reference life cycle data system (ILCD) handbook—recommendations for life cycle impact assessment in the European context, 1st edn. Publications Office of the European Union, Luxemburg

Finkbeiner M (2014) Product environmental footprint—breakthrough or breakdown for policy implementation of life cycle assessment? Int J Life Cycle Assess 19(2):266–271

James K, Galatola M (2015) Screening and hotspot analysis: procedure to identify the hotspots and the most relevant contributions (in terms of, impact categories, life cycle stages, processes and flows). Version 4.0. European Commission

Joint Research Centre (2015) Reference documents. http://eippcb.jrc.ec.europa.eu/reference. Accessed June 02 2014

Kowalska M, Cordella M, Wolf O et al (2013) Background report—revision of Ecolabel for the product group "footwear". Joint Research Centre, European Commission, Brussels

Lehmann A, Bach V, Berger M et al (2014) Applying PEF in practice—challenges related to the development of PEFCRs and benchmarks. SETAC Europe 24th Annual Meeting, 15 May 2014, Basel, Switzerland

Lehmann A, Bach V, Finkbeiner M (2015) Product environmental footprint in policy and market decisions: applicability and impact assessment. Integr Environ Assess Manag 11(3):417–424

Lo SC, Ma H, Lo SL (2005) Quantifying and reducing uncertainty in life cycle assessment using the Bayesian Monte Carlo method. Sci Total Environ 340:23–33

Nissinen A, Grönroos J, Heiskanen E et al (2007) Developing benchmarks for consumer-oriented life cycle assessment-based environmental information on products, services and consumption patterns. J Clean Prod 15:539–549

Sustainable Apparel Coalition – SAC (2014) Non-leather shoes: input to steering committee approval. Prepared by members of the SAC and PE INTERNATIONAL. Accessible from the Environmental Footprint wiki. Accessed 15 June 2014
Additional information
Sarah Gül and Michael Spielmann were formerly affiliated with thinkstep (former PE INTERNATIONAL).
Responsible editor: Walter Klöpffer
About this article
Cite this article
Gül, S., Spielmann, M., Lehmann, A. et al. Benchmarking and environmental performance classes in life cycle assessment—development of a procedure for non-leather shoes in the context of the Product Environmental Footprint. Int J Life Cycle Assess 20, 1640–1648 (2015). https://doi.org/10.1007/s11367-015-0975-7
Received:

Accepted:

Published:

Issue Date:
Keywords
Benchmarking

Consumer goods

Data uncertainty

Environmental performance classes

Hot spot analysis

LCA

Life cycle assessment

PEF

PEFCR

Product Environmental Footprint

Product Environmental Footprint Category Rules

Sensitivity analysis

Sports shoes