Abstract
Purpose
India is one of the fastest growing economies in the world. Energy is a critical input for socio-economic development, and its strategy aims at efficiency and security. To provide access to environmentally friendly energy resources, the national biofuel policy targets cellulosic feedstocks which necessitates analysing feedstocks using holistic approaches. This paper studies the life cycle impact of ethanol production from cellulosic agricultural feedstocks.
Methods
The difficulty of finding appropriate life cycle inventory data for the analysed biofuels in the Indian context is overcome by combining data from diverse sources such as journal articles, government reports and personal contact with farmers. Variation in these numbers across studies is captured by means of error bars. These data are used to calculate environmental sustainability metrics such as energy return on investment, life cycle greenhouse gas emissions and life cycle water use for each fuel. Biomass sources considered in this work include cellulose from wheat stalk, rice husk, sorghum stalk, sugarcane bagasse and cotton stalk. These results are compared with ethanol from molasses and sugarcane juice, which are the conventional approaches.
Results and discussion
Results of the analysis indicate that sorghum stalk is most attractive due to its high energy return on investment, low greenhouse gas emissions, and low water and land use. Ethanol from rice husk has relatively high water use and greenhouse gas emissions, but these are within the margin of variability of other fuels. Despite the attractiveness of sorghum stalk from the current analysis, it is not likely that this will become a major feedstock for cellulosic ethanol in India. This is because farmers value sorghum as an animal feed and may not be willing to convert it into ethanol.
Conclusions
This is the first life cycle study of Indian cellulosic biofuel pathways. The inventory data collected in this work is a novel contribution that should be useful for other studies. Findings from the analysis can help guide the decision-making process in the biofuel sector for India.
Access options
Buy single article
Instant access to the full article PDF.
US$ 39.95
Tax calculation will be finalised during checkout.
Subscribe to journal
Immediate online access to all issues from 2019. Subscription will auto renew annually.
US$ 79
Tax calculation will be finalised during checkout.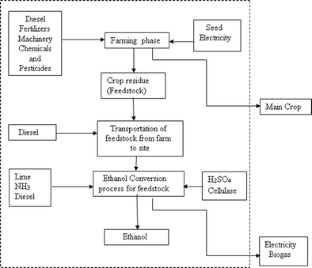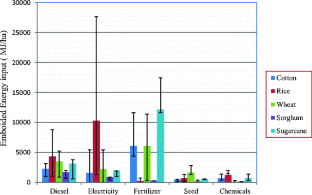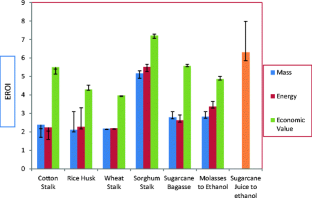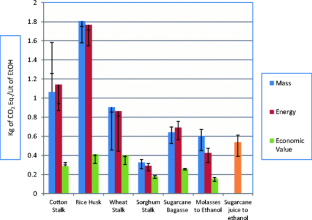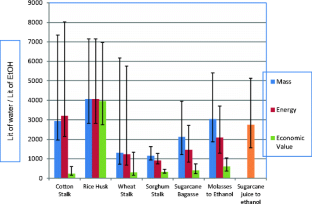 References
Cai X, Zhang X, Wang D (2011) Land availability for biofuel production. Environ Sci Technol 45(1):334–339

Cherubini F (2010) GHG balances of bioenergy systems – overview of key steps in the production chain and methodological concerns. Renew Energy 35:1565–1573

Confederation of Indian Industry (CII), (2010) Report on Estimation of energy and carbon balance of biofuels in India

Dominguez-Faus R, Powers SE, Burken JG, Alvarez PJ (2009) The water footprint of biofuels: a drink or drive issue? Environ Sci Technol 43:3005–3010

Elena GC, Esther V (2010) From water to energy: the virtual water content and water footprint of biofuel consumption in Spain. Energy Policy 38:1345–1352

Felix ER (2006) Integrated energy, environmental and financial analysis of biofuel production from switchgrass, hybrid poplar, soybean and casterbean. M.S. University of Maryland, College Park

Fingerman KR, Torn MS, O'Hare MH, Kammen DM (2010) Accounting for the water impacts of ethanol production. Environ Res Lett 5:1–7

Gerbens-Leenes W, Hoekstra AY, Van der Meer TH (2009) The water footprint of bioenergy. Proc Natl Acad Sci 106(25):10219–10223

Gopalakrishnan G, Negri MC, Wang M, Wu M, Snyder SW, Lafreniere L (2009) Biofuels, land, and water: a systems approach to sustainability. Environ Sci Technol 43(15):6094–6100

Guinée JB, Heijungs R, Voet EA (2009) Greenhouse gas indicator for bioenergy: some theoretical issues with practical implications. Int J Life Cycle Assess 14:328–339

Hall CAS, Balogh S, Murphy DJR (2009) What is the minimum EROI that a sustainable society must have? Energies 2:25–47

Hammerschlag R (2006) Ethanol's energy return on investment: a survey of the literature 1990−present. Environ Sci Technol 40:1744–1750

Harvey M, Pilgrim S (2011) The new competition for land: food, energy, and climate change. Food Policy 36:S40–S51

http://www.indiastat.com/default.aspx (accessed on Feb 10, 2012)

Kadam KL (2002) Environmental benefits on a life cycle basis of using bagasse-derived ethanol as a gasoline oxygenate in India. Energy Policy 30(5):371–384

Kalogo Y, Habibi S (2007) Policy analysis environmental implications of municipal solid waste-derived ethanol. Environ Sci Technol 41(1):35–41

Khatiwada D, Silveira S (2011) Greenhouse gas balances of molasses based ethanol in Nepal. J Clean Prod 19:1471–1485

Kim S, Dale BE (2005) Life cycle assessment of various cropping systems utilized for producing biofuels: bioethanol and biodiesel. Biomass Bioenerg 29:426–439

Kumar B, Hiremath RB, Balachandra P, Ravindranath NH (2009) Bioenergy and food security: Indian context. Energ Sustain Dev 13:265–270

Luo L, Voet E, Huppes G, Udo de Haes HA (2009) Allocation issues in LCA methodology: a case study of corn stover-based fuel ethanol. Int J Life Cycle Assess 14(6):529–539

Macedo IC, Seabra JEA, Silva JAR (2008) Greenhouse gases emissions in the production and use of ethanol from sugarcane in Brazil: the 2005/2006 averages and a prediction for 2020. Biomass Bioenerg 32(7):582–595

Maclean S, Maclean HL (2010) Characterizing model uncertainties in the life cycle of lignocellulose-based ethanol fuels. Environ Sci Technol 44:8773–8780

MacLean HL, Spatari S (2009) The contribution of enzymes and process chemicals to the life cycle of ethanol. Environ Res Lett 4(1):1–10

Mandade P, Bakshi BR, Yadav GD (2015) Ethanol from Indian agro-industrial lignocellulosic biomass—an energy evaluation. Technical Report

Martín M, Ahmetovi E, Grossmann IE (2011) Optimization of water consumption in second generation bioethanol plants. Ind Eng Chem Res 50:3705–3721

Mishra GS, Yeh S (2011) Life cycle water consumption and withdrawal requirements of ethanol from corn grain and residues. Environ Sci Technol 454:563–4509

Moreira MT, Feijoo G (2010) Comparative environmental performance of lignocellulosic ethanol from different feedstocks. Renew Sustain Energy Rev 7(1):2077–2085

Mubako S, Lant C (2008) Water resource requirements of corn-based ethanol. Water Resour Res 44(8):1–5

National Policy on Biofuels (2009) Govt. of India, Ministry of New and Renewable Energy, pp 1–18

Nguyen TLT, Gheewala SH (2008) Life cycle assessment of fuel ethanol from cane molasses in Thailand. Int J Life Cycle Assess 13:301–311

Oliveira MEDD, Vaughan BE, Rykyel EJ Jr (2005) Ethanol as fuel: energy, carbon dioxide balances, and ecological footprint. Bioscience 55(7):593–602

Phalan B (2009) The social and environmental impacts of biofuels in Asia: an overview. Appl Energy 86:S21–S29

Pimentel D, Patzek TW (2005) Ethanol production using corn, switchgrass, and wood; biodiesel production using soybean and sunflower. Nat Resour Res 14(1):65–76

Powers SE, Burken JG, Alvarez PJ (2009) The water footprint of biofuels: a drink or drive issue? Environ Sci Technol 43:3005–3010

Purohit P, Tripathi AK, Kandpal TC (2006) Energetics of coal substitution by briquettes of agricultural residues. Energy 31:1321–1331

Searchinger T, Heimlich R, Houghton RA, Dong F, Elobeid A, Fabiosa J, Tokgoz S, Hayes D, Yu TH (2008) Use of U.S. croplands for biofuels increases greenhouse gases through emissions from land-use change. Science 319:1238–1240

Stoeglehner G, Narodoslawsky M (2009) How sustainable are biofuels? Answers and further questions arising from an ecological footprint perspective. Bioresour Technol 100(16):3825–3830

Sukharam RK, Pandey A (2009) Bioethanol - Ethanol from Biomass. In: Biswas S, Basak PR, Kaushik N (eds) Bioprocesses and bioproducts: emerging trends. Report Technology Information Forecasting & Assessment Council (TIFAC), DST, New Delhi, pp 11–36

Sukumaran RK, Surender VJ, Sindhu R, Binod P, Janu KU, Sajna KV, Rajasree KP, Pandey A (2010) Lignocellulosic ethanol in India: prospects, challenges and feedstock availability. Bioresour Technol 101(13):4826–4833

Tsiropoulos I, Faaij APC, Seabra JEA, Lundquist L, Schenker U, Briois JF, Patel MK (2014) Life cycle assessment of sugarcane ethanol production in India in comparison to Brazil. Int J Life Cycle Assess 19(5):1049–1067

Yang H, Zhou Y, Liu J (2009) Land and water requirements of biofuel and implications for food supply and the environment in China. Energy Policy 37(5):1876–1885
Additional information
Responsible editor: Shabbir Gheewala
Electronic supplementary material
Below is the link to the electronic supplementary material.
About this article
Cite this article
Mandade, P., Bakshi, B.R. & Yadav, G.D. Ethanol from Indian agro-industrial lignocellulosic biomass—a life cycle evaluation of energy, greenhouse gases, land and water. Int J Life Cycle Assess 20, 1649–1658 (2015). https://doi.org/10.1007/s11367-015-0966-8
Received:

Accepted:

Published:

Issue Date:
Keywords
Developing countries

Energy return on investment

Ethanol

India

Lignocellulose