LCA Compendium—The Complete World of Life Cycle Assessment (book series) Series editors: Walter Klöpffer and Mary Ann Curran
Life Cycle Impact Assessment Editors: Michael Z. Hauschild and Mark A. J. Huijbregts
Introduction
The 'LCA compendium—The complete world of Life Cycle Assessment' is a book-series aiming to be a comprehensive and authoritative publication disclosing the wealth of information about life cycle assessment (LCA) published in scientific journals, reports, books and other media. The first volume in this series, i.e. 'Backgrounds and future prospects in Life Cycle Assessment', was published in March 2014 (Klöpffer
2014
). A review of this first volume can be read in Hunkeler (
2014
). Recently, a second volume has been published, namely the volume 'Life cycle impact assessment' (Hauschild and Huijbregts
2015
). A third volume, i.e. 'Life Cycle Management' (Sonnemann and Margni
in progress
), will be published later this year. This book review deals with the second volume 'Life cycle impact assessment'.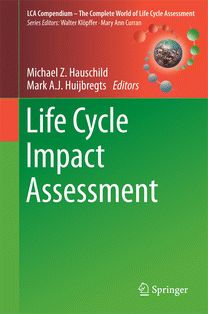 Notes
Contributing authors
Rodrigo A.F. Alvarenga, Laura de Baan, Jo Dewulf, Peter Fantke, Jeroen B. Guinée, Andrew D. Henderson, Sebastian Humbert, Norihiro Itsubo, Olivier Jolliet, Joe L. Lane, Alexis Laurent, Annie Levasseur, Llorenç Milà I Canals, Stefan Pfister, Philipp Preiss, Ralph Rosenbaum, Pier-Olivier Roy, Pilar Swart and Rosalie Zelm.
Copyright information
© Springer-Verlag Berlin Heidelberg 2015