Abstract
Purpose
Significant reductions in greenhouse gas emissions from food production and consumption can be made at the level of individual diet. Together with the food and beverage sector, consumers could play a significant role by making informed choices that benefit the environment and their own health. Communicating information on carbon footprints to consumers is challenging and should be made very simple, yet reliable. This sector is showing interest in using eco-design tools to decrease climate change impacts of their meals.
Methods
A long-term concept for communicating information on carbon footprints associated with meals was developed in Finland. The criteria for a Climate Choice meal were created through stakeholder dialogue, and three restaurant operators piloted the concept in 25 restaurants. In addition to climate change impacts, possibilities to include other sustainability criteria were reviewed. The concept was based on simplified carbon footprinting of raw material production and processing of ingredients for 105 commonly selected lunches. The carbon footprint calculations allowed the development of the Climate Choice meal concept, its criteria, and piloting the concept. Based on experiences from restaurants and consumers from the pilot phase, final criteria were developed.
Results and discussion
The Climate Choice meal concept was created using two alternative climate criteria: one for immediate implementation and another for future implementation, in cases where carbon footprinting is feasible for restaurants. The criteria for immediate implementation include a list of mainly plant-based ingredients with low carbon footprint. Regarding future criteria, it should be made easy enough for restaurants to estimate the carbon footprints of their meals, allowing labeling of meals when their carbon footprints are at least 25 % smaller than for an average meal. In addition to the two climate criteria, Climate Choice meals need to follow Finnish public catering nutritional recommendations, taking into account that fish species on the Red List of WWF's Finnish seafood guide are prohibited.
Conclusions
To promote climate-friendly eating, a long-term concept rather than a short-term campaign is needed. There is interest among consumers and restaurants for information on food carbon footprints and sustainability. Lunch is regarded as a good opportunity for consumers to learn about climate-friendly eating. The main challenges are to produce sufficiently reliable background data and to raise consumer and the food and beverage sector interest and understanding of carbon footprints associated with food.
This is a preview of subscription content,
to check access.
Access this article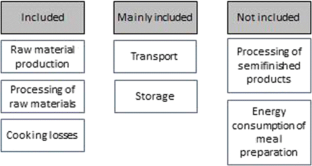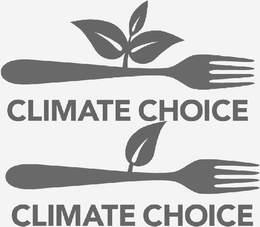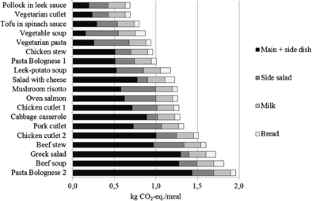 References
AFNOR (2014) Affichage Environnemental des produits de grande consummation. http://affichage-environnemental.afnor.org. Accessed 15 Dec 2014

Barilla (2014) Si mediterraneo. Barilla. http://www.barillagroup.com/corporate/en/home/nutrition/commitment/simediterraneo.html. Accessed 15 Dec 2014

Beattie G, Sale L (2009) Explicit and implicit attitudes to low and high carbon footprint products. Int J Environ Cult Econ Soc Sustain 5:191–206

Berners-Lee M, Hoolohan C, Cammack H, Hewitt CN (2012) The relative greenhouse gas impacts of realistic dietary choices. J Energy Policy 43:184–190

Berry T, Crossley D, Jewell J (2008) Check out carbon: the role of carbon labelling in delivering a low-carbon shopping basket. Forum for the Future, London

Carlsson-Kanyama A, Gonzalez AD (2009) Potential contributions of food consumption patterns to climate change. Am J Clin Nutr 89(5):1704S–1709S

Copenhagen City Council (2014) Climate+ restaurants. City of Copenhagen. http://subsite.kk.dk/sitecore/content/Subsites/CityOfCopenhagen/SubsiteFrontpage/Business/EnterprisesForClimateChange/CLIMATEplusRestaurants.aspx. Accessed 15 Dec 2014

Dalgaard T, Olesen JE, Petersen SO, Petersen BM, Jørgensen U, Kristensen T, Hutchings NJ, Gyldenkærne S, Hermansen JE (2011) Developments in greenhouse gas emissions and net energy use in Danish agriculture - how to achieve substantial CO(2) reductions? Environ Pollut 159(11):3193–3203

de Boer J, Schösler H, Boersema JJ (2013) Climate change and meat eating: an inconvenient couple? J Environ Psychol 33:1–8

European Commission (2009) Europeans' attitudes towards the issue of sustainable consumption and production, analytical report, Flash EB Series 256. European Commission, Luxemborg

Foley JA, Ramankutty N, Brauman KA, Cassidy ES, Gerber JS, Johnston M, Mueller ND, O'Connell C, Ray DK, West PC, Balzer C, Bennett EM, Carpenter SR, Hill J, Monfreda C, Polasky S, Rockström J, Sheehan J, Siebert S, Tilman D, Zaks DPM (2011) Solutions for a cultivated planet. Nature 478:337–342

Gadema Z, Oglethorpe D (2011) The use and usefulness of carbon labelling food: a policy perspective from a survey of UK supermarket shoppers. Food Policy 36(6):815–822

Gössling S, Garrod B, Aall C, Hille J, Peeters P (2011) Food management in tourism: reducing tourism's carbon 'foodprint'. Tour Manag 32:534–543

Hartikainen H, Roininen T, Katajajuuri J-M, Pulkkinen H (2014) Finnish consumer perceptions of carbon footprints and carbon labeling of food products. J Clean Prod 73:285–293

Jungbluth N, Keller R, König A, Doublet G (2014) ""ONE TWO WE–life cycle management in canteens together with suppliers, customers and guests. In: Schenck R, Huizenga D (eds) Proceedings of the 9th International Conference on Life Cycle Assessment in the Agri-Food Sector (LCA Food 2014), 8-10 October 2014, San Francisco, USA. ACLCA, Vashon, pp 611–618

Latvala T, Niva M, Mäkelä J, Pouta E, Heikkilä J, Kotro J, Forsman-Hugg S (2012) Diversifying meat consumption patterns: consumers' self-reported past behavior and intentions for change. Meat Sci 92(1):71–77

Meatless Monday (2014) Meatless Monday. The Monday Campaigns. http://www.meatlessmonday.com. Accessed 15 Dec 2014

Ministry of Social Affairs and Health (2010) Joukkoruokailun kehittäminen Suomessa. Joukkoruokailun seuranta- ja kehittämistyöryhmän toimenpidesuositus (Developing mass catering services. Guidelines by the working group to monitor and develop mass catering services). Report of Ministry of Social Affairs and Health 2010:11. Available in Finnish (summaries in Swedish and English)

Peano L, Bengoa X, Humbert S, Loerincik Y, Lansche J, Gaillard G, Nemecek T (2014) The World Food LCA Database project: towards more accurate food datasets. In: Schenck R, Huizenga D (eds) Proceedings of the 9th International Conference on Life Cycle Assessment in the Agri-Food Sector (LCA Food 2014), 8-10 October 2014, San Francisco, USA. ACLCA, Vashon, pp 964–966

Rockstrom J, Steffen W, Noone K, Persson A, Chapin FS, Lambin E, Lenton TM, Scheffer M, Folke C, Schellnhuber H, Nykvist B, De Wit CA, Hughes T, van der Leeuw S, Rodhe H, Sorlin S, Snyder PK, Costanza R, Svedin U, Falkenmark M, Karlberg L, Corell RW, Fabry VJ, Hansen J, Walker B, Liverman D, Richardson K, Crutzen P, Foley J (2009) Planetary boundaries: exploring the safe operating space for humanity. Ecol Soc 2:32

Saarinen M, Kurppa S, Virtanen Y, Usva K, Mäkelä J, Nissinen A (2012) Life cycle assessment approach to the impact of home-made, ready-to-eat and school lunches on climate and eutrophication. J Clean Prod 28:177–186

Schösler H, de Boer J, Boersema JJ (2012) Can we cut out the meat of the dish? Constructing consumer-oriented pathways towards meat substitution. Appetite 58(1):39–47

Seppälä J, Mäenpää I, Koskela S, Mattila T, Nissinen A, Katajajuuri J-M, Härmä T, Korhonen M-R, Saarinen M, Virtanen Y (2011) An assessment of greenhouse gas emissions and material flows caused by the Finnish economy using the ENVIMAT model. J Clean Prod 19(16):1833–1841

Spaargaren G, van Koppen CSA, Janssen AM, Hendriksen A, Kolfschoten CJ (2013) Consumer responses to the carbon labelling of food: a real life experiment in a canteen practice. Sociol Rural 53(4):432–453

Tan MQB, Tan RBH, Khoo HH (2014) Prospects of carbon labeling: a life cycle point of view. J Clean Prod 72:76–88

Tukker A, Jansen B (2006) Environmental impacts of products: a detailed review of studies. J Ind Ecol 10(3):159–182

Upham P, Dendler L, Bleda M (2011) Carbon labelling of grocery products: public perceptions and potential emissions reductions. J Clean Prod 19(4):348–355

Vanclay JK, Shortiss J, Aulsebrook S, Gillespie AM, Howell BC, Johanni R, Maher MJ, Mitchell KM, Stewart MD, Yates J (2010) Customer response to carbon labelling of groceries. J Consum Policy. doi:10.1007/s10603-010-9140-7

Virtanen et al (2011) Carbon footprint of food - approaches from national input-output statistics and a LCA of a food portion. J Clean Prod 19:1849–1856

White P, Sharp V, Darnton A, Downing P, Inman A, Strange K, Garnett T (2009) Food synthesis review: a report to the department for environment, food and rural affairs. The Social Marketing Practice et al. Defra, London
Acknowledgments
The authors would like to thank the Finnish Ministry of the Environment, WWF Finland, Restaurant Perho, HYY Restaurants, and Fazer Food Services for funding the Climate Lunch project.
Additional information
Responsible editor: Niels Jungbluth
About this article
Cite this article
Pulkkinen, H., Roininen, T., Katajajuuri, JM. et al. Development of a Climate Choice meal concept for restaurants based on carbon footprinting. Int J Life Cycle Assess 21, 621–630 (2016). https://doi.org/10.1007/s11367-015-0913-8
Received:

Accepted:

Published:

Issue Date:

DOI: https://doi.org/10.1007/s11367-015-0913-8
Keywords