Abstract
Purpose
The BioValueChain model facilitates the calculation of environmental impacts throughout the value chain for production of biogas from organic waste and manure in Norway. This paper describes the methodology of the model, presents the results based on general data and performs a sensitivity analysis for the input data.
Methods
The model is based on life cycle assessment methodology and defines the boundaries of the system and a set of default parameter values which can easily be changed to obtain relevant results for a specific region or a specific biogas plant.
Results and discussion
The general results from application of the model show that the application of biogas and digestate, including the assumption regarding which products are substituted, has significance for the results. The sensitivity analysis reveals that results for global warming potential (GWP) appear to be less sensitive for the different parameter values than the other environmental indicators. Increased biogas production from source separated organic household waste and manure from cattle and pigs appears to be an appropriate greenhouse gases (GHG) mitigation measure for Norwegian conditions if the biogas substitutes fossil fuels and if the digestate substitutes mineral fertiliser.
Conclusions
The results underline the need for the use of specific data, especially for transport distances, biogas potential and efficiency of biogas plant. Furthermore, in order to decrease the uncertainty of the results, more research is required into ways of modelling and quantifying direct emissions from the storage and application of manure and digestate on land.
Access options
Buy single article
Instant access to the full article PDF.
USD 39.95
Price includes VAT (USA)
Tax calculation will be finalised during checkout.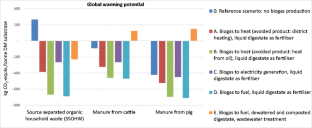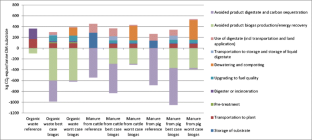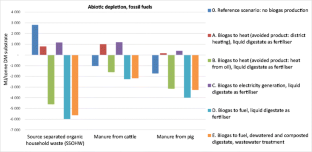 References
Baumann H, Tillman A-M (2004) The hitch hiker's guide to LCA : an orientation in life cycle assessment methodology and application. Studentlitteratur, Lund

Bernstad A, la Cour Jansen J (2012) Review of comparative LCAs of food waste management systems—current status and potential improvements. Waste Manag 32:2439–2455

Bøen A (2013) PhD thesis: waste-based products as slow-release fertilisers: with emphasis on phosphorus fertiliser effects

Boldrin A, Neidel TL, Damgaard A, Bhander GS, Møller J, Christensen TH (2011) Modelling of environmental impacts from biological treatment of organic municipal waste in EASEWASTE. Waste Manag 31:619–630

Carlsson M, Uldal M (2009) Substrathandbok för biogasproduktion, Rapport SGC 200–1102 - 7321 - ISRN SGC-R-200-SE (in Swedish only)

Clavreul J, Baumeister H, Christensen TH, Damgaard A (2014) An environmental assessment system for environmental technologies. Environ Model Softw 60:18–30

Clavreul J, Guyonnet D, Christensen TH (2012) Quantifying uncertainty in LCA-modelling of waste management systems. Waste Manag 32:2482–2495

Curran MA (2012) Life cycle assessment handbook. A guide for environmentally sustainable products. Scriever Publishing, Wiley

Dalemo M, Sonesson U, Björklund A, Mingarini K, Frostell B, Jönsson H, Nybrant T, Sundqvist J-O, Thyselius L (1997) ORWARE—a simulation model for organic waste handling systems. Part 1: model description. Resour Conserv Recycl 21:17–37

Daugstad K, Kristoffersen ØK, Nesheim L (2012) Næringsinnhald i husdyrgjødsel. Analyser av husdyrgjødsel frå storfe, sau, svin og fjørfe 2006-2011Bioforsk Rapport Bioforsk Report Vol. 7 Nr. 24 2012 (in Norwegian only)

Eklind Y, Amon B, Bengtsson S, Ejlertsson J, Kirchmann H, Mathisen B, Nordkvist E, Sonesson U, Svennson BH, Torstensson L (1997) Chemical characterization of source-separated organic household wastes. Swed J Agric Res 27:167–178

Eltun R, Fugleberg O, Nordheim O (1996) The Apelsvoll cropping system experiment. VII runoff losses of soil particles, phosphorous, potassium, magnesium, calcium and sulphur. Nor J Agric Sci 10:371–384

Eriksson O, Frostell B, Björklund A, Assefa G, Sundqvist J-O, Granath J, Carlsson M, Baky A, Thyselius L (2002) ORWARE—a simulation tool for waste management. Resour Conserv Recycl 36:287–307

European Comission JRC (2010) ILCD handbook - General guide for life cycle assessment - detailed guidance, First edition. European Union

European Comission JRC (2011) Supporting environmentally sound decisions for waste management (2011a): a technical guide to life cycle thinking (LCT) and life cycle assessment (LCA) for waste experts and LCA practitioners, EUR 24916 EN – 2011

Finnveden G (1999) Methodological aspects of life cycle assessment of integrated solid waste management systems. Resour Conserv Recycl 26:173–187

Frøiland E, Williksen T, Bartnes J (1999) Beregningsmodell for utslipp av metangass fra Norske deponier - historiske og framtidige utslippsmengder, SFT, rapport nr 99:16, ISBN 82-7655-180-7 (in Norwegian only)

Gentil EC, Damgaard A, Hauschild M, Finnveden G, Eriksson O, Thorneloe S, Kaplan PO, Barlaz M, Muller O, Matsui Y, Ii R, Christensen TH (2010) Models for waste life cycle assessment: review of technical assumptions. Waste Manag 30:2636–2648

Hansen TL, Bhander GS, Christensen TH, Bruun S, Jensen LS (2006) Life cycle modelling of environmental impacts of application of processed organic municipal solid waste on agricultural land (EASEWASTE). Waste Manag Res 24:153–166

International Organization for Standardization (ISO) (2006) EN ISO 14044 Environmental management. Life cycle assessment. Requirements and guidelines. Geneva, Switzerland

Kirkeby JT, Birgisdottir H, Hansen TL, Christensen TH, Bhander GS, Hauschild M (2006) Environmental assessment of solid waste systems and technologies: EASEWASTE. Waste Manag Res 24:3–15

Laurent A, Bakas I, Clavreul J, Bernstad A, Niero M, Gentil E, Hauschild MZ, Christensen TH (2014a) Review of LCA studies of solid waste management systems—Part I: lessons learned and perspectives. Waste Manag 34:573–588

Laurent A, Clavreul J, Bernstad A, Bakas I, Niero M, Gentil E, Christensen TH, Hauschild MZ (2014b) Review of LCA studies of solid waste management systems—Part II: methodological guidance for a better practice. Waste Manag 34:589–606

Leiden University (2013) CML-IA 3.01 Life cycle impact assessment method. http://cml.leiden.edu/software/data-cmlia.html

PRé (2014) Provider of the LCA software SimaPro. Link verified 5.May 20014. http://pre-sustainability.com/simapro/

Raadal HL, Schakenda V, Morken J (2008) Potensialstudie for Biogass i Norge (No. OR 21.08)

Sonesson U, Dalemo M, Mingarini K, Jönsson H (1997) ORWARE—a simulation model for organic waste handling systems. Part 2: case study and simulation results. Resour Conserv Recycl 21:39–54

Swiss Centre for Life Cycle Inventories (2014) EcoInvent database v. 3

Tekniske Nyheter DA (2013) Energirapporten 10

The Norwegian Department of Agriculture and Food (2009) St. meld. Nr. 39. (2008–2009) Klimautfordringene – landbruket en del av løsningen. (Norwegian White Paper) Available at: https://www.regjeringen.no/nb/dokumenter/stmeld-nr-39-2008-2009-/id563671/

The Norwegian organic fertiliser ordinance (2003) FOR-2003-07-04-951. Published in 2003, folder no. 11. Available at: https://lovdata.no/dokument/SF/forskrift/2003-07-04-951
Acknowledgments
The model has until now been developed in three phases, financed by the Norwegian Agricultural Authority through the Climate and Environmental programme, and the Norwegian Research Council through the EnergiX programme. The authors would like to thank all project owners and project participants, and all those who have contributed to the development of the model.
Additional information
Responsible editor: Niels Jungbluth
About this article
Cite this article
Lyng, KA., Modahl, I.S., Møller, H. et al. The BioValueChain model: a Norwegian model for calculating environmental impacts of biogas value chains. Int J Life Cycle Assess 20, 490–502 (2015). https://doi.org/10.1007/s11367-015-0851-5
Received:

Accepted:

Published:

Issue Date:
Keywords
Biogas

Food waste

LCA

Manure

Organic waste