Abstract
Purpose
This paper presents a general impact assessment relationship, intended to contribute to the development of social life cycle analysis. This relationship and the conditions of its use are called the "Wilkinson pathway". When used for comparisons, the pathway assesses the anticipated change in the infant mortality rate caused by a change in income distribution in the population of a country, itself generated by an important change in a life cycle.
Methods
Since the 1980s, numerous authors have examined the relationship between income inequality and human health. Without formally proving so, these studies suggest that increases in inequality have negative consequences for health. First, this effect is re-examined using the most up-to-date time series data. Econometric modelling allowed calculating the coefficients of variation of infant mortality in relation to variations in income inequality for member and non-member Organisation for Economic Cooperation and Development (OECD) countries, taking into account the lag time. Then, a method to translate the effect of an important economic change in a life cycle on income distribution is proposed.
Results and discussion
The econometric estimations show that a 1 % variation in income inequality leads to an approximately equivalent variation, with a lag time of about 15 years, in infant mortality in OECD member countries. The effect is two times larger than in non-OECD member countries. Together with input-output data, labour productivity and average wages in different economic sectors, this information makes it possible to quantify the probable effects of an important change in the life cycle production stage on income inequality and then infant mortality. Due to data constraints and the many assumptions made, the tools and results presented here should be used and interpreted cautiously. Above all, what is involved is a comparative method. An isolated result must not be interpreted in absolute terms.
Conclusions
This work is in line with efforts to formalize general pathways allowing a comparison of socioeconomic impacts linked to various important changes in the production stage of life cycles. There are diverse prospects for improvement. A challenge for further research will be to propose methods enabling assessments of the socioeconomic impacts generated in life cycle stages other than production.
Access options
Buy single article
Instant access to the full article PDF.
USD 39.95
Price excludes VAT (USA)
Tax calculation will be finalised during checkout.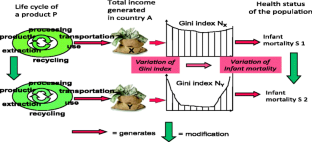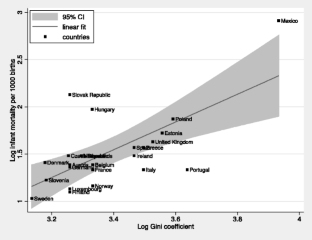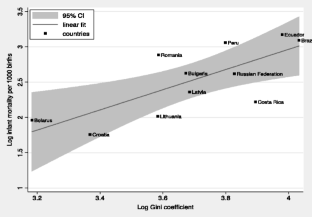 Notes
To compare means that one will rank the alternatives obtained rather than interpret the quantified results of an alternative itself.

Jean-Michel Couture: Groupe AGECO, oral communication at Comité 21's meeting, September 2013.

Mean labour productivity is calculated for full-time equivalent positions.

These are available for most developed countries and for numerous developing countries from agencies such as OECD and Eurostat or directly from national statistics institutes.
References
Araujo C, Brun J, Combes J (2008) Économétrie. Bréal. 2e édition. Collection Amphi Economie

Avendano M (2012) Correlation or causation? Income inequality and infant mortality in fixed effects models in the period 1960–2008 in 34 OECD countries. Soc Sci Med 75(4):754–760

Biggs B, King L, Basu S, Stuckler D (2010) Is wealthier always healthier? The impact of national income level, inequality, and poverty on public health in Latin America. Soc Sci Med 71(2):266–273

Blakely TA, Kennedy BP, Glass R, Kawachi I (2000) What is the lag time between income inequality and health status? J Epidemiol Community Health 54(4):318–319

Canning D (2012) Progress in health around the world. J Dev Stud 48(12):1784–1798

Daly M, Duncan G, Kaplan G, Lynch J (1998) Macro‐to‐micro links in the relation between income inequality and mortality. Milbank Q 76(3):315–339

Deaton A (2003) Health, inequality and economic development. J Econ Lit 41(1):113–158

Deaton A (2007) Global patterns of income and health: facts, interpretations, and policies. UNU-WIDER, Helsinki

Dreyer LC, Hauschild MZ, Schierbeck J (2006) A framework for social life cycle impact assessment. Int J Life Cycle Assess 11(2):88–97

Feschet P, Macombe C, Garrabé M, Loeillet D, Rolo-Saez A, Benhmad F (2012) Social impact assessment in LCA using the Preston pathway. Int J Life Cycle Assess 16(9):940–943

Filmer D, Pritchett L (1999) The impact of public spending on health: does money matter? Soc Sci Med 49(10):1309–1323. doi:10.1016/S0277-9536(99)00150-1

Flegg AT (1982) Inequality of income, illiteracy and medical care as determinants of infant mortality in underdeveloped countries. Popul Stud J Demogr 36(3):441–458

Guillaumont P, Korachais C, Subervie J (2008) How macroeconomic instability lowers child survival. UNU Wider Research Paper 2008/51

Hunkeler D (2006) Societal LCA methodology and case study. Int J Life Cycle Assess 11(6):371–382

Hutchins MJ, Sutherland JW (2008) An exploration of measures of social sustainability and their application to supply chain decisions. J Clean Prod 16(15):1688–1698

Jørgensen A (2012) Social LCA—a way ahead? Int J Life Cycle Assess 18(2):296–299

Jørgensen A, Le Bocq A, Nzarkina L, Hauschild M (2008) Methodologies for social life cycle assessment. Int J Life Cycle Assess 13(2):96–103

Jørgensen A, Finkbeiner M, Jørgensen MS, Hauschild MZ (2010) Defining the baseline in social life cycle assessment. Int J Life Cycle Assess 15(4):376–384

Jozan R, Voituriez T (2013) Réduire les inégalités: un enjeu de développement durable. In: Genevey R, Kumar Pachauri R, Tubiana L (eds) Regards sur la Terre 2013. Armand Colin, Paris

Kawachi I, Kennedy B (1999) Income inequality and health: pathways and mechanisms. Health Serv Res 34(1):215–227

Kawachi I, Kennedy B, Lochner K, Prothrow-Smith D (1997) Social capital, income inequality, and mortality. Am J Public Health 87(9):1491–1498

Kondo N, Sembajwe G, Kawachi I, Van Dam RM, Subramanian SV, Yamataga Z (2009) Income inequality, mortality, and self rated health: meta-analysis of multilevel studies. Br Med J 339:b4471

Link B, Phelan J (1995) Social conditions as fundamental causes of disease. J Health Soc Behav 35:80–94

Lynch J, Kaplan G (1997) Understanding how inequality in the distribution of income affects health. J Health Psychol 2(3):297–314

Macombe C (ed) (2013) Social LCAs. Socio-economic effects in value chains, FruiTrop Cirad, Montpellier

Macombe C, Feschet P, Garrabé M, Loeillet D (2011) 2nd International seminar in social life cycle assessment—recent developments in assessing the social impacts of product life cycles. Int J Life Cycle Assess 16(9):940–943

McCartney G, Collins C, Mackenzie M (2013) What (or who) causes health inequalities: theories, evidence and implications? Health Policy 113(3):221–227

Mellor JM, Milyo J (2001) Reexamining the evidence of an ecological association between income inequality and health. J Health Polit Policy Law 26(3):487–522

Musaazi MK, Mechtenberg AR, Nakibuule J, Sensenig R, Miyingo E, Makanda JV, Hakimian A, Eckelman MJ (2013) Quantification of social equity in life cycle assessment for increased sustainable production of sanitary products in Uganda. J Clean Prod. doi:10.1016/j.jclepro.2013.10.026

Norris GA (2006) Social impacts in product life cycles. Towards life cycle attribute assessment. Int J Life Cycle Assess 11(1):97–104

Owens J (1997) Life‐cycle assessment in relation to risk assessment: an evolving perspective. Risk Anal 17(3):359–365

Parent J, Cucuzzella C, Revéret J-P (2010) Impact assessment in SLCA: sorting the sLCIA methods according to their outcomes. Int J Life Cycle Assess 15(2):164–171

Preston SH (1975) The changing relation between mortality and level of economic development. Popul Stud 29(2):231–248

Qi Y (2012) The impact of income inequality on self-rated general health: evidence from a cross-national study. Res Soc Stratif Mobil 30(4):451–471

Revéret J-P, Parent J (2013) L'analyse sociale et socio-économique du cycle de vie des produits, défis et enjeux. In: Gendron C, Girard B (eds) Repenser la Responsabilité Sociale de l'entreprise. Armand Colin, Paris

Roodman D (2009) How to do xtabond2: an introduction to difference and system GMM in Stata. Stata J 9(1):86–136

Sironen S, Hujala T, Myllyviita T, Tikkanen J, Leskinen P (2013) Combining experts' ratings for partly overlapping concept lists: a feasibility test with cultural sustainability indicators. Math Comput For Nat-Resour Sci 5(1):1–13

United Nations (2000) United Nations millennium declaration: resolution 55/2. http://www.un.org/millennium/declaration/ares552e.pdf (consulted on March 24, 2014)

Wilkinson R, Pickett K (2010) The spirit level: why equality is better for everyone. Penguin, London

Yang T-C, Chen VY, Shoff C, Matthews SA (2012) Using quantile regression to examine the effects of inequality across the mortality distribution in the U.S. counties. Soc Sci Med 74(12):1900–1910
Acknowledgments
The authors warmly thank the members of the ELSA team in Montpellier and the CIRAIG social LCA team at the Université du Québec à Montréal (UQÀM) for their comments on previous versions of the paper. This research was funded in Montpellier by the Institut national de recherche en sciences et technologies pour l'environnement et l'agriculture (IRSTEA) and by the Chaire industrielle sur l'évaluation environnementale et sociale du cycle de vie pour améliorer la compétitivité des entreprises par la transition écologique et sociale (ELSA-PACT), and in Montreal by the Chaire internationale sur le cycle de vie Polytechnique Montréal/UQÀM.
The authors also warmly thank the editor of the journal and the two reviewers of the International Journal of Life Cycle Assessment for their comments and propositions based on the first version of the article submitted.
Additional information
Responsible editor: Alessandra Zamagni
Electronic supplementary material
Below is the link to the electronic supplementary material.
About this article
Cite this article
Bocoum, I., Macombe, C. & Revéret, JP. Anticipating impacts on health based on changes in income inequality caused by life cycles. Int J Life Cycle Assess 20, 405–417 (2015). https://doi.org/10.1007/s11367-014-0835-x
Received:

Accepted:

Published:

Issue Date:

DOI: https://doi.org/10.1007/s11367-014-0835-x
Keywords
Employment

Impact pathways

Income inequality

Infant mortality

Production

Social LCA

Supply chain