Abstract
Purpose
Halting the loss of biodiversity while providing food security for a growing and prospering world population is a challenge. One possible solution to this dilemma is organic agriculture, which is expected to enhance biodiversity on the farmland. However, organic products often require larger areas. This study demonstrates how we can quantify and compare the direct land use impacts on biodiversity of organic and conventional food products such as milk.
Material and methods
This study assessed direct land use impacts of 1 l of milk leaving the farm gate. Inventory data on land occupation were extracted from a life cycle assessment study of 15 farms in southern Sweden. Direct land use change data were derived from the FAO statistical database. Spatially differentiated characterization factors of occupation (CFOcc) and transformation (CFTrans) were calculated based on the relative difference of plant species richness on agricultural land compared to a (semi) natural regional reference. Data on plant species richness and regeneration times of ecosystems (for calculating transformation impacts) were derived from a literature review. To account for differences in biodiversity value between regions, a weighting system based on absolute species richness, vulnerability and irreplaceability was applied.
Results and discussion
Organic milk had a lower direct land use impact than conventional milk, although it required about double the area. Occupation impacts dominated the results and were much smaller for organic than conventional milk, as CFOcc of organic land uses were considerably smaller. For transformation impacts, differences between the two farming practices were even more pronounced. The highest impacts were caused by soymeal in concentrate feeds (conventional milk) due to large-scale deforestation in its country of cultivation (i.e. Brazil and Argentina). However, lack of reliable data posed a challenge in the assessment of transformation impacts. Overall, results were highly sensitive to differences in land occupation area between farms, the CFOcc and assumptions concerning transformed area. Sensitivity and robustness of results were tested and are discussed.
Conclusions
Although organic milk required about twice as much land as conventional, it still had lower direct land use impacts on biodiversity. This highlights the importance of assessing land use impacts not only based on area but also considering the actual impacts on biodiversity. The presented approach allows to quantify and compare hot- and coldspots in the agricultural stage of milk production and could potentially also be applied to other agricultural products. However, more research is needed to allow quantification of indirect land use impacts.
Access options
Buy single article
Instant access to the full article PDF.
USD 39.95
Price excludes VAT (USA)
Tax calculation will be finalised during checkout.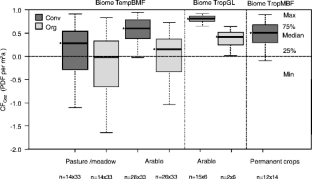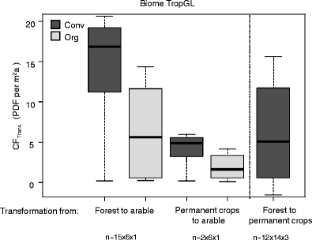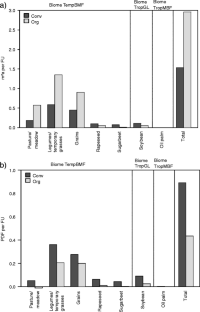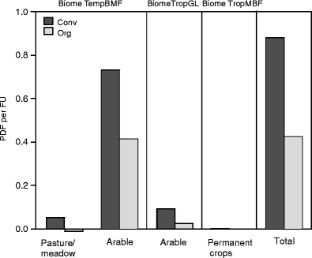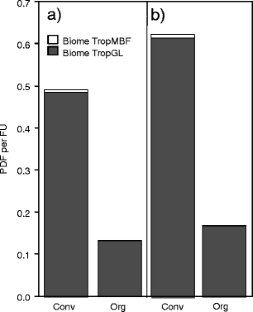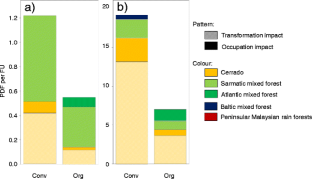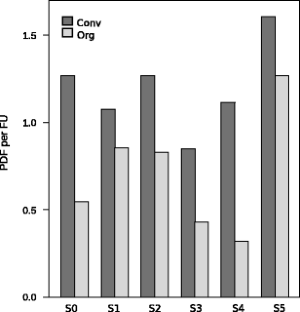 References
Aide T, Zimmerman JK, Herrera L, Rosario M, Serrano M (1995) Forest recovery in abandoned tropical pastures in Puerto Rico. For Ecol Manag 77:77–86

Aide TM, Zimmerman JK, Pascarella JB, Rivera L, Marcano-Vega H (2000) Forest regeneration in a chronosequence of tropical abandoned pastures: implications for restoration ecology. Restor Ecol 8(4):328–338

Aide TM, Zimmerman JK, Rosario M, Marcano H (1996) Forest recovery in abandoned cattle pastures along an elevational gradient in northeastern Puerto Rico. Biotropica 28(4):537–548

Andreasen C, Stryhn H (2008) Increasing weed flora in Danish arable fields and its importance for biodiversity. Weed Res 48:1–9

Andreyeva T, Long MW, Brownell KD (2010) The impact of food prices on consumption: a systematic review of research on the price elasticity of demand for food. Gov Politi Law 100(2):216–222

Angelo C, Ripley B (2012) boot: Bootstrap R (S-Plus) Functions. R package version 1.3-6. from http://cran.r-project.org/web/packages/boot/citation.html, Accessed July 2012

Austrheim G, Olsson EG (1999) How does continuity in grassland management after ploughing affect plant community patterns? Plant Ecol 145:59–74

Austrian Federal Ministry of Agriculture, Forestry, Environment and Water Management (2011) Production and commercialization of organic milk in Europe. Austrian Federal Ministry of Agriculture, Forestry, Environment and Water Management, Department III/6, Vienna

Barlow J, Gardner TA, Araujo IS, Avila-Pires TC, Bonaldo AB, Costa JE, Esposito MC, Ferreira LV, Hawes J, Hernandez MIM, Hoogmoed MS, Leite RN, Lo-Man-Hung NF, Malcolm JR, Martins MB, Mestre LAM, Miranda-Santos R, Nunes-Gutjahr AL, Overal WL, Parry L, Peters SL, Ribeiro-Junior MA, da Silva MNF, da Silva MC, Peres CA (2007) Quantifying the biodiversity value of tropical primary, secondary, and plantation forests. Proc Natl Acad Sci U S A 104(47):18555–18560

Basset-Mens C, Ledgard S, Boyes M (2009) Eco-efficiency of intensification scenarios for milk production in New Zealand. Ecol Econ 68(6):1615–1625

BDM (2004) Biodiversity monitoring Switzerland. Indicator Z9: species diversity in habitats. Bundesamt für Umwelt, BAFU. http://www.biodiversitymonitoring.ch. Accessed June 2012

Bengtsson J, Ahnstroem J, Weibull AC (2005) The effects of organic agriculture on biodiversity and abundance: a meta-analysis. J Appl Ecol 42(2):261–269

Berry NJ, Phillips OL, Lewis SL, Hill JK, Edwards DP, Tawatao NB, Ahmad N, Magintan D, Khen CV, Maryati M, Ong RC, Hamer KC (2010) The high value of logged tropical forests: lessons from northern Borneo. Biodivers Conserv 19(4):985–997

Brooks TM, Mittermeier R, da Fronseca G, Gerlach J, Hoffmann M, Lamoreux JF, Mittermeier C, Pilgrim J, Rodrigues A (2006) Global biodiversity conservation priorities. Science 313(5783):58–61

Brown S, Lugo AE (1990) Tropical secondary forests. J Trop Ecol 6:1–32

Carey PD, Wallis S, Chamberlain P, Cooper A, Emmett BA, Maskell LC, McCann T, Murphy J, Norton LR, Reynolds B, Scott W, Simpson I, Smart S, Ullyett J (2007) 2008 Countryside survey: UK results from 2007, NERC/Centre for Ecology and Hydrology. http://www.countrysidesurvey.org.uk. Accessed June 2012

Cederberg C, Flysjoe A (2004) Life cycle inventory of 23 dairy farms in south-western Sweden. SIK-report Nr 728. The Swedish Institute for food and biotechnology, Goeteborg

Cederberg C, Mattson B (2000) Life cycle assessment of milk production—a comparison of conventional and organic farming. J Clean Prod 8:49–60

Chappell MJ, LaValle LA (2011) Food security and biodiversity: can we have both? An agroecological analysis. Agric Hum Values 28(1):3–26

Crowder DW, Northfield TD, Strand MR, Snyder WE (2010) Organic agriculture promotes evenness and natural pest control. Nature 466(7302):109–112

Curran M, de Baan L, De Schryver AM, van Zelm R, Hellweg S, Koellner T, Sonnemann G, Huijbregts MAJ (2011) Toward meaningful end points of biodiversity in life cycle assessment. Environ Sci Technol 45(1):70–79

Curran M, Hellweg S, Beck J (in press) Is there any empirical support for biodiversity offset policy? Ecol Appl

Dalgaard R, Schmidt J, Halberg N, Christensen P, Thrane M, Pengue WA (2008) LCA of soybean meal. Int J Life Cycle Assess 13(3):240–254

de Baan L, Alkemade R, Koellner T (2013) Land use impacts on biodiversity in LCA: a global approach. Int J Life Cycle Assess 18(6):1216–1230

de Boer IJ (2003) Environmental impact assessment of conventional and organic milk production—review. Livest Prod Sci 80(1–2):69–77

de Boer IJM, Hoving IE, Vellinga TV, Ven GWJ, Leffelaar PA, Gerber PJ (2013) Assessing environmental impacts associated with freshwater consumption along the life cycle of animal products: the case of Dutch milk production in Noord-Brabant. Int J Life Cycle Assess 18:193–203

de Vries M, De Boer I (2010) Comparing environmental impacts for livestock products: a review of life cycle assessments. Livest Sci 128:1–11

Delgado CL (2003) Rising consumption of meat and milk in developing countries has created a new food revolution. J Nutr 133:3907S–3910S

Dobben HF, Schouwenberg EPAG, Nabuurs GJ, Prins AH (1998) Biodiversity and productivity parameters as a basis for evaluating land use changes in LCA. Annex 1 In: Lindeijer EW, van Kampen M, Fraanje PJ, van Dobben HF, Nabuurs GJ, Schouwenberg EPAG, Prins AH, Dankers N, Leopold MF (1998) Biodiversity and life support indicators for land use impacts in LCA. Delft: Rijkswaterstaat, Dienst Weg-en Waterbouwkunde. (Publication series raw materials 1998/07)

Dunn R (2004) Recovery of faunal communities during tropical forest regeneration. Conserv Biol 18(2):302–309

EC (2007) Council Regulation (EC) No. 834/2007 of 28 June 2007 on organic production and labeling of organic products and repealing Regulation (EEC) No 2092/91. Official Journal of the European Union L 189/1, Luxembourg

European Union (2007) Rural development in the European Union. Statistical and economic information report. Directorate-General Agriculture and Rural Development, Brussels

Ewers RM, Scharlemann JPW, Balmford A, Green RE (2009) Do increases in agricultural yield spare land for nature? Glob Chang Biol 15(7):1716–1726

FAO (2010) Greenhouse gas emissions from the dairy sector. A life cycle assessment. Food and Agriculture Organisation of the United Nations, Rome

FAOSTAT (2012a) Land Resources data 1985–2009 from http://faostat.fao.org/site/377/default.aspx#ancor. Accessed Apr 2012

FAOSTAT (2012b) Crop production data 1985–2009 from http://faostat.fao.org/site/567/default.aspx#ancor. Accessed Mar 2012

Fearnside PM (2001) Soybean cultivation as a threat to the environment in Brazil. Environ Conserv 28(1):23–38

Fearnside PM (2005) Deforestation in Brazilian Amazonia: history, rates, and consequences. Conserv Biol 19(3):680–688

FiBL (2012) Organic soy area: organic area, fully converted area and area under conversion 2010 (conversion and in-conversion not necessarily complete, both at region or country level). Research Institute of Organic Agriculture FiBL, Frick, Swiss. http://www.organic-world.net/fileadmin/documents/statistics/data-tables/crops-statistics/. Accessed Jun 2012

Flysjoe A, Cederberg C, Henriksson M, Ledgard S (2012) The interaction between milk and beef production and emissions from land use change—critical considerations in life cycle assessment and carbon footprint studies of milk. J Clean Prod 28:134–142

Foley JA, Defries R, Asner G, Barford C, Bonan G, Carpenter S, Chapin F, Coe M, Daily G, Gibbs H, Helkowski J, Tracey H, Howard E, Kucharik CMC, Patz J, Prentice C, Ramankutty N, Snyder P (2005) Global consequences of land use. Science 309(5734):570–574

Fuller R, Norton L, Feber R, Johnson P, Chamberlain D, Joys A, Mathews F, Stuart R, Townsend M, Manley W, Wolfe M, MacDonald D, Firbank L (2005) Benefits of organic farming to biodiversity vary among taxa. Biol Lett 1:431–434

Gasparri NI, Grau HR, Manghi E (2008) Carbon pools and emissions from deforestation in extra-tropical forests of northern Argentina between 1900 and 2005. Ecosystems 11(8):1247–1261

Gibson L, Lee TM, Koh LP, Brook BW, Gardner TA, Barlow J, Peres CA, Bradshaw CJA, Laurance WF, Lovejoy TE, Sodhi NS (2011) Primary forests are irreplaceable for sustaining tropical biodiversity. Nature 478(7369):378–381

Gomiero T, Pimentel D, Paoletti MG (2011) Environmental impact of different agricultural management practices: conventional vs. organic agriculture. Crit Rev Plant Sci 30(1–2):95–124

Grau H, Arturi M, Brown A, Aceñolaza P (1997) Floristic and structural patterns along a chronosequence of secondary forest succession in Argentinean subtropical montane forests. For Ecol Manag 95(2):161–171

Green RE (2005) Farming and the fate of wild nature. Science 307(5709):550–555

Guariguata MR, Chazdon RL, Denslow JS, Dupuy JM, Anderson L (1997) Structure and floristics of secondary and old-growth forest stands in lowland Costa Rica. Plant Ecol 132:107–120

Haas G, Wetterich F, Kopke U (2001) Comparing intensive, extensified and organic grassland farming in southern Germany by process life cycle assessment. Agric Ecosyst Environ 83:43–53

Hansen B, Alroe HF, Kristensen E (2001) Approaches to assess the environmental impact of organic farming with particular regard to Denmark. Agric Ecosyst Environ 83:11–26

Hertel TW, Golub AA, Jones AD, O´Hare M, Plevin RJ, Kammen DM (2010) Effects of US maize ethanol on global land use and greenhouse gas emissions: estimating market-mediated responses. Bioscience 60:223–231

Hoekstra JM, Boucher TM, Ricketts TH, Roberts C (2005) Confronting a biome crisis: global disparities of habitat loss and protection. Ecol Lett 8(1):23–29

Hoertenhuber S, Lindenthal T, Amon B, Markut T, Kirner L, Zollitsch W (2010) Greenhouse gas emissions from selected Austrian dairy production systems—model calculations considering the effects of land use change. Renew Agric Food Syst 25(04):316–329

Hole D, Perkins A, Wilson J, Alexander I, Grice P, Evans A (2005) Does organic farming benefit biodiversity? Biol Conserv 122(1):113–130

IFOAM (2012) The IFOAM norms for organic production and processing. International Federation of Organic Agriculture Movement, Bonn

Kier G, Mutke J, Dinerstein E, Ricketts TH, Kueper W, Kreft H, Barthlott W (2005) Global patterns of plant diversity and floristic knowledge. J Biogeogr 32(7):1107–1116

Kloverpris JH, Mueller S (2013) Baseline time accounting: considering global land use dynamics when estimating the climate impact of indirect land use change caused by biofuels. Int J Life Cycle Assess 18:319–330

Koellner T (2000) Species-pool effect potentials (SPEP) as a yardstick to evaluate land-use impacts on biodiversity. J Clean Prod 8:293–311

Koellner T, de Baan L, Beck T, Brandão M, Civit B, Margni M, Milà i Canals L, Saad R, de Souza DM, Mueller-Wenk R (2013a) UNEP-SETAC guideline on global land use impact assessment on biodiversity and ecosystem services in LCA. Int J Life Cycle Assess 18(6):1188–1202

Koellner T, de Baan L, Beck T, Brandão M, Civit B, Goedkoop M, Margni M, Milà i Canals L, Mueller-Wenk R, Weidema B, Wittstock B (2013b) Principles for life cycle inventories of land use on a global scale. Int J Life Cycle Assess 18(6):1203–1215

Koellner T, Scholz RW (2007) Assessment of land use impacts on the natural environment. Part 1: An analytical framework for pure land occupation and land use change. Int J Life Cycle Assess 12(1):16–23

Koellner T, Scholz RW (2008) Assessment of land use impacts on the natural environment—Part 2: Generic characterization factors for local species diversity in central Europe. Int J Life Cycle Assess 13(1):32–48

Kreuter TNO (2005) Biodiversität sächsischer Ackerflächen. Schriftenr Sächs Landesanst Landwirtsch 9(10):1–97

Lehuger S, Gabrielle B, Gagnaire N (2009) Environmental impact of the substitution of imported soybean meal with locally-produced rapeseed meal in dairy cow feed. J Clean Prod 17(6):616–624

Letcher SG, Chazdon RL (2009) Rapid recovery of biomass, species richness, and species composition in a forest chronosequence in northeastern Costa Rica. Biotropica 41(5):608–617

Liebsch D, Marques MC, Goldenberg R (2008) How long does the Atlantic Rain Forest take to recover after a disturbance? Changes in species composition and ecological features during secondary succession. Biol Conserv 141(6):1717–1725

Maeder P, Fließbach A, Dubois D, Gunst L, Fried P, Niggli U (2002) Soil fertility and biodiversity in organic farming. Science 296(5573):1694–1697

Mathews JA, Tan H (2009) Biofuels and indirect land use change effects: the debate continues. Biofuels Bioprod Bioref 147:1–13

Mattila T, Helin T, Antikainen R (2012) Land use indicators in life cycle assessment: a case study on beer production. Int J Life Cycle Assess 17(3):277–286

Mayaux P, Holmgren P, Achard F, Eva H, Stibig H, Branthomme A (2005) Tropical forest cover change in the 1990s and options for future monitoring. Philos Trans R Soc B Biol Sci 360(1454):373–384

McMorrow J, Talip MA (2001) Decline of forest area in Sabah, Malaysia: relationship to state policies, land code and land capability. Glob Environ Chang 11:217–230

Meul M, Passel S, Fremaut D, Haesaert G (2012) Higher sustainability performance of intensive grazing versus zero-grazing dairy systems. Agron Sustain Dev 32(3):629–638

Michelsen O (2008) Assessment of land use impact on biodiversity. Proposal of a new methodology exemplified with forestry operations in Norway. Int J Life Cycle Assess 13(1):22–31

Michelsen O (2011) Impacts on biodiversity from land use and land use changes—did we forget the first fundamental question? In: ISIE Conference, University of California, Berkeley, June 7–10

Milà i Canals L, Bauer C, Depestele J, Dubreuil A, Freiermuth KR, Gaillard G, Michelsen O, Mueller-Wenk R, Rydgren B (2007) Key elements in a framework for land use impact assessment within LCA. Int J Life Cycle Assess 12(1):5–15

Milà i Canals L, Rigarlsford G, Sim S (2013) Land use impact assessment of margarine. Int J Life Cycle Assess 18(6):1265–1277

Mueller-Lindenlauf M, Deittert C, Koepke U (2010) Assessment of environmental effects, animal welfare and milk quality among organic dairy farms. Livest Sci 128:140–148

Mutel C, de Baan L, Hellweg S (2013) Two-step sensitivity testing of parameterized and regionalized life cycle assessments: methodology and case study. Environ Sci Technol 47:5660–5667

Myers N, Mittermeier R, Mittermeier C, da Fronseca G, Kent J (2000) Biodiversity hotspots for conservation priorities. Nature 403:853–859

Olson DM, Dinerstein E, Wikramanayake ED, Burgess ND, Powell GV, Underwood EC, D'Amico JA, Itoua I, Strand HE, Morrison JC, Loucks CJ, Allnutt TF, Ricketts TH, Kura Y, Lamoreux JF, Wettengel WW, Hedao P, Kassem KR (2001) Terrestrial ecoregions of the worlds: a new map of life on Earth. Bioscience 51(11):933–938

Pascarella JB, Aide TM, Serrano MI, Zimmerman JK (2000) Land-use history and forest regeneration in the Cayey Mountains, Puerto Rico. Ecosystems 3:217–228

Pereira HM, Leadley PW, Proenca V, Alkemade R, Scharlemann JPW, Fernandez-Manjarres JF, Araujo MB, Balvanera P, Biggs R, Cheung WWL, Chini L, Cooper HD, Gilman EL, Guenette S, Hurtt GC, Huntington HP, Mace GM, Oberdorff T, Revenga C, Rodrigues P, Scholes RJ, Sumaila UR, Walpole M (2010) Scenarios for global biodiversity in the 21st century. Science 330(6010):1496–1501

Petchey OL, Hector A, Gaston KJ (2004) How do different measures of functional diversity perform? Ecology 85(3):847–857

Plevin RP, O´Hare M, Jones AD, Torn MS, Gibbs HK (2010) Greenhouse gas emissions from biofuels´ indirect land use change are uncertain but may be much greater than previously estimated. Environ Sci Technol 44:8015–8021

Poschlod P, WallisdeVries M (2002) The historical and socioeconomic perspective of calcareous grasslands—lessons from the distant and recent past. Biodivers Conserv 104:361–376

Prach K, Rehounkova K (2006) Vegetation succession over broad geographical scales: which factors determine the patterns? Preslia 78:469–480

R Development Core Team (2011) R: A language and environment for statistical computing. R Foundation for Statistical Computing, Vienna

Rahmann G (2011) Biodiversity and organic farming: what do we know? Agric For Res 3(61):189–208

Ramankutty N, Evans A, Monfreda C, Foley JA (2008) Farming the planet: 1. Geographic distribution of global agricultural lands in the year 2000. Glob Biogeochem Cycles 22:1–19

Sala OE, Chapin F, Armesto JJ, Berlow E, Bloomfield J, Dirzo R, Huber-Sanwald E, Huenneke LF, Jackson R, Kinzig A, Leemans R, Lodge D, Mooney H, Oesterheld M, Poff N, Sykes MT, Walker BH, Walker M, Wall D (2000) Global biodiversity scenarios for the year 2100. Science 287(5459):1770–1774

Schader C, Drapela T, Markut T, Hoertenhuber S, Lindenthal T, Meier M, Pfiffner L (2010) Biodiversity impact assessment of Austrian organic and conventional dairy products. In: LCA Discussion Forum: Integrating biodiversity in LCA, Lausanne, Nov 19, 2010

Schmidt J (2008a) Development of LCIA characterisation factors for land use impacts on biodiversity. J Clean Prod 16(18):1929–1942

Schmidt J (2008b) System delimitation in agricultural consequential LCA. Outline of methodology and illustrative case study of wheat in Denmark. Int J Life Cycle Assess 13:350–364

Scott AJ, Morgan JW (2012) Resilience, persistence and relationship to standing vegetation in soil seed banks of semi-arid Australian old fields. Appl Veg Sci 15(1):48–61

Seufert V, Ramankutty N, Foley JA (2012) Comparing the yields of organic and conventional agriculture. Nature 485(7397):229–232

Synthesis SOER (2010) The European environment—state and outlook 2010: synthesis. European Environment Agency, Copenhagen

StatBank Denmark (2012) Crops by crop, unit and area from http://www.statbank.dk/statbank5a/SelectVarVal/Define.asp?MainTable=AFG1&PLanguage=1&PXSId=0. Accessed Jun 2012

Stolze M, Lampkin N (2009) Policy for organic farming: rationale and concepts. Food Policy 34(3):237–244

Swift TL, Hannon SJ (2010) Critical thresholds associated with habitat loss: a review of the concepts, evidence, and applications. Biol Rev 85(1):35–53

Thomassen M, Vancalker K, Smits M, Iepema G, De Boer I (2008) Life cycle assessment of conventional and organic milk production in the Netherlands. Agric Syst 96:95–107

Tilman D (2001) Forecasting agriculturally driven global environmental change. Science 292(5515):281–284

Tscharntke T, Clough Y, Wanger TC, Jackson L, Motzke I, Perfecto I, Vandermeer J, Whitbread A (2012) Global food security, biodiversity conservation and the future of agricultural intensification. Biol Conserv 151:53–59

Van der Werf HM, Kanyarushoki C, Corson MS (2009) An operational method for the evaluation of resource use and environmental impacts of dairy farms by life cycle assessment. J Environ Manag 90(11):3643–3652

Van Elsen T (2000) Species diversity as a task for organic agriculture in Europe. Agric Ecosyst Environ 77:101–109

Weidema B, Lindeijer E (2001) Physical impacts of land use in product life cycle assessment. Final report of the EURENVIRON-LCAGAPS sub-project on land use. Department of Manufacturing Engineering and Management, Technical University of Denmark, Lyngby

Yan M, Humphreys J, Holden NM (2011) An evaluation of life cycle assessment of European milk production. J Environ Manag 92(3):372–379

Zhang W (2008) A forecast analysis on world population and urbanization process. Environ Dev Sustain 10(6):717–730

Zimmermann JK, Aide TM, Lugo AE (2007) Old fields: dynamics and restoration of abandoned farmland. In: Chazdon RL (2008) Beyond deforestation: restoring forests and ecosystem services on degraded lands. Science 320(5882):1458–1460
Acknowledgments
We are thankful to Anna Flysjoe (Arla Foods, Denmark) who explained the allocation procedure performed in Cederberg and Flysjoe (2004). We are also grateful to Manuel Steinbauer, University of Bayreuth for statistical advice and Christel Cederberg (Arla Foods, Denmark) and Anna Flysjoe, the Countryside Survey of the United Kingdom and the Biodiversity Monitoring Switherland (BDM) for providing data. We are grateful for helpful comments by Matthias Meier, Anna Flysjoe and three anonymous reviewers. Finally, we would like to thank Daniel Kachelriess, University of Bayreuth for revising the English.
Additional information
Responsible editor: Ralph K. Rosenbaum
Electronic supplementary material
Below is the link to the electronic supplementary material.
About this article
Cite this article
Mueller, C., de Baan, L. & Koellner, T. Comparing direct land use impacts on biodiversity of conventional and organic milk—based on a Swedish case study. Int J Life Cycle Assess 19, 52–68 (2014). https://doi.org/10.1007/s11367-013-0638-5
Received:

Accepted:

Published:

Issue Date:

DOI: https://doi.org/10.1007/s11367-013-0638-5
Keywords
Biodiversity

Land use

Life cycle impact assessment

Milk

Organic agriculture