Abstract
Purpose
The goal of this study is to evaluate and compare the environmental impact (with a focus on global warming potential) of five hand drying systems: hands-under (HU) dryers, high-speed hands-under (HSHU) dryers, high-speed hands-in (HSHI) dryers, cotton roll towels, and paper towels. Another objective is to incorporate uncertainty into this comparative life cycle assessment (LCA) as a means of understanding the statistical robustness of the difference between the environmental impacts of the hand drying systems.
Methods
We conducted a life cycle assessment in accordance with the ISO 14040/14044 standards using data primarily from publicly available reports. As part of the study, we performed a parameter uncertainty analysis for multiple scenarios to evaluate the impact of uncertainty in input data on the relative performance of products. In addition, we conducted a probabilistic scenario analysis of key drying system parameters in order to understand the implications of changing assumptions on the outcomes of the analyses.
Results and discussion
The scope of the analyses enabled us to draw robust conclusions about the relative environmental performance of the products. We can say with a high degree of confidence that the high-speed dryers have a lower impact than paper towels and cotton roll towels. Differentiating the performance of the hand dryers requires being more specific about framing assumptions. Under certain conditions, the HSHI dryer is expected to have a lower impact than the HU and HSHU dryers. However, under other conditions, one cannot say that the HSHI dryer is clearly better than the other dryers. We cannot differentiate the performance between the HU dryer, cotton roll towels, and paper towels.
Conclusions
This work demonstrates the importance of going beyond traditional uncertainty analyses for comparative LCAs that are used for assertions of relative product environmental impact. Indeed, we found instances where the conclusions changed as a result of using the probabilistic scenario analysis. We outline important elements that should be included in future guidance on uncertainty analyses in comparative LCAs, including conducting parameter and scenario uncertainty analyses together and then using the outcomes to guide selection of parameters and/or choices to analyze further.
This is a preview of subscription content, log in to check access.
Access options
Buy single article
Instant access to the full article PDF.
US$ 39.95
Price includes VAT for USA
Subscribe to journal
Immediate online access to all issues from 2019. Subscription will auto renew annually.
US$ 99
This is the net price. Taxes to be calculated in checkout.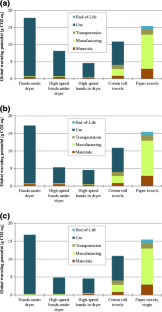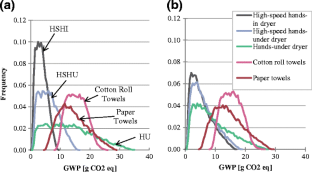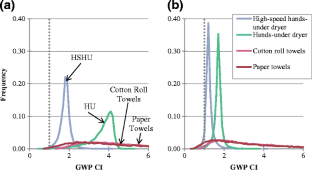 References
Adams C (2007) What's better for the environment, electric hand dryers or paper towels? http://www.straightdope.com/columns/read/2721/whats-better-for-the-environment-electric-hand-dryers-or-paper-towels

British Standards Institute (2008) Publicly Available Specification 2050:2008: specification for the assessment of the life cycle greenhouse gas emissions of goods and services. London, UK

Clarren R (2007) Public bathroom dilemma: paper or air? Salon. http://www.salon.com/2007/11/12/bathroom_dilemma/

de Koning A, Schowanek D, Dewaele J, Weisbrod A, Guinée J (2010) Uncertainties in a carbon footprint model for detergents; quantifying the confidence in a comparative result. Int J Life Cycle Assess 15(1):79–89

Dettling J (2009) Comparative environmental life cycle assessment of hand drying systems: the XLERATOR hand dryer, conventional hand dryers and paper towel systems. Quantis US, Boston, US. http://www.exceldryer.com/PDFs/LCAFinal9-091.pdf

Draucker L, Kaufman S, ter Kuile R, Meinrenken C (2011) Moving forward on product carbon footprint standards. J Ind Ecol 15(2):169–171

Dyson (2010) The Dyson Airblade™ hand dryer receives industry first Carbon Reduction Label. http://www.dysonairblade.com/news/newsArticle.asp?newsID=116

Dyson Airblade Technical Specifications (2011) http://www.dysonairblade.co.uk/specification/default.asp?product=AB01-AIRBLADE

Eberle U, Möller M (2006) Life cycle analysis of hand-drying systems. A comparison of cotton towels and paper towels. Öko-Institut e.V., Freiburg, Germany. http://www.etsa-europe.org/news/documents/ETSALCAbrochureoncottonrolltowelsJuly06EN.pdf

Environmental Resources Management (2001) Streamlined life cycle assessment study. Oxford, UK. http://www.airdri.com/script/AirdriBobrick.pdf

European Commission-Joint Research Centre-Institute for Environment and Sustainability (2010) International Reference Life Cycle Data System (ILCD) Handbook—general guide for life cycle assessment—detailed guidance. Luxembourg. http://lct.jrc.ec.europa.eu/pdf-directory/ILCD-Handbook-General-guide-for-LCA-DETAIL-online-12March2010.pdf

Franklin Associates (2011) Documentation for the paper calculator. http://www.papercalculator.org/

Frischknecht R, Jungbluth N, Althaus H-J, Doka G, Dones R, Heck T, Hellweg S, Hischier R, Nemecek T, Rebitzer G, Spielmann M, Wernet G (2007) Overview and methodology. ecoinvent report no. 1. Swiss Centre for Life Cycle Inventories, Dübendorf, Switzerland. http://www.ecoinvent.org/fileadmin/documents/en/01_OverviewAndMethodology.pdf

Hischier R, Weidema B, Althaus H-J, Bauer C, Doka G, Dones R, Frischknecht R, Hellweg S, Humbert S, Jungbluth N, Köllner T, Loerincik Y, Margni M, Nemecek T (2010) Implementation of life cycle impact assessment methods. ecoinvent report no. 3, v2.2. Swiss Centre for Life Cycle Inventories, Dübendorf, Switzerland. http://www.ecoinvent.org/fileadmin/documents/en/03_LCIA-Implementation-v2.2.pdf

Hong J, Shaked S, Rosenbaum RK, Jolliet O (2010) Analytical uncertainty propagation in life cycle inventory and impact assessment: application to an automobile front panel. Int J Life Cycle Assess 15(5):499–510

Huijbregts M (1998) Part II: dealing with parameter uncertainty and uncertainty due to choices in life cycle assessment. Int J Life Cycle Assess 3(6):343–351

Huijbregts MAJ, Gilijamse W, Ragas AMJ, Reijnders L (2003) Evaluating uncertainty in environmental life-cycle assessment. A case study comparing two insulation options for a Dutch one-family dwelling. Environ Sci Technol 37(11):2600–2608

Intergovernmental Panel on Climate Change (2007) Climate Change 2007: the physical science basis. Contribution of Working Group I to the Fourth Assessment Report of the Intergovernmental Panel on Climate Change, Cambridge, UK. http://www.ipcc.ch/publications_and_data/publications_ipcc_fourth_assessment_report_wg1_report_the_physical_science_basis.htm

International Organisation for Standardisation (2006) ISO/FDIS 14044 Environmental management-life cycle assessment-requirements and guidelines

Koerner B (2008) Electric hand dryers vs. paper towels. Slate. http://www.slate.com/id/2193740/

Lloyd SM, Ries R (2007) Characterizing, propagating, and analyzing uncertainty in life-cycle assessment: a survey of quantitative approaches. J Ind Ecol 11(1):161–179

Madsen J (2007) Life cycle assessment of tissue products. environmental resources management. http://www2.kimberly-clark.com/pdfs/LifeCycleAssessment.pdf

Mattila T, Kujanpää M, Dahlbo H, Soukka R, Myllymaa T (2011) Uncertainty and sensitivity in the carbon footprint of shopping bags. J Ind Ecol 15(2):217–227. doi:10.1111/j.1530-9290.2010.00326.x

Montalbo T, Gregory J, Kirchain R (2011) Life cycle assessment of hand drying systems. Massachusetts Institute of Technology, Cambridge, USA. http://msl.mit.edu/publications/HandDryingLCA-Report.pdf

NSF (2007) NSF Protocol P335: hygienic commercial hand dryers. Ann Arbor, MI

Schryver AD, Vieira M (2008) LCA of two different hand drying systems: a comparative life cycle assessment of non-reusable paper and reusable cotton towels PRé Consultants bv, Amersfoort, The Netherlands. http://www.vendorinternational.com/upload/Engelse%20plaatjes/VendorReport_shortversion.pdf

Skoczen S (2009) Sustainability showdown: paper towels vs electric dryer. http://www.sixlinks.org/People/Steven-Skoczen/Blog/82/Sustainability-Showdown-Paper-Towels-Vs-Electric-D

United States Environmental Protection Agency (2009) Municipal Solid waste generation, recycling, and disposal in the United States: facts and figures for 2008. http://www.epa.gov/osw/nonhaz/municipal/msw99.htm

Watson J (2007) Greener dryer better: LCA of hand dryers vs. paper towels. http://www.treehugger.com/clean-technology/greener-dryer-better-lca-of-hand-dryers-vs-paper-towels.html

Wettstein D (2009) Ecobalance of emissions with climatic effect resulting from hand drying. myclimate, Zurich, Switzerland. http://www.climatop.ch/tl_files/factssheet/2011/E_Factsheet_Dyson_Handdryer_2011_2013_v2.pdf

World Resources Institute and World Business Council for Sustainable Development (2011) Greehouse gas protocol: product life cycle accounting and reporting standard. http://www.ghgprotocol.org/files/ghgp/public/Product-Life-Cycle-Accounting-Reporting-Standard_041613.pdf. Accessed 2011
Acknowledgments
This work was commissioned and funded by Dyson.
Additional information
Responsible editor: Andreas Ciroth
Electronic supplementary material
Below is the link to the electronic supplementary material.
About this article
Cite this article
Gregory, J.R., Montalbo, T.M. & Kirchain, R.E. Analyzing uncertainty in a comparative life cycle assessment of hand drying systems. Int J Life Cycle Assess 18, 1605–1617 (2013). https://doi.org/10.1007/s11367-013-0606-0
Received:

Accepted:

Published:

Issue Date:
Keywords
Life cycle assessment

Hand drying systems

Parameter uncertainty

Scenario analysis