Abstract
Purpose
The focus of land use modeling in life cycle impact assessment has been mainly on taxonomic measures of biodiversity, namely species richness (SR). However, increasing availability of trait data for species has led to the use of functional diversity (FD) as a promising metric to reflect the distinctiveness of species; this paper proposes the use of an FD index to calculate characterization factors (CFs) for land use impacts. Furthermore, we compare the results of the CFs to current practice and assess the increase in complexity introduced by the use of the new indicator.
Methods
The model proposed is based on data compiled by previous regional meta-analysis on SR and FD, in different land use types in the Americas. The taxonomic groups included were mammals, birds, and plants. Within each study, calculated values for FD for different land use types were compared with the natural or close-to-natural state, taken as the reference situation. FD values among different land uses were standardized, and CFs were calculated. The final results were then analyzed and compared by analysis of variance and post hoc tests. A sensitivity analysis was also applied to verify the influence on the choice of the reference state.
Results and discussion
The results show that significant differences exist between CFs for SR and FD metrics. Across all taxa, CFs differ significantly between land use types. The results support the use of CF for FD, as a complement to current practice. Distinct CFs should be applied for at least six groups of land use categories. The choice of reference land use type did not significantly alter the results but can be a source of variability. A sensitivity analysis evaluating the impact of alternate land use types as reference types found only few significant changes on the results.
Conclusions and recommendations
Given the results, we believe the use of CFs based on FD can help on the establishment of possible links between species loss and key ecosystem functions, i.e., on the association between the midpoint indicator (e.g., biodiversity loss) and the damage caused to ecosystem quality, in terms of functions lost. Basing CFs on FD is not without challenges. Such indices are data hungry (requiring species composition and traits) require more complex calculations than current common practice, including decisions on the choice of a method to calculate FD and the selection of traits.
Access options
Buy single article
Instant access to the full article PDF.
USD 39.95
Price excludes VAT (USA)
Tax calculation will be finalised during checkout.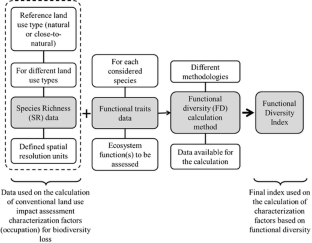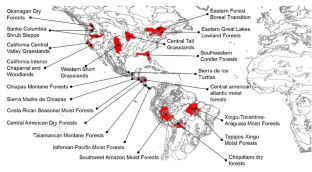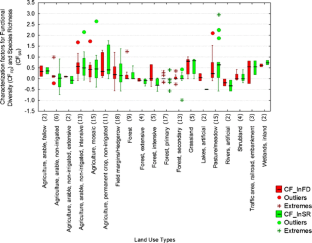 References
Achten WMJ, Vandenbempt P, Lemaître P, Mathijs E, Muys B (2008) Proposing a life cycle land use impact calculation methodology, 6th International Conference on LCA in the Agri-Food Sector, Zurich

Best LB, Freemark KE, Dinsmore JJ, Camp M (1995) A review and synthesis of habitat use by breeding birds in agricultural landscapes of Iowa. Am Midl Nat 134(1):1–29

Chapin FS III, Zavaleta ES, Eviner VT, Naylor RL, Vitousek PM, Reynolds HL, Hooper DU, Lavorel S, Sala OE, Hobbie SE, Mack MC, Diaz S (2000) Consequences of changing biodiversity. Nature 405(6783):234–242

Chiarucci A, Araújo MB, Decocq G, Beierkuhnlein C, Fernández-Palacios JM (2010) The concept of potential natural vegetation: an epitaph? J Veg Sci 21:1172–1178

Curran M, de Baan L, Schryver AMD, Zelm RV, Hellweg S, Koellner T et al (2011) Toward meaningful end points of biodiversity in life cycle assessment. Environ Sci Technol 45:70–79

Daily GC, Ehrlich PR, Sánchez-Azofeifa GA (2001) Countryside biogeography: use of human-dominated habitats by the Avifauna of Southern Costa Rica. Ecol Appl 11(1):1–13

De Baan L, Alkemade R, Koellner T (2013) Land use impacts on biodiversity in LCA: a global approach. Int J Life Cycle Assess. doi:10.1007/s11367-012-0412-0 (this issue)

Díaz S, Cabido M (2001) Vive la différence: plant functional diversity matters to ecosystem processes. Trends Ecol Evol 16(11):646–655

Flynn DFB, Gogol-Prokurat M, Nogeire T, Molinari N, Richers BT, Lin BB, Simpson N, Mayfield MM, DeClerk F (2009) Loss of functional diversity under land use intensification across multiple taxa. Ecol Lett 12(1):22–33

Gibson L, Lee TM, Koh LP, Brook BW, Gardner TA, Barlow J, Peres CA, Bradshaw CJA, Laurance WF, Lovejoy TE, Sodhi NS (2011) Primary forests are irreplaceable for sustaining tropical biodiversity. Nature 478:378–383

Harrington R, Anton C, Dawson TP, Fd B, Feld CK, Haslett JR, Kluvánkova-Oravská T, Kontogianni A, Lavorel S, Luck GW, Rounsevell MDA, Samways MJ, Settele J, Skourtos M, Spangenberg JH, Vandewalle M, Zobel M, Harrison PA (2010) Ecosystem services and biodiversity conservation: concepts and glossary. Biodivers Conserv 19(10):2773–2790

Hooper DU, Solan M, Symstad A, Diaz S, Gessner MO, Buchmann N, Degrange V, Grime P, Hulot F, Mermillod-Blondin F, Roy J, Spehn E, van Peer L (2002) Species diversity, functional diversity, and ecosystem functioning. In: Loreau M, Naeem S, Inchausti P (eds) Biodiversity and ecosystem functioning: synthesis and perspectives. Oxford University Press, London, pp 195–208

Husband TP, Abedon DH, Donelan E, Paton P (2009) Do coffee dominated landscapes support mammal biodiversity? In: World Agroforestry Centre (Hrsg.), 2nd World Congress of Agroforestry, Agroforestry - The Future of Global Land Use. Book of Abstracts, 2nd World Congress of Agroforestry. World Agroforestry Centre, Nairobi, Kenya

IUCN (2001) IUCN Red List Categories and Criteria. Version 3.1. IUCN Species Survival Commission, Gland

Koellner T (2003) Land Use in Product Life Cycles and Ecosystem Quality. Peter Lang, Frankfurt am Main, 271 pp

Koellner T, de Baan L, Brandao M, Milà i Canals L, Civit B, Goedkoop M, Margni M, Weidema BP, Wittstock B, Mueller-Wenk R (2013) Principles for life cycle inventories of land use on a global scale. Int J Life Cycle Assess. doi:10.1007/s11367-012-0392-0

Koellner T, Scholz RW (2007) Assessment of land use impacts on the natural environment. Part 1: An analytical framework for pure land occupation and land use change. Int J Life Cycle Assess 12:16–23

MA (2005) Ecosystems and Human Well-being: Biodiversity Synthesis. World Resources Institute, Washington, DC

Mas AH, Dietsch TV (2004) Linking shade coffee certification to biodiversity conservation: butterflies and birds in Chiapas, Mexico. Ecol Appl 14(3):642–654

Mason NWH, MacGillivray K, Steel JB, Wilson JB (2003) An index of functional diversity. J Veg Sci 14(4):571–578

Mason NWH, Mouillot D, Lee WG, Wilson JB (2005) Functional richness, functional evenness and functional divergence: the primary components of functional diversity. Oikos 111(1):112–118

Mayfield MM, Ackerly D, Daily GC (2006) The diversity and conservation of plant reproductive and dispersal functional traits in human-dominated tropical landscapes. J Ecol 94(3):522–536

Mouchet MA, Villéger S, Mason NWH, Mouillot D (2010) Functional diversity measures: an overview of their redundancy and their ability to discriminate community assembly rules. Funct Ecol 24(4):867–876

Mueller-Wenk R (1998) Land use the main threat to species: How to include land use in LCA. 64. Universität St. Gallen, St. Gallen

Petchey OL, Gaston KJ (2002a) Extinction and the loss of functional diversity. Proc R Soc Lond B 269:1721–1727

Petchey OL, Gaston KJ (2002b) Functional diversity (FD), species richness and community composition. Ecol Lett 5(3):402–411

Petchey OL, Hector A, Gaston KJ (2004) How do different measures of functional diversity perform? Ecology 85(3):847–857

Petchey OL, Gaston KJ (2006) Functional diversity: back to basics and looking forward. Ecol Lett 9(6):741–758

Petchey OL, O'Gorman EJ, Flynn DFB (2009) A functional guide to functional diversity measures. In: Naeem S, Bunker DE, Hector A, Loreau M, Perrings C (eds) Biodiversity, ecosystem functioning, and human wellbeing: an ecological and economic perspective. Oxford University Press, Oxford, p 384

Podani J, Schmera D (2006) On dendrogram based measures of functional diversity. Oikos 115(1):179–185

Sánchez-Merlos D, Harvey CA, Grijalva A, Medina A, Vilchez S, Hernandez B (2005a) Diversidad, composicion y estructura de la vegetacion en un agropaisaje ganadero en Matiguas, Nicaragua. Rev Biol Trop 53(3–4):387–414

Sánchez-Merlos D, Harvey CA, Grijalva A, Medina A, Vilchez S, Hernandez B (2005b) Caracterización de la diversidad, densidad y estructura de la vegetación en un paisaje fragmentado de bosque seco en Rivas, Nicaragua. Rev Rec Nat Ambiente 45:91–104

Schmidt JH (2008) Development of LCIA characterization factors for land use impacts on biodiversity. J Cleaner Prod 16(18):1929–42

Souza DM (2010) Proposta de um modelo de caracterização de impactos do uso da terra, segundo indicadores de biodiversidade, em AICV: cálculo de fatores de caracterização para ecorregiões brasileiras. Ph.D. thesis, Universidade Federal de Santa Catarina, Florianopolis, 309 pp

StatSoft Inc (2009) Statistica: data analysis software system. StatSoft. Inc, Tulsa

Sullivan TP, Sullivan DS (2006) Plant and small mammal diversity in orchard versus non-crop habitats. Agr Ecosyst Environ 116(3–4):235–243

Suzan G, Armien A, Mills JN, Marce E, Ceballos G, Avila M, Salazar-Bravo J, Ruedas L, Armien B, Yates TL (2008) Epidemiological considerations of rodent community composition in fragmented landscapes in panama. J Mammalogy 89(3):684–690

Tilman D (2001) Functional diversity. In: Levin SA (ed) Encyclopedia of biodiversity. Academic, New Jersey

Tüxen R (1956) Die heutige potentielle natürliche Vegetation als Gegenstand der Vegetationskartierung. Angew. Pflanzensoziol (13):5–42

Vandewalle M, de Bello F, Berg M, Bolger T, Dolédec S, Dubs F, Feld C, Harrington R, Harrison P, Lavorel S, da Silva P, Moretti M, Niemelä J, Santos P, Sattler T, Sousa J, Sykes M, Vanbergen A, Woodcock B (2010) Functional traits as indicators of biodiversity response to land use changes across ecosystems and organisms. Biodivers Conserv 19(10):2921–2947

Weidema B, Lindeijer E (2001) Physical impacts of land use in product life cycle assessment. Final report of the EURENVIRON-LCAGAPS sub-project on land use, Department of Manufacturing Engineering and Management, Technical University of Denmark, Lyngby

Zerbe S (1998) Potential natural vegetation: validity and applicability in landscape planning and nature conservation. Appl Veg Sci 1:165–172
Acknowledgments
We would like to thank the LC Impact (Life Cycle Impact Assessment Methods for Improved Sustainability Characterization of Technologies, Grant Agreement N.243827, funded by the European Commission under the 7th Framework Programme) and SoilTrEC (Soil Transformations in European Catchments, Grant Agreement N. 244118, funded by the European Commission under the 7th Framework Programme) Projects for the financial support provided for the development of this research. Further, we are also thankful to M. Gogol-Prokurat, T. Nogeire, N. Molinari, B.T. Richers, B.B. Lin, N. Simpson, and M.M. Mayfield, who through Fabrice DeClerck and Dan Flynn have made part of the metadata available for this study.
Additional information
Responsible editor: Roland Geyer
Electronic supplementary material
Below is the link to the electronic supplementary material.
About this article
Cite this article
de Souza, D.M., Flynn, D.F.B., DeClerck, F. et al. Land use impacts on biodiversity in LCA: proposal of characterization factors based on functional diversity. Int J Life Cycle Assess 18, 1231–1242 (2013). https://doi.org/10.1007/s11367-013-0578-0
Received:

Accepted:

Published:

Issue Date:

DOI: https://doi.org/10.1007/s11367-013-0578-0
Keywords
Biodiversity indicator

Functional diversity

Global characterization factors

Land use

LCIA

Regionalization