Abstract
Purpose
The goal of this study was to use life cycle assessment (LCA) methodology to assess the environmental impacts of industrial and institutional cleaning products that are compliant with the Green Seal Standard for Cleaning Products for Industrial and Institutional Use, GS-37, and conventional products (non-GS-37-compliant) products.
Methods
The scope of the study was "cradle-to-grave," to encompass the energy and material resources required for the production of raw material and packaging components to use and final disposal of the cleaning product. The generic functional unit for this study was annual cleaning of 100,000 ft2 of office space. The ReCiPe 2008 Midpoint (hierarchist perspective) impact assessment methodology was used including the following impact categories: climate change, ozone depletion, photochemical oxidant formation, particulate matter formation, human toxicity, terrestrial acidification, freshwater eutrophication, freshwater ecotoxicity, agricultural land occupation, natural land transformation, water depletion, and fossil depletion. General-purpose, glass, and restroom cleaning products were included in the study. Model products of GS-37-compliant, conventional concentrate, and conventional ready-to-use versions of each cleaning product were evaluated in the study.
Results and discussion
The conventional ready-to-use industrial and institutional cleaning product had the highest environmental impact in all product types and for the most impact categories analyzed. The GS-37-compliant products were lower than the conventional products in most impact categories studied. Furthermore, normalization of the results showed that the impact categories of marine ecotoxicity, human toxicity, and freshwater ecotoxicity were dominant, and the conventional products led these impact categories. The packaging and distribution stages were dominant for the conventional products, whereas the product formula (i.e., chemicals used in the product) contributed significantly to overall impacts for GS-37-compliant products. This is because the GS-37 standard addresses packaging and distribution, but could potentially further address the formula considerations.
Conclusions
The comparative life cycle assessment performed in this study showed that the Green Seal Standard for Cleaning Products for Industrial and Institutional Use, GS-37, identifies products with notably lower environmental impact compared to typical alternatives in the market. This reduced impact was a result of the requirements in the Green Seal standard that addressed the leading sources of the impacts (namely packaging, transportation) and is not included in any other standard or recognition program in North America.
Access options
Buy single article
Instant access to the full article PDF.
USD 39.95
Price excludes VAT (USA)
Tax calculation will be finalised during checkout.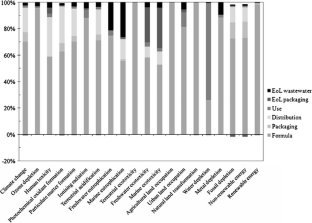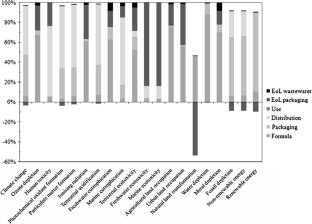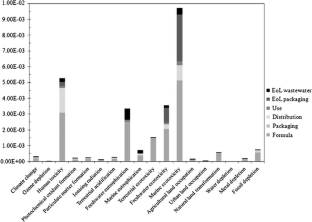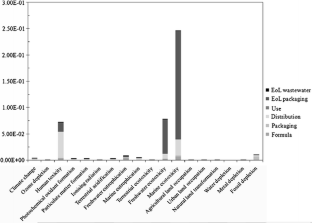 Notes
Also referred to as compliant product
References
Ahmed FU (2009) Industrial and institutional cleaners. In: Zoller U, Sosis P (eds) Handbook of detergents, part E: applications. CRC Press, Boca Raton, pp 201–253

Espinoza T, Geiger C, Everson I (2010) The real costs of institutional "Green" cleaning. http://www.sfenvironment.org/downloads/library/the_real_costs_of_green_cleaning_v6.pdf Accessed 1st March, 2011

Flick EW (2006) Advanced cleaning products formulations database. William Andrew Publishing. http://www.knovel.com/web/portal/browse/display?_EXT_KNOVEL_DISPLAY_bookid=1345&VerticalID=0 Accessed 4 January, 2012

The Freedonia Group (2010) Industrial and Institutional (I&I) Cleaning chemicals to 2014. Cleveland, OH

Frischknecht R, Jungbluth N, Althaus HJ, Bauer C, Doka G, Dones R, Hischier R, Hellweg S, Humbert S, Köllner T, Loerincik Y, Margn M and Nemecek T (2007) Implementation of life cycle assessment methods. Ecoinvent report no 3, Dübendorf, Accessed 25th January, 2011

Franklin Associates (2010) Life cycle inventory of 100% post consumer HDPE and PET recycled resin from postconsumer containers and packaging. Franklin Associates, Prairie Village

Goedkoop M Heijungs R, Huijbregts M, Schryver AD, Struijs J, Zelm RV (2009) Report: "ReCiPe 2008 A life cycle impact assessment method which comprises harmonized category indicators at the midpoint and the endpoint level. First edition, Report I: Characterisation, 6th January, 2009". http://www.lcia-recipe.net Last accessed January 2011

Green Seal (2009) Green Seal Standard for Cleaning Products for Industrial and Institutional Use, Fifth Edition. Green Seal, Washington, D.C. http://www.greenseal.org/Portals/0/Documents/Standards/GS-37/GS-37_Cleaning_Products_for_Industrial_and_Institutional_Use_Standard.pdf Accessed 10th March, 2011

ISSA (2009) Green Cleaning Product Procurement Policies, Initiatives, and Requirements in the U.S. Lincolnwood, IL

Koehler A, Wildboz C (2009) Comparing the environmental footprints of home-care and personal-hygiene products: the relevance of different life-cycle phases. Environ Sci Tech 43:8643–8651

USEPA (2002) Life cycle review of products and services in support of the environmentally preferable purchasing program. United States Environmental Protection Agency (USEPA), Washington, DC

USEPA (2006) Report: "Life cycle assessment: Principles and Practice". http://www.epa.gov/nrmrl/lcaccess/pdfs/600r06060.pdf Accessed on 10th October 2011

USEPA (2010) Report: "Municipal Solid Waste in the United States: 2009 Facts and Figures". http://epa.gov/osw/nonhaz/municipal/pubs/msw2009rpt.pdf Accessed on 2nd February 2011

USEPA (2011) Green Cleaning Pollution Prevention Calculator, http://www.fedcenter.gov/janitor/index.asp
Additional information
Responsible editor: Gerald Rebitzer
Electronic supplementary material
Below is the link to the electronic supplementary material.
About this article
Cite this article
Kapur, A., Baldwin, C., Swanson, M. et al. Comparative life cycle assessment of conventional and Green Seal-compliant industrial and institutional cleaning products. Int J Life Cycle Assess 17, 377–387 (2012). https://doi.org/10.1007/s11367-011-0373-8
Received:

Accepted:

Published:

Issue Date:

DOI: https://doi.org/10.1007/s11367-011-0373-8
Keywords
Cleaning products

Ecolabel

Environmentally preferable

Environmental impact

Green

Green seal

GS-37

Institutional

LCA

Standard