Abstract
Purpose
This paper describes part of the first detailed environmental life cycle assessment (LCA) of Australian red meat (beef and sheep meat) production. The study was intended to assist the methodological development of life cycle impact assessment by examining the feasibility of new indicators for natural resource management (NRM) issues relevant to soil management in agricultural LCA. This paper is intended to describe the NRM indicators directly related to agricultural soil chemistry.
Materials and methods
Three nutrient management indicators—nitrogen (N), phosphorus (P) and potassium (K) balances—were estimated on the basis of 1 kg of hot standard carcass weight (HSCW) for three grazing properties in Australia. We also examined a soil acidification indicator based on the effects of agricultural practices.
Results and discussion
The N balance for the grazing properties varied from a loss of 28 g N/kg HSCW to an accumulation of 170 g N/kg HSCW. For comparison, the N content of cattle is about 24 g/kg liveweight. The main contributors to these changes were the growth of N-fixing pastures (or lack thereof) and the application of fertilisers. The P and the K balances showed similar results, varying from a 3.9-g loss to a 19-g accumulation of P and a 4-g loss to a 95-g accumulation of K per kilogram HSCW. Decisions about pasture management were also reflected in the results of the soil acidification indicator. We also identified that soil erosion at the grazing properties is a significant component of nutrient losses.
Conclusions
The results suggest that reducing the leaching of soil N might be the best way to balance the N budget without causing acidification. The NRM indicators developed can be benchmarked against other production systems as the application of these indicators progresses.
Access options
Buy single article
Instant access to the full article PDF.
USD 39.95
Price excludes VAT (USA)
Tax calculation will be finalised during checkout.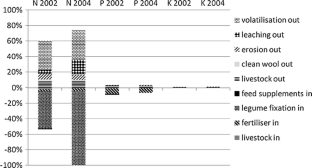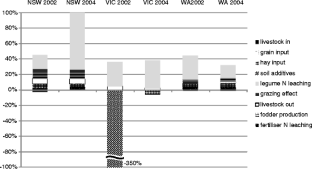 References
Anderson G, Fillery I, Dunin F, Dolling P, Asseng S (1998) Nitrogen and water flows under pasture, wheat and lupin wheat rotations in deep sands in Western Australia. 2. Drainage and nitrate leaching. Aust J Agric Res 49:345–361

Barlow K, Nash B, Grayson C (2005) Phosphorus export at the paddock, farm-section, and whole farm scale on an irrigated dairy farm in south-eastern Australia. Aust J Agric Res 56:1–9

Basset-Mens C, van der Werf HMG (2005) Scenario-based environmental assessment of farming systems: the case of pig production in France. Agric Ecosyst Environ 105(1–2):127–144

Bolan NS, Hedley MJ, White RE (1991) Processes of soil acidification during nitrogen cycling with emphasis on legume based pastures. Plant Soil 134:53–63

Bouwman A, Van Der Hoek K (1997) Scenarios of animal waste production and fertilizer use and associated ammonia emission for the developing countries. Atmos Environ 31:4095–4102

Casey JW, Holden NM (2005) The relationship between greenhouse gas emissions and the intensity of milk production in Ireland. J Environ Qual 24:429–436

Cayley J, McCaskill M, Kearney G (2002) Changes in pH and organic carbon were minimal in a long-term field study in the western district of Victoria. Aust J Agric Res 53:115–126

Cederberg C, Stadig M (2003) System expansion and allocation in life cycle assessment of milk and beef production. Int J LCA 8:350–356

Chang C, Sommerfeldt T, Entz T (1990) Rates of soil chemical changes with eleven annual application of cattle feedlot manure. Can J Soil Sci 70:673–681

CNMSP (2007) Mass nutrient balance calculator instructions. Cornell University, Cornell Nutrient Management Spear Program, NY

Costin A (1980) Runoff and soil and nutrient losses from an improved pasture at Ginninderra, Southern Tablelands, New South Wales. Aust J Agric Res 31:533–546

Crawford D, Baker T, Maheswaran J (1994) Soil pH changes under Victorian pastures. Aust J Soil Res 32:105–115

Dalal R, Weijin Wang G, Robertson P, Parton W (2003) Nitrous oxide emission from Australian agricultural lands and mitigation options: a review. Aust J Soil Res 41:165–195

Dear BS, Cocks PS, Peoples MB, Swan AD, Smith AB (1999) Nitrogen fixation by subterranean clover (Trifolium subterraneum L.) growing in pure culture and in mixtures with varying densities of lucerne (Medicago sativa L.) or phalaris (Phalaris aquatica L.). Aust J Soil Res 50:1047–1058

DPI&F (2003) Beefbal, a nutrient balance model for beef cattle feedlots. Department of Primary Industries and Fisheries, Toowoomba, Queensland

Eckard R, Chen D, White R, Chapman D (2003) Gaseous nitrogen loss from temperate perennial grass and clover dairy pastures in south-eastern Australia. Aust J Agric Res 54:561–570

Eckard R, White R, Edis R, Smith A, Chapman D (2004) Nitrate leaching from temperate perennial pastures grazed by dairy cows in south-eastern Australia. Aust J Agric Res 55:911–920

Eide MH (2002) Life cycle assessment (LCA) of industrial milk production. Int J LCA 7(2):115–126

Eriksson IS (2005) Environmental systems analysis of pig production—the impact of feed choice. Int J LCA 10(2):143–154

Helyar K (1976) Nitrogen cycling and soil acidification. J Aust Inst Agric Sci 42:217–221

Hilder E (1964) The distribution of plant nutrients by sheep at pasture. Proc Aust Soc Anim Prod 5:241–247

Hospido A, Moreira T, Feijoo G (2003) Simplified life cycle assessment of Galacian milk production. Int Dairy J 13:783–796

Incitec Pivot (2005a). Nitrogen Factsheet. from http://www.incitec.com/FertFacts.asp accessed Nov 2009

Incitec Pivot (2005b). Phosphorus Factsheet. from http://www.incitec.com/FertFacts.asp accessed Nov 2009

Incitec Pivot (2005c). Potassium Factsheet. from http://www.incitec.com/FertFacts.asp accessed Nov 2009

Khan S, Roser D, Ashbolt N, Davies C, Peters G, Stuetz R, Tucker R, Watts P (2008) Chemical contaminants in feedlot wastes: concentrations, effects and attenuation. Environ Int 34(6):839–859

Lundie S, Feitz AJ, Changsirivathanathamrong A, Jones M, Dennien G, Morian M (2003) Evaluation of the environmental performance of the Australian Dairy Processing Industry using Life Cycle Assessment. Centre for Water and Waste Technology, The University of New South Wales, Sydney

Lundie S, Peters G, Ashbolt N, Lai E, Livingston D (2006) A sustainability framework for the Australian water industry. Water 33(7):83–88

McKenzie FR, Jacobs J, Riffkin P, Kearney G, McCaskill M (2003) Long-term effects of multiple applications of nitrogen fertiliser on grazed dryland perennial ryegrass/white clover dairy pastures in south-west Victoria. 1. Nitrogen fixation by white clover. Aust J Agric Res 54:461–469

Mila i Canals L, Domenech X, Rieradevall J, Puig R, Fullana P (2002) Use of life cycle assessment in the procedure for the establishment of environmental criteria in the catalan eco-label of leather. Int J LCA 7(1):39–49

MLA (2010) About the red meat industry. Retrieved July, 2010, from http://www.mla.com.au/About-the-red-meat-industry/Industry-overview accessed Nov 2009

Moody P (2005). Soil Acidity. Queensland Branch, Australian Society of Soil Science Incorporated

NLWRA (2001) Australian Agriculture Assessment 2001, Volume 1, Theme report for the National Land and Water Resources Audit. National Land and Water Resources Audit, Canberra

Nutri-tech (2006) Humates. Retrieved 18 October, 2006, from http://www.nutri-tech.com.au/products/humates.htm. Accessed Nov 2008

Ogino A, Orito H, Shimada K, Hirooka H (2007) Evaluating environmental impacts of the Japanese beef cow-calf system by the life cycle assessment method. Anim Sci J 78:424–432

Paerl H (2008). Nutrient and other environmental controls of harmful cyanobacterial blooms along the freshwater-marine continuum. Cyanobacterial Harmful Algal Blooms: State of the Science Research Needs Series: Advances in Experimental Medicine and Biology K. H. Hudnell. 619:217–237

Peters G, Rowley HV, Wiedemann S, Tucker R, Short M, Schulz M (2010a) Red meat production in Australia—a life cycle assessment and comparison with overseas studies. Environ Sci Technol 44(4):1327–1332

Peters G, Wiedemann S, Rowley HV, Tucker R (2010b) Accounting for water use in Australian red meat production. Int J LCA 15(3):311–320

QDPI&F (2005) BEEFBAL—A Nutrient Mass Balance Model for Beef Cattle Feedlots. Department of Primary Industries and Fisheries, Brisbane, Queensland

Ridley A, Slattery WJ, Helyar KR, Cowling A (1990) Acidification under grazed annual and perennial grass based pastures. Aust J Exp Agric 30:539–544

Ridley A, White R, Helyar K, Morrison G, Heng L, Fisher R (2001) Nitrate leaching loss under annual and perennial pastures with and without lime on a duplex (texture contrast) soil in humid southeastern Australia. Eur J Soil Sci 52:237–252

Ridley A, Christy B, White R, McLean T, Green R (2003) North-east Victoria SGS national experiment site: water and nutrient losses from grazing systems on contrasting soil types and levels of inputs. Aust J Exp Agric 43:799–815

Riffkin P, Quigley P, Cameron F, Peoples M, Thies J (1999) Annual nitrogen fixation in grazed dairy pastures in south-western Victoria. Aust J Agric Res 50:273–282

Sandars DL, Audsley E, Canete C, Cumby TR, Scotford IM, Williams AG (2003) Environmental benefits of livestock manure management practices and technology by life cycle assessment. Biosyst Eng 84(3):267–281

Sanford P, Pate J, Unkovich M, Thompson A (1995) Nitrogen fixation in grazed and ungrazed subterranean clover pasture in south-west Australia assessed by the 15 N natural abundance technique. Aust J Agric Res 46:1427–1443

Schlich EH, Fleissner U (2005) The ecology of scale: assessment of regional energy turnover and comparison with global food. Int J LCA 10:219–223

Schoenau J (2005). Impacts of Repeated Manure Additions on Soil Quality. Proc Farm Tech:95–100

Slattery W, Ridley AM, Windsor SM (1991) Ash alkalinity of animal and plant products. Aust J Exp Agric 31:321–324

Unkovich M, Pate JS, Sanford P (1997) Nitrogen fixation by annual legumes in Australian Mediterranean agriculture. Aust J Agric Res 48:267–293

Verge XPC, Dyer JA, Desjardins RL, Worth D (2008) Greenhouse gas emissions from the Canadian beef industry. Agric Syst 98:126–134

Whalen J, Chang C, Clayton G, Carefoot J (2000) Cattle manure amendments can increase the pH of acid soils. Soil Sci Soc Am J 64:962–966

Williams AG, Audsley E, Sandars DL (2006) Determining the environmental burden and resource use in the production of agricultural and horticultural commodities. Main Report. Cranfield University and Defra, Bedford
Acknowledgements
This research was funded by Meat and Livestock Australia.
Additional information
Responsible editor: Seungdo Kim
Electronic supplementary materials
Below is the link to the electronic supplementary material.
About this article
Cite this article
Peters, G.M., Wiedemann, S., Rowley, H.V. et al. Assessing agricultural soil acidification and nutrient management in life cycle assessment. Int J Life Cycle Assess 16, 431–441 (2011). https://doi.org/10.1007/s11367-011-0279-5
Received:

Accepted:

Published:

Issue Date:

DOI: https://doi.org/10.1007/s11367-011-0279-5
Keywords
LCA

Nutrient management

Red meat

Soil acidification potential