Abstract
Background, aim, and scope
The aim of this study has been to estimate the carbon footprint of bread produced and consumed in the UK. Sliced white and wholemeal bread has been considered for these purposes and the functional unit is defined as "one loaf of sliced bread (800 g) consumed at home". The influence on the carbon footprint of several parameters has been analysed, including country of origin of wheat (UK, Canada, France, Germany, Spain and USA), type of flour (white, brown and wholemeal) and type of packaging (plastic and paper bags). The effect on the results of the type of data (primary and secondary) has also been considered.
Materials and methods
The carbon footprint has been estimated in accordance with the PAS 2050 methodology. The results have also been calculated following the ISO 14044 methodology to identify any differences in the two approaches and the results. Primary data for the PAS 2050-compliant study have been collected from a UK bread supply chain. Secondary data have been sourced from the UK statistics, life cycle inventory databases and other published sources.
Results and discussion
The carbon footprint results range from 977 to 1,244 g CO2 eq. per loaf of bread. Wholemeal thick-sliced bread packaged in plastic bags has the lowest carbon footprint and white medium-sliced bread in paper bag the highest. The main hot spots are wheat cultivation and consumption of bread (refrigerated storage and toasting), contributing 35% and 25% to the total, respectively.
Conclusions
The carbon footprint could be reduced on average by 25% by avoiding toasting and refrigerated storage of bread. Further reductions (5–10%) could be achieved by reducing the amount of waste bread discarded by consumers. The contribution of transport and packaging to the overall results is small. Similar trends in the results are also found in the study based on the secondary data and following the ISO 14044 methodology.
Access options
Buy single article
Instant access to the full article PDF.
US$ 39.95
Tax calculation will be finalised during checkout.
Subscribe to journal
Immediate online access to all issues from 2019. Subscription will auto renew annually.
US$ 79
Tax calculation will be finalised during checkout.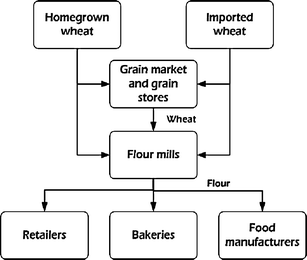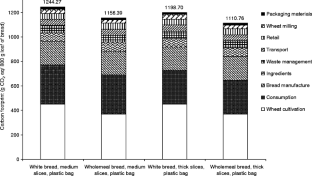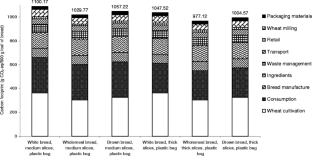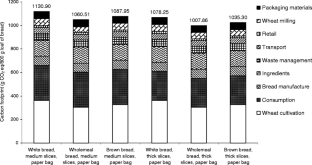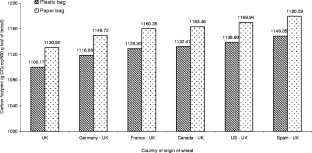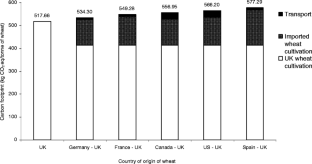 Notes
1.

In the context of this study, primary (specific) data are those collected directly from a player in the bread supply chain and secondary (generic) data are those sourced from literature, LCI databases or other sources. Primary data are compliant with PAS 2050. Wherever necessary and possible, the secondary data have been adapted for the UK bread supply chain considered in this study to reflect the UK situation (e.g., background energy mix etc.).

2.

However, it should be noted that, typically, the contribution of infrastructure to the overall results is insignificant and this is likely to be true for the bread system given the high volumes of production and a long life of equipment.

3.

The highest tier approach set out in the IPCC Guidelines for National Greenhouse Gas Inventories for non-CO2 emissions from livestock and soils (IPCC 2006).

4.

Twelve million loaves are sold each day, 80% of which is sliced and packaged; assuming the average carbon footprint of 1.18 kg CO2 eq./loaf (obtained in this study) gives: 12 x 106 x 0.8 x 1; 18 x 10−3 x 365 = 4.1 million t CO2 eq.year−1.

5.

Diastatic power of a grain refers to the grain's ability to break down starches into sugars.

6.

Based on own measurements of products available on the market.
References
ADAS (2009) Scenario building to test and inform the development of a BSI method for assessing greenhouse gas emissions from food. Report submitted to DEFRA. Project Reference Number FO0404, London

Allied Bakeries (2009) Kingsmill: our carbon footprint. Available from: http://www.kingsmillbread.com/carbon-footprint

BNF (2004) Flour. British Nutrition Foundation. Available from: www.nutrition.org.uk

BSI (2008) Publicly Available Specification PAS 2050:2008. Specification for the assessment of the life cycle greenhouse gas emissions of goods and services. British Standards Institution, London

Calvel R, Wirtz RL, MacGuire JJ (2001) The taste of bread. Aspen Publishers, Inc., Gaithersburg, MD

Carbon Trust (2008) Code of good practice for product greenhouse gas emissions and reduction claims. Carbon Trust, London. Available from: http://www.carbontrust.co.uk/PublicationsLibrary/CTC745.pdf

Carbon Trust (2009) Personal communication

Carlsson-Kanyama A, Pipping Ekström M, Shanahan H (2003) Food and life cycle energy inputs: consequences of diet and ways to increase efficiency. Ecol Econ 44(203):293–307

Cauvain S, Young L (1998) Technology of breadmaking. Blackie Academic Professional, London

Defra (2007) Agriculture in the United Kingdom. Available from: https://statistics.defra.gov.uk/esg/publications/auk/2007/default.asp

Defra (2008a) The British survey of fertiliser practice. Fertiliser use on farm crops for crop year 2007. Department for Environment, Food and Rural Affairs, London

Defra (2008b) UK Greenhouse gas inventory 1990 to 2006: annual report for submission under the Framework Convention on Climate Change. Department for Environment, Food and Rural Affairs, London

Defra (2009a) UK Wheat milled and flour production. In: DEFRA Agriculture and Food—statistical notice. Department for Environment, Food and Rural Affairs. Available from: https://statistics.defra.gov.uk/esg/flourns.htm

Defra (2009b) Greenhouse gas impacts of food retailing. Project FO405. Department for Environment, Food and Rural Affairs, London

Ecoinvent (2007) Swiss Centre for Life Cycle Inventories. Ecoinvent Database v 2.0, Dübendorf

EC (2007). DIRECTIVE 2007/45/EC OF THE EUROPEAN PARLIAMENT AND OF THE COUNCIL of 5 September 2007 laying down rules on nominal quantities for prepacked products, repealing Council Directives 75/106/EEC and 80/232/EEC, and amending Council Directive 76/211/EEC. Official Journal of the European Union, L 247/17, 21.9.2007

EPD (2010) Product Category Rules PCR 2010:05. Bread and other bakers' wares. The International EPD® System. Available from: http://www.environdec.com/en/PCR/Detail/?Pcr=5928

EU JRC (2007) European Reference Life Cycle Data System (ELCD) v. 1.0.1. 2007

FAB (2011) Facts about bread in the UK. Flour Advisory Bureau. Available from: http://www.fabflour.co.uk/content/1/31/facts-about-bread-in-the-uk.html

FoB (2007) UK bread market. The Federation of Bakers. Available from: www.bakersfederation.org.uk

Frigidaire (2010) Refrigerators. Available from: www.frigidaire.com

FSA (2009) Nutrition essentials. In: Eat well, be well. Food Standards Agency. Available from: www.eatwell.gov.uk

HC EFRAC (2007) Climate change: the "citizen's agenda". Eight report of session 2006–2007. Volumes 1 and 2. House of Commons Environment, Food and Rural Affairs Committee, The Stationery Office, London

HMSO (1998) The bread and flour regulations 1998. Statutory Instrument 1998 No. 141. HMSO, London

IPCC (2006) 2006 IPCC Guidelines for National Greenhouse Gas Inventories. Edited by Eggleston S, Buendia L, Miwa K, Ngara Z, Tanabe K. Available from: www.ipcc-nggip.iges.or.jp/public/2006gl/index.html

ISO (2006a) Environmental management—life cycle assessment—requirements and guidelines. ISO 14044:2006. International Organization for Standardization, Geneva, Switzerland

ISO (2006b) Environmental labels and declarations—type iii environmental declarations—principles and procedures. ISO 14025:2006. International Organization for Standardization, Geneva, Switzerland

Milà i Canals L, Azapagic A, Doka G, Jefferies D, King H, Mutel C, Nemecek T, Roches A, Sim S, Stichnothe H, Thoma G, Williams A (2011) Approaches for addressing LCA data gaps for bio-based products. J Indust Ecol (in press)

Mintel (2007) Bread—UK—February 2007. Market Intelligence Report

Mintel (2011). Bread and baked goods—UK—January 2011. Market Intelligence Report

Muñoz I, Milà i Canals L, Fernández-Alba A (2010) Life cycle assessment of the average Spanish diet including human excretion. Int J Life Cycle Assess 15(8):794–805

NABIM (2008) UK Flour Milling Industry 2008. London, 2008. National Association of British and Irish Millers. Available from: www.nabim.org.uk

Nielsen PH, Nielsen AM, Weidema BP, Dalgaard R, Halberg N (2003) LCA food database. Available from: www.lcafood.dk

Pelletier N, Arsenault N, Tyedmers P (2008) Scenario modelling potential eco-efficiency gains from a transition to organic agriculture: life cycle perspectives on Canadian canola, corn, soy, and wheat production. Environ Manage 42(6):989–1001

Plastics Europe (2005) Eco-profiles of the European Plastics Industry. Available from: www.lca.plasticseurope.org

WRAP (2008) The food we waste. WRAP, Banbury, Oxon. Available from: www.wrap.org.uk/thefoodwewaste
Acknowledgements
This study was funded by EPSRC, NERC and Carbon Trust as part of the CCaLC project (grant no. EP/F003501/1) and by Sustainable Consumption Institute at the University of Manchester. The authors gratefully acknowledge this funding.
Additional information
Responsible editor: Shabbir Gheewala
About this article
Cite this article
Espinoza-Orias, N., Stichnothe, H. & Azapagic, A. The carbon footprint of bread. Int J Life Cycle Assess 16, 351–365 (2011). https://doi.org/10.1007/s11367-011-0271-0
Received:

Accepted:

Published:

Issue Date:
Keywords
Bread

Carbon footprint

Global warming potential

ISO 14044

LCA

PAS 2050