Abstract
Purpose
Information and communication technology (ICT) has been proposed as a means to facilitate environmental sustainability. Dematerialisation is one potential way of doing this. For books, this could be realized through using e-book readers, which share many of the qualities of printed media and have notably low-energy requirements during use. The main aim of this study was to analyse the environmental impacts of an e-book read on an e-book reader, and to identify key issues determining the magnitude of the impact. A second aim was to compare the e-book product system with a paper book product system using a life cycle perspective.
Materials and methods
A screening LCA was performed on an e-book produced and read in Sweden. The e-book reader was assumed to be produced in China. The data used were general data from Ecoinvent 2.0 and site-specific data from companies participating in the study, whenever average data were not available.
Results and discussion
The results showed that production of the e-book reader was the life cycle step contributing most to the environmental impact of the system studied, although data on the e-ink screen were lacking. The disposal phase leads to avoided impact as materials are recycled; however, these results are less certain due to limited data availability. When the e-book was compared with a paper book, the results indicated that the number of books read on the e-book reader during its lifetime was crucial when evaluating its environmental performance compared with paper books. The results indicate that there are impact categories and circumstances where paper books are preferable to e-books from an environmental perspective and vice versa.
Conclusions
There is no single answer as to which book is better from an environmental perspective according to the results of the current study. To improve the e-book environmental performance, an e-book reader should be used frequently, the life time of the device should be prolonged, as far as possible, and when not in use anymore, the device should be disposed of in a proper way, making material recycling possible. In addition, the production of the e-reader should be energy efficient and striving towards minimisation of toxic and rare substances.
Access options
Buy single article
Instant access to the full article PDF.
USD 39.95
Price excludes VAT (USA)
Tax calculation will be finalised during checkout.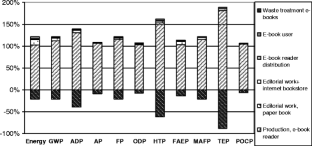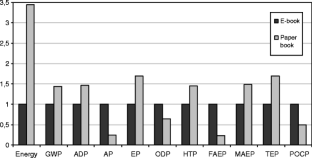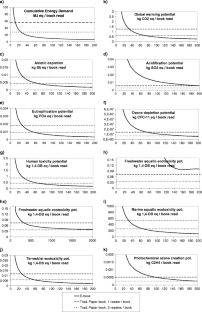 References
Avfall Sverige (2008) Svensk Avfallshantering 2008 (in Swedish). Avfall Sverige, Malmö

Baumann H, Tillman A-M (2004) A hitch-hikers guide to life cycle assessment. Studentlitteratur, Lund

Bergelin F (2008)) Life cycle assessment of a mobile phone a model on manufacturing, using and recycling. Master's thesis. Uppsala University. ISSN: 1401-5773, UPTEC Q08 014

Berkhout F, Hertin J (2004) De-materialising and re-materialising: digital technologies and the environment. Futures 36:903–920

Borggren C, Moberg Å (2009) Pappersbok och elektronisk bok på läsplatta—en jämförande miljöbedömning (in Swedish, Appendices in English). Report from the KTH Centre for Sustainable Communications TRITA-SUS 2009:2, Stockholm. ISSN 1654-479X. Available at http://www.sustainablecommunications.org/bok/

Borggren C, Moberg Å, Finnveden G (2011) Books from an environmental perspective - Part 1: environmental impacts of paper books sold in traditional and internet books stores. Int J Life Cycle Assess

Enroth M (2009) Environmental impact of printed and electronic teaching aids, a screening study focusing on fossil carbon dioxide emission. In Vol 36 Advances in Printing and Media Technology

Finnveden G (2000) On the limitations of life cycle assessment and environmental systems analysis tools in general. Int J Life Cycle Assess 5:229–238

Finnveden G, Hauschild M, Ekvall T, Guinée J, Heijungs R, Hellweg S, Koehler A, Pennington D, Suh S (2009) Recent developments in life cycle assessment. J Environ Manag 91:1–21

Frischknecht R, Jungbluth N, Althaus H-J, Doka G, Heck T, Hellweg S, Hischier R, Nemecek T, Rebitzer G, Spielmann M, Wernert G (2007a) Overview and Methodology. Ecoinvent report No. 1 Swiss Swiss Centre for Life Cycle Inventories, Dübendorf

Frischknecht R, Tuchschmid M, Faist Emmenegger M, Bauer C, Dones R (2007b) Strommix und Stromnetz. Sachbilanzen von Energiesystemen. Final report No. 6 ecoinvent data v2.0. In Dones R (ed), Volume: 6. Swiss Centre for Life Cycle Inventories, PSI, Dübendorf and Villigen

Frischknecht R, Jungbluth N, Althaus H-J, Bauer C, Doka G, Dones R, Hischier., Hellweg S, Humbert S, Köllner T, Loerincik Y, Margni M, Nemecek T (2007c) Implementation of life cycle impact assessment methods. Ecoinvent report No. 3, v2.0. Swiss Centre for Life Cycle Inventories, Dübendorf

Gard DL, Keoleian GA (2003) Digital versus print. Energy performance in the selection and use of scholarly journals. J Ind Ecol 6(2):115–132

Guinée JB, Gorrée M, Heijungs R, Huppes G, Kleijn R, de Koning A, van Oers L, Wegener Sleeswijk A, Suh S, Udo de Haes HA, de Bruijn JA, van Duin R, Huijbregts MAJ (2002) Handbook on life cycle assessment: Operational guide to the ISO standards. Series: Eco-efficiency in industry and science. Kluwer, Dordrecht

Hilty LM, Arnfalk P, Erdmann L, Goodman J, Lehmann M, Wäger PA (2006) The relevance of information and communication technologies for environmental sustainability A prospective simulation study. Environ Model Software 21:1618–1629

Hischier R, Reichart I (2001) Environmental impact: A comparison between print and electronic media. Proceedings of the 3 rd Ecopapertech Conference 2001, pp 397–406

Hischier R, Reichart I (2003) Multifunctional electronic media—traditional media. The problem of an adequate functional unit. A case study of a printed newspaper, an internet newspaper and a TV broadcast. Int J Life Cycle Assess 8(4):201–208

Hischier R, Classen M, Lehmann M, Scharnhorst W (2007) Life cycle inventories of electric and electronic equipment—production, use & disposal. Final report ecoinvent Data v2.0. Volume: 18. Swiss Centre for Life Cycle Inventories, Empa - TSL. Duebendorf and St. Gallen

ISO (2006) ISO 14040 International standard. In: Environmental management—life cycle assessment—principles and framework. International Organisation for Standardization, Geneva

Kamburow C (2004) E-paper—Erste Abschätzung der Umweltsauswirkungen. Eine ökobilanzielle Betrachtung am Beispiel des Nachrichtenmediums Zeitung (In German). IZT WerkstattBericht Nr 67, Berlin

Kozak G (2003) Printed scholarly books and e-book reading devices: A comparative life cycle assessment of two book options. Centre for Sustainable Systems, University of Michigan. Report No. CSS03-04. Michigan

Moberg Å, Johansson M, Finnveden G, Jonsson A (2007) Screening environmental life cycle assessment of printed, web based and tablet e-paper newspaper. In IARIGAI proceedings. Advances in Printing and Media Technology 33: 414

Moberg Å, Borggren C, Finnveden G, Tyskeng S (2008) Effects of a total change from paper invoicing to electronic invoicing in Sweden. Report from the KTH Centre for Sustainable Communications TRITA-SUS 2008:3, Stockholm ISSN: 1654-479X

Moberg Å, Johansson M, Finnveden G, Jonsson A (2010) Printed and tablet e-paper newspaper from an environmental perspective—a screening life cycle assessment. Environ Impact Asses Rev. 30(3):177–191 doi:10.1016/j.eiar.2009.07.001

Pré Consultants (2008) SimaPro 7, Amersfoort

Schmidt A, Hedal Klöfverpris N (2009) Environmental impacts from digital solutions as an alternative to conventional paper-based solutions. FORCE Technology, Lyngby

Senarclens de Grancy G (2008) Technical, ecological and economic aspects of electrophoretic display applications. Master's Thesis, Graz University of Technology

Taylor C, Koomey J (2008) Estimating energy use and greenhouse gas emissions of internet advertising. February 14th, 2008 Working Paper. Prepared for IMC2

Tillman AM (2000) Significance of decision-making for LCA methodology. Environ Impact Asses Rev 20:113–123

Toffel MW, Horvath A (2004) Environmental Implications of wireless technologies. News delivery and business meetings. Policy Anal 38(11):2961–2970
Personal communications
Lundén D, TeliaSonera, personal communication April 2009

Malmodin J, Ericsson Research, personal communication April 2009

Svärdson P, Adlibris, personal communication October 2008 to May 2009

Sjölin S, Stena Technoworld, personal communication, February to April 2009
Acknowledgements
This screening LCA study was performed in collaboration with company representatives from the publisher Bonnierförlagen, the internet shop Adlibris and Elib, a producer and distributor of digital books, and the Swedish Media Association with experience of e-paper devices. These stakeholders participated in the definition of the goal and scope, data gathering and the interpretation of the results. The authors wish to thank the participating companies and organisations, and the Vinnova Centre of Excellence for Sustainable Communications for funding this study. In addition, several people were very helpful in providing information on different processes, etc. The authors are most grateful for their assistance.
About this article
Cite this article
Moberg, Å., Borggren, C. & Finnveden, G. Books from an environmental perspective—Part 2: e-books as an alternative to paper books. Int J Life Cycle Assess 16, 238–246 (2011). https://doi.org/10.1007/s11367-011-0255-0
Received:

Accepted:

Published:

Issue Date:

DOI: https://doi.org/10.1007/s11367-011-0255-0
Keywords
Book

e-book

e-paper

e-book reader

Internet

Printed media