Abstract
Purpose
The goal of the study was to compare the environmental impact of butter and margarine. Altogether, seven products were studied in three European markets: UK, Germany and France.
Methods
The approach used for the analysis is descriptive (attributional) LCA. The SimaPro software PRé 2007 was used to perform the calculations. Data for the production chain of the margarine products (production of raw materials, processing, packaging and logistics) were compiled from Unilever manufacturing sites, suppliers and from literature. The edible oil data inventories have been compared with those in proprietary databases (ecoinvent and SIK food database) and they show a high degree of similarity. For the butter products, data on milk production and butter processing were taken from various published studies for the countries of interest. Sensitivity analyses were conducted for a number of parameters (functional unit, allocation method, impact of using different oil, milk and dairy data, impact of estimating GHG emissions from land use change for certain oils) in order to evaluate their influence on the comparison between margarine and butter. The sensitivity analyses demonstrate that the initial results and conclusions are robust.
Results
The results show that margarine has significantly lower environmental impact (less than half) compared to butter for three impact categories global warming potential, eutrophication potential and acidification potential. For primary energy demand, the margarines have a lower impact than butter, but the difference is not as significant. Margarines use approximately half of the land required used for producing the butter products. For POCP, the impact is higher for the margarines due to the use of hexane in the oil extraction (no similar process occurs for butter).
Conclusions
The margarine products analysed here are more environmentally favourable than the butter products. In all three markets (UK, DE and FR) the margarine products are significantly better than the butter products for the categories global warming potential, eutrophication potential and acidification potential. These findings are also valid when comparing margarines and butters between the markets; for this reason they are likely to be of general relevance for other Western European countries where similar margarine and butter production systems are found.
Access options
Buy single article
Instant access to the full article PDF.
USD 39.95
Price excludes VAT (USA)
Tax calculation will be finalised during checkout.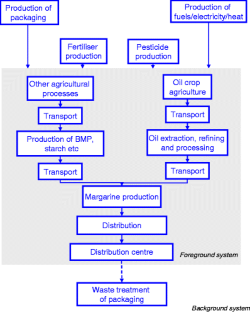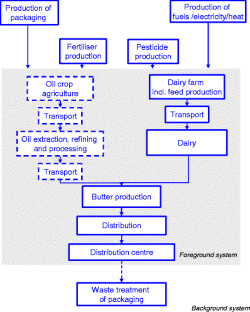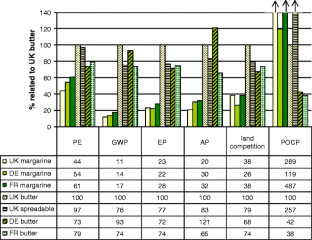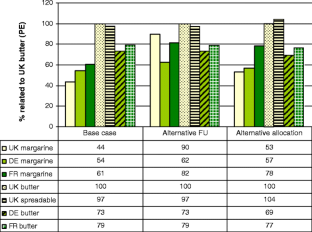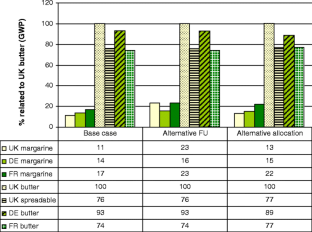 Notes
Traditional margarine has an 80% fat content; products which contain lower fat levels cannot be labelled 'margarine', but are instead referred to as 'spreads' for on-pack labelling. However, the words spreads and margarine are used interchangeably in this paper.

Unilever is one of the world's leading suppliers of fast moving consumer goods (Foods and Home and Personal Care Products).
References
Casey JW, Holden NM (2005) Analysis of greenhouse gas emissions from average Irish milk production system. Agric Syst 86:97–114

Cederberg C, Mattsson B (2000) Life cycle assessment of milk production—a comparison of conventional and organic farming. J Clean Prod 8:49–60

Cederberg C, Stadig M (2003) System expansion and allocation in life cycle assessment of milk and beef production. Int J LCA 8(6):350–356

Cederberg C, Flysjö A (2004) Life cycle Inventory of 23 Dairy Farms in South-Western Sweden. Report 728. SIK the Swedish Institute for Food and Biotechnology, Gothenburg, Sweden

Cederberg C, Flysjö A, Ericson L (2007) Livscykelanalys (LCA) av norrländsk mjölkproduktion. (Lifecycle assessment (LCA) of milk production in northern Sweden) Report 761, SIK, the Swedish Institute for Food and Biotechnology, Gothenburg, Sweden

Corley RHV, Tinker PB (2003) The Oil Palm, 4th Edition, Blackwell Publishing, Print ISBN 9780632052127

ecoinvent (2007) ecoinvent data v2.0, Final reports ecoinvent 2007 No. 1–25, Swiss Centre for Life Cycle Inventories, Dübendorf, CD-ROM

Feitz AJ, Lundie S, Dennien G, Morian M, Jones M (2007) Generation of an industry-specific physico-chemical allocation matrix, application in the dairy industry and implications for system analysis. Int J LCA 12(2):109–117

Frischknecht R, Jungbluth N et al (2003) Implementation of Life Cycle Impact Assessment Methods. Final report ecoinvent 2000. Swiss Centre for LCI. Duebendorf. Switzerland. www.ecoinvent.ch

Guinée J, Gorree M, Heijungs R, Kleijn R, de Koning A, van Oers L, Wegener Sleeswijk A, Suh S, Udo de Haes H, van Duin R, Huijbregts M (2002) Handbook of Life Cycle Assessment, Operational Guide to the ISO Standards. Kluwer Academic Publishers, Dordrecht

Haas G, Wetterich F, Köpke U (2001) Comparing intensive, extensified and organic grassland farming in southern Germany by process life cycle assessment. Agric Ecosyst Environ 83:43–53

Högaas Eide M (2002) Life cycle assessment of industrial milk production. Int J LCA 7(2):115–126

Hospido A (2005) Life cycle assessment as a tool for analysing the environmental performance of key food sectors in Galicia (Spain): milk and canned tuna. Doctoral Thesis. Santiago de Compostela. Spain

IMACE (2008) International margarine association of the countries of Europe, Minutes of IMACE council of experts meeting 24 January 2008, Brussels

IPCC (2007) Intergovernmental Panel on Climate Change Climate Change 2007, IPCC Fourth Assessment Report, The Physical Science Basis, (http://www.ipcc.ch/ipccreports/ar4-wg1.htm)

ISO (2006a) Environmental management—life cycle assessment—principles and framework, ISO 14040:2006(E). International Organization for Standardization, Geneva

ISO (2006b) Environmental management—life cycle assessment—requirements and guidelines, ISO 14044:2006(E). International Organization for Standardization, Geneva

Nielsen PH, Nielsen AM, Weidema BP, Dalgaard R, Halberg N (2003) LCA food data base. www.lcafood.dk

PAS 2050 (2008) Specification for the assessment of the life cycle greenhouse gas emissions of goods and services (2008), ISBN 978 0 580 50978 0

PRé Consultants (2007) Amersfoort, the Netherlands, www.pre.nl

Schmidt JH (2007) Life cycle assessment of rapeseed oil and palm oil. Ph.D. thesis, Part 3: Life cycle inventory of rapeseed oil and palm oil. Department of Development and Planning, Aalborg University, Aalborg, Denmark

Shonfield PKA, Dumelin EE (2005) A life cycle assessment of spreads and margarines. Lipid Technol 17(9):199–203

Thomassen MA, van Calker KJ, Smits MCJ, Iepema GL, de Boer IJM (2008) Life cycle assessment of conventional and organic milk production in the Netherlands. Agric Syst 96:95–107

Unilever Suppliers (2005–2008) Personal Communication

Unilever (2008) Environmental Performance Reporting System for manufacturing sites

Van der Werf H, Kanyarushoki C, Corson M (2009) An operational method for the evaluation of resource use and environmental impacts of dairy farms by life cycle assessment. J Environ Manag 90:3643–3652

Williams A G, Audsley E, Sanders D L (2006) Determining the environmental burdens and resource use in the production of agricultural and horticultural commodities. Main Report. Defra Research Project IS0205. Bedford: Cranfield University and Defra. Available on www.silsoe.cranfield.ac.uk, and www.defra.gov.uk
Additional information
Responsible editor: Niels Jungbluth
About this article
Cite this article
Nilsson, K., Flysjö, A., Davis, J. et al. Comparative life cycle assessment of margarine and butter consumed in the UK, Germany and France. Int J Life Cycle Assess 15, 916–926 (2010). https://doi.org/10.1007/s11367-010-0220-3
Received:

Accepted:

Published:

Issue Date:

DOI: https://doi.org/10.1007/s11367-010-0220-3
Keywords
Butter

Carbon footprint

Fat

Life cycle assessment

Margarine

Spreads