Abstract
Background, aim and scope
In spite of a number of lingering issues, life cycle assessment (LCA) is widely recognised as one of the most powerful tools to investigate the environmental performance of a product or service. Carbon footprint (CF) analysis can also be considered a subset of LCA, limited to a single impact category (i.e. global warming potential (GWP)). However, the inherent complexity of a full LCA or CF analysis often stands in the way of their widespread application in the industry and policy-making sectors. For these latter ambits, this paper advocates the adoption of tailor-made streamlined approaches, with reduced inventory requirements and impact assessment scope. Two such examples are provided, respectively addressing the evaluation of GWP in the development of new product standards and the GWP savings attainable through the use of recycled materials.
Materials and methods
Both the application examples presented here are firmly rooted in life cycle thinking, and follow the guidelines provided by the current ISO standards on LCA. At the same time, the employed models are structured in such a way as not to require the deployment of specific LCA software but rely on simple algorithms instead, complemented by tables of data for the associated background processes sourced from standard life cycle inventory databases.
Results
In the first example, the simplified algorithm was found to produce reliable and satisfactorily accurate results in terms of GWP, i.e. within 10% of those produced by a fully fledged LCA performed in parallel for validation purposes. In the second example, the adopted simplification only applied to the goal of the study (i.e. assessment of the absolute GWP savings, with no quantitative indication of their relative extent with respect to the total). Within these limits, the proposed simplified tool provided accurate indications, which enabled a clear ranking of the analysed products, in terms of desirability of recycling.
Discussion
To the extent possible within the given set of constraints, simplified tools such as those presented here do not lose their scientific rigour and take into account all phases of the product life cycle. Their reduced goal and scope does of course limit the breadth of the information that they can produce, but this can be mitigated through a case-specific selection of the adopted inventory simplifications and impact category/ies.
Conclusions
The two application examples presented here have provided solid evidence that streamlined approaches such as these can go a long way in facilitating the introduction of life cycle thinking and LCA in the day-to-day practice of industries and policy makers, while still producing scientifically sound and robust results.
Recommendations and perspectives
Simplified LCA tools lend themselves to a wealth of possible applications in the industry and policy-making sectors. More case studies are in order, and it will be advisable not to limit the goal and scope of all streamlined approaches to carbon footprint evaluation but to pick the most relevant impact categories to be included in the model on a case-by-case basis.
Access options
Buy single article
Instant access to the full article PDF.
US$ 39.95
Tax calculation will be finalised during checkout.
Subscribe to journal
Immediate online access to all issues from 2019. Subscription will auto renew annually.
US$ 79
Tax calculation will be finalised during checkout.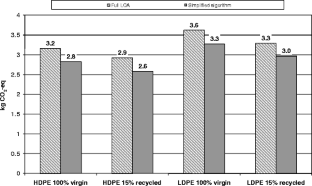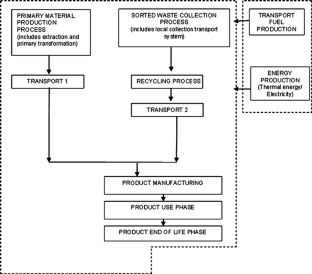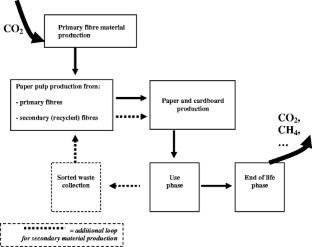 Notes
1.

An open loop recycling systems was considered in this study. Thus, neither environmental credits nor impact allocation was considered. Only the collection and physical treatment of the PE waste to generate new pellets are considered.
References
AENOR (1998) UNE 150041:1998 EX Simplified life cycle assessment.

AENOR (2009) PNE 53942. Plásticos. Bolsas reutilizables de polietileno (PE) para el transporte de productos distribuidos al por menor. Requisitos particulares y métodos de ensayo.

Ayres RU (1995) Life cycle analysis: a critique. Res Cons Rec 14:199–223

BSI (2008) PAS 2050:2008—specification for the assessment of the life cycle greenhouse gas emissions of goods and services. Available via http://www.bsigroup.com/en/Standards-and-Publications/Industry-Sectors/Energy/PAS-2050/

Carbon Trust (2007) Carbon footprinting—an introduction for organizations. Available at http://www.carbontrust.com/publications/CTV033.pdf

Christiansen K (1997) Simplifying LCA: just a cut? Final report from the SETAC-EUROPE LCA Screening and Streamlining Working Group, Brussels

Consoli F, Allen D, Boustead I, de Oude N, Fava J, Franklin R, Jensen AA, Parrish R, Perriman R, Postlethwaite D, Quay B, Séguin J, Vigon B (eds.) (1993) Guidelines for life-cycle assessment: a "code of practice". Report of the workshop organised by SETAC in Portugal

Curran MA, Young S (1996) Report from the EPA conference on streamlining LCA. Int J LCA 1:57–60

EC (2003) Communication from the Commission to the Council and the European Parliament. Integrated product policy—building on environmental life-cycle thinking. COM/2003/0302 final

Ecoinvent (2008) Swiss Centre for Life Cycle Inventories. Available at http://www.ecoinvent.ch

Ekvall T, Assefa G, Björklund A, Eriksoon O, Finnveden G (2007) What life-cycle assessment does and does not to do in assessments of waste management. Waste Manag 27:989–996

ELCD (2008) European Commission Joint Research Centre – European Reference Life Cycle Data System. http://lca.jrc.ec.europa.eu/lcainfohub/datasetArea.vm

EPLCA (2009). Carbon footprint—what it is and how to measure it. European Commission Joint Research Centre. http://lct.jrc.ec.europa.eu/eplca

Fleischer G, Gerner K, Kunst H, Lichtenvort K, Rebitzer G (2001) A semi-quantitative method for the impact assessment of emissions within a simplified life cycle assessment. Int J LCA 6(3):149–156

Frischknecht R, Steiner R, Braunschweig A, Egli N, Hildesheimer G (2006) Swiss ecological scarcity method: the new version 2006. Available at http://www.esu-services.ch/cms/fileadmin/download/Frischknecht-2006-EcologicalScarcity-Paper.pdf

Goedkoop M, Spriensma R (2001) The Eco-Indicator 99. A damage oriented method for life cycle assessment. Pré Consultants, Amersfoort, The Netherlands. http://www.pre.nl/download/EI99_methodology_v3.pdf

Heijungs R, de Koning A, Ligthart T, Korenromp R (2004) Improvement of LCA characterization factors and LCA practice for metals. TNO-Report R 2004/347. http://media.leidenuniv.nl/legacy/final%20report%20metals.pdf

Hochschorner E, Finnveden G (2003) Evaluation of two simplified life cycle assessment methods. Int J LCA 8(3):119–128

Hur T, Lee J, Ryu F, Kwon E (2005) Simplified LCA and matrix methods in identifying the environmental aspects of a product system. J Environ Manag 75:229–237

ISO (2006a) International Organization for Standardization, ISO 14040:2006 - Environmental Management. Life Cycle Assessment. Principles and Framework. http://www.iso.org/iso/home.htm

ISO (2006b) International Organization for Standardization, ISO 14044:2006 - Environmental Management. Life Cycle Assessment. Requirements and Guidelines. http://www.iso.org/iso/home.htm

Lindfors L-G, Christiansen K, Hoffmann L, Virtanen Y, Juntilla V, Hanssen OJ, Rønning A, Ekvall T, Finnveden G (1995) Nordic guidelines on life-cycle assessment. Nordic Council of Ministers, Nord 20. Copenhagen

PE International (2007) GaBi professional database. http://documentation.gabi-software.com

Potting J, Hauschild M (2005) Background for spatial differentiation in LCA impact assessment—the EDIP2003 methodology. Environmental project no. 996 2005, Danish Ministry of the Environment. Available at www2.mst.dk/Udgiv/publications/2005/87-7614-581-6/pdf/87-7614-582-4.pdf

Raugei M, Ulgiati S (2009) A novel approach to the problem of geographic allocation of environmental impact in LCA, with special focus on the MFA method. J Ecol Indicators 9(6):1257–1264

Schnoor JL (2009) LCA and environmental intelligence? EST 1(43):2997

Sinden G (2009) The contribution of PAS 2050 to the evolution of international greenhouse gas emission standards. Int J LCA 14(3):195–203

Steen BA (2006) Abiotic resource depletion—different perceptions of the problem with mineral deposits. Int J LCA 11(1):49–54

Todd JA, Curran MA (1999) Streamlined life-cycle assessment: a final report from the SETAC North America streamlined LCA workgroup

Ulgiati S, Raugei M, Bargigli S (2006) Overcoming the inadequacy of single-criterion approaches to life cycle assessment. Ecol Model 190(3–4):432–442

Weidema BP, Wesnæs MS (1996) Data quality management for life cycle inventories—an example of using data quality indicators. J Clean Prod 4(3–4):167–174
Acknowledgements
The authors wish to thank CICLOPLAST (http://www.cicloplast.com) for providing funding and data for the plastic bags case study and the Catalan Waste Agency (www.arc-cat.net) for providing funding and expert collaboration on the second case study.
About this article
Cite this article
Bala, A., Raugei, M., Benveniste, G. et al. Simplified tools for global warming potential evaluation: when 'good enough' is best. Int J Life Cycle Assess 15, 489–498 (2010). https://doi.org/10.1007/s11367-010-0153-x
Received:

Accepted:

Published:

Issue Date:
Keywords
Carbon footprint

Global warming potential

Green procurement

LCA

Product standards

Recycled materials

Simplified tools