Abstract
China's Belt and Road Initiative and its associated domestic industrial policies represent a parallel trade and investment strategy that challenges the Akamatsu principle of the Flying Geese pattern of industrial development in East Asia. This paper is positioned against the dominant orthodox theory of national systems of industrial development in East Asia. It argues that China's trade and industry policy in the 2012–2017 period has demonstrated that government will expand its industrial policy market intervention rather than retract, moving away from the regional economic integration order by moving industrial production and import trade away from the Asia-Pacific along a Westward axis to the Indian Ocean and Eurasia. Implications are that the emergence of China's geoindustrial policy will subvert multilateral trade norms as China begins to institutionalise its external trade and industrial policies.
Access options
Buy single article
Instant access to the full article PDF.
US$ 39.95
Tax calculation will be finalised during checkout.
Subscribe to journal
Immediate online access to all issues from 2019. Subscription will auto renew annually.
US$ 79
Tax calculation will be finalised during checkout.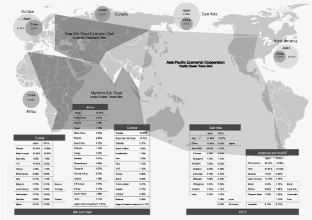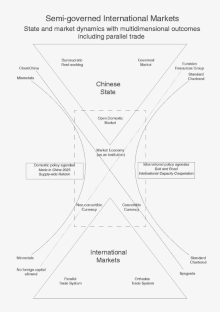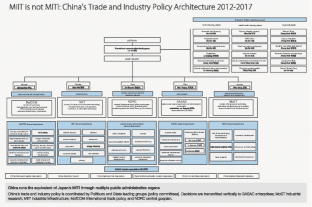 References
1.

Akamatsu, Kaname. 1962. A Historical Pattern of Economic Growth in Developing Countries. Journal of Developing Economies 1 (1): 3–25.

2.

Lewis, W. Arthur. 1954. Economic Development with Unlimited Supplies of labor. The Manchester School 22 (2): 139–191.

3.

Peng, Dajin. 2002. Invisible Linkages: A Regional Perspective of East Asian Political Economy. International Studies Quarterly. 46 (3): 423–447.

4.

Porter, Michael. 1998. The Competitive Advantage of Nations. Basingstoke: MacMillan.

5.

Vernon, Raymond. 1966. International Investment and International Trade in the Product Cycle. The Quarterly Journal of Economics. 80 (2): 190–207.

6.

Chang, Hajoon. 2003. Kicking Away the Ladder–Development Strategy in Historical Perspective. London: Anthem Press.

7.

Gerschenkron, Alexander. 1962. Economic Backwardness in Historical Perspective. Cambridge: Belknap Press.

8.

List, Friedrich. 1856. The National System of Political Economy. Philadelphia: J. B. Lippencourt & Co..

9.

Marx, Karl. 1867. 1993. Capital: Volume I: A critique of political economy, 1. London: Penguin Classics.

10.

Hamilton, Alexander. 1793. Report on the Subject of Manufactures. London: J Debrett.

11.

Murphy, Kevin M., Schleifer Andrei, and Robert W. Vishny. 1989. Industrialization and the Big Push. The Journal of Political Economy. 97 (5): 1003–1026.

12.

Suehiro, Akira. 2008. Catch up industrialisation–the trajectory and prospects of east Asian economies. Honolulu: University of Hawaii Press.

13.

Kim, Kihwan, and Danny Leipziger. 1993. Korea: A Case of Government Led Development. In Lessons from East Asia, ed. Danny Leipziger. Ann Arbor: University of Michigan Press.

14.

Rodrik, Dani. 1995. Getting Interventions Right: How South Korea and Taiwan Grew Rich. Economic Policy 10 (20): 53–107.

15.

Weiss, John. 2005. Export Growth and Industrial Policy: Lessons from the East Asian Miracle Experience. Asian Development Bank Institute Discussion Paper No. 26.

16.

Wade, Robert. 1990. Governing the Market: Economic Theory and the Role of Government in East Asian Industrialization. Princeton: Princeton University Press.

17.

Lin, An-loh. 1995. Trade Effects of Foreign Direct Investment – Evidence for Taiwan with Four ASEAN Countries. Review of World Economics 131 (4): 737–747.

18.

Selover, David D. 1999. International Interdependence and Business Cycle Transmission in ASEAN. Journal of the Japanese and International Economies. 13 (3): 230–253.

19.

World Bank. 1993. The East Asian Miracle: Economic Growth and Public Policy. New York: World Bank Policy Research Reports.

20.

Fukuyama, Francis. 1992. The End of History and the Last Man. New York: Free Press.

21.

Rosovsky, Henry. 1961. Capital formation in Japan–1868-1940. New York: The Free Press of Glencoe.

22.

Veblen, Thorsten. 1915. Imperial Germany and the Industrial Revolution. New York: Macmillan.

23.

Krugman, Paul. 1994. The Myth of Asia's Miracle. Foreign Affairs Magazine 73 (6): 62–78.

24.

Krugman, Paul. 1979. A Model of Balance of Payments Crises. Journal of Money, Credit, and Banking 11: 311–325.

25.

Balassa, Bela. 1981. The Newly Industrializing Countries in the World Economy. New York: Pergamon Press.

26.

Balassa, Bela. 1982. Development Strategies in Semi-Industrialising Economies. Baltimore: The John Hopkins University Press.

27.

Belassa, Bela. 1961. The Theory of Economic Integration, Homewood. Illinois: Greenwood Press.

28.

Bernard, Mitchel, and John Ravenhill. 1995. Beyond Product Cycles and Flying Geese: Regionalization, Hierarchy, and the Industrialization of East Asia. World Politics 47 (2): 171–209.

29.

Doner, Richard F. 1992. Limits of State Strength, Toward an Institutionalist View of Economic Development. World Politics 44 (30): 398–431.

30.

Pritchett, L., and H. Summers Lawrence. 2014. Asiaphoria Meet Regression to the Mean. NBER Working Paper No. 20573.

31.

Samuels, Richard J. 1983. The Industrial Destructuring of the Japanese Aluminum Industry. Pacific Affairs 56 (3): 495–509.

32.

Halevi, Joseph. 1992. Asian Capitalist Accumulation: From Sectoral to Vertical Integration. Journal of Contemporary Asia 22 (4): 444–470.

33.

Riskin, Carl. 1987. China's Political Economy–The Quest for Development Since 1949. Oxford: Oxford University Press.

34.

Vogel, Ezra F. 1979. Japan As Number One: Lessons for America. Cambridge: Harvard University Press.

35.

Johnson, Chalmers. 1982. MITI and the Japanese Miracle: The Growth of Industrial Policy, 1925–1975. Stanford: Stanford University Press.

36.

Ministry of Industry and Information Technology Equipment Industry Division. 2016. Three Indicators Show China's Shipbuilding Ahead of the International Market in 2015. www.miit.gov.cn/newweb/n1146290/n1146402/n1146455/c4602628/content.html. Accessed 30 Sep 2016

37.

China Economic Net. 2017. Yang Yiyong: 'The Belt and Road Initiative' Promoting the Global Winds of Winwin Prosperity. http://money.163.com/17/0513/06/CKA0O62O002580S6.html. Accessed 20 Dec 2017.

38.

Krugman, Paul. 1991. Geography and Trade. Cambridge: Massachusetts Institute of Technology Press.

39.

Krugman, Paul. 1995. Development, Geography and Economic Theory. Cambridge: Massachusetts Institute of Technology Press.

40.

Kaldor, Nicholas. 1970. The Case for Regional Policies. Scottish Journal of Political Economy 17 (3): 337–348.

41.

Shih, Lea. 2017. Aerospace Experts in China's New Leadership. China Policy Institute: Analysis. https://cpianalysis.org/2017/10/25/aerospace-experts-in-chinas-new-leadership/. Accessed 20 Dec 2017.

42.

Wang, Xiwen. 2017. Wang Xiwen: The Belt and Road Initiative: International Capacity Cooperation from a Spatio-Temporal Perspective. China Council for the Promotion of International Trade Electronics and Information Industry Sub-Council. http://www.ccpitecc.com/%E4%B8%A4%E5%AD%A6%E4%B8%80%E5%81%9A/article.asp?id=7345. Accessed 20 Dec 2017.

43.

Rodrik, Dani. 2000. Institutions for High-Quality Growth: What They are and How to Acquire Them. Studies in Comparative International Development. 35 (3): 3–33.

44.

Rodrik, Dani. 2001. The Global Governance of Trade: As if Development Really Mattered. New York: United Nations Development Program.

45.

American Enterprise Institute and Heritage Foundation. 2017. China Global Investment Tracker. http://www.aei.org/china-global-investment-tracker/. Accessed 20 Dec 2017.

46.

Wübbeke, Jost et al. 2016. Made in China 2025—The Making of a High-Tech Superpower and Consequences for Industrial Countries. Mercator Institute of China Studies, MERICS Papers on China No. 2. https://www.merics.org/en/merics-analysis/papers-on-china/made-in-china-2025/. Accessed 20 Dec 2017.

47.

Rafferty, Tom. 2017. Getting a Grip on Supply-Side Structural Reforms-Progress and Outlook on China's Economic Reforms. American Chamber of Commerce in the People's Republic of China. https://www.amchamchina.org/news/getting-a-grip-on-supply-side-structural-reforms. Accessed 20 Dec 2017.

48.

The Paper. 2017. Miao Wei Minister of Industry and Information: Encourage Foreign Investment in China's Advanced Manufacturing, High-end Equipment and other Industries. http://www.thepaper.cn/newsDetail_forward_1275529. Accessed 20 Dec 2017.

49.

Dynon, Nicholas. 2008. 'Four Civilizations' and the Evolution of Post-Mao Chinese Socialist Ideology. The China Journal 60: 83–109.

50.

Oswald, James P. F. What Does Eco-civilisation 生态文明 Mean? The China Story. https://www.thechinastory.org/2014/09/what-does-eco-civilisation-mean/. Accessed 20 Dec 2017.

51.

State Council Information Office. 2017. Miao Wei: The Development of New Industries Should be Equal to the Transformation and Upgrading of Traditional Industries. http://www.scio.gov.cn/video/zxtj/Document/1542664/1542664.htm. Accessed 20 Dec 2017.

52.

Kenderdine, Tristan. 2017. China's Industrial Policy, Strategic Emerging Industries, and Space Law. Asia and the Pacific Policy Studies 4 (2): 325–342.

53.

Xinjiang SASAC. 2017. Xinjiang Zhongtai Group Signed 'Sino-Kazakhstan Cross-border RMB Capacity Cooperation Fund' Strategic Cooperation Agreement. http://www.sasac.gov.cn/n2588025/n2588129/c4624172/content.html. Accessed 20 Dec 2017.

54.

State Council of the People's Republic of China. 2015. Guowuyuan guanyu tuijin guoji channeng he zhuangbei zhizao hezuo de zhidao yijian. (Guiding Opinions on Promoting International Capacity Cooperation and Equipment Manufacturing) http://www.gov.cn/zhengce/content/2015-05/16/content_9771.htm. Accessed 20 Dec 2017.

55.

Liu, Jiamin. 2017. Guiding Opinions on Promoting International Cooperation in Industrial Capacity and Equipment Manufacturing. Mizuho Research Institute, China Policy Brief. https://www.mizuhobank.com/fin_info/cndb/economics/.../R216-0027-XF-0105.pdf. Accessed 20 Dec 2017.

56.

Bachmann, David M. 1985. Chen Yun and the Chinese Political System. Berkeley: Institute of East Asian Studies.

57.

Kenderdine, Tristan, and Ling Han. 2018. International Capacity Cooperation—Financing China's Export of Industrial Overcapacity. Global Policy 9(1).

58.

Chen, Ling & Naughton, Barry. 2011. The Emergence of Chinese Techno-Industrial Policy – From Mega Projects to Strategic Emerging Industries 2003–2011, Conference on the Political Economy of China's Technology and Innovation Policies.

59.

Heilman, Sebastian and Shih, Leah. 2013, The Rise of Industrial Policy in China, 1978-2012, Harvard Yenching Institute Working Papers Series.

60.

Brovkin, Vladimir N. 1987. The Mensheviks after October—Socialist Opposition and the Rise of the Bolshevik dictatorship. Cornell: Cornell University Press.

61.

Huang, Cary. 2013. Party's Third Plenum Pledges 'Decisive Role' for Markets in China's Economy. South China Morning Post. http://www.scmp.com/news/china/article/1354411/chinas-leadership-approves-key-reformpackage-close-third-plenum. Accessed 20 December 2017.

62.

Wei Lingling. 2017. China's Xi Approaches a New Term with a Souring Taste for Markets. Wall Street Journal. https://www.wsj.com/articles/chinas-xi-approaches-a-new-term-with-a-souring-taste-for-markets-1508173889. Accessed 20 Dec 2017.

63.

Ministry of Commerce. 2017. Ministry of Commerce issues 'Thirteenth Five-year Plan for Foreign Trade Development.' http://www.mofcom.gov.cn/article/ae/ai/201701/20170102498336.shtml. Accessed 20 Dec 2017.

64.

Ministry of Science and Technology. 2016. 13th Five-year Plan on Science, Technology, and Innovation. Beijing. www.most.gov.cn/mostinfo/xinxifenlei/fgzc/gfxwj/gfxwj2016/201703/W020170315624570319771.doc. Accessed 20 Dec 2017.

65.

Caixin. 2017a. Miao Wei: New Energy Vehicle Policy There is no Discrimination Against Foreign Investment. http://topics.caixin.com/2017-03-11/101065003.html. Accessed 20 Dec 2017.

66.

Caixin. 2017b. Minister of Industry and Information Miao Wei to Promote the Implementation of 'Made in China 2025.' http://topics.caixin.com/2017-03-11/101064996.html. Accessed 20 December 2017.

67.

Battke, Jessica & Stepan, Matthias. 2016. Party, State and Individual Leaders: The Who's Who of China's Leading Small Groups. Mercator Institute for China Studies. https://www.merics.org/en/merics-analysis/chinamapping/the-whos-who-of-chinas-leading-small-groups/. Accessed 20 Dec 2017.

68.

China Reform Net. 2017. Xu Shaoshi Holds New Economic Normalization and Supply-side Reform Conference (full text). http://www.chinareform.org.cn/Economy/Macro/Speech/201701/t20170111_260419.htm. Accessed 20 Dec 2017.

69.

People's Daily. 2017. Xu Shaoshi: Support for Foreign Investment Policy Has not Changed will not Change. http://finance.people.com.cn/n1/2017/0110/c1004-29012677.html. Accessed 20 Dec 2017.

70.

Inner Mongolia News. 2017. Inner Mongolia and the Ministry of Industry Sign Strategic Cooperation Framework Agreement: Miao Wei, Li Jicheng Attend Signing Ceremony. http://inews.nmgnews.com.cn/system/2017/02/21/012271767.shtml. Accessed 20 Dec 2017.

71.

Yang, Jiechi. 2017. Study and Implement General Secretary Xi Jinping's Thought on Diplomacy in a Deep-Going Way and Keep Writing New Chapters of Major-Country Diplomacy with Distinctive Chinese Features. English Translation published in Xinhua as Full text of Chinese state councilor's article on Xi Jinping's Diplomacy Thought. http://news.xinhuanet.com/english/2017-07/19/c_136456009.htm. Accessed 20 Dec 2017.
About this article
Cite this article
Kenderdine, T. Death of the East Asian Goose and the Rise of China's Geoindustrial Policy. J OF CHIN POLIT SCI 23, 437–453 (2018). https://doi.org/10.1007/s11366-018-9551-x
Keywords
Flying geese

Development economics

Industrial policy

Belt and road

International capacity cooperation

Parallel trade