Abstract
This paper analyzes the emergence and evolution of direct elections (DE) for officials at township-level government in China using social evolutionary theory. The explanations provided by existing research using modernization theory or rational choice theory are not sufficient for fully understanding innovation and change of grassroots democratic institutions across China as a whole. This paper argues that the experiment of DEs at the township level is an institutional reform driven by external forces. Under the pressure of financial crisis, a small number of county-level political elites challenged existing thinking and initiated this institutional innovation. The diffusion, continuation and subsequent breakdown of this innovation was the result of the interactions between the external actors of local political elites, the central government, and public opinion led by media and scholars following major fiscal structural changes. Our research finds that during the period of continuation, it is the central government who plays the most pivotal role amongst the external actors and continues to determine the future evolution of this institutional innovation. This paper concludes that a social evolutionary approach has strong explanatory power regarding analyzing institutional changes around local elections.
Access options
Buy single article
Instant access to the full article PDF.
US$ 39.95
Tax calculation will be finalised during checkout.
Subscribe to journal
Immediate online access to all issues from 2019. Subscription will auto renew annually.
US$ 79
Tax calculation will be finalised during checkout.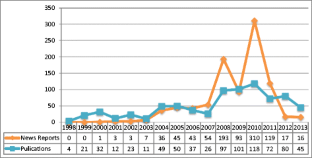 Notes
1.

Although many political reforms at township level in China have been called "public nomination and direct election", there is great difference between them. Some are all local residents directly electing their township government head, some are all party members directly electing the local CCP secretary, some are resident representatives (usually ranging from one to three hundred) electing the government head or party secretary. The detailed information can be found in cited papers. See also: Wang, Z. and D. Ma. 2015. Participation and Competition: innovations and cadre election and selection in China's townships, Journal of Contemporary China. 24 (92): 298–314 [2].

2.

Most reformers were local political elites in charge of personnel organization, such as Zhang Jinming in Suining, Luo Chongmin in Honghe, Song Yaping in Xian'an, and Qiu He in Suqian.

3.

4.

The statistical result was provided via personal communication with Professor Junfeng Liang, a professor of the CCP School of Hebei Province.

5.

A professor at Peking University told the author in private that in 2012 President Xi Jinping rejected a political reform plan on the selection of party cadres designed by Vice President Li Yuanchao. The main content of this plan was to expand the range of the electoral democracy experiment implemented in the Hu-Wen era. The alleged reason for Xi Jinping rejecting this plan was that electoral democracy would threaten the CCP's control at the grassroots level.

6.

Li Fan has participated and observed the direct election of Buyun Township as a scholar. However, he had little participation in the process. More information can be found on Li, Fan "Come with the wind: my experience in Buyun Village direct election". Information about Honghe can be found on Tian, Shubin, Ziqiang Li, and Yan Wang, "Do not be afraid of danger when doing reform: interviewing Luo Chongmin, the Party Committee Secretary of Honghe, Yunnan Province", China Comment, Vol. 21, 2004.

7.

8.

Interview notes on Oct. 15th, 2013, No. 2–13–10-15-001.

9.

This evaluation is based on a large number of interviews with local officials in many areas during 2008–2013.
References
1.

Wang, Z., and D. Ma. 2015. Participation and Competition: Innovations and Cadre Election and Selection in China's Townships. Journal of Contemporary China 24 (92): 298–314.

2.

Tsai, W. 2010. Jieshi Zhongguo Dalu Shengji De Zhengzhi Gaige: Zhengji/ Paixi Moshi De Sikao [An explanation of Provincial Level Political Reform in China: Performance and Fraction]. Zhengzhi Kexue Luncong [Review of Political Science] 44: 105–144.

3.

He, B., and Y. Lang. 2001. China's first direct election of the township head: A case study of Buyun. Japanese Journal of Political Science 2 1 (May): 1–22.

4.

Lai, H. 2009. Zhongguo Nongcun Zhengzhi Tizhi Gaige: Ban Jingzheng Xing Xuanju Gaige Yanjiu [Political Reforms in Rural China: A study of semi-competitive elections]. Beijing: Central Compilation & Translation Press.

5.

Manion, M. 2000. Chinese Democratization in Perspective: Electorates and Selectorates at the Township Level. The China Quarterly 163: 764–782.

6.

Inglehart, R., and C. Welzel. 2005. Modernization, Cultural Change, and Democracy: The Human Development Sequence. New York: Cambridge University Press.

7.

Lipset, S.M. 1959. Some Social Requisites of Democracy: Economic Development and Political Legitimacy. The American Political Science Review 53 (1): 69–105.

8.

O'Brien, K.J. 1994. Implementing Political Reform in China's Villages. The Australian Journal of Chinese Affairs 32 (Jul.): 33–59.

9.

Shi, T. 1999. Economic Development and Village Elections in Rural China. Journal of Contemporary China 8 (22): 425–442.

10.

Geddes, B. 1999. Authoritarian Breakdown: Empirical Test of A Game Theoretic Argument. Presented at Annual Meeting of American Political Science Association, Atlanta. ​http://www.uvm.edu/~cbeer/geddes/Geddes.html. Accessed 25 Feb 2017

11.

Boix, C. and M. Svolik. 2008. The Foundation of Limited Authoritarian Government: Institutions and Power-sharing in Dictatorships. Presented at Dictatorships: Their Governance and Social Consequences Conference, Princeton University, Princeton.

12.

Gandhi, J., and E. Lust-Okar. 2009. Elections Under Authoritarianism. Annual Review of Political Science 12: 403–422.

13.

Magaloni, B. 2006. Voting for Autocracy: Hegemonic Party Survival and its Demise in Mexico. New York: Cambridge University Press.

14.

Tsai, K.S. 2006. Adaptive Informal Institutions and Endogenous Institutional Change in China. World Politics 59 (1): 116–141.

15.

Li, L. 2002. The Politics of Introducing Direct Township Elections in China. The China Quarterly 171 (3): 704–723.

16.

Lieberthal, K., and M. Oksenberg. 1988. Policy Making in China: Leaders, structures, and Processes. Princeton: Princeton University Press.

17.

Zhu, X. 2014. Mandate Versus Championship: Vertical government intervention and diffusion of innovation in public services in authoritarian China. Public Management Review 16 (1): 117–139.

18.

Tsai, W., and N. Dean. 2014. Experimentation under Hierarchy in Local Conditions: Cases of Political Reform in Guangdong and Sichuan. China, The China Quarterly 218: 339–358.

19.

Yang, X., and T. Saich. 2004. Cong Jingzhengxing Xuanba Dao Jingzhengxing Xuanju: Dui Xiangzhen Xuanju De Chubu Fenxi [From Competitive Selection to Competitive Election: An Analysis of Township Election]. Shehui Tizhi Bijiao [Comparative Economic and Social Systems] 2: 78–91.

20.

Hsu, S., and C. Wu. 2011. Cong Zhili Gaige Zhong Zouxiang Minzhu: Zhejiang Wenling Xiangzhen Renda Canyushi Yusuanzhi Gean Yanjiu [From Governance Reform to Democratic Reform? A Case Study of the Participatory Budget Reform at People's Congress of Weinling Township of Zhejiang Province in China]. Zhongguo Dalu Yanjiu [Mainland China Studies] 54: 1–28.

21.

Nelson, R.R. 2007. Universal Darwinism and Evolutionary Social Science. Biology and Philosophy 22 (1): 73–94.

22.

Dennett, D.C. 1996. Darwin's Dangerous Idea. New York: Simon and Schuster.

23.

Tang, S. 2010. Social Evolution of International Politics: From Mearsheimer to Jervis. European Journal of International Relations 16 (1): 31–55.

24.

Lewis, O. 2017. Authoritarian Evolution: Agency and Institutional Change in a Controlled Chinese Press. Journal of Chinese Political Science. doi:10.1007/s11366-017-9492-9.

25.

Hodgson, G.M., and K. Thorbjørn. 2006. Why We Need A Generalized Darwinism: and Why A Generalized Darwinism Is Not Enough. Journal of Economic Behavior and Organization 61 (1): 1–19.

26.

Hodgson, G.M., and K. Thorbjørn. 2010. Darwin's Conjecture: The Search for General Principles of Social and Economic Evolution. Chicago: University of Chicago Press.

27.

Tang, S. 2011. A General Theory of Institutional Change. London: Routledge.

28.

Lewis, O.A., and S. Steinmo. 2012. How Institutions Evolve: Evolutionary Theory and Institutional Change. Polity 44 (3): 314–339.

29.

Kenrick, D.T., J.K. Maner, J. Butner, N.P. Li, D.V. Becker, and M. Schaller. 2002. Dynamical Evolutionary Psychology: Mapping the Domains of the New Interactionist Paradigm. Personality and Social Psychology Review 6 (4): 347–356.

30.

Hall, P. 1986. Governing the Economy: The Politics of State Intervention in Britain and France. Cambridge: Polity Press.

31.

Lin, J.Y. 1989. An Economic Theory of Institutional Change: Induced and Imposed Change. Cato Journal 9 (1): 1–33.

32.

Ruttan, V.W., and Y. Hayami. 1984. Toward a Theory of Induced Institutional Innovation. Journal of Development Studies 20 (4): 203–223.

33.

Thelen, K. 2004. How Institutions Evolve: The Political Economy of Skills in Germany, Britain, the United States, and Japan. New York: Cambridge University Press.

34.

Olson, M. 1971. The Logic of Collective Action: Public Goods and the Theory of Groups. Cambridge: Harvard University Press.

35.

Zhou, Y. 2000. Zhongguo Zhidu Bianqian De Yanjinlun Jieshi [An Evolutionary Explanation of Institutional Change in China]. Jingji Yanjiu [Economic Research Journal] 5: 3–11.

36.

Ji, C. 2000. Xiangzhen Caizheng Weiji Chongchong [Rural Governance Facing Financial Crisis]. Xiangzhen Luntan [Tribune of Villages and Townships] 11: 23–24.

37.

Li, C. 2009. Wo Xiang Zongli Shuo Shihua [Telling The Truth to the Premier]. Shanxi: Shanxi Renmin Publishing House.

38.

Wu, L. 2010. Cong Xian'an Zhenggai Kan Yali Huiying Xing Zhidu Chuangxin [Institutional Reform as a Response to Pressure: A Case Study of Xian'an]. Zhongguo Xiangcun Faxian [Chinese Rural Discovery] 2: 82–85.

39.

Huang, W., and J. Chen. 2009. Zhongguo Xiangzhen Xuanju Gaige Yanjiu [A Study of Reforms in Township-level Elections in China]. Beijing: People's Publishing House.

40.

Wu, L. 2006. Xian'an Zhenggai: Tizhi Nei De Zengliang Gaige [Political Reform in Xian'an: Reform within System]. Shehui Zhuyi Yajiu [Study of Socialism] 1: 67–70.

41.

Yang, L. 2009. Zhongguo Jiceng Zhenggai 60 Nian: Baixing Zhiqing Pingdeng Canyu Juece Wei Yaodian [Sixty Years after China's Grassroots-level Reform: the Importance of Participation in Policy Making]. Online Version of Liaowang [Outlook Weekly]. http://news.sina.com.cn/c/sd/2009-09-21/092818693424.shtml. Accessed 25 Feb 2017.

42.

Ma, D., and Z. Wang. 2014. Governance Innovations and Citizens' Trust in Local Government: Electoral Impacts in China's Townships. Japanese Journal of Political Science 15 (3): 373–395.

43.

Li, F. 2007. Chengfeng Er Lai: Wo Suo Jingli De Buyun Xiangzhang Zhixuan [Experiencing Direct Election of the Township Head in Buyun]. Taiwan: Xin Xinwen Wenhua [New News Culture].

44.

Kahneman, D., and A. Tversky. 1979. Prospect Theory: An Analysis of Decision under Risk. Econometrica 47 (2): 263–292.

45.

Tian, S., Z. Li, and Y. Wang. 2004. Yao Gaige Jiu Bie Pa Fengxian: Fang Zhonggong Yunnan Sheng Honghe Zhouwei Shuji Luo Chongmin [Don't be Afraid of Risk while Reforming: An interview of Luo Chongmin, the secretary of Honghe Region, Yunnan]. Ban Yue Tan [China Comment] 21: 21–23.

46.

Yin, H. 2010. Sichuan Jiceng Zhenggai Ciqibifu [Ups and Downs of Grassroots-level Reforms in Sichuan]. Nan Feng Chuang [South Review] Aug 13th.

47.

Zhang, S. 2003. Xian'an Zhenggai Dizhen [Earthquake in Political Reforms in Xian'an]. Renmin Wenzhai [People's Digest] 4: 26–27.

48.

Zhu, H. 2007. Jiceng Minzhu Shiyan Shinian, Shoutui Gongxuan Zhixuan Zhenzhang [Ten Years' Experiments of Grassroots Level Democracy: Direct Election of Township Chief]. Nanfang Zhoumo [Southern Weekly]. July 26th.

49.

Dawkins, R. 1976. The Selfish Gene. London: Oxford University Press.

50.

Ma, Liang. 2017. Site Visits, Policy Learning, and the Diffusion of Policy Innovation: Evidence from Public Bicycle Programs in China. Journal of Chinese Political Science. doi:10.1007/s11366-017-9498-3

51.

Li, L. 2004. Political Trust in Rural China. Modern China 30: 228–258.

52.

Xu, H. 2008. "Shuguan" Shi Zenyang Liancheng De [How do Officials of Sichuan Province Grow up?]. Juece [Decision Making] Z1: 15-18.

53.

Yao, Y. 2009. Zhongguo Minzhuhua De Kunjing [The Dilemmas of Chinese Democratization]. 21 Shiji [Twenty-First Century] 5: 102–109.

54.

Ma, D., and Z. Wang. 2012b. Minzhu Fazhan, Hefa Xing, Yu Zhili Jixiao: Dui Wulei Xiangzhen Zhidu Chuangxin Moshi De Bijiao Fenxi [Development of Democracy, Legitimacy, and Performance: A Comparative Study of Five Models of Township Institution]. Zhongguo Renmin Daxue Xuebao [Journal of Renmin University of China] 6: 23–31.

55.

Ma, D., and G. Zhang. 2015. Xieshang Yihuo Xuanju: Dui Liangzhong Xiangzhen Minzhu Moshi De Bijiao Fenxi [Deliberation or Election: A Comparison of Two Types of Township-level Democracy]. Guowai Lilun Dongtai [Foreign Theoretical Trends] 6: 89–100.

56.

Zhao, S. 2013. Xian Xiang Zhengfu Zhili De Weiji Yu Biange: Shiquan Fenpei He Hudong Moshi De Jiegouxing Tiaozheng [Crises and Change in Township Governance – Structural Adjustment of the Division of Administrative Rights and Interaction Pattern]. Renmin Luntan [People's Tribune] 21: 14–30.
Acknowledgements
The authors would like to thank Professor Jessica Teets and two anonymous reviewers for their helpful comments and suggestions. The authors also thank Dr. Tracey Fallon for her proofreading help.
About this article
Cite this article
Ma, D., Pang, M. The Rise and Fall of Electoral Democracy: A Social Evolutionary Approach to Direct Election Experiments in Local China. J OF CHIN POLIT SCI 22, 601–624 (2017). https://doi.org/10.1007/s11366-017-9510-y
KEYWORDS
Social Evolutionary Approach

Institutional Innovation

Direct Election

Township