Abstract
With its rapid economic growth and deepening integration into the global system, Chinese leaders see the first 20 years of the 21st century as an 'important period of strategic opportunity' for China. China under Hu Jintao's leadership has chosen a new path of peaceful rise. To facilitate such a peaceful rise, Chinese Communist Party has gradually adopted a soft power strategy. We see building soft power as a means as well as the end of China's peaceful rise. We argue China has a genuine desire for peace in her rise and China's peaceful rise may not be impossible. Based on existing literature, we expand the sources of soft power to six pillars: cultural attractiveness, political values, development model, international institutions, international image, and economic temptation. We also identify three channels for wielding soft power: formal, economic, and cultural diplomacies. Putting all the basics together, we have proposed an integrative model of soft power. Accordingly, we analyze the sources and limits of China's soft power and suggest how to improve it in these six areas.
Access options
Buy single article
Instant access to the full article PDF.
US$ 39.95
Tax calculation will be finalised during checkout.
Subscribe to journal
Immediate online access to all issues from 2019. Subscription will auto renew annually.
US$ 79
Tax calculation will be finalised during checkout.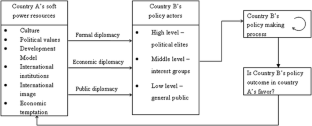 Notes
1.

2.

3.

4.

See, Jiang Zemin's Report to the 16th Party Congress

5.

6.

This is not to deny the protective role of a military force which Joseph Nye also regards relevant. See Nye [4, p. 160].

7.

Nye, Joseph. S. 2006. 'Think again: Soft power'.

8.

Nye, J. S. 2006. 'Think again: Soft power'.

9.

Nye, Joseph. S. 2006. 'Think again: Soft power'.

10.

This is clearly reflected in Huang et al. [22].

11.

12.

13.

14.

15.

For example, see Nathan [43].

16.

17.

Pursuing common security through dialogue and cooperation is the essence of China's New Security Concept stated in 'China's Position Paper on the New Security Concept', an official document submitted by the Chinese delegation On 31 July 2002 to the ASEAN Regional Forum (ARF). http://www.mfa.gov.cn/eng/wjb/zzjg/gjs/gjzzyhy/2612/2614/t15319.htm

18.

There is an interesting recent article to read. See Powell [48].

19.

Cited in Wesley-Smith [36, p. 21].

20.

21.

22.

In contrast, the US government was accused by the People's Health Movement as being racist, callous and careless of its own people during the Hurrican Katrina in 2005. See, 'Hurricane Katrina survivors need relief, not guns', http://www.phmovement.org/en/node/75. For example, US government officials like Federal emergency Management Agency Director Michael Brown and Secretary of Homeland Security Michael Chertoff both have blamed the Hurricane victims themselves for not obey the government's order of evacuation.

23.

24.

25.
References
1.

Guo, Sujian. 2006. Introduction: Challenges and opportunities for China's "peaceful rise". In China's "peaceful rise" in the 21st century: domestic and international, ed. Sujian Guo, 1–16. Burlington: Ashgate Publishing Company.

2.

Yan, Xuetong. 1998. 中国崛起—国际环境评估 [International Environment of China's Rise]. Tianjing: Tianjing People's Press.

3.

Zheng, Bijian. 2002. The 16th National Congress of the Communist Party of China and China's peaceful rise—A new path. Speech delivered at Center for Strategic and International Studies, Washington, DC, on December 9, 2002. http://www.brookings.edu/fp/events/20050616bijianlunch.pdf, pp. 1–6

4.

Nye Jr., Joseph S. 1990. Soft power. Foreign Policy 80: 159.

5.

Ikenberry, G. John. 2008. The rise of China and the future of the West: Can the liberal system survive?. Foreign Affairs, January/February.

6.

Johnston, Alastair Iain. 2003. Is China a status quo power? International Security 27(4): 5–56.

7.

Tammen, Ronald L., Jacek Kugler, Douglas Lemke, and Allan C. Stam. 2000. Power transitions strategies for the 21st century. New York: Chatham House.

8.

Layne, Christopher. 2008. China's challenge to US hegemony. Current History 107(75): 13–18.

9.

Organski, A.F.K., and Jacek Kugler. 1981. The war ledger. Chicago: University of Chicago Press.

10.

Levy, Jack S. 1998. The causes of war and the conditions of peace. Annual Review of Political Science 1(1): 139–165.

11.

Nye, Joseph S. 1990. Bound to lead: The changing nature of American power. New York: Basic Books.

12.

Wang, Huning. 1993. 作为国家实力的文化: 软权力 [Culture as national power: Soft power], 复旦学报(社会科学版) [Fudan Journal (Social Sciences edition)], Issue 3. http://www.lunwentianxia.com/qikan_detail_qis/479010/

13.

Li, Mingjiang. 2009. China debates soft power. Chinese Journal of International Politics 2(2): 287–308.

14.

Hu Jintao. 2006. Speech on the Eighth National Congress of the China Federation of Literary and Art Circles, on November 10, 2006. http://culture.people.com.cn/GB/22219/5026372.html

15.

Ding, Sheng. 2008. To build a "harmonious world": China's soft power wielding in the global south. Journal of Chinese Political Science 13(2): 195.

16.

Wang, Hongying, and Yeh-Chung Lu. 2008. The conception of soft power and its policy implications: a comparative study of China and Taiwan. Journal of contemporary China 17(56): 427.

17.

Yan, Xuetong. 2006.'中国软实力有待提高'[China's soft power needs to be improved)]'. http://www.ccwe.org.cn/ccweold/journal/2/1.pdf

18.

Men, Honghua. 2007. 中国软实力评估报告-(上) [Assessment report on China's soft power: part one]. 国际观察 [International Watch] 2: 15–26 [in Chinese].

19.

Wuthnow, Joel. 2008. The concept of soft power in China's strategic discourse. Issues & Studies 44(2): 1–28.

20.

Nye, Joseph S. 2007. The Rise of China's Soft Power. Speech delivered at Peking University, Beijing, on December 18. http://ennews.pku.edu.cn/news.php?s=197954479

21.

Gao, Zhanxiang. 2007. Cultural power. Beijing: Beijing University Press.

22.

Huang, Yanzhong, and Sheng Ding. 2006. Dragon's underbelly: An analysis of China's soft power. East Asia 23(4): 38–39.

23.

Kurlantzick, Josh. 2006. China's charm: Implication of Chinese soft power, Policy Brief No. 47, June, Carnegie Endowment for International Peace. p. 1.

24.

Wang, Yiwei. 2008. 'Public diplomacy and the rise of Chinese soft power', The Annals of the American Academy of Political and Social Science, 616(1): 260.

25.

Lai, Hongyi. 2006. 'China's cultural diplomacy: going for soft power', EAI Background Brief No. 308, East Asian Institute, National University of Singapore, Singapore. http://www.eai.nus.edu.sg/BB308.pdf

26.

Hesmondhalgh, David. 2002. The cultural industries, 3. London: Sage.

27.

Xiang, Youming, and Yuming Wang. 2001. Some views on the further reform of culture supervisory system. Journal of Guangdong Institute of Public Administration, pp. 23–26 (in Chinese)

28.

Ramo, Joshua C. 2004. The Beijing Consensus, p. 3.

29.

Yu, Yongding. 2005. G-20 and China: A Chinese perspective. China & World Economy 13(1): 10.

30.

Colley, Chris. 2009. China's reforms at 30 and the "Beijing Consensus". Pambazuka News, China-Africa Watch section, January 31, Issue 417. http://www.pambazuka.org/en/category/africa_china/53757

31.

Yu, Keping. 2007. Yu Keping on the development of China's socialist democracy. NewsTimes (新闻午报), September 29. http://web.xwwb.com/wbnews.php?db=11&thisid=108122

32.

Fravel, M.Taylor. 2005. Regime insecurity and international cooperation: Explaining China's compromises in territorial disputes. International Security 30(2): 46–83.

33.

Kennedy, Scott. 2010. The myth of the Beijing Consensus. Journal of Contemporary China 19(65): 461–477.

34.

Williamson, John. 1990. What Washington means by policy reform. In Latin American adjustment: How much has happened, ed. Williamson John. Washington: Institute for International Economics.

35.

Li, Xin., Kjeld Erik Brødsgaard, and Michael Jacobsen. 2009 'Redefining Beijing Consensus: Ten economic principles', China Economic Journal 2(3): 297–311.

36.

Wesley-Smith, Terence. 2007. China in Oceania: New forces in Pacific politics. Honolulu: East-West Center.

37.

World Bank. 2005. Economic growth in the 1990s: Learning from a decade of reform. Washington: The World Bank.

38.

Wen Jiabao. 2006. Win–win cooperation for common development. Keynote speech delivered on China-Pacific Island Countries Economic Development and Cooperation Forum, Nadi, Fiji, on April 5. http://news.xinhuanet.com/english/2006-04/05/content_4385969.htm

39.

Yu, Keping. 2005. 关于"北京共识"与中国发展模式的对话 [A dialogue about the "Beijing Consensus" and the Chinese development model]), http://theory.people.com.cn/GB/40557/54488/54489/3802863.html

40.

Zoellick, Robert B., and Justin Y. Lin. 2009. Recovery rides on the "G-2". The Washington Post, March 6. http://www.washingtonpost.com/wp-dyn/content/article/2009/03/05/AR2009030502887_pf.html.

41.

Men, Honghua. 2007. 中国软实力评估报告- (下) [Assessment report on China's soft power: part two]. 国际观察, [International Watch] 3: 41 (in Chinese).

42.

Chan, Stephen. 2006. Scramble for China. Prospect, September 24, issue 126, p. 16.

43.

Nathan, Andrew. 2003. Authoritarian resilience. Journal of Democracy 14(1): 6–17.

44.

Lawrence, Dune. 2009. China's "soft-power" strategy threatened by Obama, slow growth. Bloomberg News, February 17.

45.

Goldman Sachs. 2003. Dreaming with BRICs: The path to 2050. Goldman Sachs Global Economic Paper No: 99.

46.

Han, Jianmin., Renzhi Zhang, and Ziliang Ma. 2008. 中国东西部地区发展差距拉大的原因分析 [Analysis on Reasons of Widening Development Gap between the Easter Region and the Western Region in China], 科学.经济.社会 [Science, Economy, Society] 26(1):11–15 (in Chinese) http://ilib.com.cn/A-kxjjsh200801003.html.

47.

Drezner, Daniel W. 2009. Fearing China. Newsweek, May 20, 2009. http://www.newsweek.com/id/198586

48.

Powell, Bill. 2009. Five Things the U.S. Can Learn from China. Time, Nov. 12, 2009, http://www.time.com/time/world/article/0,8599,1938671,00.html
Acknowledgement
Xin Li thanks Danish Otto Monsted Fond for its financial support for participating and presenting an earlier draft of this paper at the conference China's 30 years of 'Opening up and reform': Continuities and Change, held in University of Nottingham Ningbo China, 16–19 September 2009. He also thanks Danish EAC Foundation for sponsoring his PhD study at Copenhagen Business School.
About this article
Cite this article
Li, X., Worm, V. Building China's Soft Power for a Peaceful Rise. J OF CHIN POLIT SCI 16, 69–89 (2011). https://doi.org/10.1007/s11366-010-9130-2
Keywords
Peaceful Rise

Soft Power

China

Development Model

Beijing Consensus

Culture