Abstract
By considering entrepreneurs who hire employees (employers) and entrepreneurs without personnel (own-account workers) as related but distinct entrepreneurship groups, this work analyses factors in entrepreneurship survival from a new perspective: we contrast the determinants of employers' survival with those affecting own-account workers' survival. Discrete choice models under competing risks frameworks are applied to data drawn from the European Community Household Panel for the EU-15 (EUROSTAT). Our results suggest that survival chances are markedly higher for employers than for own-account workers—especially when non-employment exits are considered. We also observe that high qualifications have positive and statistically significant effects on survival rates of employers, regardless of exit routes, while high qualifications have no significant effect on survival rates of own-account workers. Finally, we find that entering entrepreneurship from unemployment—the target group for entrepreneurship incentives—strongly increases the probability of re-entering unemployment for both entrepreneurship groups. Thus, entrepreneurship and higher education policies should be considered together to develop high quality entrepreneurial businesses.
Access options
Buy single article
Instant access to the full article PDF.
USD 39.95
Price excludes VAT (USA)
Tax calculation will be finalised during checkout.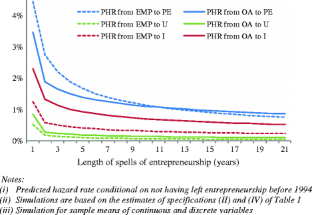 Notes
The key role of entrepreneurship has been well documented in academic publications (see, for instance, recent works by Acs 2008; Carree and Thurik 2008; Thurik et al. 2008; or Parker 2009). Policy reports, including the new Europe 2020 strategy (the EU's growth strategy for the coming decade), also place special emphasis on entrepreneurship. For more information, see http://ec.europa.eu/eu2020/index_en.htm.

Own-account work covers a diverse range of occupations from carpenters, plumbers, electricians, artisans, and farmers to liberal professions (e.g., consultants, lawyers, engineers, architects, accountants, and pharmacists).

Despite the fact that such a distinction does not allow for the separation of true entrepreneurs from other categories, we disaggregate entrepreneurship into employers who hire external labour (and contribute to the job-generation process), and self-employed who work on their own as own-account workers (Earle and Sakova 2000).

See European Commission (2010) for a detailed review of these measures.

Honig (1998) also accounts for these different categories to analyze earnings differences among entrepreneurs.

ECHP data are used with the permission of Eurostat (contract ECHP/2006/09 with the Universidad de Huelva).

We excluded France, Luxembourg, and Sweden for different reasons. First, during the period of 1997–2001, own-account workers cannot be distinguished from employers in France due to the high number of missing values for the variable we observe within the ECHP that permits making such a distinction: the number of regular paid employees in the local unit in current job. For Sweden and Luxembourg, the ECHP does not include information related to first waves and presents missing values for relevant variables in other waves.

See Peracchi (2002) for a review of the organization of the survey and a discussion of the issues a researcher may face when using these data.

Those individuals entering entrepreneurship before 1981 are excluded from our sample because we do not have information about the exact entrepreneurship spell duration. However, the number of entrepreneurs within this group is smaller than 3% of the initial sample, and their exclusion does not affect our results in a significant way.

Exits to inactivity involve education or training, early retirement (before 59 years of age), doing housework, looking after children or other persons, and some other activities.

Entrepreneurship incomes are corrected by purchasing power parities (comparability across countries) and harmonized consumer price indices (comparability across time). This variable is lagged one year due to the possible endogeneity problem of the changes in these incomes related to business failures.

This section draws especially on the Stephen P. Jenkins' Lecture Notes corresponding to the course Survival Analysis by Stephen P. Jenkins, provided by the University of Essex Summer School.

For persons with censored spells, all observations are censored; for persons with a completed spell, all observations are censored except the final one.

The multinomial logit model imposes the assumption of independence from irrelevant alternatives (IIA), which implies that the probability of choosing between two outcomes is not affected by the characteristics of the other alternatives. In this regard, McFadden (1974) argued that multinomial logit models should be used only in cases where the alternatives can plausibly be assumed to be distinct and weighted independently. In our view, the assumption of IIA in the context of our analysis is reasonable. In addition, we performed a set of Wald and Likelihood Ratio tests to examine the null hypothesis that the coefficients of the alternatives do not differ significantly from each other for all possible combinations. In both tests, none of the categories should be combined because the null hypothesis is rejected. Therefore, the multinomial logit specification seems to be appropriate. For brevity, the results of these tests are not shown but are available upon request.

This standard errors correction reflects associations across the spells and, therefore, addresses the issue of repeated spells of entrepreneurship. Let us stress that this issue is relatively small in our sample (less than 10% of cases).

Comparisons between specifications (I)–(II) and (III)–(IV) show that the inclusion of the variables accounting for wealth, weekly working hours, and unemployment rate does not alter the obtained effects for other variables, which is consistent with an absence of endogeneity problems caused by these variables. In addition, likelihood ratio tests confirmed that the inclusion of these variables in specifications (II) and (IV) significantly improves the explanatory power of specifications (I) and (III) at the 1% significance level. For brevity, the results of these tests are not shown but are available upon request.

We obtained similar results by considering harmonized employment rates and national output gaps (OECD) as alternative measures of the macroeconomic conditions.
References
Acs, Z. J. (2008). Foundations of high impact entrepreneurship. Foundations and Trends in Entrepreneurship, 4(6), 535–620.

Allison, P. (1982). Discrete time methods for the analysis of event histories. In S. Leinhardt (Ed.), Sociological methodology (pp. 61–98). San Francisco: Jossey-Bass.

Andersson, P. (2010). Exits from Self-Employment: Is there a native-immigrant difference in Sweden? International Migration Review, 44(3), 539–559.

Andersson, P. A., & Wadensjö, E. (2007). Do the unemployed become successful entrepreneurs? International Journal of Manpower, 28, 604–626.

Bates, T. (1990). Entrepreneur human capital inputs and small business longevity. The Review of Economics and Statistics, 72(4), 551–559.

Block, J., & Sandner, P. (2009). Necessity and opportunity entrepreneurs and their duration in self-employment: evidence from German micro data. Journal of Industry, Competition and Trade, 9, 117–137.

Boden, R. J., & Nucci, A. R. (2000). On the survival prospects of men's and women's new business ventures. Journal of Business Venturing, 15, 347–362.

Brüderl, J., Preisendörfer, P., & Ziegler, R. (1992). Survival chances of newly founded business organizations. American Sociological Review, 57, 227–242.

Burke, A. E., FitzRoy, F. R., & Nolan, M. A. (2002). Self-employment wealth and job creation: The roles of gender, non-pecuniary motivation and entrepreneurial ability. Small Business Economics, 19, 255–270.

Carrasco, R. (1999). Transitions to and from self-employment in Spain: an empirical analysis. Oxford Bulletin of Economics and Statistics, 61, 315–341.

Carree, M., & Thurik, R. (2008). The lag structure of the impact of business ownership on economic performance in OECD countries. Small Business Economics, 30, 101–110.

Cooper, A. C., Gimeno-Gascon, F. J., & Woo, C. Y. (1991). A resource-based prediction of new venture survival and growth. In J. L. Wall, L. R. Jauch, D. Roberts, R. Ross, & C. Kelly (Eds.), Academy of management best paper proceedings (pp. 68–72). Madison, WI: Omnipress.

Cooper, A. C., Gimeno-Gascon, F. J., Folta, T., & Woo, C. Y. (1992). Entrepreneurs' exit decisions: the role of threshold expectations. In J. L. Wall & L. R. Jauch (Eds.), Academy of management best paper proceedings (pp. 75–79). Las Vegas, NV: Academy of Management.

Cooper, A. C., Gimeno-Gascon, F. J., & Woo, C. Y. (1994). Initial human and financial capital as predictors of new venture performance. Journal of Business Venturing, 9, 371–395.

Earle, J. S., & Sakova, Z. (2000). Business start-ups or disguised unemployment? Evidence on the character of self-employment from transition economies. Labour Economics, 7, 575–601.

European Commission (2010). European Employment Observatory Review: Self-employment in Europe 2010.

Evans, D. S., & Leighton, L. S. (1989). Some empirical aspects of entrepreneurship. The American Economic Review, 79, 519–535.

Evans, L., & Leighton, L. (1990). Small business formation by unemployed and employed workers. Small Business Economics, 2, 319–330.

Fertala, N. (2008). The shadow of death: do regional differences matter for firm survival across native and immigrant entrepreneurs? Empirica, 35, 59–80.

Georgellis, Y., Sessions, J. G., & Tsitsianis, N. (2007). Pecuniary and non-pecuniary aspects of self-employment survival. The Quarterly Review of Economics and Finance, 47, 94–112.

Gimeno-Gascon, F. J., Folta, T. B., Cooper, A. C., & Woo, C. Y. (1997). Survival of the fittest? Entrepreneurial human capital and the persistence of underperforming firms. Administrative Science Quarterly, 42, 750–783.

Haapanen, M., & Tervo, H. (2009). Self-employment duration in urban and rural locations. Applied Economics, 41, 2449–2461.

Headd, B. (2003). Redefining Business Success: Distinguishing Between Closure and Failure. Small Business Economics, 21, 51–61.

Holtz-Eakin, D., Joulfaian, D., & Rosen, R. H. (1994). Sticking it out: entrepreneurial survival and liquidity constraints. Journal of Political Economy, 102, 53–75.

Honig, B. (1998). What determines success? Examining the human, financial, and social capital of Jamaican microentrepreneurs. Journal of Business Venturing, 13, 371–394.

Kapsalis, C., & Tourigny, P. (2004). Duration of non-standard employment. Perspectives on Labour and Income, 5(12), 5–13.

Kuhn, P. (2000). Editor's note. Labour Economics, 7(5), 463–469.

Lin, Z., Picot, G., & Compton, J. (2000). Entry and exit dynamics of self-employment in Canada. Small Business Economics, 15, 105–125.

McFadden, D. (1974). Conditional logit analysis of qualitative choice behaviour. In P. Zarembka (Ed.), Frontiers in econometrics (pp. 105–142). New York: Academic.

Millán, J. M., Congregado, E., & Román, C. (2011). Determinants of self-employment survival in Europe. Small Business Economics. doi:10.1007/s11187-010-9260-0.

OECD. (2009a). Policy responses to the economic crisis: investing in innovation for long-term growth. Technology and Industry, OECD: Directorate for Science.

OECD. (2009b). Coping with the crisis at local level: policy lessons from the OECD Programme on Local Economic and Employment Development (LEED). CFE, OECD: Internal working document.

OECD. (2010). OECD Employment Outlook 2010, Moving beyond the jobs crisis. Paris: OECD Publications.

Oxenfeldt, A. R. (1943). New firms and free enterprise: Pre-war and post-war aspects. Washington: American Council on Public Affairs.

Parker, S. C. (2009). The economics of entrepreneurship. Cambridge, UK: Cambridge University Press.

Peracchi, F. (2002). The European community household panel: A review. Empirical Economics, 27, 63–90.

Rissman, E. R. (2006). The self-employment duration of younger men over the business cycle. Economic Perspectives, 30, 14–27.

Santarelli, E., & Vivarelli, M. (2007). Entrepreneurship and the process of firms' entry, survival and growth. Industrial and Corporate Change, 16(3), 455–488.

Shane, S. (2009). Why encouraging more people to become entrepreneurs is bad public policy. Small Business Economics, 33, 141–149.

Storey, D. J. (1991). The birth of new firms—does unemployment matter? A review of the evidence. Small Business Economics, 3, 167–178.

Storey, D. (1994). Understanding the small business sector. London: Routledge.

Taylor, M. P. (1999). Survival of the fittest? An analysis of self-employment duration in Britain. The Economic Journal, 109, 140–155.

Taylor, M. P. (2004). Self-employment in Britain: when, who and why? Swedish Economic Policy Review, 11, 139–173.

Thurik, A. R., Carree, M. A., Van Stel, A. J., & Audretsch, D. B. (2008). Does self-employment reduce unemployment? Journal of Business Venturing, 23(6), 673–686.

Van der Sluis, J., Van Praag, C. M., & Vijverberg, W. (2008). Education and entrepreneurship selection and performance: A review of the empirical literature. Journal of Economic Surveys, 22(5), 795–841.

Van Praag, C. M. (2003). Business survival and success of young small business owners. Small Business Economics, 21, 1–17.

Williams, D. R. (2004). Effects of Childcare Activities on the Duration of Self-Employment in Europe. Entrepreneurship Theory and Practice, 28(5), 467–485.
Acknowledgements
We would particularly like to thank Roy Thurik for his helpful comments and suggestions. We also thank Javier Álvarez, Juan A. Máñez, María E. Rochina, and Juan A. Sanchis for their valuable comments on survival analysis. At the time of writing the paper, José María Millán and Concepción Román were completing a research stay at the Erasmus School of Economics (Erasmus University Rotterdam), from which this work also benefited. The usual disclaimer applies.
Appendix
Appendix
About this article
Cite this article
Millán, J.M., Congregado, E. & Román, C. Entrepreneurship persistence with and without personnel: The role of human capital and previous unemployment. Int Entrep Manag J 10, 187–206 (2014). https://doi.org/10.1007/s11365-011-0184-1
Published:

Issue Date:

DOI: https://doi.org/10.1007/s11365-011-0184-1
Keywords
Entrepreneurship

Employers

Own-account workers

Persistence

Formal education

Unemployment