Abstract
Adipose tissue plays an essential role in metabolic health. Ames dwarf mice are exceptionally long-lived and display metabolically beneficial phenotypes in their adipose tissue, providing an ideal model for studying the intersection between adipose tissue and longevity. To this end, we assessed the metabolome and lipidome of adipose tissue in Ames dwarf mice. We observed distinct lipid profiles in brown versus white adipose tissue of Ames dwarf mice that are consistent with increased thermogenesis and insulin sensitivity, such as increased cardiolipin and decreased ceramide concentrations. Moreover, we identified 5-hydroxyeicosapentaenoic acid (5-HEPE), an ω-3 fatty acid metabolite, to be increased in Ames dwarf brown adipose tissue (BAT), as well as in circulation. Importantly, 5-HEPE is increased in other models of BAT activation and is negatively correlated with body weight, insulin resistance, and circulating triglyceride concentrations in humans. Together, these data represent a novel lipid signature of adipose tissue in a mouse model of extreme longevity.
Access options
Buy single article
Instant access to the full article PDF.
US$ 39.95
Tax calculation will be finalised during checkout.
Subscribe to journal
Immediate online access to all issues from 2019. Subscription will auto renew annually.
US$ 79
Tax calculation will be finalised during checkout.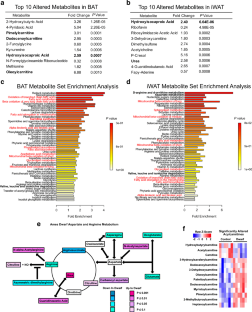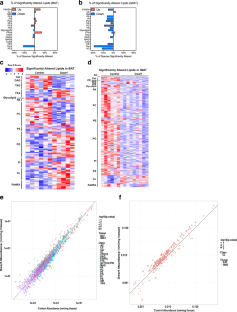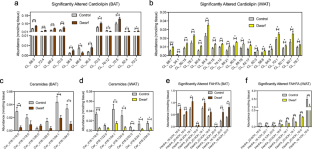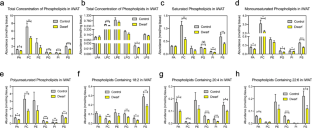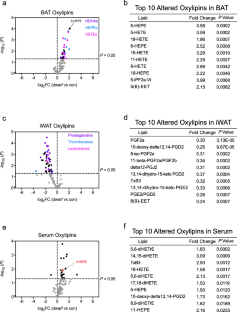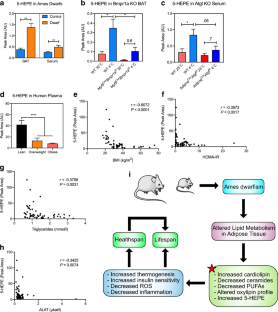 Funding
This work was supported in part by U.S. NIH grants R01DK077097 and R01DK102898, and by US Army Medical Research grant W81XWH-17-1-0428 (to Y.-H.T.), and by grant P30DK036836 (to Joslin Diabetes Center's Diabetes Research Center; DRC) from the National Institute of Diabetes and Digestive and Kidney Diseases. J.D. was supported by NIH grant T32DK007260 and American Heart Association grant 20POST35210497. M.D.L. was supported by NIH grant K01DK111714.
Ethics declarations
All animal procedures were approved by the Institutional Animal Care and Use Committees at the Joslin Diabetes Center (JDC) and Southern Illinois University School of Medicine (SIUSOM). The collection of the human samples, phenotyping, and serum analyses were approved by the ethics committee of the University of Leipzig (approval numbers: 159-12-21052012 and 017-12-23012012). All individuals provided written informed consent prior to entering the study.
Conflict of interest
The authors declare the following competing interests: M.A.K., N.R.N., V.T., B.G., and V.B. are employees of BERG.
Additional information
Publisher's note
Springer Nature remains neutral with regard to jurisdictional claims in published maps and institutional affiliations.
Electronic supplementary material
High resolution image (EPS 1970 kb)
High resolution image (EPS 362 kb)
High resolution image (EPS 307 kb)
Metabolomic dataset of thermogenic adipose tissue in Ames dwarf mice A list of all quantified metabolites for BAT and iWAT of Ames dwarf mice. Values shown are normalized values. (XLSX 119 kb)
Structural lipids in BAT of Ames dwarf mice A list of structural lipids in BAT in Ames dwarf mice. (XLSX 260 kb)
Structural lipids in iWAT of Ames dwarf mice A list of structural lipids in BAT in Ames dwarf mice. (XLSX 294 kb)
Oxylipins in adipose tissue and serum of Ames dwarf mice A list of oxylipins in BAT, iWAT, and serum of Ames dwarf mice. (XLSX 81 kb)
About this article
Cite this article
Darcy, J., Fang, Y., McFadden, S. et al. Integrated metabolomics reveals altered lipid metabolism in adipose tissue in a model of extreme longevity. GeroScience 42, 1527–1546 (2020). https://doi.org/10.1007/s11357-020-00221-0
Received:

Accepted:

Published:

Issue Date:
Keywords
Brown adipose tissue

Beige adipose tissue

Ames dwarf

Thermogenesis

Aging

Lipidomics

Metabolomics