Abstract
Consumption of cannabinoid-containing products is on the rise, even during pregnancy. Unfortunately, the long-term, age-related consequences of developmental cannabidiol (CBD) exposure remain largely unknown. This is a critical gap given the established Developmental Origins of Health and Disease (DOHaD) paradigm which emphasizes that stressors, like drug exposure, early in life can instigate molecular and cellular changes that ultimately lead to adverse outcomes later in life. Thus, we exposed zebrafish (Danio rerio) to varying concentrations of CBD (0.02, 0.1, 0.5 μM) during larval development and assessed aging in both the F0 (exposed generation) and their F1 offspring 30 months later. F0 exposure to CBD significantly increased survival (~ 20%) and reduced size (wet weight and length) of female fish. While survival was increased, the age-related loss of locomotor function was unaffected and the effects on fecundity varied by sex and dose. Treatment with 0.5 μM CBD significantly reduced sperm concentration in males, but 0.1 μM increased egg production in females. Similar to other model systems, control aged zebrafish exhibited increased kyphosis as well as increased expression markers of senescence, and inflammation (p16ink4ab, tnfα, il1b, il6, and pparγ) in the liver. Exposure to CBD significantly reduced the expression of several of these genes in a dose-dependent manner relative to the age-matched controls. The effects of CBD on size, gene expression, and reproduction were not reproduced in the F1 generation, suggesting the influence on aging was not cross-generational. Together, our results demonstrate that developmental exposure to CBD causes significant effects on the health and longevity of zebrafish.
Access options
Buy single article
Instant access to the full article PDF.
USD 39.95
Price excludes VAT (USA)
Tax calculation will be finalised during checkout.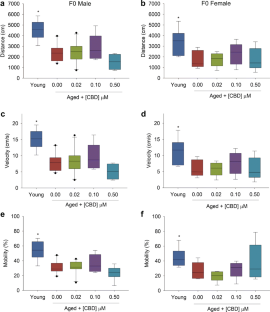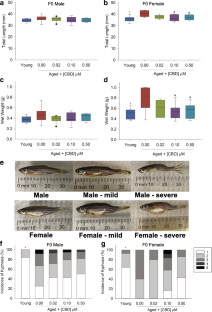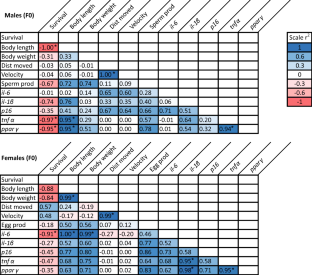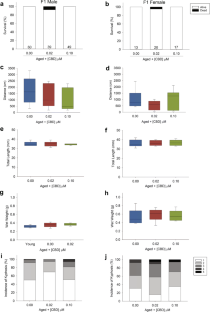 References
Adams MM, Kafaligonul H. Zebrafish-a model organism for studying the neurobiological mechanisms underlying cognitive brain aging and use of potential interventions. Front Cell Dev Biol. 2018;6:1–5. https://doi.org/10.3389/fcell.2018.00135.

Ahmed KT, Amin MR, Shah P, Ali DW. Motor neuron development in zebrafish is altered by brief (5-hr) exposures to THC (Δ9-tetrahydrocannabinol) or CBD (cannabidiol) during gastrulation. Sci Rep. 2018;8:1–14. https://doi.org/10.1038/s41598-018-28689-z.

Amoako AA, Marczylo TH, Marczylo EL, Elson J, Willets JM, Taylor AH, et al. Anandamide modulates human sperm motility: implications for men with asthenozoospermia and oligoasthenoteratozoospermia. Hum Reprod. 2013;28:2058–66. https://doi.org/10.1093/humrep/det232.

Arslan-Ergul A, Adams MM. Gene expression changes in aging zebrafish (Danio rerio) brains are sexually dimorphic. BMC Neurosci. 2014;15:1–11. https://doi.org/10.1186/1471-2202-15-29.

Arslan-Ergul A, Erbaba B, Karoglu ET, Halim DO, Adams MM. Short-term dietary restriction in old zebrafish changes cell senescence mechanisms. Neuroscience. 2016;334:64–75. https://doi.org/10.1016/j.neuroscience.2016.07.033.

Arzimanoglou A, Brandl U, Cross JH, Gil-nagel A, Lagae L, Landmark CJ, et al. Epilepsy and cannabidiol: a guide to treatment. Epileptic Disord. 2020;22:1–14. https://doi.org/10.1684/epd.2020.1141.

Austad SN. Sex differences in health and aging: a dialog between the brain and gonad? GeroScience. 2019;41:267–73. https://doi.org/10.1007/s11357-019-00081-3.

Barker DJP. The origins of the developmental origins theory. J Intern Med. 2007;261:412–7. https://doi.org/10.1111/j.1365-2796.2007.01809.x.

Barriuso J, Nagaraju R, Hurlstone A. Zebrafish in oncology. Aging (Albany NY). 2015;7:286–7.

Battista N, Bari M, Rapino C, Trasatti F, D'Agostino A, Maccarrone M. Regulation of female fertility by the endocannabinoid system. Hum Fertil. 2008;10:207–16. https://doi.org/10.1016/j.mce.2008.01.010.

Beis D, Agalou A. Aging in zebrafish. In: Encyclopedia of biomedical gerontology. 2020;104–113. https://doi.org/10.1016/B978-0-12-801238-3.11423-0.

Bisogno T, Hanuš L, De Petrocellis L, Tchilibon S, Ponde DE, Brandi I, et al. Molecular targets for cannabidiol and its synthetic analogues: effect on vanilloid VR1 receptors and on the cellular uptake and enzymatic hydrolysis of anandamide. Br J Pharmacol. 2001;134:845–52. https://doi.org/10.1038/sj.bjp.0704327.

Calabrese EJ, Mattson MP. How does hormesis impact biology, toxicology, and medicine? NPJ Aging Mech Dis. 2017;3:1–8. https://doi.org/10.1038/s41514-017-0013-z.

Carneiro MC, Henriques CM, Nabais J, Ferreira T, Carvalho T, Ferreira MG. Short telomeres in key tissues initiate local and systemic aging in zebrafish. PLoS Genet. 2016;12:1–31. https://doi.org/10.1371/journal.pgen.1005798.

Carty DR, Thornton C, Gledhill JH, Willett KL. Developmental effects of cannabidiol and Δ9-tetrahydrocannabinol in zebrafish. Toxicol Sci. 2018;162:137–45. https://doi.org/10.1093/toxsci/kfx232.

Carty DR, Miller ZS, Thornton C, Pandelides Z, Kutchma ML, Willett KL. Multigenerational consequences of early-life cannabinoid exposure in zebrafish. Toxicol Appl Pharmacol. 2019;364:133–43. https://doi.org/10.1016/j.taap.2018.12.021.

Carvalho RK, Santos ML, Souza MR, Rocha TL, Guimarães FS, Anselmo-Franci JA, et al. Chronic exposure to cannabidiol induces reproductive toxicity in male Swiss mice. J Appl Toxicol. 2018;38:1215–23. https://doi.org/10.1002/jat.3631.

Cecconi S, Rossi G, Oddi S, Di Nisio V, Maccarrone M. Role of major endocannabinoid-binding receptors during mouse oocyte maturation. Int J Mol Sci. 2019;20:1–16. https://doi.org/10.3390/ijms20122866.

Corrales J, Fang X, Thornton C, Mei W, Barbazuk WB, Duke M, et al. Effects on specific promoter DNA methylation in zebrafish embryos and larvae following benzo[a]pyrene exposure. Comp Biochem Physiol C Toxicol Pharmacol. 2014;163:37–46. https://doi.org/10.1016/j.cbpc.2014.02.005.

Dabrowska A, Johnson R. FDA regulation of cannabidiol (CBD) products. 2019.

Dalterio S, Steger R, Mayfield D, Bartke A. Early cannabinoid exposure influences neuroendocrine and reproductive functions in male mice: I. Prenatal exposure. Pharmacol Biochem Behav. 1984;20:107–13. https://doi.org/10.1016/0091-3057(84)90110-2.

Esposito G, Scuderi C, Valenza M, Togna GI, Latina V, de Filippis D, et al. Cannabidiol reduces Aβ-induced neuroinflammation and promotes hippocampal neurogenesis through PPARγ involvement. PLoS One. 2011;6:1–8. https://doi.org/10.1371/journal.pone.0028668.

Ewing LE, Skinner CM, Quick CM, Kennon-McGill S, McGill MR, Walker LA, et al. Hepatotoxicity of a cannabidiol-rich cannabis extract in the mouse model. Molecules. 2019;24:1–17. https://doi.org/10.3390/molecules24091694.

Fish EW, Murdaugh LB, Zhang C, Boschen KE, Boa-Amponsem O, Mendoza-Romero HN, et al. Cannabinoids exacerbate alcohol teratogenesis by a CB1-hedgehog interaction. Sci Rep. 2019;9:1–16. https://doi.org/10.1038/s41598-019-52336-w.

Giacoppo S, Pollastro F, Grassi G, Bramanti P, Mazzon E. Target regulation of PI3K/Akt/mTOR pathway by cannabidiol in treatment of experimental multiple sclerosis. Fitoterapia. 2017;116:77–84. https://doi.org/10.1016/j.fitote.2016.11.010.

Gidday JM. Extending injury- and disease-resistant CNS phenotypes by repetitive epigenetic conditioning. Front Neurol. 2015;6:1–7. https://doi.org/10.3389/fneur.2015.00042.

Gunn JKL, Rosales CB, Center KE, Nuñez A, Gibson SJ, Christ C, et al. Prenatal exposure to cannabis and maternal and child health outcomes: a systematic review and meta-analysis. BMJ Open. 2016;6:e009986. https://doi.org/10.1136/bmjopen-2015-009986.

Hayes AJ, Reynolds S, Nowell MA, Meakin LB, Habicher J, Ledin J, et al. Spinal deformity in aged zebrafish is accompanied by degenerative changes to their vertebrae that resemble osteoarthritis. PLoS One. 2013;8:1–12. https://doi.org/10.1371/journal.pone.0075787.

Hegde VL, Singh UP, Nagarkatti PS, Nagarkatti M. Critical role of mast cells and peroxisome proliferator–activated receptor γ (PPARγ) in the induction of myeloid-derived suppressor cells by marijuana cannabidiol in vivo. J Immunol. 2015;194:5211–22. https://doi.org/10.4049/jimmunol.1401844.

Hodges EL, Ashpole NM. Aging circadian rhythms and cannabinoids. Neurobiol Aging. 2019;79:110–8. https://doi.org/10.1016/j.neurobiolaging.2019.03.008.

Ignatowska-Jankowska B, Jankowski MM, Swiergiel AH. Cannabidiol decreases body weight gain in rats: involvement of CB2 receptors. Neurosci Lett. 2011;490:82–4. https://doi.org/10.1016/j.neulet.2010.12.031.

Ishiguro H, Carpio O, Horiuchi Y, Shu A, Higuchi S, Schanz N, et al. A nonsynonymous polymorphism in cannabinoid CB2 receptor gene is associated with eating disorders in humans and food intake is modified in mice by its ligands. Synapse. 2010;64:92–6. https://doi.org/10.1002/syn.20714.

Kapadia R, Yi JH, Vemuganti R. Mechanisms of anti-inflammatory and neuroprotective actions of PPAR-gamma agonists. Front Biosci. 2008;13:1813–26. https://doi.org/10.2741/2802.

Kishi S, Slack BE, Uchiyama J, Zhdanova IV. Zebrafish as a genetic model in biological and behavioral gerontology: where development meets aging in vertebrates-a mini-review. Gerontology. 2009;55:430–41. https://doi.org/10.1159/000228892.

Leibold S, Hammerschmidt M. Long-term hyperphagia and caloric restriction caused by low- or high-density husbandry have differential effects on zebrafish postembryonic development, somatic growth, fat accumulation and reproduction. PLoS One. 2015;10:1–31. https://doi.org/10.1371/journal.pone.0120776.

Livak KJ, Schmittgen TD. Analysis of relative gene expression data using real-time quantitative PCR and the 2-ΔΔCT method. Methods. 2001;25:402–8. https://doi.org/10.1006/meth.2001.1262.

López-Otín C, Blasco MA, Partridge L, Serrano M, Kroemer G. The hallmarks of aging. Cell. 2013;153:1194–217. https://doi.org/10.1016/j.cell.2013.05.039.The.

Malfait AM, Gallily R, Sumariwalla PF, Malik AS, Andreakos E, Mechoulam R, et al. The nonpsychoactive cannabis constituent cannabidiol is an oral anti-arthritic therapeutic in murine collagen-induced arthritis. Proc Natl Acad Sci U S A. 2000;97:9561–6. https://doi.org/10.1073/pnas.160105897.

Millar SA, Stone NL, Bellman ZD, Yates AS, England TJ, O'Sullivan SE. A systematic review of cannabidiol dosing in clinical populations. Br J Clin Pharmacol. 2019;85:1888–900. https://doi.org/10.1111/bcp.14038.

Nagarkatti P, Pandey R, Rieder SA, Hegde VL, Nagarkatti M. Cannabinoids as novel anti-inflammatory drugs. Futur Med Chem. 2009;1:1333–49. https://doi.org/10.4155/fmc.09.93.

O'Sullivan SE. An update on PPAR activation by cannabinoids. Br J Pharmacol. 2016;173:1899–910. https://doi.org/10.1111/bph.13497.

O'Sullivan SE, Kendall DA, Randall MD. Time-dependent vascular effects of endocannabinoids mediated by peroxisome proliferator-activated receptor gamma (PPARγ ). PPAR Res. 2009;2009:1–9. https://doi.org/10.1155/2009/425289.

Oltrabella F, Melgoza A, Nguyen B, Guo S. Role of the endocannabinoid system in vertebrates: emphasis on the zebrafish model. Develop Growth Differ. 2017;59:194–210. https://doi.org/10.1111/dgd.12351.

Parichy DM, Elizondo MR, Mills MG, Gordon TN, Engeszer RE. Normal table of post-embryonic zebrafish development: staging by externally visible anatomy of the living fish. Dev Dyn. 2009;238:9–12. https://doi.org/10.1002/dvdy.22113.

Paudel S, Sindelar R, Saha M. Calcium signaling in vertebrate development and its role in disease. Int J Mol Sci. 2018;19. https://doi.org/10.3390/ijms19113390.

Peres FF, Diana MC, Levin R, Suiama MA, Almeida V, Vendramini AM, et al. Cannabidiol administered during peri-adolescence prevents behavioral abnormalities in an animal model of schizophrenia. Front Pharmacol. 2018;9:1–15. https://doi.org/10.3389/fphar.2018.00901.

Rahimi BV, Askari VR, Mousavi SH. Ellagic acid dose and time-dependently abrogates D-galactose-induced animal model of aging: investigating the role of PPAR-γ. Life Sci. 2019;232:116595. https://doi.org/10.1016/j.lfs.2019.116595.

Reed, B., Jennings, M., 2011. Guidance on the housing and care of zebrafish (Danio rerio), Research Animals Department, Science Group, RSPCA. https://doi.org/10.1111/evo.12990.

Richardson, J.R., Caudle, W.M., Wang, M., Dean, E.D., Pennell, K.D., Miller, G.W., 2006. Developmental exposure to the pesticide dieldrin alters the dopamine system and increases neurotoxicity in an animal model of Parkinson's disease. FASEB J. 20. https://doi.org/10.1096/fj.06-5864fje.

Royce GH, Brown-Borg HM, Deepa SS. The potential role of necroptosis in inflammaging and aging. GeroScience. 2019;41:795–811. https://doi.org/10.1007/s11357-019-00131-w.

Ryan D, Drysdale AJ, Lafourcade C, Pertwee RG, Platt B. Cannabidiol targets mitochondria to regulate intracellular Ca2+ levels. J Neurosci. 2009;29:2053–63. https://doi.org/10.1523/JNEUROSCI.4212-08.2009.

Schneider CA, Rasband WS, Eliceiri KW. NIH image to ImageJ: 25 years of image analysis. Nat Methods. 2012;9:671–5. https://doi.org/10.1038/nmeth.2089.

Schuel H, Schuel R, Zimmerman AM, Zimmerman S. Cannabinoids reduce fertility of sea urchin sperm. Biochem Cell Biol. 1987;65:130–6. https://doi.org/10.1139/o87-018.

Shimoda N, Izawa T, Yoshizawa A, Yokoi H, Kikuchi Y, Hashimoto N. Decrease in cytosine methylation at CpG island shores and increase in DNA fragmentation during zebrafish aging. Age (Omaha). 2014;36:103–15. https://doi.org/10.1007/s11357-013-9548-5.

Stančić A, Jandl K, Hasenöhrl C, Reichmann F, Marsche G, Schuligoi R, et al. The GPR55 antagonist CID16020046 protects against intestinal inflammation. Neurogastroenterol Motil. 2015;27:1432–45. https://doi.org/10.1111/nmo.12639.

Sun L, Sadighi Akha AA, Miller RA, Harper JM. Life-span extension in mice by preweaning food restriction and by methionine restriction in middle age. J Gerontol - Ser A Biol Sci Med Sci. 2009;64:711–22. https://doi.org/10.1093/gerona/glp051.

Van der Velden YU, Haramis APG. Insights from model organisms on the functions of the tumor suppressor protein LKB1: Zebrafish chips in. Aging (Albany NY). 2011;3:363–7. https://doi.org/10.18632/aging.100319.

Van Houcke J, De Groef L, Dekeyster E, Moons L. The zebrafish as a gerontology model in nervous system aging, disease, and repair. Ageing Res Rev. 2015;24:358–68. https://doi.org/10.1016/j.arr.2015.10.004.

VanDolah HJ, Bauer BA, Mauck KF. Clinicians' guide to cannabidiol and hemp oils. Mayo Clin Proc. 2019;94:1840–51. https://doi.org/10.1016/j.mayocp.2019.01.003.

Volkow ND, Han B, Compton WM, McCance-Katz EF. Self-reported medical and nonmedical cannabis use among pregnant women in the United States. JAMA - J Am Med Assoc. 2019;322:167–9. https://doi.org/10.1001/jama.2019.7982.

Wagner KD, Ying Y, Leong W, Jiang J, Hu X, Chen Y, et al. The differential spatiotemporal expression pattern of shelter in genes throughout lifespan. Aging (Albany NY). 2017;9:1219–32. https://doi.org/10.18632/aging.101223.

Wang MJ, Chen F, Li JX, Liu CC, Zhang HB, Xia Y, et al. Reversal of hepatocyte senescence after continuous in vivo cell proliferation. Hepatology. 2014;60:349–61. https://doi.org/10.1002/hep.27094.

Wang N, Luo Z, Jin M, Sheng W, Wang HT, Long X, et al. Exploration of age-related mitochondrial dysfunction and the anti-aging effects of resveratrol in zebrafish retina. Aging (Albany NY). 2019;11:3117–37. https://doi.org/10.18632/aging.101966.

Zawia NH, Basha MR. Environmental risk factors and the developmental basis for Alzheimer's disease. Rev Neurosci. 2005;16:325–37. https://doi.org/10.1515/REVNEURO.2005.16.4.325.

Zhang W, Xu J, Qiu J, Xing C, Li X, Leng B, et al. Novel and rapid osteoporosis model established in zebrafish using high iron stress. Biochem Biophys Res Commun. 2018;496:654–60. https://doi.org/10.1016/j.bbrc.2017.12.172.

Zou S, Kumar U. Cannabinoid receptors and the endocannabinoid system: signaling and function in the central nervous system. Int J Mol Sci. 2018;19. https://doi.org/10.3390/ijms19030833.
Acknowledgments
The authors would like to thank Dennis R. Carty for conducting the initial exposure, as well as Kennedy E. Dickson, Mary-Beth Gillespie, James H. Gledhill, Haley Watts, and Bailey Westling for their help during sampling.
Funding
This work was supported by the National Institute on Drug Abuse R21DA044473-01 grant awarded to KW and P30GM122733 to NMA and KW.
Ethics declarations
Conflict of interest
The authors have declared that they have no conflicts of interest.
Additional information
Publisher's note
Springer Nature remains neutral with regard to jurisdictional claims in published maps and institutional affiliations.
Electronic supplementary material
About this article
Cite this article
Pandelides, Z., Thornton, C., Faruque, A.S. et al. Developmental exposure to cannabidiol (CBD) alters longevity and health span of zebrafish (Danio rerio). GeroScience 42, 785–800 (2020). https://doi.org/10.1007/s11357-020-00182-4
Received:

Accepted:

Published:

Issue Date:

DOI: https://doi.org/10.1007/s11357-020-00182-4
Keywords