Abstract
Damage to DNA is especially important for aging. High DNA repair could contribute, in principle, to lower such damage in long-lived species. However, previous studies showed that repair of endogenous damage to nuclear DNA (base excision repair, BER) is negatively or not correlated with mammalian longevity. However, we hypothesize here that mitochondrial, instead of nuclear, BER is higher in long-lived than in short-lived mammals. We have thus measured activities and/or protein levels of various BER enzymes including DNA glycosylases, NTHL1 and NEIL2, and the APE endonuclease both in total and mitochondrial liver and heart fractions from up to eight mammalian species differing by 13-fold in longevity. Our results show, for the first time, a positive correlation between (mitochondrial) BER and mammalian longevity. This suggests that the low steady-state oxidative damage in mitochondrial DNA of long-lived species would be due to both their lower mitochondrial ROS generation and their higher mitochondrial BER. Long-lived mammals do not need to continuously maintain high nuclear BER levels because they release less mitROS to the cytosol. This can be the reason why they tend to show lower nuclear BER values. The higher mitochondrial BER of long-lived mammals contributes to their superior longevity, agrees with the updated version of the mitochondrial free radical theory of aging, and indicates the special relevance of mitochondria and mitROS for aging.
Access options
Buy single article
Instant access to the full article PDF.
US$ 39.95
Tax calculation will be finalised during checkout.
Subscribe to journal
Immediate online access to all issues from 2019. Subscription will auto renew annually.
US$ 79
Tax calculation will be finalised during checkout.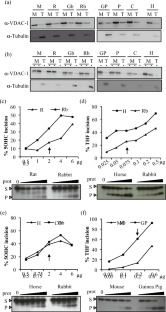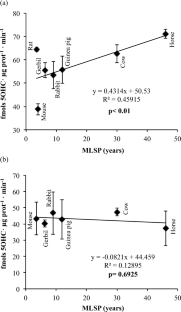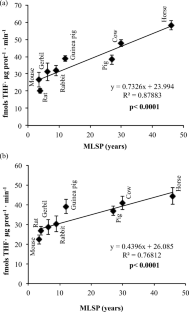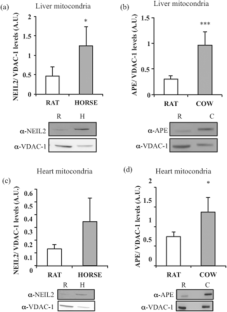 Abbreviations
APE1:

Apurinic/apyrimidinic endonuclease

BER:

Base excision repair

DR:

Dietary restriction

mtDNA:

Mitochondrial DNA

nDNA:

Nuclear DNA

NTHL1:

Endonuclease III homolog 1

NEIL2:

Nei-like 2

5OHC:

5-Hydroxycytosine

THF:

Tetrahydrofuran

ROS:

Reactive oxygen species

VDAC1:

Voltage-dependent anion-selective channel 1
References
Barja G (2013) Updating the mitochondrial free radical theory of aging: an integrated view, key aspects, and confounding concepts. Antioxid Redox Signal 19:1420–1445. https://doi.org/10.1089/ars.2012.5148

Barja G (2019) Towards a unified mechanistic theory of aging. Exp Gerontol 124:110627. https://doi.org/10.1016/j.exger.2019.05.016

Barja G, Herrero A (2000) Oxidative damage to mitochondrial DNA is inversely related to maximum life span in the heart and brain of mammals. FASEB J 14:312–318. https://doi.org/10.1096/fasebj.14.2.312

Brown MF, Stuart JA (2007) Correlation of mitochondrial superoxide dismutase and DNA polymerase beta in mammalian dermal fibroblasts with species maximal lifespan. Mech Ageing Dev 128:696–705. https://doi.org/10.1016/j.mad.2007.10.004

Cabelof DC, Guo Z, Raffoul JJ, Sobol RW, Wilson SH, Richardson A, Heydari AR (2003a) Base excision repair deficiency caused by polymerase beta haploinsufficiency: accelerated DNA damage and increased mutational response to carcinogens. Cancer Res 63:5799–5807

Cabelof DC, Yanamadala S, Raffoul JJ, Guo Z, Soofi A, Heydari AR (2003b) Caloric restriction promotes genomic stability by induction of base excision repair and reversal of its age-related decline. DNA Repair (Amst) 2:295–307

Cabelof DC, Ikeno Y, Nyska A, Busuttil RA, Anyangwe N, Vijg J, Matherly LH, Tucker JD, Wilson SH, Richardson A, Heydari AR (2006) Haploinsufficiency in DNA polymerase beta increases cancer risk with age and alters mortality rate. Cancer Res 66:7460–7465. https://doi.org/10.1158/0008-5472.CAN-06-1177

Canugovi C, Shamanna RA, Croteau DL, Bohr VA (2014) Base excision DNA repair levels in mitochondrial lysates of Alzheimer's disease. Neurobiol Aging 35:1293–1300. https://doi.org/10.1016/j.neurobiolaging.2014.01.004

Cortopassi GA, Wang E (1996) There is substantial agreement among interspecies estimates of DNA repair activity. Mech Ageing Dev 91:211–218. https://doi.org/10.1016/s0047-6374(96)01788-5

Francis AA, Lee WH, Regan JD (1981) The relationship of DNA excision repair of ultraviolet-induced lesions to the maximum life span of mammals. Mech Ageing Dev 16:181–189

Gonzalez-Freire M, de Cabo R, Bernier M, Sollott SJ, Fabbri E, Navas P, Ferrucci L (2015) Reconsidering the role of mitochondria in aging. J Gerontol A Biol Sci Med Sci 70:1334–1342. https://doi.org/10.1093/gerona/glv070

Gorbunova V, Seluanov A, Mao Z, Hine C (2007) Changes in DNA repair during aging. Nucleic Acids Res 35:7466–7474. https://doi.org/10.1093/nar/gkm756

Gredilla R, Stevnsner T (2012) Mitochondrial base excision repair assays. Methods Mol Biol 920:289–304. https://doi.org/10.1007/978-1-61779-998-3_20

Gredilla R, Bohr VA, Stevnsner T (2010) Mitochondrial DNA repair and association with aging--an update. Exp Gerontol 45:478–488. https://doi.org/10.1016/j.exger.2010.01.017

Gredilla R, Garm C, Stevnsner T (2012) Nuclear and mitochondrial DNA repair in selected eukaryotic aging model systems. Oxidative Med Cell Longev 2012:282438. https://doi.org/10.1155/2012/282438

Gredilla R, Stevnsner T, Bohr VA (2017) Base excision repair in aging. In: III DMW (ed) the base excision repair pathway. Molecular mechanisms and role in disease development and therapeutic design. World Scientific, pp 773-803

Grube K, Burkle A (1992) Poly(ADP-ribose) polymerase activity in mononuclear leukocytes of 13 mammalian species correlates with species-specific life span. PNAS USA 89:11759–11763. https://doi.org/10.1073/pnas.89.24.11759

Hall KY, Hart RW, Benirschke AK, Walford RL (1984) Correlation between ultraviolet-induced DNA repair in primate lymphocytes and fibroblasts and species maximum achievable life span. Mech Ageing Dev 24:163–173

Hart RW, Setlow RB (1974) Correlation between deoxyribonucleic acid excision-repair and life-span in a number of mammalian species. PNAS USA 71:2169–2173. https://doi.org/10.1073/pnas.71.6.2169

Hou Y, Song H, Croteau DL, Akbari M, Bohr VA (2017) Genome instability in Alzheimer disease. Mech Ageing Dev 161:83–94. https://doi.org/10.1016/j.mad.2016.04.005

Huamani J, McMahan C, Herbert DC, Reddick R, McCarrey J, MacInnes M, Chen DJ, Walter CA (2004) Spontaneous mutagenesis is enhanced in Apex heterozygous mice. Mol Cell Biol 24:8145–8153. https://doi.org/10.1128/MCB.24.18.8145-8153.2004

Hulbert AJ, Pamplona R, Buffenstein R, Buttemer WA (2007) Life and death: metabolic rate, membrane composition, and life span of animals. Physiol Rev 87:1175–1213. https://doi.org/10.1152/physrev.00047.2006

Iida T, Furuta A, Nishioka K, Nakabeppu Y, Iwaki T (2002) Expression of 8-oxoguanine DNA glycosylase is reduced and associated with neurofibrillary tangles in Alzheimer's disease brain. Acta Neuropathol 103:20–25

Jeppesen DK, Bohr VA, Stevnsner T (2011) DNA repair deficiency in neurodegeneration. Prog Neurobiol 94:166–200. https://doi.org/10.1016/j.pneurobio.2011.04.013

Kisby GE, Kohama SG, Olivas A, Churchwell M, Doerge D, Spangler E, de Cabo R, Ingram DK, Imhof B, Bao G, Kow YW (2010) Effect of caloric restriction on base-excision repair (BER) in the aging rat brain. Exp Gerontol 45:208–216. https://doi.org/10.1016/j.exger.2009.12.003

Leclere R, Torregrosa-Munumer R, Kireev R, Garcia C, Vara E, Tresguerres JA, Gredilla R (2013) Effect of estrogens on base excision repair in brain and liver mitochondria of aged female rats. Biogerontol 14:383–394. https://doi.org/10.1007/s10522-013-9431-x

Liu P, Demple B (2010) DNA repair in mammalian mitochondria: much more than we thought? Environ Mol Mutagen 51:417–426. https://doi.org/10.1002/em.20576

Lopez-Lluch G, Santos-Ocana C, Sanchez-Alcazar JA, Fernandez-Ayala DJ, Asencio-Salcedo C, Rodriguez-Aguilera JC, Navas P (2015) Mitochondrial responsibility in ageing process: innocent, suspect or guilty. Biogerontol 16:599–620. https://doi.org/10.1007/s10522-015-9585-9

Lorenzini A, Johnson FB, Oliver A, Tresini M, Smith JS, Hdeib M, Sell C, Cristofalo VJ, Stamato TD (2009) Significant correlation of species longevity with DNA double strand break recognition but not with telomere length. Mech Ageing Dev 130:784–792. https://doi.org/10.1016/j.mad.2009.10.004

Macedo JC, Vaz S, Bakker B, Ribeiro R, Bakker PL, Escandell JM, Ferreira MG, Medema R, Foijer F, Logarinho E (2018) FoxM1 repression during human aging leads to mitotic decline and aneuploidy-driven full senescence. Nature Comms 9:2834. https://doi.org/10.1038/s41467-018-05258-6

Meira LB, Devaraj S, Kisby GE, Burns DK, Daniel RL, Hammer RE, Grundy S, Jialal I, Friedberg EC (2001) Heterozygosity for the mouse Apex gene results in phenotypes associated with oxidative stress. Cancer Res 61:5552–5557

Miwa S, Jow H, Baty K, Johnson A, Czapiewski R, Saretzki G, Treumann A, von Zglinicki T (2014) Low abundance of the matrix arm of complex I in mitochondria predicts longevity in mice. Nature Comms 5:3837. https://doi.org/10.1038/ncomms4837

Moskalev AA, Shaposhnikov MV, Plyusnina EN, Zhavoronkov A, Budovsky A, Yanai H, Fraifeld VE (2013) The role of DNA damage and repair in aging through the prism of Koch-like criteria. Ageing Res Rev 12:661–684. https://doi.org/10.1016/j.arr.2012.02.001

Munro D, Baldy C (2019 Jun) Pamenter ME (2019) the exceptional longevity of the naked mole-rat may be explained by mitochondrial antioxidant defenses. Aging Cell 18(3):e12916. https://doi.org/10.1111/acel.12916

Munro D, Pamenter ME (2019) Comparative studies of mitochondrial reactive oxygen species in animal longevity: technical pitfalls and possibilities. Aging Cell 18:e13009. https://doi.org/10.1111/acel.13009

Naudi A, Jove M, Ayala V, Portero-Otin M, Barja G, Pamplona R (2013) Membrane lipid unsaturation as physiological adaptation to animal longevity. Front Physiol 4:372. https://doi.org/10.3389/fphys.2013.00372

Page MM, Stuart JA (2012) Activities of DNA base excision repair enzymes in liver and brain correlate with body mass, but not lifespan. Age (Dordr) 34:1195–1209. https://doi.org/10.1007/s11357-011-9302-9

Page MM, Richardson J, Wiens BE, Tiedtke E, Peters CW, Faure PA, Burness G, Stuart JA (2010) Antioxidant enzyme activities are not broadly correlated with longevity in 14 vertebrate endotherm species. Age (Dordr) 32:255–270. https://doi.org/10.1007/s11357-010-9131-2

Pamplona R, Costantini D (2011) Molecular and structural antioxidant defenses against oxidative stress in animals. Am J Physiol Regul Integr Comp Physiol 301:R843–R863. https://doi.org/10.1152/ajpregu.00034.2011

Perez-Campo R, Lopez-Torres M, Cadenas S, Rojas C, Barja G (1998) The rate of free radical production as a determinant of the rate of aging: evidence from the comparative approach. J Comp Physiol B 168:149–158

Picca A, Lezza AMS, Leeuwenburgh C, Pesce V, Calvani R, Bossola M, Manes-Gravina E, Landi F, Bernabei R, Marzetti E (2018) Circulating mitochondrial DNA at the crossroads of mitochondrial dysfunction and inflammation during aging and muscle wasting disorders. Rejuvenation Res 21:350–359. https://doi.org/10.1089/rej.2017.1989

Schriner SE, Linford NJ, Martin GM, Treuting P, Ogburn CE, Emond M, Coskun PE, Ladiges W, Wolf N, van Remmen H, Wallace DC, Rabinovitch PS (2005) Extension of murine life span by overexpression of catalase targeted to mitochondria. Science 308:1909–1911

Shaposhnikov M, Proshkina E, Shilova L, Zhavoronkov A, Moskalev A (2015) Lifespan and stress resistance in Drosophila with overexpressed DNA. Repair Genes Sci Rep 5:15299. https://doi.org/10.1038/srep15299

Soltys DT, Pereira CPM, Rowies FT, Farfel JM, Grinberg LT, Suemoto CK, Leite REP, Rodriguez RD, Ericson NG, Bielas JH, Souza-Pinto NC (2019) Lower mitochondrial DNA content but not increased mutagenesis associates with decreased base excision repair activity in brains of AD subjects. Neurobiol Aging 73:161–170. https://doi.org/10.1016/j.neurobiolaging.2018.09.015

Stuart JA, Karahalil B, Hogue BA, Souza-Pinto NC, Bohr VA (2004) Mitochondrial and nuclear DNA base excision repair are affected differently by caloric restriction. FASEB J 18:595–597. https://doi.org/10.1096/fj.03-0890fje

Swain U, Vyjayanti VN, Harikrishna T, Mahipal S, Rao KS (2016) Dietary calorie restriction from adulthood through old age in rats: improved DNA polymerase beta and DNA gap repair activity in cortical neurons. Neurochem Res 41:270–277. https://doi.org/10.1007/s11064-015-1787-7

Sykora P, Misiak M, Wang Y, Ghosh S, Leandro GS, Liu D, Tian J, Baptiste BA, Cong WN, Brenerman BM, Fang E, Becker KG, Hamilton RJ, Chigurupati S, Zhang Y, Egan JM, Croteau DL, Wilson DM III, Mattson MP, Bohr VA (2015) DNA polymerase beta deficiency leads to neurodegeneration and exacerbates Alzheimer disease phenotypes. Nucleic Acids Res 43:943–959. https://doi.org/10.1093/nar/gku1356

Torregrosa-Munumer R, Gomez A, Vara E, Kireev R, Barja G, Tresguerres JA, Gredilla R (2016) Reduced apurinic/apyrimidinic endonuclease 1 activity and increased DNA damage in mitochondria are related to enhanced apoptosis and inflammation in the brain of senescence-accelerated P8 mice (SAMP8). Biogerontol 17:325–335. https://doi.org/10.1007/s10522-015-9612-x

Treton JA, Courtois Y (1982) Correlation between DNA excision repair and mammalian lifespan in lens epithelial cells. Cell Biol Int Rep 6:253–260

Weissman L, Jo DG, Sorensen MM, de Souza-Pinto NC, Markesbery WR, Mattson MP, Bohr VA (2007) Defective DNA base excision repair in brain from individuals with Alzheimer's disease and amnestic mild cognitive impairment. Nucleic Acids Res 35:5545–5555. https://doi.org/10.1093/nar/gkm605

Zarate S, Stevnsner T, Gredilla R (2017) Role of estrogen and other sex hormones in brain aging. Neuroprotection and DNA repair. Front aging Neurosci 9: 430. https://doi.org/10.3389/fnagi.2017.00430

Zsurka G, Peeva V, Kotlyar A, Kunz WS (2018) Is there still any role for oxidative stress in mitochondrial DNA-dependent aging? Genes (Basel) 9. https://doi.org/10.3390/genes9040175
Acknowledgments
The authors acknowledge the veterinary staffs of the Madrid Norte and Segovia abattoirs for facilitating the access to the tissue samples from mammals of large body size. GB and RG conceived and designed the experiments; ML-T, IS-R, and AG collected the samples from the abattoirs; RG performed the experiments; GB and RG wrote the manuscript; GB, RG, ML-T, IS-R, and AG revised the manuscript.
Funding
This investigation was supported in part by a grant from the Spanish Ministry of Economy and Competitiveness (BFU2011-23888) and PR[19] BIO MET 0155.
Ethics declarations
Conflict of interest
The authors declare no conflicts of interest.
Additional information
Publisher's note
Springer Nature remains neutral with regard to jurisdictional claims in published maps and institutional affiliations.
About this article
Cite this article
Gredilla, R., Sánchez-Román, I., Gómez, A. et al. Mitochondrial base excision repair positively correlates with longevity in the liver and heart of mammals. GeroScience 42, 653–665 (2020). https://doi.org/10.1007/s11357-020-00158-4
Received:

Accepted:

Published:

Issue Date:
Keywords
Mitochondria

DNA repair

AP endonuclease

DNA glycosylases

Aging