Abstract
Alzheimer's disease (AD) affects the memory and cognitive function of approximately 5.7 million Americans. Early detection subsequently allows for earlier treatment and improves outcomes. Currently, there exists a validated 30-min eye-tracking cognitive assessment (VPC-30) for predicting AD risk. However, a shorter assessment would improve user experience and improve scalability. Thus, the purposes were to (1) determine convergent validity between the 5-min web camera-based eye-tracking task (VPC-5) and VPC-30, (2) examine the relationship between VPC-5 and gold-standard cognitive tests, and (3) determine the reliability and stability of VPC-5. This prospective study included two healthy cohorts: older adults (65+ years, n = 20) and younger adults (18–46 years, n = 24). Participants were tested on two separate occasions. Visit 1 included the Montreal Cognitive Assessment (MoCA), Digit Symbol Coding test (DSC), NIH Toolbox Cognitive Battery (NIHTB-CB), VPC-30, and VPC-5. Visit 2 occurred at least 14 days later; participants completed the VPC-5, DSC, NIHTB-CB, and dual-task walking assessments (DT). VPC-30 significantly correlated with VPC-5 at the first (p < .001) and second (p = .001) time points. VPC-5 and DSC (p < .01) and Pattern Comparison Processing Speed Test (PSPAC) (p = .01) were also correlated on day 1. Significant associations existed between VPC-5 and DSC (p < .001), Flanker Inhibitory Control Test (p = .05), PSPAC (p < .001), and Picture Sequence Memory Test (p = .02) during day 14 testing session. The test retest reliability of VPC-5 was significant (p < .001). VPC-5 displayed moderate convergent validity with the VPC-30 and gold-standard measures of cognition, while demonstrating strong stability, suggesting it is a valuable assessment for monitoring memory function.
This is a preview of subscription content, log in to check access.
Access options
Buy single article
Instant access to the full article PDF.
US$ 39.95
Tax calculation will be finalised during checkout.
Subscribe to journal
Immediate online access to all issues from 2019. Subscription will auto renew annually.
US$ 99
Tax calculation will be finalised during checkout.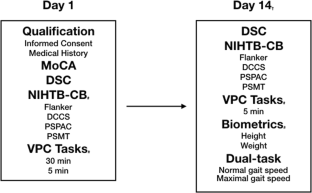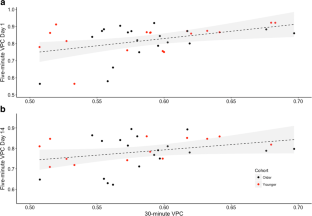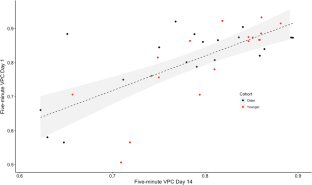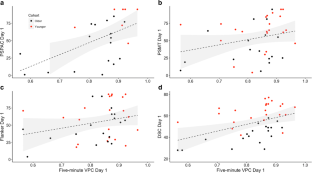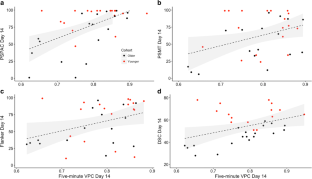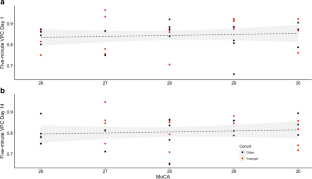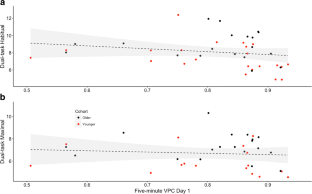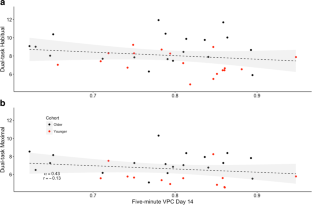 References
Alzheimer's Association (2018) 2018 Alzheimer's disease facts and figures. Alzheimers Dement 14(3):367–429

Alzheimer's Association (2015) 2015 Alzheimer's disease facts and figures. Alzheimers Dement 11(3):332–384. https://doi.org/10.1016/j.jalz.2015.02.003

Best JR, Liu-Ambrose T, Boudreau RM, Ayonayon HN, Satterfield S, Simonsick EM et al (2016) An evaluation of the longitudinal, bidirectional associations between gait speed and cognition in older women and men. J Gerontol Ser A Biol Sci Med Sci 71(12):1616–1623. https://doi.org/10.1093/gerona/glw066

Bland A, Roiser J, Mehta M, Schei T, Boland H, Campbell-Meiklejohn D et al (2016) EMOTICOM: a neuropsychological test battery to evaluate emotion. Motiv Impulsiv Soc Cogn 10. https://doi.org/10.3389/fnbeh.2016.00025

Bott N, Madero EN, Glenn J, Lange A, Anderson J, Newton D, Brennan A, Buffalo EA, Rentz D, Zola S (2018) Device-embedded cameras for eye tracking–based cognitive assessment: validation with paper-pencil and computerized cognitive composites. J Med Internet Res 20(7):e11143. https://doi.org/10.2196/11143

Bott NT, Lange A, Rentz D, Buffalo E, Clopton P, Zola S (2017) Web camera based eye tracking to assess visual memory on a visual paired comparison task. Front Neurosci:11 https://doi.org/10.3389/fnins.2017.00370

Brustio PR, Magistro D, Zecca M, Rabaglietti E, Liubicich ME (2017) Age-related decrements in dual-task performance: comparison of different mobility and cognitive tasks. A cross sectional study. PLoS ONE 12(7):e0181698. https://doi.org/10.1371/journal.pone.0181698

Crowe SF, Benedict T, Enrico J, Mancuso N, Matthews C, Wallace J (1999) Cognitive determinants of performance on the digit symbol-coding test, and the symbol search test of the Wais-III, and the symbol digit modalities test: an analysis in a healthy sample. Aust Psychol 34(3):204–210. https://doi.org/10.1080/00050069908257455

Crutcher MD, Calhoun-Haney R, Manzanares CM, Lah JJ, Levey AI, Zola SM (2009) Eye tracking during a visual paired comparison task as a predictor of early dementia. Am J Alzheimers Dis Other Dement 24(3):258–266. https://doi.org/10.1177/1533317509332093

Danckert SL, Craik FIM (2013) Does aging affect recall more than recognition memory? Psychol Aging 28(4):902–909. https://doi.org/10.1037/a0033263

Donohue MC, Sperling RA, Salmon DP, Rentz DM, Raman R, Thomas RG et al (2014) The preclinical Alzheimer cognitive composite: measuring amyloid-related decline. JAMA Neurol 71(8):961–970. https://doi.org/10.1001/jamaneurol.2014.803

Fagan JF (1970) Memory in the infant. J Exp Child Psychol 9(2):217–226. https://doi.org/10.1016/0022-0965(70)90087-1

Glenn J, Vincenzo J, Canella C, Binns A, Gray M (2015) Glenn 2015 - Habitual and maximal dual-task gait speeds among sedentary, recreationally active, and masters athlete late-middle aged adults. J Aging Phys Act 23(3):433–437

Goldberg TE, Harvey PD, Wesnes KA, Snyder PJ, Schneider LS (2015) Practice effects due to serial cognitive assessment: implications for preclinical Alzheimer's disease randomized controlled trials. Alzheimer's & Dementia 1(1):103–111. https://doi.org/10.1016/j.dadm.2014.11.003

Hanninen T, Hallikainen M, Tuomainen S, Vanhanen M, Soininen H (2002) Prevalence of mild cognitive impairment: a population-based study in elderly subjects. Acta Neurol Scand 106(3):148–154. https://doi.org/10.1034/j.1600-0404.2002.01225.x

Hansen DW, Pece AEC (2005) Eye tracking in the wild. Comput Vis Image Underst 98(1):155–181. https://doi.org/10.1016/j.cviu.2004.07.013

Harvey PD (2012) Clinical applications of neuropsychological assessment. Dialogues Clin Neurosci 14(1):91–99

Hausdorff JM, Rios DA, Edelberg HK (2001) Gait variability and fall risk in community-living older adults: a 1-year prospective study. Arch Phys Med Rehabil 82(8):1050–1056. https://doi.org/10.1053/apmr.2001.24893

Heaton RK, Akshoomoff N, Tulsky D, Mungas D, Weintraub S, Dikmen S, Beaumont J, Casaletto KB, Conway K, Slotkin J, Gershon R (2014) Reliability and validity of composite scores from the NIH toolbox cognition battery in adults. J Int Neuropsychol Soc 20(06):588–598. https://doi.org/10.1017/S1355617714000241

Kremen WS, Jak AJ, Panizzon MS, Spoon KM, Franz CE, Thompson WK, Jacobson KC, Vasilopoulos T, Vuoksimaa E, Xian H, Toomey R, Lyons MJ (2014) Early identification and heritability of mild cognitive impairment. Int J Epidemiol 43(2):600–610. https://doi.org/10.1093/ije/dyt242

Lagun D, Manzanares C, Zola SM, Buffalo EA, Agichtein E (2011) Detecting cognitive impairment by eye movement analysis using automatic classification algorithms. J Neurosci Methods 201(1):196–203. https://doi.org/10.1016/j.jneumeth.2011.06.027

Lin Y-T, Lin R-Y, Lin Y-C, Lee GC (2013) Real-time eye-gaze estimation using a low-resolution webcam. Multimed Tools Appl 65(3):543–568. https://doi.org/10.1007/s11042-012-1202-1

Maruff P, Thomas E, Cysique L, Brew B, Collie A, Snyder P, Pietrzak R (2009) Validity of the CogStat Brief battery: relationship to standardized tests and sensitivity to cognitive impairment in mild traumatic brain injury, Schizophrenia, and AIDS Dementia Complex. Arch Clin Neuropsychol 24:165–1178. https://doi.org/10.1093/arclin/acp010

McCulloch KL, Mercer V, Giuliani C, Marshall S (2009) Development of a clinical measure of dual-task performance in walking: reliability and preliminary validity of the walking and remembering test. J Geriatr Phys Ther 32:8

Montero-Odasso M, Casas A, Hansen KT, Bilski P, Gutmanis I, Wells JL, Borrie MJ (2009) Quantitative gait analysis under dual-task in older people with mild cognitive impairment: a reliability study. J NeuroEng Rehabil 6(1):35. https://doi.org/10.1186/1743-0003-6-35

Nasreddine ZS, Phillips NA, Bédirian V, Charbonneau S, Whitehead V, Collin I et al (2005) The Montreal cognitive assessment, MoCA: a brief screening tool for mild cognitive impairment: MOCA: a Brief Screening Tool For MCI. J Am Geriatr Soc 53(4):695–699. https://doi.org/10.1111/j.1532-5415.2005.53221.x

Petridis S, Giannakopoulos T, Spyropoulos CD (2013) Unobtrusive low cost pupil size measurements using web cameras. ArXiv:1311.7327 [Cs]. Retrieved from http://arxiv.org/abs/1311.7327

Rose S (1980) Enhancing visual recognition memory in preterm infants. Dev Psychol 16(2):85–92. https://doi.org/10.1037/0012-1649.16.2.85

Salthouse TA (1996) The processing-speed theory of adult age differences in cognition. Psychol Rev 103(3):403–428

Sekuler R, Kahana MJ, McLaughlin C, Golomb J, Wingfield A (2005) Preservation of episodic visual recognition memory in aging. Exp Aging Res 31(1):1–13. https://doi.org/10.1080/03610730590882800

Smith-Ray RL, Irmiter C, Boulter K (2016) Cognitive training among cognitively impaired older adults: a feasibility study assessing the potential improvement in balance 4. https://doi.org/10.3389/fpubh.2016.00219

Vivero V, Barreira N, Penedo MG, Cabrero D, Remeseiro B (2010) Directional gaze analysis in webcam video sequences. In: Campilho A, Kamel M (eds) Image Analysis and Recognition, vol 6112, pp 316–324. https://doi.org/10.1007/978-3-642-13775-4_32

Ward A, Arrighi HM, Michels S, Cedarbaum JM (2012) Mild cognitive impairment: disparity of incidence and prevalence estimates. Alzheimers Dement 8(1):14–21. https://doi.org/10.1016/j.jalz.2011.01.002

Yogev-Seligmann G, Hausdorff JM, Giladi N (2008) The role of executive function and attention in gait. Mov Disord 23(3):329–342. https://doi.org/10.1002/mds.21720

Zola SM, Manzanares CM, Clopton P, Lah JJ, Levey AI (2013) A behavioral task predicts conversion to mild cognitive impairment and Alzheimer's disease. Am J Alzheimers Dis Other Dement 28(2):179–184. https://doi.org/10.1177/1533317512470484
Additional information
Publisher's note
Springer Nature remains neutral with regard to jurisdictional claims in published maps and institutional affiliations.
About this article
Cite this article
Gills, J.L., Glenn, J.M., Madero, E.N. et al. Validation of a digitally delivered visual paired comparison task: reliability and convergent validity with established cognitive tests. GeroScience 41, 441–454 (2019). https://doi.org/10.1007/s11357-019-00092-0
Received:

Accepted:

Published:

Issue Date:
Keywords
Cognition

Visual paired comparison

Dementia

Alzheimer's disease