Abstract
The objective of this study was to investigate whether leukocyte telomere length (LTL) predicts the risk for cancer mortality among American Indians participating in the Strong Heart Study (1989–1991). Participants (aged 45–74 years) were followed annually until December 2015 to collect information on morbidity/mortality. LTL was measured by qPCR using genomic DNA isolated from peripheral blood. The association between LTL and risk for cancer mortality was examined using a multivariable Cox proportional hazard model, adjusting for age, gender, education, study site, smoking, alcohol use, physical activity, systolic blood pressure, fasting blood glucose, obesity, and low- and high-density lipoprotein. Of 1945 participants (mean age 56.10 ± 8.17 at baseline, 57% women) followed for an average 20.5 years, 220 died of cancer. Results showed that longer LTL at baseline significantly predicts an increased risk of cancer death among females (HR 1.57, 95% CI 1.08–2.30), but not males (HR 0.74, 95% CI 0.49–1.12) (p for interaction 0.009). Specifically, compared with the women with the longest LTL (fourth quartile), those in the third, second, and first quartiles showed 53%, 41%, and 44% reduced risk for cancer death, respectively. The findings highlight the importance of sex-specific analysis in future telomere research.
This is a preview of subscription content, log in to check access.
Access options
Buy single article
Instant access to the full article PDF.
US$ 39.95
Tax calculation will be finalised during checkout.
Subscribe to journal
Immediate online access to all issues from 2019. Subscription will auto renew annually.
US$ 99
Tax calculation will be finalised during checkout.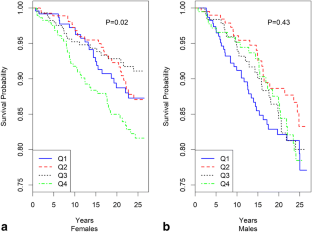 References
Allison PD (2010) Survival analysis using SAS: a practical guide, 2nd edn. SAS Institute Inc., Cary, NC

Barrett ELB, Richardson DS (2011) Sex differences in telomeres and lifespan. Aging Cell 10(6):913–921

Bayne S et al (2007) Potential roles for estrogen regulation of telomerase activity in aging. Ann N Y Acad Sci 1114:48–55

Bessler M, Wilson DB, Mason PJ (2004) Dyskeratosis congenita and telomerase. Curr Opin Pediatr 16(1):23–28

Best LG, García-Esquinas E, Yeh JL, Yeh F, Zhang Y, Lee ET, Howard BV, Farley JH, Welty TK, Rhoades DA, Rhoades ER, Umans JG, Navas-Acien A (2015) Association of diabetes and cancer mortality in American Indians: the Strong Heart Study. Cancer Causes Control 26(11):1551–1560

Calado RT, Dumitriu B (2013) Telomere dynamics in mice and humans. Semin Hematol 50(2):165–174

Campa D, Mergarten B, de Vivo I, Boutron-Ruault MC, Racine A, Severi G, Nieters A, Katzke VA, Trichopoulou A, Yiannakouris N, Trichopoulos D, Boeing H, Quiros JR, Duell EJ, Molina-Montes E, Huerta JM, Ardanaz E, Dorronsoro M, Khaw KT, Wareham N, Travis RC, Palli D, Pala V, Tumino R, Naccarati A, Panico S, Vineis P, Riboli E, Siddiq A, Bueno-de-Mesquita HB, Peeters PH, Nilsson PM, Sund M, Ye W, Lund E, Jareid M, Weiderpass E, Duarte-Salles T, Kong SY, Stepien M, Canzian F, Kaaks R (2014) Leukocyte telomere length in relation to pancreatic cancer risk: a prospective study. Cancer Epidemiol Biomark Prev 23(11):2447–2454

Carulli L (2015) Telomere shortening as genetic risk factor of liver cirrhosis. World J Gastroenterol 21(2):379–383

Cawthon RM (2002) Telomere measurement by quantitative PCR. Nucleic Acids Res 30(10):e47–e447

CDC (2016) Cancer among American Indians and Alaska Natives. Center for Disease Control and Prevention. https://www.cdc.gov/cancer/healthdisparities/what cdc is doing/aian.htm. Accessed 1 January 2017

de Lange T (2005) Shelterin: the protein complex that shapes and safeguards human telomeres. Genes Dev 19(18):2100–2110

De Vivo I et al (2009) A prospective study of relative telomere length and postmenopausal breast cancer risk. Cancer Epidemiol Biomark Prev 18(4):1152–1156

Donate LE, Blasco MA (2011) Telomeres in cancer and ageing. Philosophical Transactions of the Royal Society B: Biological Sciences 366(1561):76–84

Duggan C, Risques R, Alfano C, Prunkard D, Imayama I, Holte S, Baumgartner K, Baumgartner R, Bernstein L, Ballard-Barbash R, Rabinovitch P, McTiernan A (2014) Change in peripheral blood leukocyte telomere length and mortality in breast cancer survivors. J Natl Cancer Inst 106(4):dju035

Espey DK, Jim MA, Cobb N, Bartholomew M, Becker T, Haverkamp D, Plescia M (2014) Leading causes of death and all-cause mortality in American Indians and Alaska Natives. Am J Public Health 104(Suppl 3):S303–S311

Fitzpatrick AL, Kronmal RA, Gardner JP, Psaty BM, Jenny NS, Tracy RP, Walston J, Kimura M, Aviv A (2006) Leukocyte telomere length and cardiovascular disease in the cardiovascular health study. Am J Epidemiol 165(1):14–21

Frías C, García-Aranda C, de Juan C, Morán A, Ortega P, Gómez A, Hernando F, López-Asenjo JA, Torres AJ, Benito M, Iniesta P (2008) Telomere shortening is associated with poor prognosis and telomerase activity correlates with DNA repair impairment in non-small cell lung cancer. Lung Cancer 60(3):416–425

Greider CW, Blackburn EH (1996) Telomeres, telomerase and cancer. Sci Am 274(2):92–97

Heron M (2016) Deaths: leading causes for 2014. Natl Vital Stat Rep 65(5):1–96

Jafri MA, Ansari SA, Alqahtani MH, Shay JW (2016) Roles of telomeres and telomerase in cancer, and advances in telomerase-targeted therapies. Genome Med 8(1):69

Jemal A, Ward EM, Johnson CJ, Cronin KA, Ma J, Ryerson AB, Mariotto A, Lake AJ, Wilson R, Sherman RL, Anderson RN, Henley SJ, Kohler BA, Penberthy L, Feuer EJ, Weir HK (2017) Annual report to the nation on the status of cancer, 1975–2014, featuring survival. J Natl Cancer Inst 109(9)

Jeon H et al (2014) Telomere length of tumor tissues and survival in patients with early stage non-small cell lung cancer. Mol Carcinog 53(4):272–279

Kachuri L, Latifovic L, Liu G, Hung RJ (2016) Systematic review of genetic variation in chromosome 5p15.33 and telomere length as predictive and prognostic biomarkers for lung cancer. Cancer Epidemiol Biomark Prev 25(12):1537–1549

Kotsopoulos J et al (2014) Telomere length and mortality following a diagnosis of ovarian cancer. Cancer Epidemiol Biomark Prev 23(11):2603–2606

Kyo S, Takakura M, Kanaya T, Zhuo W, Fujimoto K, Nishio Y, Orimo A, Inoue M (1999) Estrogen activates telomerase. Cancer Res 59(23):5917–5921

Lee ET et al (1990) The Strong Heart Study. A study of cardiovascular disease in American Indians: design and methods. Am J Epidemiol 132(6):1141–1155

Lee ET, Cowan LD, Welty TK, Sievers M, Howard WJ, Oopik A, Wang W, Yeh J, Devereux RB, Rhoades ER, Fabsitz RR, Go O, Howard BV (1998) All-cause mortality and cardiovascular disease mortality in three American Indian populations, aged 45-74 years, 1984-1988. The Strong Heart Study. Am J Epidemiol 147(11):995–1008

Liu HQ, An JZ, Liu J, Yang YF, Zhang HX, Zhao BY, Li JB, Yang HS, Chen ZN, Xing JL (2012) Leukocyte telomere length predicts overall survival in hepatocellular carcinoma treated with transarterial chemoembolization. Carcinogenesis 33(5):1040–1045

Misiti S, Nanni S, Fontemaggi G, Cong YS, Wen J, Hirte HW, Piaggio G, Sacchi A, Pontecorvi A, Bacchetti S, Farsetti A (2000) Induction of hTERT expression and telomerase activity by estrogens in human ovary epithelium cells. Mol Cell Biol 20(11):3764–3771

Mons U, Müezzinler A, Schöttker B, Dieffenbach AK, Butterbach K, Schick M, Peasey A, de Vivo I, Trichopoulou A, Boffetta P, Brenner H (2017) Leukocyte telomere length and all-cause, cardiovascular disease, and cancer mortality: results from individual-participant-data meta-analysis of 2 large prospective cohort studies. Am J Epidemiol 185(12):1317–1326

Montanaro L, Brigotti M, Clohessy J, Barbieri S, Ceccarelli C, Santini D, Taffurelli M, Calienni M, Teruya-Feldstein J, Trerè D, Pandolfi PP, Derenzini M (2006) Dyskerin expression influences the level of ribosomal RNA pseudo-uridylation and telomerase RNA component in human breast cancer. J Pathol 210(1):10–18

Montanaro L, Calienni M, Ceccarelli C, Santini D, Taffurelli M, Pileri S, Treré D, Derenzini M (2008) Relationship between dyskerin expression and telomerase activity in human breast cancer. Cell Oncol 30(6):483–490

Mwasongwe S, Gao Y, Griswold M, Wilson JG, Aviv A, Reiner AP, Raffield LM (2017) Leukocyte telomere length and cardiovascular disease in African Americans: the Jackson Heart Study. Atherosclerosis 266:41–47

Nawrot TS, Staessen JA, Gardner JP, Aviv A (2004) Telomere length and possible link to X chromosome. Lancet 363(9408):507–510

Ogami M, Ikura Y, Ohsawa M, Matsuo T, Kayo S, Yoshimi N, Hai E, Shirai N, Ehara S, Komatsu R, Naruko T, Ueda M (2004) Telomere shortening in human coronary artery diseases. Arterioscler Thromb Vasc Biol 24(3):546–550

Pezzolo A, Pistorio A, Gambini C, Haupt R, Ferraro M, Erminio G, de Bernardi B, Garaventa A, Pistoia V (2015) Intratumoral diversity of telomere length in individual neuroblastoma tumors. Oncotarget 6(10):7493–7503

Rode L, Nordestgaard BG, Bojesen SE (2015) Peripheral blood leukocyte telomere length and mortality among 64 637 individuals from the general population. J Natl Cancer Inst 107(6)

Russo A, Modica F, Guarrera S, Fiorito G, Pardini B, Viberti C, Allione A, Critelli R, Bosio A, Casetta G, Cucchiarale G, Destefanis P, Gontero P, Rolle L, Zitella A, Fontana D, Frea B, Vineis P, Sacerdote C, Matullo G (2014) Shorter leukocyte telomere length is independently associated with poor survival in patients with bladder cancer. Cancer Epidemiol Biomark Prev 23(11):2439–2446

Said MA, Eppinga RN, Hagemeijer Y, Verweij N, van der Harst P (2017) Telomere length and risk of cardiovascular disease and cancer. J Am Coll Cardiol 70(4):506–507

Salpea KD, Talmud PJ, Cooper JA, Maubaret CG, Stephens JW, Abelak K, Humphries SE (2010) Association of telomere length with type 2 diabetes, oxidative stress and UCP2 gene variation. Atherosclerosis 209(1):42–50

Sanchez-Espiridion B, Chen M, Chang JY, Lu C, Chang DW, Roth JA, Wu X, Gu J (2014) Telomere length in peripheral blood leukocytes and lung cancer risk: a large case-control study in Caucasians. Cancer Res 74(9):2476–2486

Savale L, Chaouat A, Bastuji-Garin S, Marcos E, Boyer L, Maitre B, Sarni M, Housset B, Weitzenblum E, Matrat M, le Corvoisier P, Rideau D, Boczkowski J, Dubois-Randé JL, Chouaid C, Adnot S (2009) Shortened telomeres in circulating leukocytes of patients with chronic obstructive pulmonary disease. Am J Respir Crit Care Med 179(7):566–571

Schaner ME, Ross DT, Ciaravino G, Sørlie T, Troyanskaya O, Diehn M, Wang YC, Duran GE, Sikic TL, Caldeira S, Skomedal H, Tu IP, Hernandez-Boussard T, Johnson SW, O'Dwyer PJ, Fero MJ, Kristensen GB, Børresen-Dale AL, Hastie T, Tibshirani R, van de Rijn M, Teng NN, Longacre TA, Botstein D, Brown PO, Sikic BI (2003) Gene expression patterns in ovarian carcinomas. Mol Biol Cell 14(11):4376–4386

Siderakis M, Tarsounas M (2007) Telomere regulation and function during meiosis. Chromosom Res 15(5):667–679

Sieron P, Hader C, Hatina J, Engers R, Wlazlinski A, Müller M, Schulz WA (2009) DKC1 overexpression associated with prostate cancer progression. Br J Cancer 101(8):1410–1416

Stewart SA, Weinberg RA (2006) Telomeres: cancer to human aging. Annu Rev Cell Dev Biol 22(1):531–557

Strong Heart Study (2001) Strong Heart Study data book a report to American Indian communities

Svenson U, Nordfjall K, Stegmayr B, Manjer J, Nilsson P, Tavelin B, Henriksson R, Lenner P, Roos G (2008) Breast cancer survival is associated with telomere length in peripheral blood cells. Cancer Res 68(10):3618–3623

Svenson U, Ljungberg B, Roos G (2009) Telomere length in peripheral blood predicts survival in clear cell renal cell carcinoma. Cancer Res 69(7):2896–2901

Weischer M, Nordestgaard BG, Cawthon RM, Freiberg JJ, Tybjærg-Hansen A, Bojesen SE (2013) Short telomere length, cancer survival, and cancer risk in 47102 individuals. J Natl Cancer Inst 105(7):459–468

Wentzensen IM, Mirabello L, Pfeiffer RM, Savage SA (2011) The association of telomere length and cancer: a meta-analysis. Cancer Epidemiol Biomark Prev 20(6):1238–1250

Wiemann SU et al (2002) Hepatocyte telomere shortening and senescence are general markers of human liver cirrhosis. FASEB J 16(9):935–942

Willeit P, Willeit J, Mayr A, Weger S, Oberhollenzer F, Brandstätter A, Kronenberg F, Kiechl S (2010) Telomere length and risk of incident cancer and cancer mortality. JAMA 304(1):69–75

Willeit P, Willeit J, Kloss-Brandstätter A, Kronenberg F, Kiechl S (2011) Fifteen-year follow-up of association between telomere length and incident cancer and cancer mortality. JAMA 306(1):42–44

Wu X, Amos CI, Zhu Y, Zhao H, Grossman BH, Shay JW, Luo S, Hong WK, Spitz MR (2003) Telomere dysfunction: a potential cancer predisposition factor. J Natl Cancer Inst 95(16):1211–1218

Yang M, Prescott J, Poole EM, Rice MS, Kubzansky LD, Idahl A, Lundin E, de Vivo I, Tworoger SS (2017) Prediagnosis leukocyte telomere length and risk of ovarian cancer. Cancer Epidemiol Biomark Prev 26(3):339–345

Zhang DH, Chen JY, Hong CQ, Yi DQ, Wang F, Cui W (2014) High-risk human papillomavirus infection associated with telomere elongation in patients with esophageal squamous cell carcinoma with poor prognosis. Cancer 120(17):2673–2683

Zhang C, Chen X, Li L, Zhou Y, Wang C, Hou S (2015a) The association between telomere length and cancer prognosis: evidence from a meta-analysis. PLoS One 10(7):e0133174

Zhang M, An Q, Yeh F, Zhang Y, Howard BV, Lee ET, Zhao J (2015b) Smoking-attributable mortality in American Indians: findings from the Strong Heart Study. Eur J Epidemiol 30(7):553–561

Zhao J et al (2013) Association between telomere length and type 2 diabetes mellitus: a meta-analysis. PLoS One 8(11)

Zhao J, Zhu Y, Lin J, Matsuguchi T, Blackburn E, Zhang Y, Cole SA, Best LG, Lee ET, Howard BV (2014) Short leukocyte telomere length predicts risk of diabetes in American Indians: the strong heart family study. Diabetes 63(1):354–362
Acknowledgements
We thank all participants of Strong Heart Study (SHS), the Indian Health Service facilities, and participating tribal communities for their extraordinary cooperation and involvement, which has contributed to the success of SHS.
Funding
This study was supported by the National Institutes of Health–funded grants R01DK091369, U01HL65520, U01HL41642, U01HL41652, U01HL41654, and U01HL65521.
Ethics declarations
Ethical approval
All procedures performed in this study were in accordance with ethical standards of Indian Health Service Institutional Review Committee and with the 1964 Helsinki declaration and its later amendments or comparable ethical standards.
Conflict of interest
The authors declare that they have no conflict of interest.
Additional information
Publisher's note
Springer Nature remains neutral with regard to jurisdictional claims in published maps and institutional affiliations.
About this article
Cite this article
Subedi, P., Nembrini, S., An, Q. et al. Telomere length and cancer mortality in American Indians: the Strong Heart Study. GeroScience 41, 351–361 (2019). https://doi.org/10.1007/s11357-019-00080-4
Received:

Accepted:

Published:

Issue Date:
Keywords
Telomere length

Biological aging

Cancer mortality

American Indians

Strong Heart Study