Abstract
Intermittent fasting (IF) reportedly increases resistance and intestinal IgA response to Salmonella typhimurium infection in mature mice. The aim of this study was to explore the effect of aging on the aforementioned improved immune response found with IF. Middle-aged male BALB/c mice were submitted to IF or ad libitum (AL) feeding for 40 weeks and then orally infected with S. typhimurium. Thereafter, infected animals were all fed AL (to maximize their viability) until sacrifice on day 7 or 14 post-infection. We evaluated body weight, bacterial load (in feces, Peyer's patches, spleen and liver), total and specific intestinal IgA, lamina propria IgA+ plasma cells, plasma corticosterone, and messenger RNA (mRNA) expression of α-chain, J-chain, and the polymeric immunoglobulin receptor (pIgR) in liver and intestinal mucosa. In comparison with the infected AL counterpart, the infected IF group (long-term IF followed by post-infection AL feeding) generally had lower intestinal and systemic bacterial loads as well as higher total IgA on both post-infection days. Both infected groups showed no differences in corticosterone levels, body weight, or food and caloric intake. The increase in intestinal IgA was associated with enhanced pIgR mRNA expression in the intestine (day 7) and liver. Thus, to maintain body weight and caloric intake, IF elicited metabolic signals that possibly induced the increased hepatic and intestinal pIgR mRNA expression found. The increase in IgA probably resulted from intestinal IgA transcytosis via pIgR. This IgA response along with phagocyte-induced killing of bacteria in systemic organs (not measured) may explain the resolution of the S. typhimurium infection.
Access options
Buy single article
Instant access to the full article PDF.
USD 39.95
Price excludes VAT (USA)
Tax calculation will be finalised during checkout.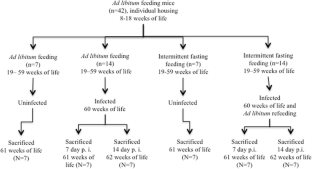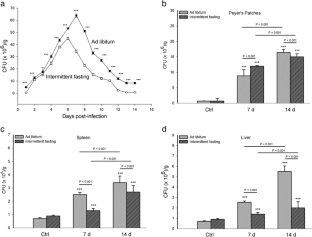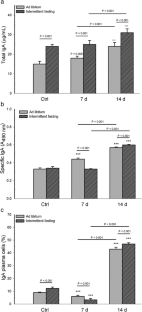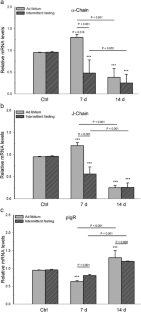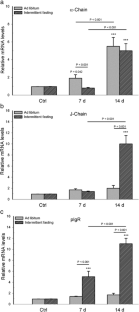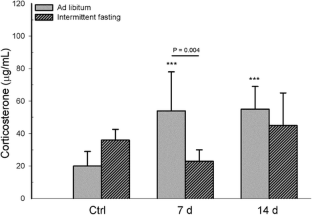 References
Anisimov VN, Egorov MV, Krasilshchikova MS et al (2011) Effects of the mitochondria-targeted antioxidant SkQ1 on lifespan of rodents. Aging 3:1110–1119

Anson RM, Guo Z, de R C et al (2003) Intermittent fasting dissociates beneficial effects of dietary restriction on glucose metabolism and neuronal resistance to injury from calorie intake. Proc Natl Acad Sci U S A 100:6216–6220

Asano M, Komiyama K (2011) Polymeric immunoglobulin receptor. J Oral Sci 53:147–156

Beer AM, Ruffer A, Balles J, Ostermann T (2001) Progression of intestinal secretory immunoglobulin A and the condition of the patients during naturopathic therapy and fasting therapy. Forsch Komplementarmed Klass Naturheilkd 8:346–53

Bradley SF, Kauffman CA (1990) Aging and the response to Salmonella infection. Exp Gerontol 25:75–80

Brown WR, Kloppel TM (1989) The role of the liver in translocation of IgA into the gastrointestinal tract. Immunol Investig 18:269–285

Burns-Guydish SM, Olomu IN, Zhao H, Wong RJ, Stevenson DK, Contag CH (2005) Monitoring age-related susceptibility of young mice to oral Salmonella enterica serovar Typhimurium infection using an in vivo murine model. Pediatr Res 58:153–158. doi:10.1203/01.PDR.0000157725.44213.C4

Daniels CK, Schmucker DL, Bazin H, Jones AL (1988) Immunoglobulin A receptor of rat small intestinal enterocytes is unaffected by aging. Gastroenterology 94:1432–1440

Desautels M, Dulos RA (1988) Effects of repeated cycles of fasting-refeeding on brown adipose tissue composition in mice. Am J Physiol 255:E120–E128

Drago-Serrano ME, Rivera-Aguilar V, Resendiz-Albor AA, Campos-Rodriguez R (2010) Lactoferrin increases both resistance to Salmonella typhimurium infection and the production of antibodies in mice. Immunol Lett 134:35–46

Duan W, Guo Z, Mattson MP (2001) Brain-derived neurotrophic factor mediates an excitoprotective effect of dietary restriction in mice. J Neurochem 76:619–626

Dulloo AG, Seydoux J, Girardier L (1990) Role of corticosterone in adaptive changes in energy expenditure during refeeding after low calorie intake. Am J Physiol 259:E658–E664

Ebersole JL, Steffen MJ (1989) Aging effects on secretory IgA immune responses. Immunol Investig 18:59–68

Ebersole JL, Smith DJ, Taubman MA (1985) Secretory immune responses in ageing rats. I. Immunoglobulin levels. Immunology 56:345–350

Ebersole JL, Steffen MJ, Pappo J (1988) Secretory immune responses in ageing rats. II. Phenotype distribution of lymphocytes in secretory and lymphoid tissues. Immunology 64:289–294

Emmerling P, Hof H, Finger H (1979) Age-related defense against infection with intracellular pathogens. Gerontology 25:327–336

Flurkey KCJ, Harrison DE (2007) The mouse in aging research. In: Fox JG (ed) The mouse in biomedical research, 2nd edn. Burlington, Elsevier, pp 637–624

Froy O, Miskin R (2010) Effect of feeding regimens on circadian rhythms: implications for aging and longevity. Aging (Albany NY) 2:7–27

Godinez-Victoria M, Campos-Rodriguez R, Rivera-Aguilar V et al (2014) Intermittent fasting promotes bacterial clearance and intestinal IgA production in Salmonella typhimurium-infected mice. Scand J Immunol 79:315–324. doi:10.1111/sji.12163

Goodrick CL, Ingram DK, Reynolds MA, Freeman JR, Cider NL (1982) Effects of intermittent feeding upon growth and life span in rats. Gerontology 28:233–241

Griffin AJ, McSorley SJ (2011) Development of protective immunity to Salmonella, a mucosal pathogen with a systemic agenda. Mucosal Immunol 4:371–382. doi:10.1038/mi.2011.2

Hill JO, Thacker S, Newby D, Nickel M, Digirolamo M (1987) A comparison of constant feeding with bouts of fasting-refeeding at three levels of nutrition in the rat. Int J Obes 11:251–262

Jarillo-Luna A, Rivera-Aguilar V, Garfias HR, Lara-Padilla E, Kormanovsky A, Campos-Rodríguez R (2007) Effect of repeated restraint stress on the levels of intestinal IgA in mice. Psychoneuroendocrinology 32:681–692

Johnson JB, Laub DR, John S (2006) The effect on health of alternate day calorie restriction: eating less and more than needed on alternate days prolongs life. Med Hypotheses 67:209–211

Karbowska J, Kochan Z (2012) Intermittent fasting up-regulates Fsp27/Cidec gene expression in white adipose tissue. Nutrition 28:294–299. doi:10.1016/j.nut.2011.06.009

Kliewer KL, Ke JY, Lee HY, Stout MB, Cole RM, Samuel VT, Shulman GI, Belury MA (2015) Short-term food restriction followed by controlled refeeding promotes gorging behavior, enhances fat deposition, and diminishes insulin sensitivity in mice. J Nutr Biochem 26:721–728. doi:10.1016/j.jnutbio.2015.01.010

Li L, Wang Z, Zuo Z (2013) Chronic intermittent fasting improves cognitive functions and brain structures in mice. PLoS One 8:e66069. doi:10.1371/journal.pone.0066069

Mastroeni P (2002) Immunity to systemic Salmonella infections. Curr Mol Med 2:393–406

Mattson MP, Duan W, Guo Z (2003) Meal size and frequency affect neuronal plasticity and vulnerability to disease: cellular and molecular mechanisms. J Neurochem 84:417–431

Michetti P, Mahan MJ, Slauch JM, Mekalanos JJ, Neutra MR (1992) Monoclonal secretory immunoglobulin A protects mice against oral challenge with the invasive pathogen Salmonella typhimurium. Infect Immun 60:1786–1792

Mowat AM, Agace WW (2014) Regional specialization within the intestinal immune system. Nat Rev Immunol 14:667–685

Persson EK, Scott CL, Mowat AM, Agace WW (2013) Dendritic cell subsets in the intestinal lamina propria: ontogeny and function. Eur J Immunol 43:3098–3107

Ren Z, Gay R, Thomas A, Pae M, Wu D, Logsdon L, Mecsas J, Meydani SN (2009) Effect of age on susceptibility to Salmonella Typhimurium infection in C57BL/6 mice. J Med Microbiol 58:1559–1567. doi:10.1099/jmm.0.013250-0

Reséndiz-Albor AA, Reina-Garfias H, Rojas-Hernández S, Jarillo-Luna A, Rivera-Aguilar V, Miliar-García A, Campos-Rodríguez R (2010) Regionalization of pIgR expression in the mucosa of mouse small intestine. Immunol Lett 128:59–67. doi:10.1016/j.imlet.2009.11.005

Reyna-Garfias H, Miliar A, Jarillo-Luna A, Rivera-Aguilar V, Pacheco-Yepez J, Baeza I, Campos-Rodríguez R (2010) Repeated restraint stress increases IgA concentration in rat small intestine. Brain Behav Immun 24:110–118. doi:10.1016/j.bbi.2009.09.005

Rhee SJ, Walker WA, Cherayil BJ (2005) Developmentally regulated intestinal expression of IFN-gamma and its target genes and the age-specific response to enteric Salmonella infection. J Immunol 175:1127–1136

Rychlik I, Barrow PA (2005) Salmonella stress management and its relevance to behaviour during intestinal colonisation and infection. FEMS Microbiol Rev 29:1021–1040

Santiago AF, Fernandes RM, Santos BP, Assis FA, Oliveira RP, Carvalho CR, Faria AM (2008) Role of mesenteric lymph nodes and aging in secretory IgA production in mice. Cell Immunol 253:5–10. doi:10.1016/j.cellimm.2008.06.004

Schmucker DL, Owen RL, Outenreath R, Thoreux K (2003) Basis for the age-related decline in intestinal mucosal immunity. Clin Dev Immunol 10:167–172

Senda S, Cheng E, Kawanishi H (1988) Aging-associated changes in murine intestinal immunoglobulin A and M secretions. Scand J Immunol 27:157–164

Simon R, Tennant SM, Galen JE, Levine MM (2011) Mouse models to assess the efficacy of non-typhoidal Salmonella vaccines: revisiting the role of host innate susceptibility and routes of challenge. Vaccine 29:5094–5106. doi:10.1016/j.vaccine.2011.05.022, Epub 2011 May 25

Singh R, Lakhanpal D, Kumar S, Sharma S, Kataria H, Kaur M, Kaur G (2012) Late-onset intermittent fasting dietary restriction as a potential intervention to retard age-associated brain function impairments in male rats. Age (Dordr) 34:917–933. doi:10.1007/s11357-011-9289-2

Smallwood HS, Lopez-Ferrer D, Squier TC (2011) Aging enhances the production of reactive oxygen species and bactericidal activity in peritoneal macrophages by upregulating classical activation pathways. Biochemistry 50:9911–9922. doi:10.1021/bi2011866

Suzuki K, Fagarasan S (2009) Diverse regulatory pathways for IgA synthesis in the gut. Mucosal Immunol 2:468–471. doi:10.1038/mi.2009.107

Thoreux K, Owen RL, Schmucker DL (2000) Intestinal lymphocyte number, migration and antibody secretion in young and old rats. Immunology 101:161–167

Uematsu S, Jang MH, Chevrier N, Guo Z, Kumagai Y, Yamamoto M, Kato H, Sougawa N, Matsui H, Kuwata H, Hemmi H, Coban C, Kawai T, Ishii KJ, Takeuchi O, Miyasaka M, Takeda K, Akira S (2006) Detection of pathogenic intestinal bacteria by Toll-like receptor 5 on intestinal CD11c+ lamina propria cells. Nat Immunol 7:868–874

Van der Heijden PJ, Bianchi AT, Stok W, Bokhout BA (1988) Background (spontaneous) immunoglobulin production in the murine small intestine as a function of age. Immunology 65:243–248

Viloria M, Lara-Padilla E, Campos-Rodríguez R et al (2011) Effect of moderate exercise on IgA levels and lymphocyte count in mouse intestine. Immunol Investig 40:640–656. doi:10.3109/08820139.2011.575425

Wan R, Camandola S, Mattson MP (2003) Intermittent fasting and dietary supplementation with 2-deoxy-D-glucose improve functional and metabolic cardiovascular risk factors in rats. FASEB J 17:1133–1134. doi:10.1096/fj.02-0996fje02-0996fje

Watson KG, Holden DW (2010) Dynamics of growth and dissemination of Salmonella in vivo. Cell Microbiol 12:1389–1397. doi:10.1111/j.1462-5822.2010.01511.x

Wijburg OL, Uren TK, Simpfendorfer K, Johansen FE, Brandtzaeg P, Strugnell RA (2006) Innate secretory antibodies protect against natural Salmonella typhimurium infection. J Exp Med 203:21–26

Yanagihara T, Kumagai Y, Norose Y, Moro I, Nanno M, Murakami M, Takahashi H (2004) Age-dependent decrease of polymeric Ig receptor expression and IgA elevation in ddY mice: a possible cause of IgA nephropathy. Lab Investig 84:63–70. doi:10.1038/sj.labinvest.3700012

Yuan R, Tsaih SW, Petkova SB et al (2009) Aging in inbred strains of mice: study design and interim report on median lifespans and circulating IGF1 levels. Aging Cell 8:277–287. doi:10.1111/j.1474-9726.2009.00478.
About this article
Cite this article
Campos-Rodríguez, R., Godínez-Victoria, M., Reyna-Garfias, H. et al. Intermittent fasting favored the resolution of Salmonella typhimurium infection in middle-aged BALB/c mice. AGE 38, 13 (2016). https://doi.org/10.1007/s11357-016-9876-3
Received:

Accepted:

Published:

DOI: https://doi.org/10.1007/s11357-016-9876-3
Keywords