Abstract
We aimed to verify whether different levels of training performed regularly and voluntarily for many years could have an impact on one of the main issues of immunosenescence: the poor response to vaccines. We recruited 61 healthy elderly men (65–85 years old), 23 with a moderate training (MT) lifestyle (for 17.0 ± 3.2 years), 22 with an intense training (IT) lifestyle (for 25.9 ± 3.4 years), and 16 without a training lifestyle (NT). Fitness was evaluated through the IPAQ and VO2max consumption. The participants were evaluated regarding cognitive aspects, nutritional status, depression, and quality of life. Antibody titers were determined by hemagglutination inhibition assay prior to influenza vaccination and at 6 weeks and 6 months post-vaccination. Strains used were B, H3N2, and H1N1. Our groups were matched for most characteristics, except for those directly influenced by their lifestyles, such as BMI, VO2max, and MET. In general, MT and IT elderly men showed significantly higher antibody titers to the three vaccine strains post-vaccination than NT elderly men. There were also higher titers against B and H1N1 strains in the trained groups before vaccination. Additionally, there were higher proportions of seroprotected (titers ≥1:40) individuals in the pooled trained groups both at 6 weeks (B and H3N2, p < 0.05) and 6 months (H1N1, p < 0.05; B, p = 0.07). There were no significant differences between the MT and IT groups. Either a moderate or an intense training is associated with stronger and longstanding antibody responses to the influenza vaccine, resulting in higher percentages of seroprotected individuals.
Access options
Buy single article
Instant access to the full article PDF.
USD 39.95
Price excludes VAT (USA)
Tax calculation will be finalised during checkout.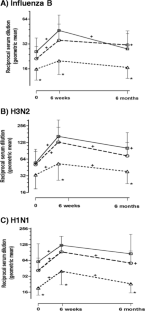 References
Agarwal S, Busse PJ (2010) Innate and adaptive immunosenescence. Ann Allergy Asthma Immunol 104(3):183–190. doi:10.1016/j.anai.2009.11.009, quiz 190–2, 210

Alam I, Goldeck D, Larbi A et al (2013) Aging affects the proportions of T and B cells in a group of elderly men in a developing country—a pilot study from Pakistan. Age (Dordr) 35:1521–1530. doi:10.1007/s11357-012-9455-1

Brucki SM, Nitrini R, Caramelli P et al (2003) Okamoto. Suggestions for utilization of the mini-mental state examination in Brazil. Arq Neuropsiquiatr 61:777–781

Ciconelli RM, Ferraz MB, Santos W et al (1999) Brazilian-Portuguese version of the SF-36. A reliable and valid quality of life outcome measure. Rev Bras Reumatol 39:147–150

de Araújo AL, Silva LCR, Fernandes JR et al (2013) Preventing or reversing immunosenescence: can exercise be an immunotherapy? Immunotherapy 5:879–893. doi:10.2217/imt.13.77

Goodeve A, Potter CW, Clark A et al (1983) A graded dose study of inactivated surface antigen influenza B vaccine in volunteers. J Hyg Camb 90:107–115

Grant RW, Mariani RA, Vieira VJ et al (2008) Cardiovascular exercise intervention improves the primary antibody response to keyhole limpet hemocyanin (KLH) in previously sedentary older adults. Brain Behav Immun 22:923–932. doi:10.1016/j.bbi.2008.01.006

Heck H, Mader A, Hess G, Mucke S, Muller R, Hollmann W (1985) Justification of the 4 mmol/L lactate threshold. Int J Sports Med 6:117–130

Kendal AP, Pereira MS, Skehel JJ (eds) (1982) Concepts and procedures from laboratory-based influenza surveillance. Centers for Disease Control and Prevention, Atlanta

Keylock KT, Lowder T, Leifheit KA et al (2007) Higher antibody, but not cell-mediated, responses to vaccination in high physically fit elderly. J Appl Physiol 102:1090–1098

Kohut ML, Cooper MM, Nickolaus MS et al (2002) Exercise and psychosocial factors modulate immunity to influenza vaccine in elderly individuals. J Gerontol A Biol Sci Med Sci 57:M557–M562

Kohut ML, Arntson BA, Lee W et al (2004) Moderate exercise improves antibody response to influenza immunization in older adults. Vaccine 22:2298–2306

Kohut ML, Lee W, Martin A, Arnston B et al (2005) The exercise-induced enhancement of influenza immunity is mediated in part by improvements in psychosocial factors in older adults. Brain Behav Immun 19:357–366

Larbi A, Franceschi C, Mazzatti D et al (2008) Aging of the immune system as a prognostic factor for human longevity. Physiology 23:64–74. doi:10.1152/physiol.00040.2007

McElhaney JE, Xie D, Hager WD et al (2006) T cell responses are better correlates of vaccine protection in the elderly. J Immunol 176:6333–6339

Milani RV, Lavie CJ, Mehra MR (2004) Cardiopulmonary exercise testing. How do we differentiate the cause of dyspnea? Circulation 110:e27–e31

Pascoe AR, Fiatarone Singh MA, Edwards KM (2014) The effects of exercise on vaccination responses: a review of chronic and acute exercise interventions in humans. Brain Behav Immun 39:33–41. doi:10.1016/j.bbi.2013.10.003

Rohrbach LA, Grana R, Sussman S, Valente TW (2006) Type II translation: transporting prevention interventions from research to real-world settings. Eval Health Prof 29(3):302–333

Santos-Silva PR, Fonseca AJ, Castro AW, Greve JMD, Hernandez AJ (2007) Reproducibility of maximum aerobic power (VO2max) among soccer players using a modified Heck protocol. Clinics 62:391–396

Schuler PB, Leblanc PA, Marzilli TS (2003) Effect of physical activity on the production of specific antibody in response to the 1998–99 influenza virus vaccine in older adults. J Sports Med Phys Fitness 43:404

Senchina DS, Kohut ML (2007) Immunological outcomes of exercise in older adults. Clin Interv Aging 2:3–16

Sistema de vigilância epidemiológica da gripe SIVEP-GRIPE. Vigilância Sentinela Circulação Viral (2012). http://portalsaude.saude.gov.br/index.php/situacao-epidemiologica-dados-influenza. Accessed 21 May 2015

Smith TP, Kennedy SL, Fleshner M (2004) Influence of age and physical activity on the primary in vivo antibody and T cell-mediated responses in men. J Appl Physiol 97:491–498

Vellas B, Guigoz Y, Garry PJ, Nourhashemi F et al (1999) The Mini Nutritional Assessment (MNA) and its use in grading the nutritional state of elderly patients. Nutrition 15:116–122

Webster R, Cox N, Stohr K (2002) World Health Organization manual on animal influenza diagnosis and surveillance. WHO, Geneva, pp 37–40

Weiskopf D, Weinberger B, Grubeck-Loebenstein B (2009) The aging of the immune system. Transpl Int 22:1041–1050. doi:10.1111/j.1432-2277.2009.00927.x

Woods JA, Keylock KT, Lowder T et al (2009) Cardiovascular exercise training extends influenza vaccine seroprotection in sedentary older adults: the immune function intervention trial. J Am Geriatr Soc 57:2183–2191. doi:10.1111/j.1532-5415.2009.02563.x

Yang Y, Verkuilen J, Rosengren KS et al (2007) Effects of a Taiji and Qigong intervention on the antibody response to influenza vaccine in older adults. Am J Chin Med 35:597–607

Yesavage JA, Brink TL, Rose TL et al (1982) Development and validation of a geriatric depression screening scale: a preliminary report. J Psychiatr Res 17:37–49
Acknowledgments
This work was supported by Fundação de Amparo à Pesquisa do Estado de São Paulo (#2011/08817-0 [GB] and #2011/18268-4 [LCRS]), Coordenação de Aperfeiçoamento de Pessoal de Nível Superior (#14952/13-0 [ALA]), and Conselho Nacional de Desenvolvimento Científico e Tecnológico (LEGL and GB). We thank Terezinha M. Paiva of the Respiratory Diseases Center, Adolf Lutz Institute, São Paulo, for providing the influenza antigens, Magali Ruivo from the Cotia's county program "Saber Viver" for helping with recruitment of the participants, Paulo RS Silva for the ergospirometry testing, and Isac de Castro for statistics advice.
Ethics declarations
Conflict of interest
The authors declare that they have no competing interests.
Author contributions
Adriana L de Araújo, Léia CR Silva, and Juliana R Fernandes contributed to the recruitment of the participants, questionnaires application, blood sampling and processing of the data; Manuella ST Matias and Luiz E Garcez-Leme contributed with the recruitment and clinical evaluation of the participants; Lucy S Boas and Clarisse M Machado standardized and carried out the HIA; Gil Benard and Luiz E Garcez-Leme designed and coordinated the study; Gil Benard, Luiz E Garcez-Leme, Adriana L de Araújo, and Léia CR Silva wrote the paper.
Additional information
Adriana Ladeira de Araújo and Léia Cristina Rodrigues Silva contributed equally to this work.
About this article
Cite this article
de Araújo, A.L., Silva, L.C.R., Fernandes, J.R. et al. Elderly men with moderate and intense training lifestyle present sustained higher antibody responses to influenza vaccine. AGE 37, 105 (2015). https://doi.org/10.1007/s11357-015-9843-4
Received:

Accepted:

Published:

DOI: https://doi.org/10.1007/s11357-015-9843-4
Keywords