Abstract
Exposure to secondhand tobacco smoke (SHS) is a well-established risk factor for cardiovascular disease and lung cancer in nonsmoking adults. However, few studies have focused on the health consequences of exposure to SHS in older adults. This is the first study to assess the association between SHS and the frailty syndrome in the nonsmoking older adult population. Cross-sectional study was conducted among 2059 nonsmoking adults aged ≥60 years who participated in the third US National Health and Nutrition Examination Survey and had completed a physical examination. Exposure to SHS was assessed by serum cotinine concentrations and by self-reported data from the home questionnaire. Frailty was ascertained with a slight modification of the Fried criteria. Analyses were performed with logistic regression and adjusted for the main confounders. The median (interquartile range) concentration of serum cotinine was 0.095 (IQR 0.035–0.211) ng/mL. The prevalence of frailty was 6.0 %. The odds ratios (95 % confidence interval [CI]) of frailty comparing the second, third, and fourth to the lowest quartile of serum cotinine were, respectively, 1.44 (0.67–3.06), 1.46 (0.75–2.85), and 2.51 (1.06–5.95), p value for trend 0.04. An increased frequency of frailty was also observed in participants reporting to live with ≥2 smokers at home (odds ratio 5.37; 95 % CI 1.13–25.5). In the US nonsmoking older adult population, exposure to SHS was associated with an increased frequency of frailty. More efforts are needed to protect older adults from SHS, especially at home and in other areas not covered by smoke-free regulations.
Access options
Buy single article
Instant access to the full article PDF.
USD 39.95
Price excludes VAT (USA)
Tax calculation will be finalised during checkout.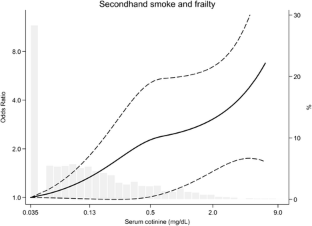 References
Akhtar WZ, Andresen EM, Cannell MB, Xu X (2013) Association of blood cotinine level with cognitive and physical performance in non-smoking older adults. Environ Res 121:64–70

Barnes DE, Haight TJ, Mehta KM, Carlson MC, Kuller LH, Tager IB (2010) Secondhand smoke, vascular disease, and dementia incidence: findings from the cardiovascular health cognition study. Am J Epidemiol 171(3):292–302

Benowitz NL (1996) Cotinine as a biomarker of environmental tobacco smoke exposure. Epidemiol Rev 18(2):188–204

Bentayeb M, Simoni M, Norback D et al (2013) Indoor air pollution and respiratory health in the elderly. J Environ Sci Health A Tox Hazard Subst Environ Eng 48(14):1783–1789

Bonetti PO, Lardi E, Geissmann C, Kuhn MU, Bruesch H, Reinhart WH (2011) Effect of brief secondhand smoke exposure on endothelial function and circulating markers of inflammation. Atherosclerosis 215(1):218–222

Chen R (2012) Association of environmental tobacco smoke with dementia and Alzheimer's disease among never smokers. Alzheimers Dement 8(6):590–595

Chen R, Wilson K, Chen Y et al (2013a) Association between environmental tobacco smoke exposure and dementia syndromes. Occup Environ Med 70(1):63–69

Chen R, Hu Z, Orton S, Chen RL, Wei L (2013b) Association of passive smoking with cognitive impairment in nonsmoking older adults: a systematic literature review and a new study of Chinese cohort. J Geriatr Psychiatry Neurol 26(4):199–208

Chiu YH, Spiegelman D, Dockery DW et al (2011) Secondhand smoke exposure and inflammatory markers in nonsmokers in the trucking industry. Environ Health Perspect 119(9):1294–1300

Clark JD III, Wilkinson JD, LeBlanc WG et al (2008) Inflammatory markers and secondhand tobacco smoke exposure among U.S. workers. Am J Ind Med 51(8):626–632

Clegg A, Young J, Iliffe S, Rikkert MO, Rockwood K (2013) Frailty in elderly people. Lancet 381(9868):752–762

de Vries OJ, Peeters GM, Lips P, Deeg DJ (2013) Does frailty predict increased risk of falls and fractures? A prospective population-based study. Osteoporos Int 24(9):2397–2403

Flouris AD, Metsios GS, Carrillo AE et al (2009) Acute and short-term effects of secondhand smoke on lung function and cytokine production. Am J Respir Crit Care Med 179(11):1029–1033

Flouris AD, Poulianiti KP, Chorti MS et al (2012) Acute effects of electronic and tobacco cigarette smoking on complete blood count. Food Chem Toxicol 50(10):3600–3603

Fried LP, Tangen CM, Walston J et al (2001) Frailty in older adults: evidence for a phenotype. J Gerontol A Biol Sci Med Sci 56(3):M146–M156

Gale CR, Baylis D, Cooper C, Sayer AA (2013) Inflammatory markers and incident frailty in men and women: the English Longitudinal Study of Ageing. Age (Dordr) 35(6):2493–2501

Graham JE, Snih SA, Berges IM, Ray LA, Markides KS, Ottenbacher KJ (2009) Frailty and 10-year mortality in community-living Mexican American older adults. Gerontology 55(6):644–651

Guessous I, Luthi JC, Bowling CB et al (2014) Prevalence of frailty indicators and association with socioeconomic status in middle-aged and older adults in a swiss region with universal health insurance coverage: a population-based cross-sectional study. J Aging Res 2014:198603

Guralnik JM, Simonsick EM, Ferrucci L et al (1994) A short physical performance battery assessing lower extremity function: association with self-reported disability and prediction of mortality and nursing home admission. J Gerontol 49(2):M85–M94

Holmberg T, Bech M, Curtis T, Juel K, Gronbaek M, Brixen K (2011) Association between passive smoking in adulthood and phalangeal bone mineral density: results from the KRAM study—the Danish Health Examination Survey 2007–2008. Osteoporos Int 22(12):2989–2999

Hubbard RE, Searle SD, Mitnitski A, Rockwood K (2009) Effect of smoking on the accumulation of deficits, frailty and survival in older adults: a secondary analysis from the Canadian Study of Health and Aging. J Nutr Health Aging 13(5):468–472

Jaakkola MS (2002) Environmental tobacco smoke and health in the elderly. Eur Respir J 19(1):172–181

Jefferis BJ, Lowe GD, Welsh P et al (2010) Secondhand smoke (SHS) exposure is associated with circulating markers of inflammation and endothelial function in adult men and women. Atherosclerosis 208(2):550–556

Kim LG, Adamson J, Ebrahim S (2013a) Influence of life-style choices on locomotor disability, arthritis and cardiovascular disease in older women: prospective cohort study. Age Ageing 42(6):696–701

Kim KH, Lee CM, Park SM et al (2013b) Secondhand smoke exposure and osteoporosis in never-smoking postmenopausal women: the fourth Korea National Health and Nutrition Examination Survey. Osteoporos Int 24(2):523–532

King BA, Patel R, Babb SD (2014) Prevalence of Smokefree Home Rules—United States, 1992–1993 and 2010–2011. MMWR Morb Mortal Wkly Rep 63:765–769

Li H, Manwani B, Leng SX (2011) Frailty, inflammation, and immunity. Aging Dis 2(6):466–473

Llewellyn DJ, Lang IA, Langa KM, Naughton F, Matthews FE (2009) Exposure to secondhand smoke and cognitive impairment in non-smokers: national cross sectional study with cotinine measurement. BMJ 338:b462

Lodovici M, Caldini S, Luceri C, Bambi F, Boddi V, Dolara P (2005) Active and passive smoking and lifestyle determinants of 8-oxo-7,8-dihydro-2′-deoxyguanosine levels in human leukocyte DNA. Cancer Epidemiol Biomarkers Prev 14(12):2975–2977

Mesquita R, Goncalves CG, Hayashi D et al (2015) Smoking status and its relationship with exercise capacity, physical activity in daily life and quality of life in physically independent, elderly individuals. Physiotherapy 101(1):55–61

Moritsugu KP (2007) The 2006 Report of the Surgeon General: the health consequences of involuntary exposure to tobacco smoke. Am J Prev Med 32(6):542–543

Oberg M, Jaakkola MS, Woodward A, Peruga A, Pruss-Ustun A (2011) Worldwide burden of disease from exposure to second-hand smoke: a retrospective analysis of data from 192 countries. Lancet 377(9760):139–146

Ottenbacher KJ, Graham JE, Al SS et al (2009) Mexican Americans and frailty: findings from the Hispanic established populations epidemiologic studies of the elderly. Am J Public Health 99(4):673–679

Quan S, Jeong JY, Kim DH (2013) The relationship between smoking, Socioeconomic status and grip strength among community-dwelling elderly men in Korea: Hallym Aging Study. Epidemiol Health 35:e2013001

Rist PM, Capistrant BD, Wu Q, Marden JR, Glymour MM (2014) Dementia and dependence: do modifiable risk factors delay disability? Neurology 82(17):1543–1550

Ropponen A, Korhonen T, Svedberg P, Koskenvuo M, Silventoinen K, Kaprio J (2013) Persistent smoking as a predictor of disability pension due to musculoskeletal diagnoses: a 23 year prospective study of Finnish twins. Prev Med 57(6):889–893

Song X, Mitnitski A, Rockwood K (2010) Prevalence and 10-year outcomes of frailty in older adults in relation to deficit accumulation. J Am Geriatr Soc 58(4):681–687

Steffl M, Bohannon RW, Petr M, Kohlikova E, Holmerova I (2014) Relation between cigarette smoking and sarcopenia—meta analysis. Physiol Res

U.S. Department of Health and Human Services (2014) The Health Consequences of Smoking—50 Years of Progress. A Report of the Surgeon General

Venn A, Britton J (2007) Exposure to secondhand smoke and biomarkers of cardiovascular disease risk in never-smoking adults. Circulation 115(8):990–995

Vermeulen J, Neyens JC, van Rossum E, Spreeuwenberg MD, de Witte LP (2011) Predicting ADL disability in community-dwelling elderly people using physical frailty indicators: a systematic review. BMC Geriatr 11:33

Vital signs: nonsmokers' exposure to secondhand smoke—United States, 1999–2008 (2010) MMWR Morb Mortal Wkly Rep. 59(35):1141–1146

Wang C, Song X, Mitnitski A et al (2013) Gender differences in the relationship between smoking and frailty: results from the Beijing Longitudinal Study of Aging. J Gerontol A Biol Sci Med Sci 68(3):338–346

Wilkinson JD, Lee DJ, Arheart KL (2007) Secondhand smoke exposure and C-reactive protein levels in youth. Nicotine Tob Res 9(2):305–307

Wong E, Stevenson C, Backholer K, Woodward M, Shaw JE, Peeters A (2015) Predicting the risk of physical disability in old age using modifiable mid-life risk factors. J Epidemiol Community Health 69(1):70–76

Woods NF, LaCroix AZ, Gray SL et al (2005) Frailty: emergence and consequences in women aged 65 and older in the Women's Health Initiative Observational Study. J Am Geriatr Soc 53(8):1321–1330

World Health Organization.International Programme on Chemical Safety (1993) Principles for evaluating chemical effects on the aged population. Environ Health Criteria 144

Wu IC, Shiesh SC, Kuo PH, Lin XZ (2009) High oxidative stress is correlated with frailty in elderly Chinese. J Am Geriatr Soc 57(9):1666–1671
Acknowledgments
Author Contributions
EGE conceived the study, performed the statistical analyses, and drafted the manuscript. FRA and ANA drafted and reviewed the manuscript for important intellectual content. EGE and FRA had primary responsibility for the final content.
Funding
This work was supported by grants from the Instituto de Salud Carlos III, Ministry of Health of Spain (PI12/1166), and from the European Commission (FRAILOMIC Initiative FP7-HEALTH-2012-Proposal No: 305483–2). Dr. Navas-Acien was supported by the Flight Attendant Medical Research Institute.
About this article
Cite this article
García-Esquinas, E., Navas-Acien, A. & Rodríguez-Artalejo, F. Exposure to secondhand tobacco smoke and the frailty syndrome in US older adults. AGE 37, 26 (2015). https://doi.org/10.1007/s11357-015-9762-4
Received:

Accepted:

Published:

DOI: https://doi.org/10.1007/s11357-015-9762-4
Keywords
Tobacco smoke pollution

Air pollution

Indoor

Older adults

Second hand smoke

Cotinine

Frailty