Abstract
Anaemia and low 25 hydroxyvitamin D (25D) and 1,25 dihydroxyvitamin D (1,25D) levels are common in older people and may adversely affect morbidity and mortality. While there is some evidence for an association between low serum 25D levels and anaemia, there are limited studies among community-dwelling older people. In addition, the relationship between anaemia and the active vitamin D metabolite, 1,25D, has not been investigated. The aim of this study was to examine the associations between serum 25D and 1,25D with anaemia in community-living men aged ≥70 years. Population-based, cross-sectional analysis of the baseline phase and longitudinal analysis of the Concord Health and Ageing in Men Project (CHAMP), a large epidemiological study conducted in Sydney among men aged 70 years and older, were performed; 1666 men were seen at baseline (2005–2007), 1314 men at a 2-year follow-up (2007–2009) and 917 at a 5-year follow-up (2012–2013). The main outcome measurement was haemoglobin levels as a continuous measure. Covariates included 25D and 1,25D, estimated glomerular filtration rate, demographic information, lifestyle measures, health conditions and medication information. The prevalence of anaemia (Hb < 13.0 g/dL, WHO definition) was 14.6 %. In cross-sectional analysis, serum 25D concentrations were positively associated with haemoglobin levels in unadjusted analysis (β value 0.004; 95 % confidence interval (CI) 0.0009, 0.007; p = 0.01), but the associations were no longer significant after multivariate adjustment. The association between 1,25D levels and haemoglobin levels was significant in unadjusted analysis (β value 0.003; 95 % CI 0.002, 0.004; p < 0.0001) and remained significant in adjusted analysis (β value 0.001; 95 % CI 0.004, 0.003; p = 0.01). Serum 1,25D (but not 25D) levels at baseline were significantly associated with changes in haemoglobin over 2 and 5 years in unadjusted (β value 0.002; 95 % CI 0.0009, 0.003; p < 0.0001) and in fully adjusted analyses (β value 0.001; 95 % CI 0.0004, 0.002; p = 0.001). Serum 1,25D, but not 25D, concentrations are independently associated with haemoglobin levels in older men in both cross-sectional and longitudinal analyses. This raises the question whether vitamin D metabolites may influence anaemia states, mediated through different biological pathways, or represent a time-dependent biomarker of chronic ill health.
Access options
Buy single article
Instant access to the full article PDF.
USD 39.95
Price excludes VAT (USA)
Tax calculation will be finalised during checkout.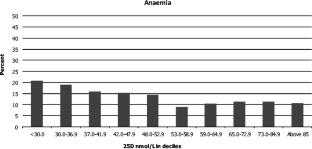 References
Alon DB, Chaimovitz C, Dvilansky A, Lugassy G, Douvdevani A, Shany S, Nathan I (2002) Novel role of 1,25(OH)(2)D(3) in induction of erythroid progenitor cell proliferation. Exp Hematol 30:403–409

Artz AS (2008) Anemia and the frail elderly. Semin Hematol 45(4):261–266

Aucella F, Scalzulli RP, Gatta G, Vigilante M, Carella AM, Stallone C (2003) Calcitriol increases burst-forming unit-erythroid proliferation in chronic renal failure, a synergistic effect with r- HuEpo. Nephron Clin Pract 95:c121–c127

Bhamra S, Tinker A, Mein G, Ashcroft R, Askham J (2008) The retention of older people in longitudinal studies: a review of the literature. Qual Ageing 9(4):27–35

Bischoff-Ferrari HA, Borchers M, Gidat F et al (2004) Vitamin D receptor expression in human muscle tissue decreases with age. J Bone Miner Res 19:265–269

Cheng CK, Chan J, Cembrowski GS, van Assendelft OW (2004) Complete blood count reference interval diagrams derived from NHANES III: stratification by age, sex, and race. Lab Hematol 10(1):42–53

Cumming RG, Handelsman D, Seibel MJ et al (2008) Cohort profile: the Concord Health and Ageing in Men Project (CHAMP). Int J Epidemiol 14

Day RO, Graham GG (2013) Non-steroidal anti-inflammatory drugs (NSAIDs). BMJ, Jun 11;346:f3195. doi: 10.1136/bmj.f3195

Division of Drug Information Service (2011) College of Pharmacy, University of Iowa. IDIS Drug Vocabulary and Thesaurus Description. Available from: http://itsnt14.its.uiowa.edu/. Accessed last 19 May 2014

Fliser D (2008) Assessment of renal function in elderly patients. Curr Opin Nephrol Hypertens 17(6):604–608

Fried LP, Tangen CM, Walston J et al (2001) Frailty in older adults: evidence for a phenotype. J Gerontol A Biol Sci Med Sci 56:M146–M156

Guillot X, Semerano L, Saidenberg-Kermanac'h N, Falgarone G, Boissier MC (2010) Vitamin D and inflammation. Joint Bone Spine 77:552–557

Guralnik JM, Eisenstaedt RS, Ferrucci L, Klein HG, Woodman RC (2004) Prevalence of anemia in persons 65 years and older in the United States: evidence for a high rate of unexplained anemia. Blood 104(8):2263–2268

Herrmann M, Harwood T, Gaston-Parry O, Kouzios D, Wong T, Lih A, Jimenez M, Janu M, Seibel MJ (2010) A new quantitative LC tandem mass spectrometry assay for serum 25-hydroxy vitamin D. Steroids 75(13–14):1106–1112

Hewison M, Burke F, Evans KN et al (2007) Extra-renal 25-hydroxyvitamin D3-1α- hydroxylase in human health and disease. J Steroid Biochem Mol Biol 103(3–5):316–321

Hirani V, Naganathan V, Cumming RG, Blyth F, Le Couteur DG, Handelsman DJ, Waite LM, Seibel MJ (2013) Associations between frailty and serum 25-hydroxyvitamin d and 1,25-dihydroxyvitamin D concentrations in older Australian men: the Concord Health and Ageing in Men Project. J Gerontol A Biol Sci Med Sci 68(9):1112–1121

Holden CA, McLachlan RI, Pitts M et al (2005) Men in Australia Telephone Survey (MATeS): a national survey of the reproductive health and concerns of middle-aged and older Australian men. Lancet 366:218–224

Holick MF (2003) Vitamin D, deficiency: what a pain it is. Mayo Clin Proc 78:1457–1459

National Kidney Foundation (2002) Kidney disease outcomes quality initiative clinical practice guidelines for chronic kidney disease: evaluation, classification, and stratification. Available at: http://www.kidney.org/professionals/KDOQI/guidelines.cfm

Kiss Z, Ambrus C, Almasi C, Berta K, Deak G et al (2011) Serum 25(OH)-cholecalciferol concentration is associated with hemoglobin level and erythropoietin resistance in patients on maintenance hemodialysis. Nephron Clin Pract 117:c373–c378

Levey AS, Coresh J, Greene T et al (2005) Expressing the MDRD equation for estimating GFR with IDMS traceable (gold standard ) serum creatinine values. J Am Soc Nephrol 16:69A

Liang K, Zeger S (1986) Longitudinal data analysis using generalized linear models. Biometrika 73:13–22

Lips P (2007) Relative value of 25(OH)D and 1,25(OH)2D measurements. J Bone Miner Res 22(11):1668–1671

Lucisano S, Di Mauro E, Montalto G, Cernaro V, Buemi M, Santoro D (2014) Vitamin D and anemia. J Ren Nutr 24(1):61–62

Meguro S, Tomita M, Katsuki T, Kato K, Oh H et al (2011) Plasma 25-hydroxyvitamin D is independently associated with hemoglobin concentration in male subjects with type 2 diabetes mellitus. Int J Endocrinol 2011:362981

Mithal A, Wahl DA, Bonjour JP, Burckhardt P, Dawson-Hughes B, Eisman JA, El-Hajj Fuleihan G, Josse RG, Lips P, Morales-Torres J, IOF Committee of Scientific Advisors (CSA) Nutrition Working Group (2009) Global vitamin D status and determinants of hypovitaminosis D. Osteoporos Int 20(11):1807–1820

Nissenson AR, Goodnough LT, Dubois RW (2003) Anemia: not just an innocent bystander? Arch Intern Med 163:1400–1404

Norman AW (2006) Minireview: vitamin D receptor: new assignments for an already busy receptor. Endocrinology 147:5542–5548

Oelzner P, Müller A, Deschner F et al (1997) Relationship between disease activity and serum levels of vitamin D metabolites and PTH in rheumatoid arthritis. Calcif Tissue Int 23:193–198

Patel NM, Gutierrez OM, Andress DL, Coyne DW, Levin A et al (2010) Vitamin D deficiency and anemia in early chronic kidney disease. Kidney Int 77:715–720

Pedersen LB, Nashold FE, Spach KM, Hayes CE (2007) 1,25-dihydroxyvitamin D3 reverses experimental autoimmune encephalomyelitis by inhibiting chemokine synthesis and monocyte trafficking. J Neurosci Res 85:2480–2490

Penninx BW, Pahor M, Cesari M, Corsi AM, Woodman RC, Bandinelli S, Guralnik JM, Ferrucci L (2004) Anemia is associated with disability and decreased physical performance and muscle strength in the elderly. J Am Geriatr Soc 52(5):719–724

Perlstein TS, Pande R, Berliner N, Vanasse GJ (2011) Prevalence of 25-hydroxyvitamin D deficiency in subgroups of elderly persons with anemia: association with anemia of inflammation. Blood 117:2800–2806

Ross AC, Manson JE, Abrams SA et al (2011) The 2011 report on dietary reference intakes for calcium and vitamin D from the institute of medicine: what clinicians need to know. J Clin Endocrinol Metab 96:53–58

Roubenoff R (2003) Catabolism of aging: is it an inflammatory process? Curr Opin Clin Nutr Metab Care 6:295–299

Shiekh J, Yesavage J (1986) Geriatric Depression Scale: recent findings and development of a short version. In: Brink T (ed) Clinical gerontology: a guide to assessment and intervention. Howarth Press, New York

Sim JJ, Lac PT, Liu IL, Meguerditchian SO, Kumar VA et al (2010) Vitamin D deficiency and anemia: a cross-sectional study. Ann Hematol 89:447–452

Slovik DM, Adams JS, Neer RM et al (1981) Deficient production of 1,25-dihydroxyvitamin D in elderly osteoporoticpatients. N Engl J Med 305:372–374

Sooragonda B, Bhadada SK, Shah VN, Malhotra P, Ahluwalia J, Sachdeva N (2014) Effect of vitamin D replacement on hemoglobin concentration in subjects with concurrent iron-deficiency anemia and vitamin D deficiency: a randomized, single-blinded, placebo-controlled trial. Acta Haematol 133(1):31–35

Ware JE, Kosinski M, Keller SD (1996) A 12-item short-form health survey: construction of scales and preliminary tests of reliability and validity. Med Care 34:220–233

Washburn RA, Smith KW, Jette AM, Janney CA (1993) The Physical Activity Scale for the Elderly (PASE): development and evaluation. J Clin Epidemiol 46:153–162

Working Group of the Australian and New Zealand Bone and Mineral Society, Endocrine Society of Australia and Osteoporosis Australia (2012) Vitamin D and adult bone health in Australia and New Zealand: a position statement. Med J Aust 196(11):686–687

World Health Organization (1968) Nutritional anemias: report of a WHO scientific group. WHO technical reports series 405. WHO, Geneva

Wu S, Sun J (2011) Vitamin D, vitamin D receptor, and macroautophagy in inflammation and infection. Discov Med 11:325–335

Zittermann A, Jungvogel A, Prokop S, Kuhn J, Dreier J et al (2010) Vitamin D deficiency is an independent predictor of anemia in end-stage heart failure. Clin Res Cardiol 100:781–788
Acknowledgments
The CHAMP study is funded by the National Health and Medical Research Council and the Ageing and Alzheimer's Institute. We thank all the staff working on CHAMP and the participants in the project. VH is funded by the Australian Research Council (ARC) Centre of Excellence in Population Ageing Research (CEPAR).
Funding
The views expressed are those of the authors, not of the funders. Data analysis and interpretation were carried out by the authors independently of the funding sources based on the available data. The corresponding author had full access to the survey data.
Conflict of interest
None
Sponsor's role
The funding body played no role in the formulation of the design, methods, subject recruitment, data collection, analysis or preparation of this paper.
Author contributions
VH had the idea for the paper, conducted the analyses, interpreted the results and wrote the first draft. All authors contributed to revising the earlier drafts and approved the final paper.
About this article
Cite this article
Hirani, V., Cumming, R.G., Blyth, F. et al. Cross-sectional and longitudinal associations between the active vitamin D metabolite (1,25 dihydroxyvitamin D) and haemoglobin levels in older Australian men: the Concord Health and Ageing in Men Project. AGE 37, 8 (2015). https://doi.org/10.1007/s11357-015-9749-1
Received:

Accepted:

Published:

DOI: https://doi.org/10.1007/s11357-015-9749-1
Keywords
Vitamin D

Calcitriol

Anaemia older men

Population study