Abstract
A single bout of acute exercise increases oxidative stress and stimulates a transient increase in antioxidant enzymes. We asked whether this response would induce protection from a subsequent oxidative challenge, different from that of exercise, and whether the effects were affected by aging. We compared young (20 ± 1 years, n = 8) and older (58 ± 6 years, n = 9) healthy men and women. Resistance to oxidative stress was measured by the F2-isoprostane response to forearm ischemia/reperfusion (I/R) trial. Each participant underwent the I/R trial twice, in random order; once after performing 45 min of cycling on the preceding day (IRX) and a control trial without any physical activity (IRC). Baseline F2-isoprostane levels were significantly lower at IRX compared to IRC (P < 0.05) and not different between groups. F2-isoprostane response to IRX was significantly lower compared to IRC in young (P < 0.05) but not different in the older group. Superoxide dismutase activity in response to acute exercise was significantly higher in young compared to older adults (P < 0.05). These data suggest that signal transduction of acute exercise may be impaired with aging. Repeated bouts of transient reactive oxygen species production as seen with regular exercise may be needed to increase resistance to oxidative stress in older individuals.
Access options
Buy single article
Instant access to the full article PDF.
US$ 39.95
Tax calculation will be finalised during checkout.
Subscribe to journal
Immediate online access to all issues from 2019. Subscription will auto renew annually.
US$ 79
Tax calculation will be finalised during checkout.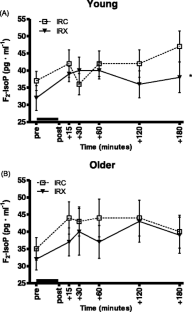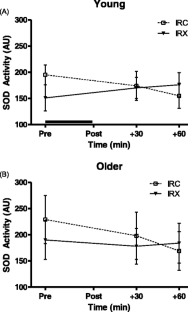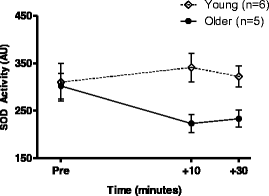 References
Abete P et al (1997) Angina-induced protection against myocardial infarction in adult and elderly patients: a loss of preconditioning mechanism in the aging heart. J Am Coll Cardiol 30:947–954

Abete P, Testa G, Cacciatore F, Della-Morte D, Galizia G, Langellotto A, Rengo F (2011) Ischemic preconditioning in the younger and aged heart. Aging Dis 2:138–148

Alessio HM, Goldfarb AH, Cutler RG (1988) MDA content increases in fast- and slow-twitch skeletal muscle with intensity of exercise in a rat. Am J Physiol 255:C874–877

Baar K et al (2002) Adaptations of skeletal muscle to exercise: rapid increase in the transcriptional coactivator PGC-1. FASEB J 16:1879–1886. doi:10.1096/fj.02-0367com

Berzosa C et al (2011) Acute exercise increases plasma total antioxidant status and antioxidant enzyme activities in untrained men. J Biomed Biotechnol 2011:540458. doi:10.1155/2011/540458

Cobley JN et al (2012) PGC-1alpha transcriptional response and mitochondrial adaptation to acute exercise is maintained in skeletal muscle of sedentary elderly males. Biogerontology 13:621–631. doi:10.1007/s10522-012-9408-1

Davies KJ, Quintanilha AT, Brooks GA, Packer L (1982) Free radicals and tissue damage produced by exercise. Biochem Biophys Res Commun 107:1198–1205

Davies SS, Traustadottir T, Stock AA, Ye F, Shyr Y, Harman SM, Roberts LJ 2nd (2009) Ischemia/reperfusion unveils impaired capacity of older adults to restrain oxidative insult. Free Radic Biol Med 47:1014–1018. doi:10.1016/j.freeradbiomed.2009.07.005

Devan AE et al (2011) Endothelial ischemia-reperfusion injury in humans: association with age and habitual exercise. Am J Physiol Heart Circ Physiol 300:H813–819. doi:10.1152/ajpheart.00845.2010

El Abed K et al (2011) Antioxidant status and oxidative stress at rest and in response to acute exercise in judokas and sedentary men. J Strength Cond Res/Natl Strength Cond Assoc 25:2400–2409. doi:10.1519/JSC.0b013e3181fc5c35

Fatouros IG, Jamurtas AZ, Villiotou V, Pouliopoulou S, Fotinakis P, Taxildaris K, Deliconstantinos G (2004) Oxidative stress responses in older men during endurance training and detraining. Med Sci Sports Exerc 36:2065–2072

Fenton RA, Dickson EW, Meyer TE, Dobson JG Jr (2000) Aging reduces the cardioprotective effect of ischemic preconditioning in the rat heart. J Mol Cell Cardiol 32:1371–1375. doi:10.1006/jmcc.2000.1189

Fisher-Wellman K, Bloomer RJ (2009) Acute exercise and oxidative stress: a 30 year history. Dyn Med : DM 8:1. doi:10.1186/1476-5918-8-1

Fisher-Wellman K, Bell HK, Bloomer RJ (2009) Oxidative stress and antioxidant defense mechanisms linked to exercise during cardiopulmonary and metabolic disorders. Oxidative Med Cell Longev 2:43–51

Goto S et al (2004) Regular exercise: an effective means to reduce oxidative stress in old rats. Annals N Y Acad Sci 1019:471–474. doi:10.1196/annals.1297.085

Gounder SS et al (2012) Impaired transcriptional activity of Nrf2 in age-related myocardial oxidative stress is reversible by moderate exercise training. PLoS ONE 7:e45697. doi:10.1371/journal.pone.0045697

Gradinaru D, Borsa C, Ionescu C, Margina D (2013) Advanced oxidative and glycoxidative protein damage markers in the elderly with type 2 diabetes. J Proteome 92:313–322. doi:10.1016/j.jprot.2013.03.034

Hamilton KL, Powers SK, Sugiura T, Kim S, Lennon S, Tumer N, Mehta JL (2001) Short-term exercise training can improve myocardial tolerance to I/R without elevation in heat shock proteins. Am J Physiol Heart Circ Physiol 281:H1346–1352

Hollander J, Fiebig R, Gore M, Ookawara T, Ohno H, Ji LL (2001) Superoxide dismutase gene expression is activated by a single bout of exercise in rat skeletal muscle. Arch Eur J Physiol 442:426–434

Kloner RA et al (1995) Previous angina alters in-hospital outcome in TIMI 4. A clinical correlate to preconditioning. Circulation 91:37–45

Kohrt WM et al (1991) Effects of gender, age, and fitness level on response of VO2max to training in 60-71 yr olds. J Appl Physiol 71:2004–2011

Koltai E, Hart N, Taylor AW, Goto S, Ngo JK, Davies KJ, Radak Z (2012) Age-associated declines in mitochondrial biogenesis and protein quality control factors are minimized by exercise training. American journal of physiology Regulatory, integrative and comparative physiology 303:R127-134 doi:10.1152/ajpregu.00337.2011

Lennon SL, Quindry JC, Hamilton KL, French JP, Hughes J, Mehta JL, Powers SK (2004) Elevated MnSOD is not required for exercise-induced cardioprotection against myocardial stunning. Am J Physiol Heart Circ Physiol 287:H975–980. doi:10.1152/ajpheart.01208.2003

Lynch SM et al (1997) Vascular superoxide dismutase deficiency impairs endothelial vasodilator function through direct inactivation of nitric oxide and increased lipid peroxidation. Arterioscler Thromb Vasc Biol 17:2975–2981

McArdle A, Vasilaki A, Jackson M (2002) Exercise and skeletal muscle ageing: cellular and molecular mechanisms. Aging Res Rev 1:79–93

McClung JP, Roneker CA, Mu W, Lisk DJ, Langlais P, Liu F, Lei XG (2004) Development of insulin resistance and obesity in mice overexpressing cellular glutathione peroxidase. Proc Natl Acad Sci U S A 101:8852–8857. doi:10.1073/pnas.0308096101

Mecocci P, MacGarvey U, Beal MF (1994) Oxidative damage to mitochondrial DNA is increased in Alzheimer's disease. Ann Neurol 36:747–751. doi:10.1002/ana.410360510

Morrow JD, Roberts LJ 2nd (1999) Mass spectrometric quantification of F2-isoprostanes in biological fluids and tissues as measure of oxidant stress. Methods Enzymol 300:3–12

Muthusamy VR et al. (2012) Acute exercise stress activates Nrf2/ARE signaling and promotes antioxidant mechanisms in the myocardium. Free radical biology & medicine 52:366-376 doi:10.1016/j.freeradbiomed.2011.10.440

Nikolaidis MG, Kyparos A, Vrabas IS (2011) F(2)-isoprostane formation, measurement and interpretation: the role of exercise. Prog Lipid Res 50:89–103. doi:10.1016/j.plipres.2010.10.002

Razmara A, Duckles SP, Krause DN, Procaccio V (2007) Estrogen suppresses brain mitochondrial oxidative stress in female and male rats. Brain Res 1176:71–81. doi:10.1016/j.brainres.2007.08.036

Sachdev S, Davies KJ (2008) Production, detection, and adaptive responses to free radicals in exercise Free radical biology & medicine 44:215-223 doi:10.1016/j.freeradbiomed.2007.07.019

Starnes JW, Taylor RP (2007) Exercise-induced cardioprotection: endogenous mechanisms. Med Sci Sports Exerc 39:1537–1543. doi:10.1249/mss.0b013e3180d099d4

Strehlow K et al (2003) Modulation of antioxidant enzyme expression and function by estrogen. Circ Res 93:170–177. doi:10.1161/01.RES.0000082334.17947.11

Syu GD, Chen HI, Jen CJ (2011) Severe exercise and exercise training exert opposite effects on human neutrophil apoptosis via altering the redox status. PLoS ONE 6:e24385. doi:10.1371/journal.pone.0024385

Terblanche SE (2000) The effects of exhaustive exercise on the activity levels of catalase in various tissues of male and female rats. Cell Biol Int 23:749–753. doi:10.1006/cbir.1999.0442

Totter JR (1980) Spontaneous cancer and its possible relationship to oxygen metabolism. Proc Natl Acad Sci U S A 77:1763–1767

Traustadóttir T, Stock AA, Harman SM (2008) High-dose statin use does not impair aerobic capacity or skeletal muscle function in older adults. Age (Dordr) 30:283–291. doi:10.1007/s11357-008-9070-3

Traustadóttir T, Davies SS, Stock AA, Su Y, Heward CB, Roberts LJ 2nd, Harman SM (2009) Tart cherry juice decreases oxidative stress in healthy older men and women. J Nutr 139:1896–1900. doi:10.3945/jn.109.111716

Traustadóttir T, Davies SS, Su Y, Choi L, Brown-Borg HM, Roberts LJ 2nd, Harman SM (2012) Oxidative stress in older adults: effects of physical fitness. Age (Dordr) 34:969–982. doi:10.1007/s11357-011-9277-6

van den Munckhof I et al (2013) Aging attenuates the protective effect of ischemic preconditioning against endothelial ischemia-reperfusion injury in humans. Am J Physiol Heart Circ Physiol 304:H1727–1732. doi:10.1152/ajpheart.00054.2013

Weiss EP, Arif H, Villareal DT, Marzetti E, Holloszy JO (2008) Endothelial function after high-sugar-food ingestion improves with endurance exercise performed on the previous day. Am J Clin Nutr 88:51–57
Acknowledgments
We would like to thank Dave Lang, M.D., for providing medical supervision, Dr. Matthew Gage for assistance with assays, and undergraduate students in the Traustadottir Lab who helped with data collection. We also thank our study volunteers for participating. This study was supported in part by the Northern Arizona University Faculty Grant Program to TT.
About this article
Cite this article
Nordin, T.C., Done, A.J. & Traustadóttir, T. Acute exercise increases resistance to oxidative stress in young but not older adults. AGE 36, 9727 (2014). https://doi.org/10.1007/s11357-014-9727-z
Received:

Accepted:

Published:
Keywords
Acute exercise

Aging

Oxidative stress

F2-isoprostanes

Superoxide dismutase