Abstract
Present data suggest that the consumption of individual dietary supplements does not enhance the health or longevity of healthy rodents or humans. It might be argued that more complex combinations of such agents might extend lifespan or health-span by more closely mimicking the complexity of micronutrients in fruits and vegetables, which appear to extend health-span and longevity. To test this hypothesis we treated long-lived, male, F1 mice with published and commercial combinations of dietary supplements and natural product extracts, and determined their effects on lifespan and health-span. Nutraceutical, vitamin or mineral combinations reported to extend the lifespan or health-span of healthy or enfeebled rodents were tested, as were combinations of botanicals and nutraceuticals implicated in enhanced longevity by a longitudinal study of human aging. A cross-section of commercial nutraceutical combinations sold as potential health enhancers also were tested, including Bone Restore®, Juvenon®, Life Extension Mix®, Ortho Core®, Ortho Mind®, Super K w k2®, and Ultra K2®. A more complex mixture of vitamins, minerals, botanical extracts and other nutraceuticals was compounded and tested. No significant increase in murine lifespan was found for any supplement mixture. Our diverse supplement mixture significantly decreased lifespan. Thus, our results do not support the hypothesis that simple or complex combinations of nutraceuticals, including antioxidants, are effective in delaying the onset or progress of the major causes of death in mice. The results are consistent with epidemiological studies suggesting that dietary supplements are not beneficial and even may be harmful for otherwise healthy individuals.
Access options
Buy single article
Instant access to the full article PDF.
US$ 39.95
Tax calculation will be finalised during checkout.
Subscribe to journal
Immediate online access to all issues from 2019. Subscription will auto renew annually.
US$ 79
Tax calculation will be finalised during checkout.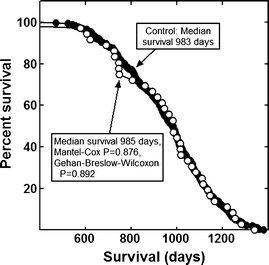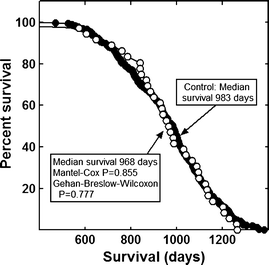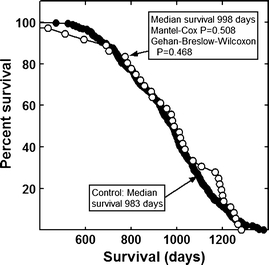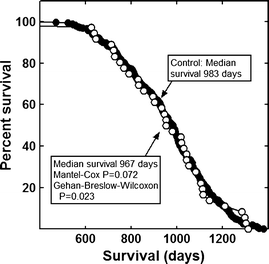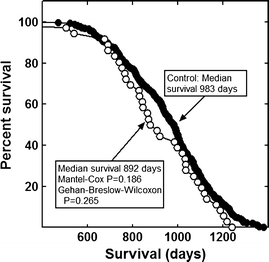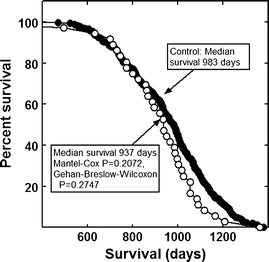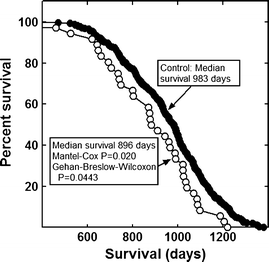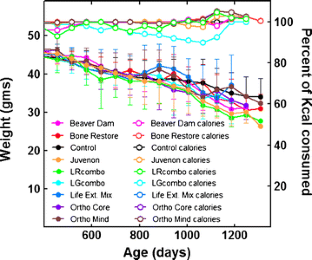 References
Ames BN (2004) Delaying the mitochondrial decay of aging. Ann.N.Y.Acad.Sci. 1019:406–11, 406–411

Ames BN (2010) Prevention of mutation, cancer, and other age-associated diseases by optimizing micronutrient intake. J Nucleic Acids 2010:11 pp. doi:10.4061/2010/725071

Anisimov VN, Berstein LM, Egormin PA, Piskunova TS, Popovich IG, Zabezhinski MA, Kovalenko IG, Poroshina TE, Semenchenko AV, Provinciali M, Re F, Franceschi C (2005a) Effect of metformin on life span and on the development of spontaneous mammary tumors in HER-2/neu transgenic mice. Exp Gerontol 40:685–693

Anisimov VN, Egormin PA, Bershtein LM, Zabezhinskii MA, Piskunova TS, Popovich IG, Semenchenko AV (2005b) Metformin decelerates aging and development of mammary tumors in HER-2/neu transgenic mice. Bull Exp Biol Med 139:721–723

Bellavia A, Larsson SC, Bottai M, Wolk A, Orsini N (2013) Fruit and vegetable consumption and all-cause mortality: a dose–response analysis. Am J Clin Nutr

Bjelakovic G, Nikolova D, Simonetti RG, Gluud C (2004) Antioxidant supplements for prevention of gastrointestinal cancers: a systematic review and meta-analysis. Lancet 364:1219–1228

Cameron E, Pauling L (1974) The orthomolecular treatment of cancer: I. The role of ascorbic acid in host resistance. Chem Biol Interact 9:273–283

Chowdhury R, Stevens S, Gorman D, Pan A, Warnakula S, Chowdhury S, Ward H, Johnson L, Crowe F, Hu FB, Franco OH (2012) Association between fish consumption, long chain omega 3 fatty acids, and risk of cerebrovascular disease: systematic review and meta-analysis. BMJ 345:e6698

Flurkey K, Currer JM, Leiter EH, Witham B (eds) (2009) The Jackson Laboratory Handbook on Genetically Standardized Mice, 6th edn. The Jackson Laboratory, ME

Heinonen OP, Albanes D (1994) the Alpha-Tocopherol, Beta Carotene Cancer Prevention Study Group. The effect of vitamin E and beta carotene on the incidence of lung cancer and other cancers in male smokers. N Engl J Med 330:1029–1035

Hemila H, Kaprio J (2011) Vitamin E may affect the life expectancy of men, depending on dietary vitamin C intake and smoking. Age Ageing 40:215–220

Jeske DR, Flegal J, Spindler SR (2013) Minimum size survival analysis sampling plans for comparing multiple treatment groups to a single control group. Communications in Statistics - Theory and Methods. In press

Knudtson MD, Klein R, Lee KE, Reinke JO, Danforth LG, Wealti AM, Moore E, Klein BE (2007) A longitudinal study of nonvitamin, nonmineral supplement use: prevalence, associations, and survival in an aging population. Ann Epidemiol 17:933–939

Lemon JA, Boreham DR, Rollo CDA (2005) Complex dietary supplement extends longevity of mice. J Gerontol A Biol Sci Med Sci 60:275–279

Liao VH, Yu CW, Chu YJ, Li WH, Hsieh YC, Wang TT (2011) Curcumin-mediated lifespan extension in Caenorhabditis elegans. Mech Ageing Dev 132:480–487

Maciosek MV, Coffield AB, Edwards NM, Flottemesch TJ, Goodman MJ (2006) and Solberg, L. I. Priorities among effective clinical preventive services: results of a systematic review and analysis. AmJ Prev Med 31:52–61

Macpherson H, Pipingas A, Pase MP (2013) Multivitamin–multimineral supplementation and mortality: a meta-analysis of randomized controlled trials. AmJ Clin Nutr 97:437–444

Martin-Montalvo A, Mercken EM, Mitchell SJ, Palacios HH, Mote PL, Scheibye-Knudsen M, Gomes AP, Ward TM, Minor RK, Blouin MJ, Schwab M, Pollak M, Zhang Y, Yu Y, Becker KG, Bohr VA, Ingram DK, Sinclair DA, Wolf NS, Spindler SR, Bernier M, de Cabo R (2013) Metformin improves healthspan and lifespan in mice. Nat Commun 4:2192. doi:10.1038/ncomms3192

McCormick DB (2010) Vitamin/mineral supplements: of questionable benefit for the general population. Nutr Rev 68:207–213

McCormick DB (2012) Vitamin/trace mineral supplements for the elderly. Adv Nutr 3:822–824

Miller ER III, Pastor-Barriuso R, Dalal D, Riemersma RA, Appel LJ, Guallar E (2005) Meta-analysis: high-dosage vitamin E supplementation may increase all-cause mortality. Ann Intern Med 142:37–46

Miller RA, Harrison DE, Astle CM, Baur JA, Boyd AR, de Cabo R, Fernandez E, Flurkey K, Javors MA, Nelson JF, Orihuela CJ, Pletcher S, Sharp ZD, Sinclair D, Starnes JW, Wilkinson JE, Nadon NL, Strong R (2011) Rapamycin, but not resveratrol or simvastatin, extends life span of genetically heterogeneous mice. J Gerontol A Biol Sci Med Sci 66:191–201

Myung SK, Ju W, Cho B, Oh SW, Park SM, Koo BK, Park BJ (2013) Efficacy of vitamin and antioxidant supplements in prevention of cardiovascular disease: systematic review and meta-analysis of randomised controlled trials. BMJ 346:f10

National Institutes of Health (1994) Manual of microbiologic monitoring of laboratory animals, 151–154

Committee on Infectious Diseases of Mice and Rats (1991) Infectious diseases of mice and rats. Institute for Laboratory Animal Research, Commission on Life Sciences, National Research Council. National Academies Press, Washington, DC 7:141–145

Pauling L, Wyatt RJ, Klein DF (1974) and Lipton, M. A. On the orthomolecular environment of the mind: orthomolecular theory. AmJ Psychiatry 131:1251–1267

Peng C, Zuo Y, Kwan KM, Liang Y, Ma KY, Chan HY, Huang Y, Yu H, Chen ZY (2012) Blueberry extract prolongs lifespan of Drosophila melanogaster. Exp Gerontol 47:170–178

Reeves PG (1997) Components of the AIN-93 diets as improvements in the AIN-76A diet. J Nutr 127:838S–841S

Reeves PG, Nielsen FH, Fahey GC Jr (1993) AIN-93 purified diets for laboratory rodents: final report of the American Institute of Nutrition ad hoc writing committee on the reformulation of the AIN-76A rodent diet. J Nutr 123:1939–1951

Ristow M, Schmeisser S (2011) Extending life span by increasing oxidative stress. Free Radic Biol Med 51:327–336

Rizos EC, Ntzani EE, Bika E, Kostapanos MS, Elisaf MS (2012) Association between omega-3 fatty acid supplementation and risk of major cardiovascular disease events: a systematic review and meta-analysis. JAMA 308:1024–1033

Salmon AB, Richardson A, Perez VI (2010) Update on the oxidative stress theory of aging: does oxidative stress play a role in aging or healthy aging? Free Radic Biol Med 48:642–655

Selman C, McLaren JS, Collins AR, Duthie GG, Speakman JR (2013) Deleterious consequences of antioxidant supplementation on lifespan in a wild-derived mammal. Biol Lett 9:20130432

Shen LR, Xiao F, Yuan P, Chen Y, Gao QK, Parnell LD, Meydani M, Ordovas JM, Li D, Lai CQ (2013) Curcumin-supplemented diets increase superoxide dismutase activity and mean lifespan in Drosophila. Age (Dordr) 35:1133–1142

Spindler SR (2010) Caloric restriction: from soup to nuts. Ageing Res Rev 9:324–353

Spindler SR (2012) Review of the literature and suggestions for the design of rodent survival studies for the identification of compounds that increase health and life span. Age (Dordr) 34:111–120

Spindler SR, Mote PL (2007) Screening candidate longevity therapeutics using gene-expression arrays. Gerontology 53:306–321

Spindler SR, Mote PL, Flegal JM (2013a) Dietary supplementation with Lovaza and krill oil shortens the lifespan of long-lived F1 mice. Submitted

Spindler SR, Mote PL, Flegal JM, Teter B (2013b) Influence on longevity of blueberry, cinnamon, green and black tea, pomegranate, sesame, curcumin, morin, Pycnogenol, quercetin and taxifolin fed isocalorically to long-lived, F1 hybrid mice. Rejuvenation Res 16:143–151

Spindler SR, Mote PL, Li R, Dhahbi JM, Yamakawa A, Flegal JM, Jeske DR, Li R, Lublin AL (2013c) β1-Adrenergic receptor blockade extends the life span of Drosophila and long-lived mice. Age (Dordr) 35:2099–2109. doi:10.1007/s11357-012-9498-3

Steger RW, Bartke A, Cecim M (1993) Premature ageing in transgenic mice expressing different growth hormone genes. J Reprod Fertil Suppl 46:61–75

Waner T, Nyska A (1991) The toxicological significance of decreased activities of blood alanine and aspartate aminotransferase. Vet Res Commun 15:73–78
Acknowledgements
The authors thank Ms. Carol Boyd for her help feeding and monitoring the mice. This work was funded by anonymous donors. The funders had no role in study design, data collection or analysis, decision to publish, or preparation of the manuscript.
Conflicts of interest
The authors have no conflict of interest to declare.
About this article
Cite this article
Spindler, S.R., Mote, P.L. & Flegal, J.M. Lifespan effects of simple and complex nutraceutical combinations fed isocalorically to mice. AGE 36, 705–718 (2014). https://doi.org/10.1007/s11357-013-9609-9
Received:

Accepted:

Published:

Issue Date:
Keywords
Lifespan

Therapeutics

Mouse

Phytonutrients

Natural products

Nutraceuticals

Combinations