Abstract
This study investigated the effects of a multicomponent exercise intervention on muscle strength, incidence of falls and functional outcomes in frail elderly patients with dementia after long-term physical restraint, followed by 24 weeks of training cessation. Eighteen frail elderly patients with mild dementia (88.1 ± 5.1 years) performed a multicomponent exercise program, which consisted of 4 weeks of walking, balance and cognitive exercises, followed by 4 weeks of resistance exercise performed twice weekly [8–12 repetitions at 20–50 % of the one-repetition maximum (1RM)], combined with walking, balance and cognitive exercises. Before and after training, as well as after 24 weeks of training cessation, strength outcomes, Barthel Index, balance, gait ability, rise from a chair ability, dual task performance, incidence of falls and Mini-Mental State Examination were assessed. After the first 4 weeks of training, there was a significant improvement only in the balance test, whereas no additional changes were observed. However, after the second part of the training, the participants required significantly less time for the time-up-and-go test (P < 0.05), and improved the isometric hand grip, hip flexion and knee extension strength, as well as the leg press 1RM (P < 0.01). A significant reduction was also observed in the incidence of falls (P < 0.01). After 24 weeks of training cessation, abrupt decreases were observed in nearly all of the physical outcomes (P < 0.05). The exercise intervention improved strength, balance and gait ability in frail elderly patients with dementia after long-term physical restraint, and these benefits were lost after training cessation.
Access options
Buy single article
Instant access to the full article PDF.
USD 39.95
Price excludes VAT (USA)
Tax calculation will be finalised during checkout.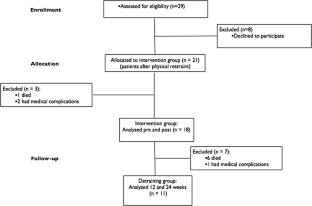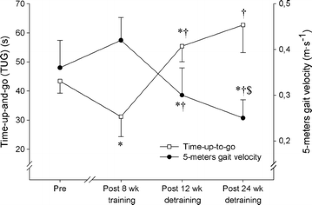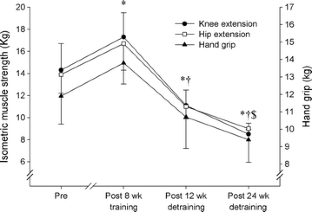 References
Bergman H, Ferrucci L, Guralnik J, Hogan DB, Hummel S, Karunananthan S, Wolfson C (2007) Frailty: an emerging research and clinical paradigm issues and controversies. J Gerontol A Biol Sci Med Sci 62:731–737

Berzlanovich AM, Schöpfer J, Keil W (2012) Deaths due to physical restraint. Deut Ärztebl Int 109:27–33

Bottaro M, Machado SN, Nogueira W, Scales R, Veloso J (2007) Effect of high versus low-velocity resistance training on muscular fitness and functional performance in older men. Eur J Appl Physiol 99:257–264

Boyle PA, Buchman AS, Wilson RS, Leurgans SE, Benett DA (2010) Physical frailty is associated with incident mild cognitive impairment in community-based older persons. J Am Geriatr Soc 58:248–255

Buchman AS, Boyle PA, Wilson RS, Tang Y, Bennett DA (2007) Frailty is associated with incident Alzheimer's disease and cognitive decline in the elderly. Psychosom Med 69:483–489

Campbell AJ, Buchner DM (1997) Unstable disability and the fluctuations of frailty. Age Ageing 26:315–318

Casas-Herrero A, Martínez Velilla N, Alonso Renedo FJ (2011) Cognitive impairment and the risk of falling in the elderly. Rev Esp Geriatr Gerontol 46:311–318

Casas-Herrero A, Cadore EL, Zambom-Ferraresi F, Idoate F, Millor N, Martínez-Ramírez A, Gómez M, Rodríguez-Mañas L, Marcellan T, Ruiz de Gordoa A, Marques MC, Izquierdo M (2013) Functional capacity, muscle fat infiltration, power output and cognitive impairment in institutionalized frail oldest-old. Rejuvenation Res. doi:10.1089/rej.2013.1438

Correa CS, Laroche DP, Cadore EL, Reischak-Oliveira A, Bottaro M, Kruel LFM, Tartaruga MP, Radaelli R, Wilhelm EN, Lacerda FC, Gaya AR, Pinto RS (2012) 3 types of strength training in older women. Int J Sports Med. doi:10.1055/s-0032-1312648

Fried LP, Tangen CM, Waltson J, Newman AB, Hirsch C, Gottdiener J, Seeman T, Tracy R, Kop WJ, Burke G, McBurnie MA, Cardiovascular Health Study Collaborative Research Group: Cardiovascular Health Study Collaborative Research Group (2001) Frailty in older adults: evidence for a phenotype. J Gerontol A Biol Sci Med Sci 56:146–155

Garcia-Garcia FJ, Gutierrez Avila G, Alfaro-Acha A, Amor Andres MS, De Los Angeles De La Torre Lanza M, Escribano Aparicio MV, Humanes Aparicio S, Larrion Zugasti JL, Gomez-Serranillo Reus M, Rodriguez-Artalejo F, Rodriguez-Mañas L, Toledo Study Group (2011) The prevalence of frailty syndrome in an older population from Spain. The Toledo Study for Healthy Aging. J Nutr Health Aging 15:852–865

Gulpers MJM, Bleijlevens MHC, van Rossum E, Capezuti E, Hamers JPH (2010) Belt restraint reduction in nursing homes: design of a quasi-experimental study. BMC Geriatr 10:11–17

Hamers JP, Huizing AR (2005) Why do we use physical restraints in the elderly? Z Gerontol Geriatr 38:19–25

Hantikainen V (1998) Physical restraint: a descriptive study in Swiss nursing homes. Nurs Ethics 5:330–346

Hauer K, Schwenk M, Zieschang T, Essig M, Becker C, Oster P (2012) Physical training improves motor performance in people with dementia: a randomized controlled trial. J Am Geriatr Soc 60:8–15

Henwood TR, Taaffe DR (2008) Detraining and retraining in older adults following long-term muscle power or muscle strength specific training. J Gerontol A Biol Sci Med Sci 63:751–758

Heyn P, Abreu BC, Ottenbacher KJ (2004) The effects of exercise training on elderly persons with cognitive impairment and dementia: a meta-analysis. Arch Phys Med Rehabil 85:1694–1704

Heyn PC, Johnson KE, Kramer AF (2008) Endurance and strength training outcomes on cognitively impaired and cognitively intact older adults: a meta-analysis. J Nutr Health Aging 12:401–409

Hueger D, Zieschang T, Schwenk M, Oster P, Becker C, Hauer K (2009) Designing studies on the effectiveness os physical training in patients with cognitive impairment. Z Gerontol Geriatr 42:11–19

Izquierdo M, Ibañez J, Gonzalez-Badillo JJ, Ratamess NA, Kraemer WJ, Häkkinen K, Bonnabau H, Granados C, French D, Gorostiaga EM (2007) Detraining and tapering effects on hormonal responses and strength performance. J Strength Cond Res 21:768–775

Kitwood T (1990) The dialectics of dementia: with particular reference to Alzheimer's disease. Ageing Soc 10:177–196

Lundin-Olsson L, Nyberg L, Gustafson Y (1997) "Stops walking when talking" as a predictor of falls in elderly people. Lancet 349:617

Maquet D, Lekeu F, Warzee E, Gillain S, Wojtsik V, Salmon E, Petermans J, Croisier JL (2010) Gait analysis in elderly adult patients with mild cognitive impairment and patients with mild Alzheimer's disease: simple versus dual task: a preliminary report. Clin Physiol Funct Imaging 30:51–56

Mhaoláin AM, Gallagher D, Crosby L, Ryan D, Lacey L, Coen RF, Coakley D, Walsh JB, Cunningham C, Lawlor B (2012) Frailty and quality of life for people with Alzheimer's dementia and mild cognitive impairment. Am J Alzheimers Dis Dement 27:48–54

Montero-Odasso M, Muir SW, Speechley M (2012) Dual-task complesity affects gait in people with mild congnitive impairment: the interplay between gait variability, dual tasking, and risk of falls. Arch Phys Med Rehabil 93:293–299

Morie M, Reid KF, Miciek R, Lajevardi N, Choong K, Krasnoff JB, Storer TW, Fielding RA, Bhasin S, LeBrausseur NK (2010) Habitual physical activity levels are associated with performance in measures of physical function and mobility in older men. J Am Geriatr Soc 58:1727–1733

Morris JC (1993) The clinical dementia rating (CDR): current version and scoring rules. Neurology 43:2412–2414

Pereira A, Izquierdo M, Silva AJ, Costa AM, González-Badillo JJ, Marques CC (2012a) Muscle performance and functional capacity retention in older women after high-speed power training cessation. Exp Gerontol 47:620–624

Pereira A, Izquierdo M, Silva AJ, Costa AM, Bastos E, González-Badillo JJ, Marques MC (2012b) Effects of high-speed power training on functional capacity and muscle performance in older women. Exp Gerontol 47:250–255

Robertson DA, Savva GM, Kenny RA (2013) Frailty and cognitive impairment—a review of the evidence and causal mechanisms. Age Res Rev 12:840–851

Rockwood K, Mitnitski A (2007) Frailty in relation to the accumulation of deficits. J Gerontol A Biol Sci Med Sci 62:722–727

Rodríguez Mañas L, Féart C, Mann G, Viña J, Chatterji S, Chodzko-Zajko W, Gonzalez-Colaço Harmand M, Bergman H, Carcaillon L, Nicholson C, Scuteri A, Sinclair A, Pelaez M, Van der Cammen T, Beland F, Bickenbach J, Delamarche P, Ferrucci L, Fried LP, Gutiérrez-Robledo LM, Rockwood K, Rodríguez Artalejo F, Serviddio G, Vega E, on behalf of the FOD-CC group (2012) Searching for an operational definition of frailty: a Delphi method based consensus statement. The Frailty Operative Definition-Consensus Conference Project. J Gerontol A Biol Sci Med Sci 68:62–67

Singh MA (2002) Exercise comes of age: rationale and recommendations for a geriatric exercise prescription. J Gerontol A: Biol Med Sci 57:M262–M282

Stewart R, Masaki K, Xue QL, Peila R, Petrovitch H, White LR, Launer LJ (2005) A 32-year prospective study of change in body weight and incident dementia: the Honolulu-Asia Aging Study. Arch Neurol 62:55–60

Suetta C, Magnusson SP, Beyer N, Kjaer M (2007) Effect of strength training on muscle function in elderly hospitalized patients. Scand J Med Sci Sports 17:464–472

Theou O, Jones GR, Vandervoort AA, Jakobi JM (2010) Daily muscle activity and quiescence in non-frail, pre-frail, and frail older women. Exp Gerontol 45:909–917

Tomas VS, Hageman PA (2002) A preliminary study on the reliability of physical performance measures in older day-care center clients with dementia. Int Psychogeriatr 14:17–23

Walston J, Fried LP (1999) Frailty and the older man. Med Clin North Am 83:1173–1194

Watson NL, Rosano C, Boudreau RM, Simonsick EM, Ferruci L, Sutton-Tyrrell K, Hardy SE, Atkinson HH, Yaffe K, Satterfield S, Harris TB, Newman AB, Health ABC Study (2010) Executive function, memory, and gait speed decline in well-functioning older adults. J Gerontol A Biol Sci Med Sci 65:1093–1000

Yaffe K, Fiocco AJ, Lindquist K, Vittinghoff E, Simonsick EM, Newman AB, Satterfield S, Rosano C, Rubin SM, Ayonayon HN, Harris TB, Health ABC Study (2009) Predictors of maintaining cognitive function in older adults: the Health ABC study. Neurology 72:2029–2035

Zech A, Drey M, Freiberger E, Hentschke C, Bauer J, Sieber CC, Pfeifer K (2012) Residual effects of muscle strength and muscle power training and detraining on physical function in community-dwelling prefrail older adults: a randomized controlled trial. BMC Geriatr 12:68–75

Zwijsen SA, Smalbrugge M, Zuidema SU, Koopmans RTCM, Bosmans JE, van Tulder MW, Eefsting JA, Gerritsen DL, Pot A-M (2011) Grip on challenging behaviour: a multidisciplinary care programme for managing behavioural problems in nursing home residents with dementia. Study protocol. BMC Health Serv Res 11:41–47
Acknowledgements
This work was supported in part by the Spanish Department of Health and Institute Carlos III of the Government of Spain [Spanish Net on Aging and frailty; (RETICEF)], Department of Health of the Government of Navarre and Economy and Competitivity Department of the Government of Spain, under grants numbered RD12/043/0002, 87/2010, and DEP2011-24105, respectively. This project is also funded in part by the European Commision (FP7-Health, Project reference: 278803).
About this article
Cite this article
Cadore, E.L., Moneo, A.B.B., Mensat, M.M. et al. Positive effects of resistance training in frail elderly patients with dementia after long-term physical restraint. AGE 36, 801–811 (2014). https://doi.org/10.1007/s11357-013-9599-7
Received:

Accepted:

Published:

Issue Date:

DOI: https://doi.org/10.1007/s11357-013-9599-7
Keywords