Abstract
This randomized controlled trial examined the effects of multicomponent training on muscle power output, muscle mass, and muscle tissue attenuation; the risk of falls; and functional outcomes in frail nonagenarians. Twenty-four elderly (91.9 ± 4.1 years old) were randomized into intervention or control group. The intervention group performed a twice-weekly, 12-week multicomponent exercise program composed of muscle power training (8–10 repetitions, 40–60 % of the one-repetition maximum) combined with balance and gait retraining. Strength and power tests were performed on the upper and lower limbs. Gait velocity was assessed using the 5-m habitual gait and the time-up-and-go (TUG) tests with and without dual-task performance. Balance was assessed using the FICSIT-4 tests. The ability to rise from a chair test was assessed, and data on the incidence and risk of falls were assessed using questionnaires. Functional status was assessed before measurements with the Barthel Index. Midthigh lower extremity muscle mass and muscle fat infiltration were assessed using computed tomography. The intervention group showed significantly improved TUG with single and dual tasks, rise from a chair and balance performance (P < 0.01), and a reduced incidence of falls. In addition, the intervention group showed enhanced muscle power and strength (P < 0.01). Moreover, there were significant increases in the total and high-density muscle cross-sectional area in the intervention group. The control group significantly reduced strength and functional outcomes. Routine multicomponent exercise intervention should be prescribed to nonagenarians because overall physical outcomes are improved in this population.
This is a preview of subscription content, log in to check access.
Access options
Buy single article
Instant access to the full article PDF.
US$ 39.95
Price includes VAT for USA
Subscribe to journal
Immediate online access to all issues from 2019. Subscription will auto renew annually.
US$ 99
This is the net price. Taxes to be calculated in checkout.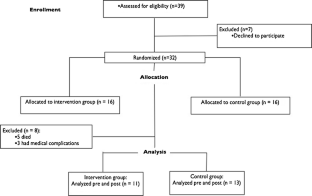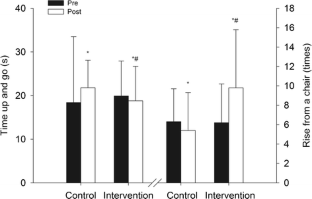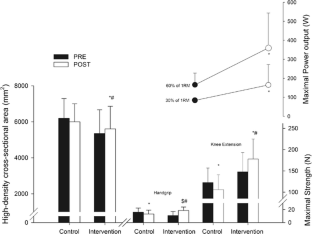 References
Bandeen-Roche K, Xue QL, Ferruci L, Waltson J, Guralnik JM, Chaves P, Zeger SL, Fried LP (2006) Phenotype of frailty: characterization in the women's health and aging studies. J Gerontol A Biol Sci Med Sci 61:262–266

Barnett A, Smith B, Lord SR, Williams M, Baumand A (2003) Community-based group exercise improves balance and reduces falls in at-risk older people: a randomized controlled trial. Age Ageing 32:407–414

Beauchet O, Annweiler C, Dubost V, Allali G, Kressig RW, Bridenbaugh S, Berrut G, Assal F, Herrmann FR (2009) Stops walking when talking: A predictor of falls in older adults? Eur J Neurol 16:786–795

Binder EF, Schechtman KB, Ehsani AA, Steger-May K, Brown M, Sinacore DR, Yarasheski KE, Holloszy JO (2002) Effects of exercise training on frailty in community-dwelling older adults: Results of a randomized, controlled trial. J Am Geriatr Soc 50:1921–1928

Buchman AS, Boyle PA, Wilson RS, Tang Y, Bennett DA (2007) Frailty is associated with incident Alzheimer's disease and cognitive decline in the elderly. Psychosom Med 69:483–489

Cadore EL, Izquierdo M (2013) How to simultaneously optimize muscle strength, power, functional capacity, and cardiovascular gains in the elderly: An update. Age (Dordr). doi:10.1007/s11357-012-9503-x

Cadore EL, Rodríguez-Mañas L, Sinclair A, Izquierdo M (2013) Effects of different exercise interventions on risk of falls, gait ability and balance in physically frail older adults: a systematic review. Rejuvenation Res 16:105–114. doi:10.1089/rej.2012.1397

Cameron ID, Fairhall N, Langron C, Lockwood K, Monaghan N, Aggar C, Sherrington C, Lord SR, Kurrle SE (2013) A multifactorial interdisciplinary intervention reduces frailty in older people: Randomized trial. BMC Med 11:65. doi:10.1186/1741-7015-11-65

Campbell AJ, Buchner DM (1997) Unstable disability and the fluctuations of frailty. Age Ageing 26:315–318

Casas-Herrero A, Cadore EL, Zambom-Ferraresi F, Idoate F, Millor N, Martínez-Ramírez A, Gómez M, Rodríguez-Mañas L, Marcellan T, Ruiz de Gordoa A, Marques MC, Izquierdo M (2013) Functional capacity, muscle fat infiltration, power output and cognitive impairment in institutionalized frail oldest-old. Rejuvenation Res. doi:10.1089/rej.2013.1438

Clemson L, Fiatarone Singh MA, Bundy A, Cumming RG, Manollaras K, O'Loughlin P, Black D (2012) Integration of balance and strength training into daily life activity to reduce rate of falls in older people (the LiFE study): Randomized parallel trial. BMJ. doi:10.1136/bmj.e4547

Doi T, Makizako H, Shimada H, Yoshida D, Ito K, Kato T, Ando H, Susuki T (2011) Brain atrophy and trunk stability during dual-task walking among older adults. J Gerontol A Biol Sci Med Sci. doi:10.1093/gerona/glr214

Fiatarone MA, Marks EC, Ryan ND, Meredith CN, Lipsitz LA, Evans WJ (1994) Exercise training and nutritional supplementation for physical frailty in very elderly men. N Engl J Med 330:1769–1775

Freiberger E, Häberle L, Spirduso WW, Rixt Zijlstra GA (2012) Long-term effects of three multicomponent exercise interventions on physical performance and fall-related psychological outcomes in community-dwelling older adults: A randomized controlled trial. J Am Geriatr Soc 60:437–446

Fried LP, Tangen CM, Waltson J, Newman AB, Hirsch C, Gottdiener J, Seeman T, Tracy R, Kop WJ, Burke G, McBurnie MA (2001) Frailty in older adults: Evidence for a phenotype. J Gerontol A Biol Sci Med Sci 56:146–155

Garcia-Garcia FJ, Gutierrez Avila G, Alfaro-Acha A, Amor Andres MS, De Los Angeles De La Torre Lanza M, Escribano Aparicio MV, Humanes Aparicio S, Larrion Zugasti JL, Gomez-Serranillo Reus M, Rodriguez-Artalejo F, Rodriguez-Mañas L, Toledo Study Group (2011) The prevalence of frailty syndrome in an older population from Spain. The Toledo study for healthy aging. J Nutr Health Aging 15:852–865

Hauer K, Rost B, Rütschle K, Opitz H, Specht N, Bärtsch P, Oster P, Schlierf G (2001) Exercise training for rehabilitation and secondary prevention of falls in geriatric patients with a history of injurious falls. J Am Geriatr Soc 49:10–20

Heyn PC, Johnson KE, Kramer AF (2008) Endurance and strength training outcomes on cognitively impaired and cognitively intact older adults: a meta-analysis. J Nutr Health Aging 12:401–409

Izquierdo M, Ibanez J, Gorostiaga EM, Garrues M, Zuñiga A, Antón A, Larrión JL, Häkkinen K (1999) Maximal strength and power characteristics in isometric and dynamic actions of upper and lower extremities in middle-aged and older men. Acta Physiol Scand 167:57–68

Kim HK, Susuki T, Saito K, Yoshida H, Kobayashi H, Kato H, Katayama M (2012) Effects of exercise and amino acid supplementation on body composition and physical function in community-dwelling elderly Japanese sarcopenic women: A randomized controlled trial. J Am Geriatr Soc 60:16–23

Lang T, Cauley JA, Tylavsky F, Bauer D, Cummings S, Harris TB, Health ABC Study (2010) Computed tomographic measurements of thigh muscle cross-sectional area and attenuation coefficient predict hip fracture: The health, aging, and body composition study. J Bone Miner Res 25:513–519

Lord SR, Castell S, Corcoran J, Dayhew JD, Matters B, Shan A, Williams P (2003) The effect of group exercise on physical functioning and falls in frail older people living in retirement villages: A randomized controlled trial. J Am Geriatr Soc 51:1685–1692

Maquet D, Lekeu F, Warzee E, Gillain S, Wojtsik V, Salmon E, Petermans J, Croisier JL (2010) Gait analysis in elderly adult patients with mild cognitive impairment and patients with mild Alzheimer's disease: Simple versus dual task: A preliminary report. Clin Physiol Functi Imaging 30:51–56

McGough EL, Kelly VE, Logsdon RG, McCurry SM, Cochrane BB, Engel JM, Teri L (2011) Associations between physical performance and executive function in older adults with mild cognitive impairment: gait speed and the timed "up & go" test. Phys Therapy 91:1198–1207

Montero-Odasso M, Muir SW, Speechley M (2012) Dual-task complexity affects gait in people with mild cognitive impairment: the interplay between gait variability, dual tasking, and risk of falls. Arch Phys Med Rehabil 93:293–299

Pereira A, Izquierdo M, Silva AJ, Costa AM, Bastos E, González-Badillo JJ, Marques MC (2012) Effects of high-speed power training on functional capacity and muscle performance in older women. Exp Gerontol 47:250–255

Reid KF, Fielding RA (2012) Skeletal muscle power and functioning in older adults. Exerc Sport Sci Rev 40:1–12

Rockwood K, Mitnitski A (2007) Frailty in relation to the accumulation of deficits. J Gerontol A Biol Sci Med Sci 62:722–727

Rodríguez Mañas L, Féart C, Mann G, Viña J, Chatterji S, Chodzko-Zajko W, Gonzalez-Colaço Harmand M, Bergman H, Carcaillon L, Nicholson C, Scuteri A, Sinclair A, Pelaez M, Van der Cammen T, Beland F, Bickenbach J, Delamarche P, Ferrucci L, Fried LP, Gutiérrez-Robledo LM, Rockwood K, Rodríguez Artalejo F, Serviddio G, Vega E, on behalf of the FOD-CC group (2012) Searching for an operational definition of frailty: A Delphi method based consensus statement. The frailty operative definition-consensus conference project. J Gerontol A Biol Sci Med Sci 68:62–67

Ross R (2003) Advances in the application of imaging methods in applied and clinical physiology. Acta Diabetol 40:S45–50

Samper-Ternent R, Snih SA, Raji MA, Markides KS, Ottenbacher KJ (2008) Relationship between frailty and cognitive decline in older Mexican Americans. J Am Geriatr Soc 56:1845–1852

Santanasto AJ, Glynn NW, Newman MA, Taylor CA, Brooks MM, Goodpaster BH, Newman AB (2011) Impact of weight loss on physical function with changes in strength, muscle mass, and muscle fat infiltration in overweight to moderately obese older adults: A randomized clinical trial. J Obes. doi:10.1155/2011/516576

Schwenk M, Zieschang T, Oster P, Hauer K (2010) Dual-task performances can be improved in patients with dementia: A randomized controlled trial. Neurology 74:1961–1968

Serra-Rexach JA, Bustamante-Ara N, Hierro Villarán M, González Gil P, Sanz Ibáñez MJ, Blanco Sanz N, Ortega Santamaría V, Gutiérrez Sanz N, Marín Prada AB, Gallardo C, Rodríguez Romo G, Ruiz JR, Lucia A (2011) Short-term, light- to moderate-intensity exercise training improves leg muscle strength in the oldest old: A randomized controlled trial. J Am Geriatr Soc 59:594–602

Theou O, Jones GR, Vandervoort AA, Jakobi JM (2010) Daily muscle activity and quiescence in non-frail, pre-frail, and frail older women. Exp Gerontol 45:909–917

Villareal DT, Smith GI, Sinacore DR, Shah K, Mittendorfer B (2011) Regular multicomponent exercise increases physical fitness and muscle protein anabolism in frail, obese, older adults. Obesity 19:312–318

Visser M, Goodpaster BH, Kritchevsky SB, Newman AB, Nevitt M, Rubin SM, Simonsick EM, Harris TB (2005) Muscle mass, muscle strength, and muscle fat infiltration as predictors of incident mobility limitations in well-functioning older persons. J Gerontol A Biol Sci Med Sci 60:324–333

Visser M, Kritchevsky SB, Goodpaster BH, Newman AB, Nevitt M, Stamm E, Harris TB (2002) Leg muscle mass and composition in relation to lower extremity performance in men and women aged 70 to 79: the health, aging and body composition study. J Am Geriatr Soc 50:897–904

Walston J, Fried LP (1999) Frailty and the older man. Med Clin North Am 83:1173–1194

Wolf SL, Barnhart HX, Kutner NG, McNeely E, Coogler C, Xu T (1996) Reducing frailty and falls in older persons: an investigation of Tai Chi and computerized balance training. Atlanta FICSIT Group. Frailty and injuries: Cooperative studies of intervention techniques. J Am Geriatr Soc 44:489–497
Acknowledgments
This work was supported in part by the Spanish Department of Health and Institute Carlos III of the Government of Spain [Spanish Network on Aging and Frailty (RETICEF)], Department of Health of the Government of Navarre and Economy and Competitivity Department of the Government of Spain, under grants numbered RD12/043/0002, 87/2010, and DEP2011-24105, respectively. This project is also funded in part by the European Commision (FP7-Health, project reference 278803).
About this article
Cite this article
Cadore, E.L., Casas-Herrero, A., Zambom-Ferraresi, F. et al. Multicomponent exercises including muscle power training enhance muscle mass, power output, and functional outcomes in institutionalized frail nonagenarians. AGE 36, 773–785 (2014). https://doi.org/10.1007/s11357-013-9586-z
Received:

Accepted:

Published:

Issue Date:
Keywords
Oldest old

Sarcopenia

Dual-task tests

Falls risk