Abstract
To better understand the potential trade-off between female reproductive investment and longevity in an emerging model of human healthspan, we studied pet dogs to determine whether intensity of reproduction (total number of offspring) encumbered the likelihood of exceptional longevity. This hypothesis was tested by collecting and analyzing lifetime medical histories, including complete reproductive histories, for a cohort of canine "centenarians" — exceptionally long-lived Rottweiler dogs that lived more than 30 % longer than the breed's average life expectancy. Reproductive intensity (number of litters, total number of pups) and tempo of reproductive effort (age at first reproduction, mean interbirth interval, age at last reproduction) in 78 exceptionally long-lived female Rottweilers (>13 years old) were compared to a cohort of 97 female Rottweilers that had usual longevity (age at death 8.0–10.75 years). We found no evidence that a mother's physiological investment in offspring was associated with disadvantaged longevity. Instead, similar to some studies in women, our data showed an inverted U-shaped trend, suggesting that moderate investment in reproduction may promote longevity. Late reproductive success, a much-studied surrogate of maternal fitness in women, was not a strong predictor of longevity in this canine cohort. Instead, independent of reproductive investment, the duration of lifetime ovary exposure was significantly associated with highly successful aging. Our results from exceptionally long-lived pet dogs provide rationale for further investigative efforts to understand the ovary-sensitive biological factors that promote healthy longevity in women and pet dogs.
Access options
Buy single article
Instant access to the full article PDF.
USD 39.95
Price excludes VAT (USA)
Tax calculation will be finalised during checkout.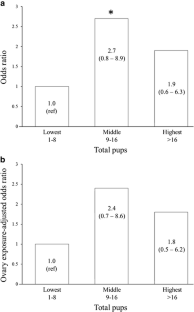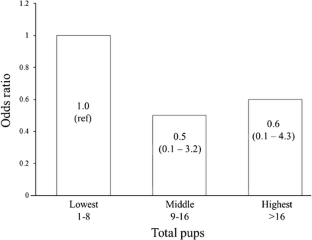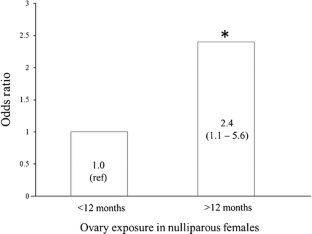 References
Cooley DM, Schlittler DL, Glickman LT, Hayek M, Waters DJ (2003) Exceptional longevity in pet dogs is accompanied by cancer resistance and delayed onset of major disease. J Gerontol A Biol Sci Med Sci 58:B1078–B1084

Corbo RM, Ulizzi L, Piombo L, Scacchi R (2008) Study on possible effect of four longevity candidate genes (ACE, PON1, PPAR-gamma, and APOE) on human fertility. Biogerontology 9:317–323

Doblhammer G (2000) Reproductive history and mortality later in life: a comparative study of England and Wales and Austria. Popul Stud (Camb) 54:169–176

Doblhammer G, Oeppen J (2003) Reproduction and longevity among the British peerage: the effect of frailty and health selection. Proc Biol Sci 270:1541–1547

Gagnon A, Smith KR, Tremblay M, Vézina H, Paré P-P, Desjardins B (2009) Is there a trade-off between fertility and longevity? A comparative study of women from three large historical databases accounting for mortality selection. Am J Human Biol 21:533–540

Gögele M, Pattaro C, Fuchsberger C, Minelli C, Pramstaller PP, Wjst M (2011) Heritability analysis of life span in a semi-isolated population followed across four centuries reveals the presence of pleiotropy between life span and reproduction. J Gerontol A Biol Sci Med Sci 66:26–37

Grundy E (2009) Women's fertility and mortality in late mid life: a comparison of three contemporary populations. Am J Human Biol 21:541–547

Helle S, Lummaa V, Jokela J (2005) Are reproductive and somatic senescence coupled in humans? Late, but not nearly, production correlated with longevity in historical Sami women. Proc Biol Sci 272:29–37

Hurt LS, Ronasmans C, Thomas SL (2006) The effect of number of births on women's mortality: systematic review of the evidence for women who have completed their childbearing. Popul Stud (Camb) 60:55–71

Kirkwood TB, Holliday R (1979) The evolution of ageing and longevity. Proc R Soc Lond B Biol Sci 205:531–546

Kirkwood TB, Rose MR (1991) Evolution of senescence: late survival sacrificed for reproduction. Philos Trans R Soc Lond B Biol Sci 332:15–24

Korpelainen H (2000) Fitness, reproduction and longevity among European aristocratic and rural Finnish families in the 1700s and 1800s. Proc Biol Sci 267:1765–1770

Kumle M, Lund W (2000) Patterns of childbearing and mortality in Norwegian women. A 20-year follow-up of women aged 40–96 in the 1970 Norwegian census. In: Robine J-M, Kirkwood TBL, Allard M (eds) Sex and longevity: Sexuality, gender, reproduction, parenthood (research and perspectives in longevity). Springer, New York, pp 117–128

Kuningas M, Altmäe S, Uitterlinden AG, Hofman A, van Duijn CM, Tiemeier H (2011) The relationship between fertility and lifespan in humans. Age (Dordr) 33:615–622

Le Bourg E (2007) Does reproduction decrease longevity in human beings? Ageing Res Rev 6:141–149

McArdle PF, Pollin TI, O'Connell JR, Sorkin JD, Agarwala R, Schäffer AA, Streeten EA, King TM, Shuldiner AR, Mitchell BD (2006) Does having children extend life span? A genealogical study of parity and longevity in the Amish. J Gerontol A Biol Sci Med Sci 61:190–195

Mejer L, Robert-Bobée I (2003) Female mortality and family environment: The protective role of family life. INSEE Première N° 892

Müller HG, Chiou JM, Carey JR, Wang JL (2002) Fertility and life span: late children enchance female longevity. J Gerontol A Biol Sci Med Sci 57:202–206

Parker WH, Broder MS, Chang E, Feskanich D, Farquhar C, Liu Z, Shoupe D, Berek JS, Hankinson S, Manson JE (2009) Ovarian conservation at the time of hysterectomy and long-term health outcomes in the Nurses' Health Study. Obstet Gynecol 113:1027–1037

Patronek GJ, Waters DJ, Glickman LT (1997) Comparative longevity of pet dogs and humans: implications for gerontology research. J Gerontol A Biol Sci Med Sci 52:B171–B178

Perls TT, Alpert L, Fretts RC (1997) Middle-aged mothers live longer. Nature 389:133

Pettay JE, Kruuk LE, Jokela J, Lummaa V (2005) Heritability and genetic constraints of life-history trait evolution in preindustrial humans. Proc Natl Acad Sci U S A 102:2838–2843

Ricklefs RE, Cadena CD (2007) Lifespan is unrelated to investment in reproduction in populations of mammals and birds in captivity. Ecol Lett 10:867–872

Rivera CM, Grossardt BR, Rhodes DJ, Brown RD Jr, Roger VL, Melton LJ, Rocca WA (2009) Increased cardiovascular mortality after early bilateral oophorectomy. Menopause 16:15–23

Rocca WA, Gorssardt BR, de Andrade M, Malkasian GD, Melton LJ (2006) Survival patterns after oophorectomy in premenopausal women: a population-based cohort study. Lancet Oncol 7:821–828

Rocca WA, Shuster LT, Grossardt BR, Maraganore DM, Gostout BS, Geda YE, Melton LJ (2009) Long-term effects of bilateral oophorectomy on brain aging: unanswered questions from the Mayo Clinic Cohort Study of oophorectomy and aging. Womens Health (Lond Engl) 5:39–48

Smith KR, Mineau GP, Bean LL (2002) Fertility and post-reproductive longevity. Biodemography Soc Biol 49:185–205

Waters DJ (2011) Aging research 2011: exploring the pet dog paradigm. ILAR J 52:97–105

Waters DJ, Wildasin K (2006) Cancer clues from pet dogs. Sci Am 295:94–101

Waters DJ, Kengeri SS, Clever B, Booth JA, Maras AH, Schlittler DL, Hayek MG (2009) Exploring mechanisms of sex differences in longevity: lifetime ovary exposure and exceptional longevity in dogs. Aging Cell 8:752–755

Westendorp RG, Kirkwood TB (1998) Human longevity at the cost of reproductive success. Nature 396:743–746

Williams GC (1966) Natural selection, the costs of reproduction, and a refinement of Lack's principle. Am Nat 100:687–690

Yi Z, Vaupel J (2004) Association of late childbearing with healthy longevity among the oldest-old in China. Popul Stud (Camb) 58:37–53

Yonker JA, Chang V, Roetker NS, Hauser TS, Hauser RM, Atwood CS (2011) Hypothalamic–pituitary–gonadal axis homeostasis predicts longevity. Age (Dordr). doi:10.1007/s11357-011-9342-1
Acknowledgements
This work was supported by grants from P&G Pet Care and the Rottweiler Health Foundation to The Murphy Cancer Foundation. D.J.W. was supported, in part, by a Brookdale National Fellowship to Support Leadership in Gerontology and a Glenn Award for Research in Biological Mechanisms of Aging.
About this article
Cite this article
Kengeri, S.S., Maras, A.H., Suckow, C.L. et al. Exceptional longevity in female Rottweiler dogs is not encumbered by investment in reproduction. AGE 35, 2503–2513 (2013). https://doi.org/10.1007/s11357-013-9529-8
Received:

Accepted:

Published:

Issue Date:

DOI: https://doi.org/10.1007/s11357-013-9529-8
Keywords
Aging

Trade-off

Parity

Comparative biology

Cost of reproductive effort

Ovarian conservation