Abstract
Although aging is commonly linked to a reduction in joint range of motion, it is unclear if all body joints behave similarly. To address this issue, the main purpose of this study was to compare age-related loss of mobility of seven body joints. A total of 6,000 participants (3,835 men and 2,165 women) aged 5 to 92 years took part in this study. The maximal passive range of motion of 20 movements was evaluated by Flexitest, and each movement was scored from 0 to 4. Composite scores were obtained for each of seven joints and for overall flexibility (Flexindex (FLX)) by adding individual movement scores. Confirming previous findings, FLX systematically decreased with aging (p < .001), with female participants being more flexible for all ages (p < 0.001) and having a more gradual, 0.6 % vs. 0.8 %/year, age reduction (p < .001). Starting at 30 and 40 years, respectively, for male and female participants, the relative contribution of each composite joint score to FLX dramatically changed. Shoulder contribution to FLX male's score went from 13.9 % at 28 years of age to only 5.2 % at 85 years of age. In general, proportionally, shoulder and trunk became less flexible, while elbow and knee mobility was preserved to a greater extent. Our findings indicated that age-related loss of mobility is rather joint-specific, which could be related to distinct routine usage patterns of the major body joints along life.
Access options
Buy single article
Instant access to the full article PDF.
USD 39.95
Price includes VAT (USA)
Tax calculation will be finalised during checkout.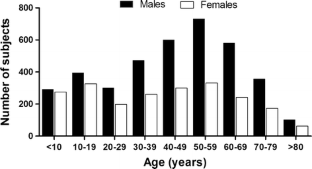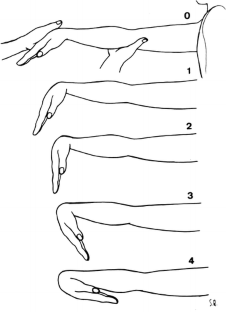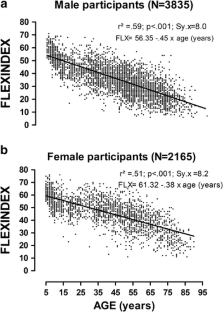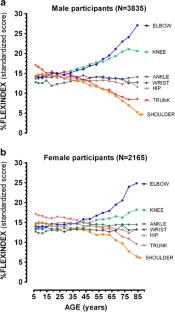 References
ACSM (2009) ACSM's guidelines for exercise testing and prescription, 8th edn. Lippincott, Baltimore

Araújo CGS (1986) Flexiteste: uma nova versão dos mapas de avaliação. Kinesis 2(2):251–267

Araújo CGS (2002) Flexitest: proposal of five variability indices for joint mobility. Rev Bras Med Esporte 8(1):13–19

Araújo CGS (2003) Flexitest: an innovative flexibility assessment method, 1st edn. Human Kinetics, Champaign

Araújo CGS (2008) Flexibility assessment: normative values for flexitest from 5 to 91 years of age. Arq Bras Cardiol 90(4):257–263

Araújo CGS, Araújo DSMS (2004) Flexitest: inappropriate use of condensed versions. Rev Bras Med Esporte 10(5):381–384

Araújo CGS, Chaves CP (2005) Adult women with mitral valve prolapse are more flexible. Br J Sports Med 39(10):720–724

Barnes CJ, Van Steyn SJ, Fischer RA (2001) The effects of age, sex, and shoulder dominance on range of motion of the shoulder. J Shoulder Elbow Surg 10(3):242–246

Beighton P, Solomon L, Soskolne CL (1973) Articular mobility in an African population. Ann Rheum Dis 32(5):413–418

Boone DC, Azen SP (1979) Normal range of motion of joints in male subjects. J Bone Joint Surg Am 61(5):756–759

Bozic PR, Pazin NR, Berjan BB, Planic NM, Cuk ID (2010) Evaluation of the field tests of flexibility of the lower extremity reliability and the concurrent and factorial validity. J Strength Cond Res 24(9):2523–2531

Brito LBB, Araújo DSMS, Araújo CGS (2013) Does flexibility influence the ability to sit and rise from the floor? Am J Phys Med Rehab 92(3):241–247

Brito LBB, Ricardo DR, Araújo DSMS, Ramos PS, Araújo CGS (2012) Ability to sit and rise from the floor as a predictor of all-cause mortality. Eur J Prev Cardiol. doi:10.1177/2047487312471759

Chaves CP, Simão R, Araújo CGS (2002) Lack of flexibility variation during menstrual cycle in university students. Rev Bras Med Esporte 8(6):212–218

Coelho CW, Araújo CGS (2000) Relação entre aumento da flexibilidade e facilitações na execução de ações cotidianas em adultos participantes de programa de exercício supervisionado. Rev Bras Ciên Mov 2(1):31–41

Corbin CB (1984) Flexibility. Clin Sports Med 3(1):101–117

Costa PB, Ryan ED, Herda TJ, Walter AA, Defreitas JR, Stout JR, Cramer JT (2011) Acute effects of static stretching on peak torque and the hamstrings-to-quadriceps conventional and functional ratios. Scand J Med Sci Sports. doi:10.1111/j.1600-0838.2011.01348.x

Costa PB, Ryan ED, Herda TJ, Walter AA, Hoge KM, Cramer JT (2010) Acute effects of passive stretching on the electromechanical delay and evoked twitch properties. Eur J Appl Physiol 108(2):301–310

Cureton TK (1941) Flexibility as an aspect of physical fitness. Res Quart 12:381–390

Dai B, Ware WB, Giuliani CA (2012) A structural equation model relating physical function, pain, impaired mobility (IM), and falls in older adults. Arch Gerontol Geriatr 55(3):645–652

Dickinson RV (1968) The specificity of flexibility. Res Quart 39:792–794

Doriot N, Wang X (2006) Effects of age and gender on maximum voluntary range of motion of the upper body joints. Ergonomics 49(3):269–281

Garber CE, Blissmer B, Deschenes MR, Franklin BA, Lamonte MJ, Lee IM, Nieman DC, Swain DP (2011) American College of Sports Medicine position stand. Quantity and quality of exercise for developing and maintaining cardiorespiratory, musculoskeletal, and neuromotor fitness in apparently healthy adults: guidance for prescribing exercise. Med Sci Sports Exerc 43(7):1334–1359

Gleim GW, McHugh MP (1997) Flexibility and its effects on sports injury and performance. Sports Med 24(5):289–299

Grahame R, Hakim AJ (2008) Hypermobility. Curr Opin Rheumatol 20(1):106–110

Harris ML (1967) Flexibility. Phys Ther 49(6):591–600

Harris ML (1969) A factor analytic study of flexibility. Res Q 40(1):62–70

Holland GJ (1968) The physiology of flexibility: a review of the literature. Kinesiol Rev 1:49–62

Intolo P, Milosavljevic S, Baxter DG, Carman AB, Pal P, Munn J (2009) The effect of age on lumbar range of motion: a systematic review. Man Ther 14(6):596–604

Jackson AW, Morrow JR Jr, Brill PA, Kohl HW 3rd, Gordon NF, Blair SN (1998) Relations of sit-up and sit-and-reach tests to low back pain in adults. J Orthop Sports Phys Ther 27(1):22–26

Kendall HO, Kendall FP (1948) Normal flexibility according to age groups. J Bone Joint Surg Am 30A(3):690–694

Leighton JR (1955) Flexibility characteristics of males 10 to 18 years of age. Arch Phys Med Rehabil Arch Phys Med Rehabil 36(9):571–578

Menz HB, Morris ME, Lord SR (2006) Foot and ankle risk factors for falls in older people: a prospective study. J Gerontol A Biol Sci Med Sci 61(8):866–870

Monteiro WD, Simao R, Polito MD, Santana CA, Chaves RB, Bezerra E, Fleck SJ (2008) Influence of strength training on adult women's flexibility. J Strength Cond Res 22(3):672–677

Myers J (2002) Exercise capacity and mortality among men referred for exercise testing. New Engl J Med 346(11):793–801

Nobrega AC, Paula KC, Carvalho AC (2005) Interaction between resistance training and flexibility training in healthy young adults. J Strength Cond Res 19(4):842–846

Roaas A, Andersson GB (1982) Normal range of motion of the hip, knee and ankle joints in male subjects, 30–40 years of age. Acta Orthop Scand 53(2):205–208

Roach KE, Miles TP (1991) Normal hip and knee active range of motion: the relationship to age. Phys Ther 71(9):656–665

Rubini EC, Costa AL, Gomes PS (2007) Effects of stretching on strength performance. Sports Med 37(3):213–224

Salter N (1955) Methods of measurement of muscle and joint function. J Bone Joint Surg Br 37-B(3):474–491

Signorelli GR, Duarte CV, Ramos PS, Araújo CGS (2012a) Melhoria da capacidade funcional excede a da condição aeróbica: dados de 144 pacientes de programa de exercício. Revista Brasileira de Cardiologia 25(4):299–308

Signorelli GR, Perim RR, Santos TM, Araújo CG (2012b) A pre-season comparison of aerobic fitness and flexibility of younger and older professional soccer players. Int J Sports Med 33(11):867–872

Silva LPS, Palma A, Araújo CGS (2000) Validity of perception in the flexibility evaluation of adults evaluation of adults. Rev Bras Ciên e Mov 8(3):15–20

Soucie JM, Wang C, Forsyth A, Funk S, Denny M, Roach KE, Boone D, Hemophilia Treatment Center N (2011) Range of motion measurements: reference values and a database for comparison studies. Haemophilia 17(3):500–507

Stathokostas L, Little RM, Vandervoort AA, Paterson DH (2012) Flexibility training and functional ability in older adults: a systematic review. J Aging Res 2012:306818

Wells KF, Dillon EK (1952) The sit and reach—a test of back and leg flexibility. Res Quart 23:115–118
Acknowledgments
The authors express their gratitude to the financial support provided by Conselho Nacional de Pesquisa e Desenvolvimento Científico e Fundação de Amparo a Pesquisa do Estado do Rio de Janeiro.
About this article
Cite this article
Medeiros, H.B.O., Araújo, D.S.M.S. & Araújo, C.G.S. Age-related mobility loss is joint-specific: an analysis from 6,000 Flexitest results. AGE 35, 2399–2407 (2013). https://doi.org/10.1007/s11357-013-9525-z
Received:

Accepted:

Published:

Issue Date:
Keywords
Aging

Flexibility

Range of motion

Hypermobility

Musculoskeletal fitness

Exercise