Abstract
Aged dogs spontaneously develop progressive decline in both cognitive and behavioral function, in addition to neuropathological changes, that collectively parallel several aspects of human aging and Alzheimer's disease progression and likely contribute to the development of canine cognitive dysfunction syndrome. In the current study, ethologically relevant spatial learning, retention, and reversal learning tasks were conducted, with the goal of expanding canine neuropsychological testing to pet dogs. Initially, dogs (N = 44, aged 7.8 ± 2.8 years, mean ± SD) had to learn which of two alternative routes successfully led out of a T-maze. Two weeks later, long-term memory retention was assessed, immediately followed by a reversal learning task in which the previously correct route out of the maze was reversed compared with the initial learning and memory retention tasks. No effects of age were evident on the learning or retention tasks. However, older (≥8 years) dogs were significantly impaired on the reversal learning task compared with younger ones (<8 years). Moreover, trial response latency was significantly increased in aged dogs across both the initial and reversal learning tasks but not on the retention task, which suggests that processing speed was impaired by increasing age during the acquisition of novel spatial information but not during performance of previously learned responses. Overall, the current study provides a framework for assessing cognitive function in pet dogs, which should improve understanding of the effects of aging on cognition in the dog population.
Access options
Buy single article
Instant access to the full article PDF.
USD 39.95
Price excludes VAT (USA)
Tax calculation will be finalised during checkout.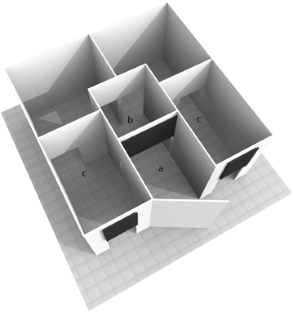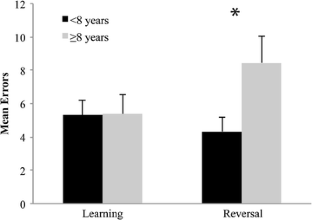 Abbreviations
AD:

Alzheimer's disease

Aβ:

β-amyloid
References
Adams B, Chan A, Callahan H, Milgram NW (2000) The canine as a model of human cognitive aging: recent developments. Prog Neuropsychopharmacol Biol Psychiatry 24:675–692

Araujo JA, Studzinski CM, Milgram NW (2005) Further evidence for the cholinergic hypothesis of aging and dementia from the canine model of aging. Prog Neuropsychopharmacol Biol Psychiatry 29:411–422. doi:10.1016/j.pnpbp.2004.12.008

Ashton RL, De Lillo C (2011) Association, inhibition, and object permanence in dogs' (Canis familiaris) spatial search. J Comp Psychol 125:194–206. doi:10.1037/a0022584

Begega A, Cienfuegos S, Rubio S, Santin JL, Miranda R, Arias JL (2001) Effects of ageing on allocentric and egocentric spatial strategies in the Wistar rat. Behav Processes 53:75–85. doi:10.1016/s0376-6357(00)00150-9

Borras D, Ferrer I, Pumarola M (1999) Age-related changes in the brain of the dog. Vet Pathol 36:202–211. doi:10.1354/vp.36-3-202

Braak H, Braak E (1991) Neuropathological staging of alzheimer-related changes. Acta Neuropathol (Berl) 82:239–259

Carrillo-Mora P, Giordano M, Santamaria A (2009) Spatial memory: theoretical basis and comparative review on experimental methods in rodents. Behav Brain Res 203:151–164. doi:10.1016/j.bbr.2009.05.022

Christie LA, Studzinski CM, Araujo JA, Leung CSK, Ikeda-Douglas CJ, Head E, Cotman CW, Milgram NW (2005) A comparison of egocentric and allocentric age-dependent spatial learning in the beagle dog. Prog Neuropsychopharmacol Biol Psychiatry 29:361–369. doi:10.1016/j/pnpbp.2004.12.002

Cotman CW, Head E (2008) The canine (dog) model of human aging and disease: dietary, environmental and immunotherapy approaches. J Alzheimer Dis 15:685–707

Cushman LA, Stein K, Duffy CJ (2008) Detecting navigational deficits in cognitive aging and Alzheimer disease using virtual reality. Neurology 71:888–895. doi:10.1212/01.wnl.0000326262.67613.fe

Fiset S (2007) Landmark-based search memory in the domestic dog (Canis familiaris). J Comp Psychol 121:345–353. doi:10.1037/0735-7036.121.4.345

Fiset S, Beaulieu C, Landry F (2003) Duration of dogs' (Canis familiaris) working memory in search for disappearing objects. Anim Cogn 6:1–10. doi:10.1007/S10071-002-0157-4

Gallagher M, Pelleymounter MA (1988) An age-related spatial-learning deficit—choline uptake distinguishes impaired and unimpaired rats. Neurobiol Aging 9:363–369. doi:10.1016/s0197-4580(88)80082-4

Gonzalez-Soriano J, Garcia PM, Contreras-Rodriguez J, Martinez-Sainz P, Rodriguez-Veiga E (2001) Age-related changes in the ventricular system of the dog brain. Anat Anz 183:283–291. doi:10.1016/s0940-9602(01)80236-3

Head E, Callahan H, Muggenburg BA, Cotman CW, Milgram NW (1998) Visual-discrimination learning ability and beta-amyloid accumulation in the dog. Neurobiol Aging 19:415–425

Head E, McCleary R, Hahn FF, Milgram NW, Cotman CW (2000) Region-specific age at onset of beta-amyloid in dogs. Neurobiol Aging 21:89–96

Head E, Liu J, Hagen TM, Muggenburg BA, Milgram NW, Ames BN, Cotman CW (2002) Oxidative damage increases with age in a canine model of human brain aging. J Neurochem 82:375–381

Herndon JG, Moss MB, Rosene DL, Killiany RJ (1997) Patterns of cognitive decline in aged rhesus monkeys. Behav Brain Res 87:25–34. doi:10.1016/s0166-4328(96)02256-5

Hort J, Laczo J, Vyhnalek M, Bojar M, Bures J, Vlcek K (2007) Spatial navigation deficit in amnestic mild cognitive impairment. Proc Natl Acad Sci U S A 104:4042–4047. doi:10.1073/pnas.0611314104

Iachini I, Iavarone A, Senese VP, Ruotolo F, Ruggiero G (2009) Visuospatial memory in healthy elderly, AD and MCI: a review. Curr Aging Sci 2:43–59

Ingram DK (1988) Complex maze-learning in rodents as a model of age-related memory impairment. Neurobiol Aging 9:475–485. doi:10.1016/s0197-4580(88)80101-5

Klein DA, Steinberg M, Galik E, Steele C, Sheppard JM, Warren A, Rosenblatt A, Lyketsos CG (1999) Wandering behaviour in community-residing persons with dementia. Int J Geriatr Psychiatry 14:272–279. doi:10.1002/(sici)1099-1166(199904)14:4<272::aid-gps896>3.0.co;2-P

Lai ZC, Moss MB, Killiany RJ, Rosene DL, Herndon JG (1995) Executive system dysfunction in the aged monkey—spatial and object reversal-learning. Neurobiol Aging 16:947–954. doi:10.1016/0197-4580(95)02014-4

Landsberg G (2005) Therapeutic agents for the treatment of cognitive dysfunction syndrome in senior dogs. Prog Neuropsychopharmacol Biol Psychiatry 29:471–479. doi:10.1016/j.pnpbp.2004.12.012

Landsberg GM, Nichol J, Araujo JA (2012) Cognitive dysfunction syndrome: a disease of canine and feline brain ageing. Vet Clin N Am Sm Anim Pract 42:749–768. doi: 10.1016/j.cvsm.2012.04.003

Lukoyanov NV, Andrade JP, Madeira MD, Paula-Barbosa MM (1999) Effects of age and sex on the water maze performance and hippocampal cholinergic fibers in rats. Neurosci Lett 269:141–144. doi:10.1016/s0304-3940(99)00442-5

McLay RN, Freeman SM, Harlan RE, Kastin AJ, Zadina JE (1999) Tests used to assess the cognitive abilities of aged rats: their relation to each other and to hippocampal morphology and neurotrophin expression. Gerontology 45:143–155. doi:10.1159/000022077

Miklosi A (2009) Dog behaviour, evolution and cognition. Oxford University Press, New York, pp 137–150

Milgram NW, Head E, Weiner E, Thomas E (1994) Cognitive functions and aging in the dog—acquisition of nonspatial visual tasks. Behav Neurosci 108:57–68

Milgram NW, Head E, Muggenburg B, Holowachuk D, Murphey H, Estrada J, Ikeda-Douglas CJ, Zicker SC, Cotman CW (2002a) Landmark discrimination learning in the dog: effects of age, an antioxidant fortified food, and cognitive strategy. Neurosci Biobehav Rev 26:679–695

Milgram NW, Zicker SC, Head E, Muggenburg BA, Murphey H, Ikeda-Douglas CJ, Cotman CW (2002b) Dietary enrichment counteracts age-associated cognitive dysfunction in canines. Neurobiol Aging 23:737–745

Moffat SD (2009) Aging and spatial navigation: what do we know and where do we go. Neuropsychol Rev 19:478–489. doi:10.1007/s11065-009-9120-3

Morys J, Narkiewicz O, Maciejewska B, Wegiel J, Wisniewski HM (1994) Amyloid deposits and loss of neurons in the claustrum of the aged dog. Neuroreport 5:1825–1828. doi:10.1097/00001756-199409080-00035

Newman MC, Kaszniak AW (2000) Spatial memory and aging: performance on a human analog of the Morris water maze. Aging Neuropsychol Cogn 7:86–93. doi:10.1076/1382-5585(200006)7:2;1-u;ft086

Osella MC, Re G, Odore R, Girardi C, Badino P, Barbero R, Bergamasco L (2007) Canine cognitive dysfunction syndrome: prevalence, clinical signs and treatment with a neuroprotective nutraceutical. Appl Anim Behav Sci 105:297–310. doi:10.1016/j.applanim.2006.11.007

Papaioannou N, Tooten PCJ, van Ederen AM, Bohl JRE, Rofina J, Tsangaris T, Gruys E (2001) Immunohistochemical investigation of the brain of aged dogs. I. Detection of neurofibrillary tangles and of 4-hydroxynonenal protein, an oxidative damage product, in senile plaques. Amyloid 8:11–21. doi:10.3109/13506120108993810

Pongracz P, Miklosi A, Kubinyi E, Gurobi K, Topal J, Csanyi V (2001) Social learning in dogs: the effect of a human demonstrator on the performance of dogs in a detour task. Anim Behav 62:1109–1117. doi:10.1006/anbe.2001.1866

Rahner-Welsch S, Frolich L, Stoll S, Hoyer S (1995) Decline and preservation of reversal-learning abilities and acquisition in the course of senescence. Neurosci Lett 194:121–123. doi:10.1016/0304-3940(95)11712-6

Regolin L, Rose SPR (1999) Long-term memory for a spatial task in young chicks. Anim Behav 57:1185–1191

Regolin L, Vallortigara G, Zanforlin M (1995) Object and spatial representations in detour problems by chicks. Anim Behav 49:195–199

Rofina JE, Singh K, Skoumalova-Vesela A, van Ederen AM, van Asten A, Wilhelm J, Gruys E (2004) Histochemical accumulation of oxidative damage products is associated with Alzheimer-like pathology in the canine. Amyloid 11:90–100. doi:10.1080/13506120412331285779

Ruehl WW, Bruyette DS, DePaoli A, Cotman CW, Head E, Milgram NW, Cummings BJ (1995) Canine cognitive dysfunction as a model for human age-related cognitive decline, dementia and Alzheimer's disease: clinical presentation, cognitive testing, pathology and response to 1-deprenyl therapy. Prog Brain Res 106:217–225

Salvin HE, McGreevy PD, Sachdev PS, Valenzuela MJ (2011) The canine sand maze: an appetitive spatial memory paradigm sensitive to age-related change in dogs. J Exp Anal Behav 95:109–118. doi:10.1901/jeab.2011.95-109

Sharma S, Rakoczy S, Brown-Borg H (2010) Assessment of spatial memory in mice. Life Sci 87:521–536. doi:10.1016/j.lfs.2010.09.004

Siwak CT, Tapp PD, Milgram NW (2001) Effect of age and level of cognitive function on spontaneous and exploratory Behaviors in the beagle dog. Learn Mem 8:317–325. doi:10.1101/lm.41701

Siwak-Tapp CT, Head E, Muggenburg BA, Milgram NW, Cotman CW (2008) Region specific neuron loss in the aged canine hippocampus is reduced by enrichment. Neurobiol Aging 29:39–50. doi:10.1016/j.neurobiolaging.2006.09.018

Stephens DN, Weidmann R, Quartermain D, Sarter M (1985) Reversal-learning in senescent rats. Behav Brain Res 17:193–202. doi:10.1016/0166-4328(85)90043-9

Studzinski CM, Araujo JA, Milgram NW (2005) The canine model of human cognitive aging and dementia: pharmacological validity of the model for assessment of human cognitive-enhancing drugs. Prog Neuropsychopharmacol Biol Psychiatry 29:489–498. doi:10.1016/j.pnpbp.2004.12.014

Studzinski CM, Christie LA, Araujo JA, Burnham WM, Head E, Cotman CW, Milgram NW (2006) Visuospatial function in the beagle dog: an early marker of cognitive decline in a model of human aging and dementia. Neurobiol Learn Mem 86:197–204. doi:10.1016/j.nlm.2006.02.005

Su MY, Tapp PD, Vu L, Chen YF, Chu Y, Muggenburg B, Chiou JY, Chen CQ, Wang J, Bracco C, Head E (2005) A longitudinal study of brain morphometrics using serial magnetic resonance imaging analysis in a canine model of aging. Prog Neuropsychopharmacol Biol Psychiatry 29:389–397. doi:10.1016/j.pnpbp.2004.12.005

Tapp PD, Siwak CT, Estrada J, Head E, Muggenburg BA, Cotman CW, Milgram NW (2003a) Size and reversal learning in the beagle dog as a measure of executive function and inhibitory control in aging. Learn Memory 10:64–73. doi:10.1101/lm.54403

Tapp PD, Siwak CT, Estrada J, Holowachuk D, Milgram NW (2003b) Effects of age on measures of complex working memory span in the beagle dog (Canis familiaris) using two versions of a spatial list learning paradigm. Learn Memory 10:148–160. doi:10.1101/lm.56503

Tapp D, Chu Y, Vu L, Chiou JY, Milgram NW, Nalcioglu O, Su MY (2004) Age-dependent changes in regional brain volume and cerebral blood volume in white matter of the canine brain measured using dynamic susceptibility contrast MRI. Neurobiol Aging 25:S380–S381

Tapp PD, Chu Y, Araujo JA, Chiou JY, Head E, Milgram NW, Su MY (2005) Effects of scopolamine challenge on regional cerebral blood volume. A pharmacological model to validate the use of contrast enhanced magnetic resonance imaging to assess cerebral blood volume in a canine model of aging. Prog Neuropsychopharmacol Biol Psychiatry 29:399–406. doi:10.1016/j.pnpbp.2004.12.006

Tolman EC, Honzik CH (1930) Introduction and removal of reward, and maze performance in rats. Univ Calif Pub Psychol 4:257–275

Tsuchida J, Kubo N, Kojima S (2002) Position reversal learning in aged Japanese macaques. Behav Brain Res 129:107–112. doi:10.1016/s0166-4328(01)00336-9

Uchida K, Nakayama H, Tateyama S, Goto N (1992) Immunohistochemical analysis of constituents of senile plaques and cerebrovascular amyloid in aged dogs. J Vet Med Sci 54:1023–1029

Voytko ML (1999) Impairments in acquisition and reversals of two-choice discriminations by aged rhesus monkeys. Neurobiol Aging 20:617–627. doi:10.1016/s0197-4580(99)00097-4

Waters D (2011) Aging research 2011: exploring the pet dog paradigm. ILAR J 52:97–105
About this article
Cite this article
Mongillo, P., Araujo, J.A., Pitteri, E. et al. Spatial reversal learning is impaired by age in pet dogs. AGE 35, 2273–2282 (2013). https://doi.org/10.1007/s11357-013-9524-0
Received:

Accepted:

Published:

Issue Date:

DOI: https://doi.org/10.1007/s11357-013-9524-0
Keywords
Aging

Cognitive impairment

Pet dog

Navigation task

Spatial cognition