Abstract
The role of epigenetics in the modulation of longevity has not been studied in humans. To this aim, (1) we evaluated the DNA methylation from peripheral leukocytes of 21 female centenarians, their 21 female offspring, 21 offspring of both non-long-lived parents, and 21 young women through ELISA assay, pyrosequencing analysis of Alu sequences, and quantification of methylation in CpG repeats outside CpG islands; (2) we compared the DNA methylation profiles of these populations through Infinium array for genome-wide CpG methylation analysis. We observed an age-related decrease in global DNA methylation and a delay of this process in centenarians' offspring. Interestingly, literature data suggest a link between the loss of DNA methylation observed during aging and the development of age-associated diseases. Genome-wide methylation analysis evidenced DNA methylation profiles specific for aging and longevity: (1) aging-associated DNA hypermethylation occurs predominantly in genes involved in the development of anatomical structures, organs, and multicellular organisms and in the regulation of transcription; (2) genes involved in nucleotide biosynthesis, metabolism, and control of signal transmission are differently methylated between centenarians' offspring and offspring of both non-long-lived parents, hypothesizing a role for these genes in human longevity. Our results suggest that a better preservation of DNA methylation status, a slower cell growing/metabolism, and a better control in signal transmission through epigenetic mechanisms may be involved in the process of human longevity. These data fit well with the observations related to the beneficial effects of mild hypothyroidism and insulin-like growth factor I system impairment on the modulation of human lifespan.
Access options
Buy single article
Instant access to the full article PDF.
USD 39.95
Price excludes VAT (USA)
Tax calculation will be finalised during checkout.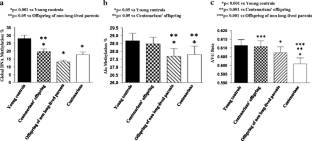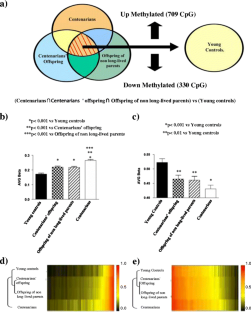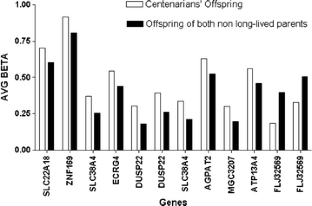 References
Adams ER, Nolan VG, Andersen SL, Perls TT, Terry DF (2008) Centenarian offspring: start healthier and stay healthier. J Am Geriatr Soc 56:2089–2092. doi:10.1111/j.1532-5415.2008.01949.x

Agocha A, Lee HW, Eghbali-Webb M (1997) Hypoxia regulates basal and induced DNA synthesis and collagen type I production in human cardiac fibroblasts: effects of transforming growth factor-β 1, thyroid hormone, angiotensin II and basic fibroblast growth factor. J Mol Cell Cardiol 29:2233–2244. doi:10.1006/jmcc.1997.0462

Agrawal A, Tay J, Yang GE, Agrawal S, Gupta S (2010) Age-associated epigenetic modifications in human DNA increase its immunogenicity. Aging 2:93–100

Asada K, Kotake Y, Asada R, Saunders D, Broyles RH, Towner RA, Fukui H, Floyd RA (2006) LINE-1 hypomethylation in a choline-deficiency-induced liver cancer in rats: dependence on feeding period. J Biomed Biotechnol 1:17142. doi:10.1155/JBB/2006/17142

Atzmon G, Barzilai N, Hollowell JG, Surks MI, Gabriely I (2009a) Extreme longevity is associated with increased serum thyrotropin. J Clin Endocrinol Metab 94:1251–1254. doi:10.1210/jc.2008-2325

Atzmon G, Barzilai N, Surks MI, Gabriely I (2009b) Genetic predisposition to elevated serum thyrotropin is associated with exceptional longevity. J Clin Endocrinol Metab 94:4768–4775. doi:10.1210/jc.2009-0808

Barbieri M, Bonafè M, Franceschi C, Paolisso G (2003) Insulin/IGF-I-signaling pathway: an evolutionarily conserved mechanism of longevity from yeast to humans. Am J Physiol Endocrinol Metab 285:1064–1071. doi:10.1152/ajpendo.00296.2003

Bellizzi D, D'Aquila P, Montesanto A, Corsonello A, Mari V, Mazzei B, Lattanzio F, Passarino G (2011) Global DNA methylation in old subjects is correlated with frailty. Age. doi:10.1007/s11357-011-9216-6

Bollati V, Schwartz J, Wright R, Litonjua A, Tarantini L, Suh H, Sparrow D, Vokonas P, Baccarelli A (2009) Decline in genomic DNA methylation through aging in a cohort of elderly subjects. Mech Ageing Dev 130:234–239. doi:10.1016/j.mad.2008.12.003

Cevenini E, Invidia L, Lescai F, Salvioli S, Tieri P, Castellani G, Franceschi C (2008) Human models of aging and longevity. Expert Opin Biol Ther 8:1393–405. doi:10.1517/14712598.8.9.1393

Chambers SM, Shaw CA, Gatza C, Fisk CJ, Donehower LA, Goodell MA (2007) Aging hematopoietic stem cells decline in function and exhibit epigenetic dysregulation. PLoS Biol 5:e201. doi:10.1371/journal.pbio.0050201

Choi JY, James SR, Link PA, McCann SE, Hong CC, Davis W, Nesline MK, Ambrosone CB, Karpf AR (2009) Association between global DNA hypomethylation in leukocytes and risk of breast cancer. Carcinogenesis 30:1889–1897. doi:10.1093/carcin/bgp143

Eden E, Navon R, Steinfeld I, Lipson D, Yakhini Z (2009) GOrilla: a tool for discovery and visualization of enriched GO terms in ranked gene lists. BMC Bioinforma 10:48. doi:10.1186/1471-2105-10-48

Fagnoni FF, Vescovini R, Passeri G, Bologna G, Pedrazzoni M, Lavagetto G, Casti A, Franceschi C, Passeri M, Sansoni P (2000) Shortage of circulating naive CD8+ T cells provides new insights on immunodeficiency in aging. Blood 95:2860–2868

Fraga MF, Agrelo R, Estell M (2007) Cross-talk between aging and cancer: the epigenetic language. Ann NY Acad Sci 1100:60–74. doi:10.1196/annals.1395.005

Franceschi C, Bonafè M (2003) Centenarians as a model for healthy aging. Biochem Soc Trans 31:457–461. doi:10.1042/BST0310457

Franceschi C, Capri M, Monti D, Giunta S, Olivieri F, Sevini F, Panourgia MP, Invidia L, Celani L, Scurti M, Cevenini E, Castellani GC, Salvioli S (2007) Inflammaging and anti-inflammaging: a systemic perspective on aging and longevity emerged from studies in humans. Mech Ageing Dev 128:92–105. doi:10.1016/j.mad.2006.11.016

Grönniger E, Weber B, Heil O, Peters N, Stäb F, Wenck H, Korn B, Winnefeld M, Lyko F (2010) Aging and chronic sun exposure cause distinct epigenetic changes in human skin. PLoS Genetics 6:e1000971. doi:10.1371/journal.pgen.1000971

Gussekloo J, van Exel E, de Craen AJ, Meinders AE, Frölich M (2004) Thyroid status, disability and cognitive function, and survival in old age. JAMA 292:2591–2599. doi:10.1001/jama.292.21.2591

Kim M, Long TI, Arakawa K, Wang R, Yu MC, Laird PW (2010) DNA methylation as a biomarker for cardiovascular disease risk. PLoS One 5:e9692. doi:10.1371/journal.pone.0009692

Ledda-Columbano GM, Molotzu F, Pibiri M, Cossu C, Perra A, Columbano A (2006) Thyroid hormone induces cyclin D1 nuclear translocation and DNA synthesis in adult rat cardiomyocytes. FASEB J 20:87–94. doi:10.1096/fj.05-4202com

Moore LE, Pfeiffer RM, Poscablo C, Real FX, Kogevinas M, Silverman D, García-Closas R, Chanock S, Tardón A, Serra C, Carrato A, Dosemeci M, García-Closas M, Esteller M, Fraga M, Rothman N, Malats N (2008) Genomic DNA hypomethylation as a biomarker for bladder cancer susceptibility in the Spanish Bladder Cancer Study: a case-control study. Lancet Oncol 9:359–366. doi:10.1016/S1470-2045(08)70038-X

Nasi M, Troiano L, Lugli E, Pinti M, Ferraresi R, Monterastelli E, Mussi C, Salvioli G, Franceschi C, Cossarizza A (2006) Thymic output and functionality of the IL-7/IL-7 receptor system in centenarians: implications for the neolymphogenesis at the limit of human life. Aging Cell 5:167–175. doi:10.1111/j.1474-9726.2006.00204.x

Peeters RP (2009) Thyroid function and longevity: new insights into an Old Dilemma. J Clin Endocrinol Metab 94:4658–4660. doi:10.1210/jc.2009-2198

Petronis A (2010) Epigenetics as a unifying principle in the aetiology of complex traits and diseases. Nature 465:721–727. doi:10.1038/nature09230

Rakyan VK, Down TA, Maslau S, Andrew T, Yang TP, Beyan H, Whittaker P, McCann OT, Finer S, Valdes AM, Leslie RD, Deloukas P, Spector TD (2010) Human aging-associated DNA hypermethylation occurs preferentially at bivalent chromatin domains. Genome Res 20:434–439. doi:10.1101/gr.103101.109

Salvioli S, Capri M, Valensin S, Tieri P, Monti D, Ottaviani E, Franceschi C (2006) Inflamm-aging, cytokines and aging: state of the art, new hypotheses on the role of mitochondria and new perspectives from systems biology. Curr Pharm Des 12:3161–3171. doi:10.2174/138161206777947470

Skytthe A, Valensin S, Jeune B, Cevenini E, Balard F, Beekman M, Bezrukov V, Blanche H, Bolund L, Broczek K, Carru C, Christensen K, Christiansen L, Collerton JC, Cotichini R, de Craen AJ, Dato S, Davies K, De Benedictis G, Deiana L, Flachsbart F, Gampe J, Gilbault C, Gonos ES, Haimes E, Hervonen A, Hurme MA, Janiszewska D, Jylhä M, Kirkwood TB, Kristensen P, Laiho P, Leon A, Marchisio A, Masciulli R, Nebel A, Passarino G, Pelicci G, Peltonen L, Perola M, Poulain M, Rea IM, Remacle J, Robine JM, Schreiber S, Scurti M, Sevini F, Sikora E, Skouteri A, Slagboom PE, Spazzafumo L, Stazi MA, Toccaceli V, Toussaint O, Törnwall O, Vaupel JW, Voutetakis K, Franceschi C, GEHA consortium (2011) Design, recruitment, logistics, and data management of the GEHA (Genetics of Healthy Ageing) project. Exp Gerontol 46:934–945. doi:10.1016/j.exger.2011.08.005

Suh Y, Atzmon G, Cho MO, Hwang D, Liu B, Leahy DJ, Barzilai N, Cohen P (2008) Functionally significant insulin-like growth factor I receptor mutations in centenarians. PNAS 105:3438–3442. doi:10.1073/pnas.0705467105

Takai D, Jones PA (2002) Comprehensive analysis of CpG islands in human chromosomes 21 and 22. PNAS 99:3740–3745. doi:10.1073/pnas.052410099

Terry DF, Wilcox MA, McCormick MA, Pennington JY, Schoenhofen EA, Andersen SL, Perls TT (2004) Lower all-cause, cardiovascular, and cancer mortality in centenarians' offspring. J Am Geriatr Soc 52:2074–2076. doi:10.1111/j.1532-5415.2004.52561.x

Van den Beld AW, Visser TJ, Feelders RA, Grobbee DE, Lamberts SW (2005) Thyroid hormone concentrations, disease, physical function, and mortality in elderly men. J Clin Endocrinol Metab 90:6403–6409. doi:10.1210/jc.2005-0872

Wilson AS, Power BE, Molloy PL (2007) DNA hypomethylation and human diseases. Biochim Biophys Acta 1775:138–162. doi:10.1016/j.bbcan.2006.08.007
Acknowledgments
Financial support to this work has been partially provided by the Italian Ministry of University and Research (MIUR) and by the Istituto Auxologico Italiano. The funders had no role in study design, data collection and analysis, decision to publish, or preparation of the manuscript. The authors would like to thank the Register Office of the city of Milan for its contribution in the collection of data.
Electronic supplementary material
Below is the link to the electronic supplementary material.
About this article
Cite this article
Gentilini, D., Mari, D., Castaldi, D. et al. Role of epigenetics in human aging and longevity: genome-wide DNA methylation profile in centenarians and centenarians' offspring. AGE 35, 1961–1973 (2013). https://doi.org/10.1007/s11357-012-9463-1
Received:

Accepted:

Published:

Issue Date:

DOI: https://doi.org/10.1007/s11357-012-9463-1
Keywords