Abstract
Ageing is accompanied with a decline in respiratory function. It is hypothesised that this may be attenuated by high physical activity levels. We performed spirometry in master athletes (71 women; 84 men; 35–86 years) and sedentary people (39 women; 45 men; 24–82 years), and calculated the predicted lung age (PLA). The negative associations of age with forced expiratory volume in 1 s (FEV1; 34 mL·year−1) and other ventilatory parameters were similar in controls and master athletes. FEV1pred was 9 % higher (P < 0.005) and PLA 15 % lower (P = 0.013) in athletes than controls. There were no significant differences between endurance and power athletes and sedentary people in maximal inspiratory and expiratory pressure. Neither age-graded performance nor weekly training hours were significantly related to lung age. Life-long exercise does not appear to attenuate the age-related decrease in ventilatory function. The better respiratory function in master athletes than age-matched sedentary people might be due to self-selection and attrition bias.
Access options
Buy single article
Instant access to the full article PDF.
USD 39.95
Price includes VAT (USA)
Tax calculation will be finalised during checkout.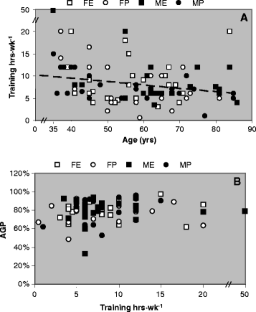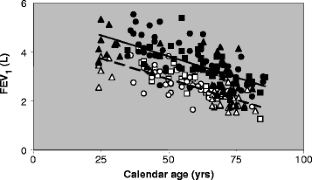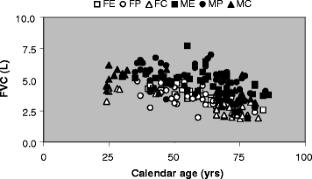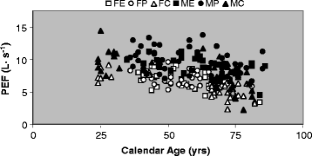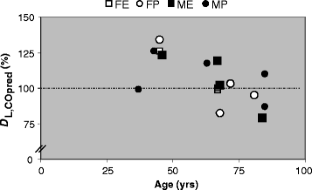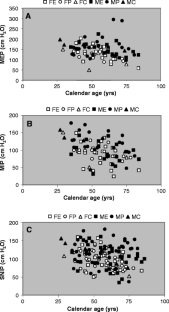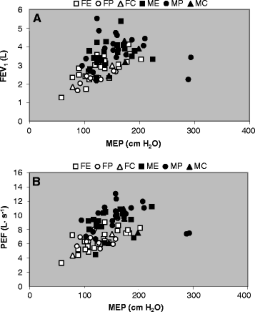 References
Amara CE, Koval JJ, Paterson DH, Cunningham DA (2001) Lung function in older humans: the contribution of body composition, physical activity and smoking. Ann Human Biol 28(5):522–536

Cheng YJ, Macera CA, Addy CL, Sy FS, Wieland D, Blair SN (2003) Effects of physical activity on exercise tests and respiratory function. British J Sports Med 37(6):521–528

Dempsey JA, Johnson BD, Saupe KW (1990) Adaptations and limitations in the pulmonary system during exercise. Chest 97(3 Suppl):81S–87S

Dempsey JA, McKenzie DC, Haverkamp HC, Eldridge MW (2008) Update in the understanding of respiratory limitations to exercise performance in fit, active adults. Chest 134(3):613–622

Freitas FS, Ibiapina CC, Alvim CG, Britto RR, Parreira VF (2010) Relationship between cough strength and functional level in elderly. Rev Bras Fisiot (Sao Carlos (Sao Paulo, Brazil)) 14(6):470–476

Hagberg JM, Yerg JE 2nd, Seals DR (1988) Pulmonary function in young and older athletes and untrained men. J Appl Physiol 65(1):101–105

Hankinson JL, Odencrantz JR, Fedan KB (1999) Spirometric reference values from a sample of the general U.S. population. Am J Respir Crit Care Med 159(1):179–187

Harms CA (2006) Does gender affect pulmonary function and exercise capacity? Respir Physiol Neurobiol 151(2–3):124–131

Hautmann H, Hefele S, Schotten K, Huber RM (2000) Maximal inspiratory mouth pressures (PIMAX) in healthy subjects—what is the lower limit of normal? Respir Med 94(7):689–693

Hulke SM, Phatak MS (2011) Effect of endurance training on lung function: a longitudinal study. Int J Biol Med Res 2(1):443–446

Ireland A, Korhonen M, Heinonen A, Suominen H, Baur C, Stevens S, Degens H, Rittweger J (2011) Side-to-side differences in bone strength in master jumpers and sprinters. J Musculoskelet & Neuronal Interact 11(4):298–305

Klocke RA (1977) Influence of aging on the lung. In: Finch CE, Hayflick L (eds) Handbook of the biology of aging. Van Nostrand Reinhold, London, pp 432–444

Korhonen MT, Cristea A, Alen M, Hakkinen K, Sipila S, Mero A, Viitasalo JT, Larsson L, Suominen H (2006) Aging, muscle fiber type, and contractile function in sprint-trained athletes. J Appl Physiol 101(3):906–917

Macintyre N, Crapo RO, Viegi G, Johnson DC, van der Grinten CP, Brusasco V, Burgos F, Casaburi R, Coates A, Enright P, Gustafsson P, Hankinson J, Jensen R, McKay R, Miller MR, Navajas D, Pedersen OF, Pellegrino R, Wanger J (2005) Standardisation of the single-breath determination of carbon monoxide uptake in the lung. Eur Respir J 26(4):720–735

McClaran SR, Babcock MA, Pegelow DF, Reddan WG, Dempsey JA (1995) Longitudinal effects of aging on lung function at rest and exercise in healthy active fit elderly adults. J Appl Physiol 78(5):1957–1968

Michaelis I, Kwiet A, Gast U, Boshof A, Antvorskov T, Jung T, Rittweger J, Felsenberg D (2008) Decline of specific peak jumping power with age in master runners. J Musculoskelet Neuronal Interact 8(1):64–70

Miller MR, Hankinson J, Brusasco V, Burgos F, Casaburi R, Coates A, Crapo R, Enright P, van der Grinten CP, Gustafsson P, Jensen R, Johnson DC, MacIntyre N, McKay R, Navajas D, Pedersen OF, Pellegrino R, Viegi G, Wanger J (2005) Standardisation of spirometry. Eur Respir J 26(2):319–338

Morris JF, Temple W (1985) Spirometric "lung age" estimation for motivating smoking cessation. Preventive Medicine 14(5):655–662

Nystad W, Samuelsen SO, Nafstad P, Langhammer A (2006) Association between level of physical activity and lung function among Norwegian men and women: the HUNT study. Int J Tuberc Lung Dis 10(12):1399–1405

Pelkonen M, Notkola IL, Lakka T, Tukiainen HO, Kivinen P, Nissinen A (2003) Delaying decline in pulmonary function with physical activity: a 25-year follow-up. Am J Respir Crit Care Med 168(4):494–499

Pollock ML, Miller HS Jr, Wilmore J (1974) Physiological characteristics of champion American track athletes 40 to 75 years of age. J Geront 29(6):645–649

Prefaut C, Anselme F, Caillaud C, Masse-Biron J (1994) Exercise-induced hypoxemia in older athletes. J Appl Physiol 76(1):120–126

Reaburn P, Dascombe B (2008) Endurance performance in masters athletes. Eur Rev Aging Phys Act 5(1):31–42

Rittweger J, Kwiet A, Felsenberg D (2004) Physical performance in aging elite athletes—challenging the limits of physiology. J Musculoskelet Neuronal Interact 4(2):159–160

Rittweger J, di Prampero PE, Maffulli N, Narici MV (2009) Sprint and endurance power and ageing: an analysis of master athletic world records. Proc Biol Sci 276(1657):683–689

Rossi AP, Watson NL, Newman AB, Harris TB, Kritchevsky SB, Bauer DC, Satterfield S, Goodpaster BH, Zamboni M (2011) Effects of body composition and adipose tissue distribution on respiratory function in elderly men and women: the health, aging, and body composition study. J Gerontol A Biol Sci Med Sci

Saltin B, Grimby G (1968) Physiological analysis of middle-aged and old former athletes. Comparison with still active athletes of the same ages. Circulation 38(6):1104–1115

Spengler CM, Boutellier U (2000) Breathless legs? Consider training your respiration. News Physiol Sci 15:101–105

Wilks DC, Winwood K, Gilliver SF, Kwiet A, Chatfield M, Michaelis I, Sun LW, Ferretti JL, Sargeant AJ, Felsenberg D, Rittweger J (2009) Bone mass and geometry of the tibia and the radius of master sprinters, middle and long distance runners, race-walkers and sedentary control participants: a pQCT study. Bone 45(1):91–97
Acknowledgments
We appreciate the financial support from Stratec Company (Pforzheim, Germany) to perform oxygen diffusion measurements. We appreciate the support by Kurt Kaschke, Dieter Massin, Winston Thomas and Bridget Cushen as representatives from WMA, EVAA and BMAF. We are grateful to the participants—without their contribution this study would not have been possible.
About this article
Cite this article
Degens, H., Maden-Wilkinson, T.M., Ireland, A. et al. Relationship between ventilatory function and age in master athletes and a sedentary reference population. AGE 35, 1007–1015 (2013). https://doi.org/10.1007/s11357-012-9409-7
Received:

Accepted:

Published:

Issue Date:
Keywords
FEV1

Lung age

Mouth pressure

Physical activity

Peak expiratory flow

Physical exercise