Abstract
Frailty is a physiological state characterized by the deregulation of multiple physiologic systems of an aging organism determining the loss of homeostatic capacity, which exposes the elderly to disability, diseases, and finally death. An operative definition of frailty, useful for the classification of the individual quality of aging, is needed. On the other hand, the documented heterogeneity in the quality of aging among different geographic areas suggests the necessity for a frailty classification approach providing population-specific results. Moreover, the contribution of the individual genetic background on the frailty status is still questioned. We investigated the applicability of a cluster analysis approach based on specific geriatric parameters, previously set up and validated in a southern Italian population, to two large longitudinal Danish samples. In both cohorts, we identified groups of subjects homogeneous for their frailty status and characterized by different survival patterns. A subsequent survival analysis availing of Accelerated Failure Time models allowed us to formulate an operative index able to correlate classification variables with survival probability. From these models, we quantified the differential effect of various parameters on survival, and we estimated the heritability of the frailty phenotype by exploiting the twin pairs in our sample. These data suggest the presence of a genetic influence on the frailty variability and indicate that cluster analysis can define specific frailty phenotypes in each population.
Access options
Buy single article
Instant access to the full article PDF.
US$ 39.95
Tax calculation will be finalised during checkout.
Subscribe to journal
Immediate online access to all issues from 2019. Subscription will auto renew annually.
US$ 79
Tax calculation will be finalised during checkout.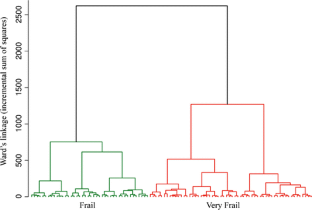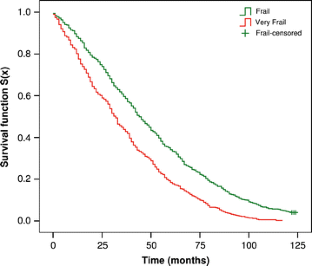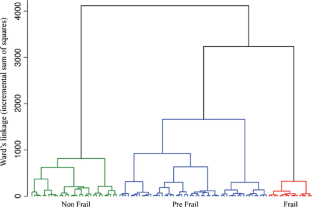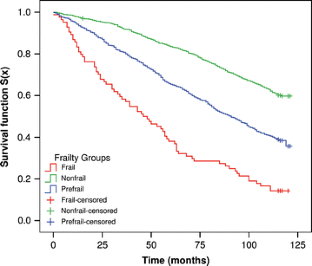 References
Akaike H (1974) A new look at the statistical model identification. IEEE Trans Automat Contr 19:716–723

Bradley AP (1997) The use of the area under the ROC curve in the evaluation of machine learning algorithms. Pattern Recognit 30:1145–1159

Christensen K, Holm NV, McGue M, Corder L, Vaupel JW (1999) A Danish population-based twin study on general health in the elderly. J Aging Health 11:49–64

Christensen K, Frederiksen H, Vaupel JW, McGue M (2003) Age trajectories of genetic variance in physical functioning: a longitudinal study of Danish twins aged 70 years and older. Behav Genet 33:125–136

Christensen K, Johnson TE, Vaupel JW (2006) The quest for genetic determinants of human longevity: challenges and insights. Nat Rev Genet 7:436–448

Christensen K, McGue M, Petersen I, Jeune B, Vaupel JW (2008) Exceptional longevity does not result in excessive levels of disability. Proc Natl Acad Sci USA 105:13274–13279

Cournil A, Jeune B, Skytthe A, Gampe J, Passarino G, Robine JM (2010) Handgrip strength: indications of paternal inheritance in three European regions. J Gerontol A Biol Sci Med Sci 65:1101–1106

Cox DR (1972) Regression Models and Life-Tables. J Roy Stat Soc 34:187–220

Ferrucci L, Giallauria F, Schlessinger D (2008) Mapping the road to resilience: novel math for the study of frailty. Mech Ageing Dev 129:677–679

Folstein MF, Folstein SE, McHugh PR (1975) Mini-mental state. A practical method for grading the cognitive state of patients for the clinician. J Psychiatr Res 12:189–198

Frederiksen H, Gaist D, Petersen HC, Hjelmborg J, McGue M, Vaupel JW, Christensen K (2002) Hand grip strength: a phenotype suitable for identifying genetic variants affecting mid- and late-life physical functioning. Genet Epidemiol 23:110–122

Fried LP, Walston J (2003) Frailty and failure to thrive. In: Hazzard WR (ed) Principles of geriatric medicine and gerontology, 5th edn. McGraw-Hill Professional, New York

Fried LP, Tangen CM, Walston J, Newman AB, Hirsch C, Gottdiener J, Seeman T, Tracy R, Kop WJ, Burke G, McBurnie MA, Cardiovascular Health Study Collaborative Research Group (2001) Frailty in older adults: evidence for a phenotype. J Gerontol A Biol Sci Med Sci 56:M146–M156

Fried LP, Ferrucci L, Darer J, Williamson JD, Anderson G (2004) Untangling the concepts of disability, frailty, and comorbidity: implications for improved targeting and care. J Gerontol A Biol Sci Med Sci 59:255–263

Fried LP, Xue QL, Cappola AR, Ferrucci L, Chaves P, Varadhan R, Guralnik JM, Leng SX, Semba RD, Walston JD, Blaum CS, Bandeen-Roche K (2009) Nonlinear multisystem physiological dysregulation associated with frailty in older women: implications for etiology and treatment. J Gerontol A Biol Sci Med Sci 64:1049–1057

Goggins WB, Woo J, Sham A, Ho SC (2005) Frailty index as a measure of biological age in a Chinese population. J Gerontol A Biol Sci Med Sci 60:1046–1051

Hall M, Frank E, Holmes G, Pfahringer B, Reutemann P, Witten IH (2009) The WEKA Data Mining Software: An Update. SIGKDD Explorations 11:10–18

Jeune B, Skytthe A, Cournil A, Greco V, Gampe J, Berardelli M, Andersen-Ranberg K, Passarino G, Debenedictis G, Robine JM (2006) Handgrip strength among nonagenarians and centenarians in three European regions. J Gerontol A Biol Sci Med Sci 61:707–712

Katz S, Downs TD, Cash HR, Grotz RC (1970) Progress in development of the index of ADL. Gerontol Spring 10:20–30

McGue M, Christensen K (2001) The heritability of cognitive functioning in very old adults: evidence from Danish twins aged 75 years and older. Psychol Aging 16:272–280

Mitnitski AB, Mogilner AJ, MacKnight C, Rockwood K (2002) The accumulation of deficits with age and possible invariants of aging. ScientificWorldJournal 2:1816–1822

Montesanto A, Lagani V, Martino C, Dato S, De Rango F, Berardelli M, Corsonello A, Mazzei B, Mari V, Lattanzio F, Conforti D, Passarino G (2010) A novel, population-specific approach to define frailty. Age 32:385–295

Mosing MA, Pedersen NL, Martin NG, Wright MJ (2010) Sex differences in the genetic architecture of optimism and health and their interrelation: a study of Australian and Swedish twins. Twin Res Hum Genet 13:322–329

Neale MC, Cardon LR, North Atlantic Treaty Organization, Scientific Affairs D (1992) Methodology for genetic studies of twins and families. Kluwer Academic Publishers, Dordrecht; Boston

Nybo H, Gaist D, Jeune B, Bathum L, McGue M, Vaupel JW, Christensen K (2001) The Danish 1905 cohort: a genetic-epidemiological nationwide survey. J Aging Health 13:32–46

Nybo H, Petersen HC, Gaist D, Jeune B, Andersen K, McGue M, Vaupel JW, Christensen K (2003) Predictors of mortality in 2,249 nonagenarians–the Danish 1905-Cohort Survey. J Am Geriatr Soc 51:1365–1373

Passarino G, Montesanto A, Dato S, Giordano S, Domma F, Mari V, Feraco E, De Benedictis G (2006) Sex and age specificity of susceptibility genes modulating survival at old age. Hum Hered 62:213–220

Passarino G, Montesanto A, De Rango F, Garasto S, Berardelli M, Domma F, Mari V, Feraco E, Franceschi C, De Benedictis G (2007) A cluster analysis to define human aging phenotypes. Biogerontology 8:283–290

Pedersen CB, Gøtzsche H, Møller JO, Mortensen PB (2006) The Danish Civil Registration System. A cohort of eight million persons. Dan Med Bull 53:441–449

Rockwood K, Song X, MacKnight C, Bergman H, Hogan DB, McDowell I, Mitnitski A (2005) A global clinical measure of fitness and frailty in elderly people. CMAJ 173:489–495

Rockwood K, Mitnitski A, Song X, Steen B, Skoog I (2006) Long-term risks of death and institutionalization of elderly people in relation to deficit accumulation at age 70. J Am Geriatr Soc 54:975–979

Sayehmiri K, Eshraghian MR, Mohammad K, Alimoghaddam K, Foroushani AR, Zeraati H, Golestan B, Ghavamzadeh A (2008) Prognostic factors of survival time after hematopoietic stem cell transplant in acute lymphoblastic leukemia patients: Cox proportional hazard versus accelerated failure time models. J Exp Clin Cancer Res 27:74

Schoenfeld D (1982) Partial residuals for the proportional hazards regression model. Biometrika 69:239–241

Stata Statistical Software (2005) College Station, TX: StataCorp LP release 9.

Swindell WR (2009) Accelerated failure time models provide a useful statistical framework for aging research. Exp Gerontol 44:190–200

Varadhan R, Seplaki CL, Xue QL, Bandeen-Roche K, Fried LP (2008) Stimulus-response paradigm for characterizing the loss of resilience in homeostatic regulation associated with frailty. Mech Ageing Dev 129:666–670

vB Hjelmborg J, Iachine I, Skytthe A, Vaupel JW, McGue M, Koskenvuo M, Kaprio J, Pedersen NL, Christensen K (2006) Genetic influence on human lifespan and longevity. Hum Genet 119:312–321

Visscher PM, Hill WG, Wray NR (2008) Heritability in the genomics era–concepts and misconceptions. Nat Rev Genet 9:255–266

Walston J, Hadley EC, Ferrucci L, Guralnik JM, Newman AB, Studenski SA, Ershler WB, Harris T, Fried LP (2006) Research agenda for frailty in older adults: toward a better understanding of physiology and etiology: summary from the American Geriatrics Society/National Institute on Aging Research Conference on Frailty in Older Adults. J Am Geriatr Soc 54:991–1001

Ward J (1963) Hierarchical grouping to optimize an objective function. J Am Stat Assoc 58:236–244

Woo J, Goggins W, Sham A, Ho SC (2005) Social determinants of frailty. Gerontology 51:402–408

Yates FE (2002) Complexity of a human being: changes with age. Neurobiol Aging 23:17–19
Acknowledgments
The work was supported by Fondi di Ateneo of the University of Calabria and grants from Danish National Research Foundation and NIH/NIA P01 AG08761. The Danish Aging Research Center is supported by a grant from the VELUX foundation. AM was supported financially by a fellowship (assegno di ricerca) of the University of Calabria. The authors declare that no competing interests exist.
Additional information
The authors Serena Dato and Alberto Montesanto equally contributed to the study.
Electronic supplementary material
Below is the link to the electronic supplementary material.
About this article
Cite this article
Dato, S., Montesanto, A., Lagani, V. et al. Frailty phenotypes in the elderly based on cluster analysis: a longitudinal study of two Danish cohorts. Evidence for a genetic influence on frailty. AGE 34, 571–582 (2012). https://doi.org/10.1007/s11357-011-9257-x
Received:

Accepted:

Published:

Issue Date:
Keywords
Frailty

Aging

Heritability

Twins