Abstract
Many investigations in recent years have targeted understanding the genetic and biochemical basis of aging. Collectively, genetic factors and biological mechanisms appear to influence longevity in general and specifically; reduction of the insulin/IGF-1 signaling cascade has extended life span in diverse species. Genetic alteration of mammals for life extension indicates correlation to serum IGF-1 levels in mice, and IGF-1 levels have been demonstrated as a physiological predictor of frailty with aging in man. Longevity and aging data in the dog offer a close measure of the natural multifactorial longevity interactions of genetic influence, IGF-1 signaling, and environmental factors such as exposure, exercise, and lifestyle. The absence of genetic alteration more closely represents the human longevity status, and the unique species structure of the canine facilitates analyses not possible in other species. These investigations aimed to measure serum IGF-1 in numerous purebred and mixed-breed dogs of variable size and longevity in comparison to age, gender, and spay/neuter differences. The primary objective of this investigation was to determine plasma IGF-1 levels in the adult dog, including a wide range of breeds and adult body weight. The sample set includes animals ranging from just a few months of age through 204 months and ranging in size from 5 to 160 lb. Four groups were evaluated for serum IGF-1 levels, including intact and neutered males, and intact and spayed females. IGF-1 loss over time, as a function of age, decreases in all groups with significant differences between males and females. The relationship between IGF-1 and weight differs depending upon spay/neuter status, but there is an overall increase in IGF-1 levels with increasing weight. The data, currently being interrogated further for delineation of IGF-1 receptor variants and sex differences, are being collected longitudinally and explored for longevity associations previously unavailable in non-genetically modified mammals.
This is a preview of subscription content,
to check access.
Access this article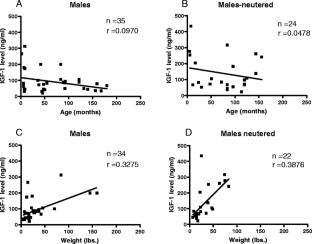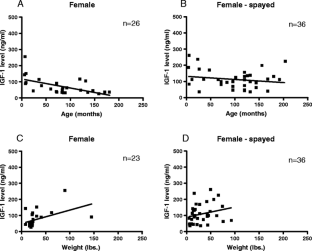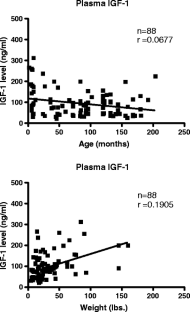 Similar content being viewed by others
References
Al-Regaiey KA, Masternak MM, Bonkowski M, Sun L, Bartke A (2005) Long-lived growth hormone receptor knockout mice: interaction of reduced insulin-like growth factor I/insulin signaling and caloric restriction. Endocrinology 146(2):851–860

Antebi A (2007) Genetic of aging in Caenorhabditis elegans. PLoS Genet 3:1565–1571

AVMA 2007: US Pet Ownership and Demographics Source Book; Center for Info. Management Staff; Center for Information Management American Veterinary Medical Association (June 15, 1997)

Barbieri M, Rizzo MR, Manzella D (2003) Glucose regulation and oxidative stress in healthy centenarians. Exp Gerontol 38:137–143

Bartke A (2005) Minireview: role of the growth hormone/insulin-like growth factor system in mammalian aging. Endo 146:3718–3723

Bartke A, Chandrashekar V, Dominici F, Turyn D, Kinney B, Steger R et al (2003) Insulin-like growth factor 1 (IGF-1) and aging: controversies and new insights. Biogerontology 4:1–8

Blüher M, Kahn BB, Kahn CR (2003) Extended longevity in mice lacking the insulin receptor in adipose tissue. Science 299:572

Brown-Borg HM, Borg KE, Meliska CJ, Bartke A (1996) Dwarf mice and the ageing process. Nature 384(6604):33

Campisi J (2008) Aging and cancer cell biology. Aging Cell 7:281–284

Cheng I, Stram DO, Penney KL, Pike M, Le Marchand L, Kolonel LN, Hirschhorn J, Altshuler D, Henderson BE, Freedman ML (2006) Common genetic variation in IGF1 and prostate cancer risk in the Multiethnic Cohort. J Natl Cancer Inst 98(2):123–134

Coile DC (2005) Encyclopedia of dog breeds. Barrons, New York

Colao A, Di Somma C, Cascella T, Pivonello R, Vitale G, Grasso LFS, Lombardi G, Svastano (2008) Relationships between serum IGF1 levels, blood pressure, and glucose tolerance: an observational, exploratory study in 404 subjects. Eur J Endo 159(4):389–397

Coschigano KT, Clemmons D, Bellush LL, Kopchick JJ (2000) Assessment of growth parameters and life span of GHR/BP gene-disrupted mice. Endocrinology 141(7):2608–2613

Deeb B, Wolf NS (1994) Studying longevity and morbidity in giant and small breeds of dogs. Vet Med (Suppl, Geriatric Medicine) 89:702–713

Eigenmann JE, Amador A, Patterson DF (1988) Insulin-like growth factor I levels in proportionate dogs, chondrodystrophic dogs and in giant dogs. Acta Endocrinol (Copenh) 118:105–108

Eigenmann JE, Patterson DF, Froesch ER (1984) Body size parallels insulin-like growth factor I levels but not growth hormone secretory capacity. Acta Endocrinol (Copenh) 106:448–453

Espinoza S, Walston JD (2005) Frailty in older adults: insights and interventions. Cleve Clin J Med 72:1105–1112

Favier RP, Mol JA, Kooistra HS, Rijnberk A (2001) Large body size in the dog is associated with transient GH excess at a young age. J Endocrinol 170:479–484

Flurkey K, Papaconstantinou J, Miller RA et al (2001) Lifespan extension and delayed immune and collagen aging in mutant mice with defects in growth hormone production. Proc Natl Acad Sci 98:6736–6741

Galis F, Van der Sluijs I, Van Dooren TJ, Metz JA, Nussbaumer M (2007) Do large dogs die young? J Exp Zoolog B Mol Dev Evol 308:119–126

Garofalo RS (2002) Genetic analysis of insulin signaling in Drosophila. Trends Endocrinol Metab 13:156–162

Greer KA, Canterberry SC, Murphy KE (2007) Statistical analysis regarding the effects of height and weight on life span of the domestic dog. Res Vet Sci 82:208–214

Hsieh CC, DeFord JH, Flurkey K, Harrison DE, Papaconstantinou J (2002) Implications for the insulin signaling pathway in Snell dwarf mouse longevity: a similarity with the C. elegans longevity paradigm. Mech Ageing Dev 123:1229–1244

Kapatkin AS, Arbittier G, Kass PH, Gilley RS, Smith GK (2007) Kinetic gait analysis of health dogs on two different surfaces. Vet Surg 36(6):605–608

Kimura K, Tissenbaum HA, Liu Y, Ruvkun G (1997) daf-2, an insulin receptor-like gene that regulates longevity and diapause in Caenorhabditis elegans. Science 277:942–946

Menezes Oliveira JL, Marques-Santos C, Barreto-Filho JA, Ximenes Filho R et al (2006) Lack of evidence of premature aatherosclerosis in untreated severe isolated growth hormone (GH) deficiency due to a GH-releasing hormone receptor mutation. J Clin Endocrinol Metab 91:2093–2099

Mihaylova VT, Borland CZ, Manjarrez L, Stern MJ, Sun H (1999) The PTEN tumor suppressor homolog in Caenorhabditis elegans regulates longevity and dauer formation in an insulin receptor-like signaling pathway. Proc Natl Acad Sci USA 96:7427–7432

Miller RA, Harper JM, Galecki A, Burke DT (2002) Big mice die young: early life body weight predicts longevity in genetically heterogeneous mice. Aging Cel 1:22–29

Morris JZ, Tissenbaum HA, Ruvkun G (1996) A phosphatidylinositol-3-OH kinase family member regulating longevity and diapause in Caenorhabditis elegans. Nature 382:536–539

Nap RC, Hazewinkel HAW, Mol JA (1994) Growth and growth hormone in the dog. Vet Q 16(Suppl 1):31S–32S

Ogg S, Paradis S, Gottlieb S, Patterson GI, Lee L, Tissenbaum HA, Ruvkun G (1997) The Fork head transcription factor DAF-16 transduces insulin-like metabolic and longevity signals in C. elegans. Nature 389:994–999

Paradis S, Ailion M, Toker A, Thomas JH, Ruvkun GA (1999) PDK1 homolog is necessary and sufficient to transduce AGE-1 PI3 kinase signals that regulate diapause in Caenorhabditis elegans. Genes Dev 13:1438–1

Paradis S, Ruvkun G (1998) Caenorhabditis elegans Akt/PKB transduces insulin receptor-like signals from AGE-1 PI3 kinase to the DAF-16 transcription factor. Genes Dev 12:2488–2498

Samaras TT (2009) Should we be concerned over increasing body height and weight? Exp Gerontol 44:83–92

Samaras TT, Elrick H, Storms LH (2003) Birthweight, rapid growth, cancer, and longevity: a review. J Natl Med Assoc 95:1170–1183

Shechter M, Ginsberg S, Scheinowitz M, Feinberg MS, Laron Z (2007) Obese adults with primary growth hormone resistance (Laron syndrome) have normal endothelial function. Growth Horm IGF Res 17:165–170

Shevah O, Laron Z (2007) Patients with congenital deficiency of IGF-1 seem protected from the development of malignancies: a preliminary report. Growth Horm IGF Res 17:54–57

Snibson KJ, Bhathal PS, Hardy CL, Brandon MR, Adams TE (1999) High, persistent hepatocellular proliferation and apoptosis precede hepatocarcinogenesis in growth hormone transgenic mice. Liver 19:242–252

Suh Y, Atzmon G, Cho MO, Hwang D, Liu B, Leahy DJ et al (2008) Functionally significant insulin-like growth factor I receptor mutations in centenarians. Proc Natl Acad Sci USA 105:3438–3442

Sutter NB, Bustamante CD, Chase K, Gray MM, Zhao K, Zhu L et al (2007) A single IGF1 allele is a major determinant of small size in dogs. Science 316:112–115

Taguchi A, White MF (2008) Insulin-like signaling, nutrient homeostasis, and life span. Annu Rev Physiol 70:191–212

Tatar M (2003) The endocrine regulation of aging by insulin-like signals. Science 299:1346–1351

Walston J (2004) Frailty—the search for underlying causes. Sci Aging Knowledge Environ 2004:pe4

Warner HR (2004) Current status of efforts to measure and modulate the biological rate of aging. Jour Geron A Bio Sci 59(7):692–696

Waters DJ, Kengeri SS, Clever B, Booth JA, Maras AH, Schlittler DL, Hayek MG (2009) Exploring mechanisms of sex differences in longevity: lifetime ovary exposure and exceptional longevity in dogs. Aging Cell 8(6):752–755
Acknowledgments
The authors would like to extend special thanks to Drs. Jeff Logue and Mark Stickney for their contributions to sample collection pertaining to these studies.
About this article
Cite this article
Greer, K.A., Hughes, L.M. & Masternak, M.M. Connecting serum IGF-1, body size, and age in the domestic dog. AGE 33, 475–483 (2011). https://doi.org/10.1007/s11357-010-9182-4
Received:

Accepted:

Published:

Issue Date:

DOI: https://doi.org/10.1007/s11357-010-9182-4
Keywords