Abstract
Calorie restriction (CR) slows aging and is thought to improve insulin sensitivity in laboratory animals. In contrast, decreased insulin signaling and/or mild insulin resistance paradoxically extends maximal lifespan in various genetic animal models of longevity. Nothing is known regarding the long-term effects of CR on glucose tolerance and insulin action in lean healthy humans. In this study we evaluated body composition, glucose, and insulin responses to an oral glucose tolerance test and serum adipokines levels in 28 volunteers, who had been eating a CR diet for an average of 6.9 ± 5.5 years, (mean age 53.0 ± 11 years), in 28 age-, sex-, and body fat-matched endurance runners (EX), and 28 age- and sex-matched sedentary controls eating Western diets (WD). We found that the CR and EX volunteers were significantly leaner than the WD volunteers. Insulin sensitivity, determined according to the HOMA-IR and the Matsuda and DeFronzo insulin sensitivity indexes, was significantly higher in the CR and EX groups than in the WD group (P = 0.001). Nonetheless, despite high serum adiponectin and low inflammation, ∼40% of CR individuals exhibited an exaggerated hyperglycemic response to a glucose load. This impaired glucose tolerance is associated with lower circulating levels of IGF-1, total testosterone, and triiodothyronine, which are typical adaptations to life-extending CR in rodents.
Access options
Buy single article
Instant access to the full article PDF.
US$ 39.95
Tax calculation will be finalised during checkout.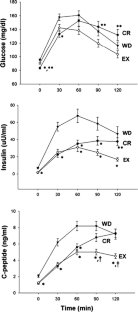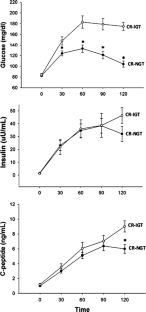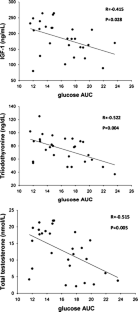 References
Allison DB, Paultre F, Maggio C, Mezzitis N, Pi-Sunyer FX (1995) The use of areas under curves in diabetes research. Diabetes Care 18:245–250

American Diabetes Association (2009) Diagnosis and classification of diabetes mellitus. Diabetes Care 32(Suppl 1):S62–S67

Barzilai N, Banerjee S, Hawkins M, Chen W, Rossetti L (1998) Caloric restriction reverses hepatic insulin resistance in aging rats by decreasing visceral fat. J Clin Invest 101:1353–1361

Basu R, Breda E, Oberg AL, Powell CC, Dalla Man C, Basu A, Vittone JL, Klee GG, Arora P, Jensen MD, Toffolo G, Cobelli C, Rizza RA (2003) Mechanisms of the age-associated deterioration in glucose tolerance: contribution of alterations in insulin secretion, action, and clearance. Diabetes 52:1738–1748

Bluher M, Kahn BB, Kahn CR (2003) Extended longevity in mice lacking the insulin receptor in adipose tissue. Science 299:572–574

Bodkin NL, Ortmeyer HK, Hansen BC (1995) Long-term dietary restriction in older-aged rhesus monkeys: effects on insulin resistance. J Gerontol A Biol Sci Med Sci 50:B142–B147

Cahill GF Jr (2006) Fuel metabolism in starvation. Annu Rev Nutr 26:1–22

Cefalu WT, Wagner JD, Wang ZQ, Bell-Farrow AD, Collins J, Haskell D, Bechtold R, Morgan T (1997) A study of caloric restriction and cardiovascular aging in cynomolgus monkeys (Macaca fascicularis): a potential model for aging research. J Gerontol A Biol Sci Med Sci 52:B10–B19

Cerami A (1985) Hypothesis: glucose as a mediator of aging. J Am Geriatr Soc 33:626–634

Coschigano KT, Riders ME, Bellush LL, Kopchick JJ (1999) Glucose metabolism in growth hormone receptor/binding protein gene disrupted mice. Annual Meeting, The Endocrine Society. Abstract P3, p. 553

Craig BW, Garthwaite SM, Holloszy JO (1987) Adipocyte insulin resistance: effects of aging, obesity, exercise, and food restriction. J Appl Physiol 62:95–100

Dominici FP, Hauck S, Argentino DP, Bartke A, Turyn D (2002) Increased insulin sensitivity and upregulation of insulin receptor, insulin receptor substrate (IRS)-1 and IRS-2 in liver of Ames dwarf mice. J Endocrinol 173:81–94

Dominici FP, Argentino DP, Bartke A, Turyn D (2003) The dwarf mutation decreases high dose insulin responses in skeletal muscle, the opposite of effects in liver. Mech Ageing Dev 124:819–827

Du K, Herzig S, Kulkarni RN, Montminy M (2003) TRB3: a tribbles homolog that inhibits Akt/PKB activation by insulin in liver. Science 300:1574–1577

Ebeling P, Bourey R, Koranyi L, Tuominen JA, Groop LC, Henriksson J, Mueckler M, Sovijärvi A, Koivisto VA (1993) Mechanism of enhanced insulin sensitivity in athletes. Increased blood flow, muscle glucose transport protein (GLUT-4) concentration, and glycogen synthase activity. J Clin Invest 92:1623–1631

Fontana L, Klein S (2007) Aging, adiposity, and calorie restriction. JAMA 297:986–994

Fontana L, Klein S, Holloszy JO, Premachandra BN (2006) Effect of long-term calorie restriction with adequate protein and micronutrients on thyroid hormones. J Clin Endocrinol Metab 91:3232–3235

Genuth S, Alberti KG, Bennett P, Buse J, Defronzo R, Kahn R, Kitzmiller J, Knowler WC, Lebovitz H, Lernmark A, Nathan D, Palmer J, Rizza R, Saudek C, Shaw J, Steffes M, Stern M, Tuomilehto J, Zimmet P, Expert Committee on the Diagnosis and Classification of Diabetes Mellitus (2003) Follow-up report on the diagnosis of diabetes mellitus. Diabetes Care 26:3160–3167

Gresl TA, Colman RJ, Roecker EB, Havighurst TC, Huang Z, Allison DB, Bergman RN, Kemnitz JW (2001) Dietary restriction and glucose regulation in aging rhesus monkeys: a follow-up report at 8.5 yr. Am J Physiol Endocrinol Metab 281:E757–E765

Holloszy JO (1997) Mortality rate and longevity of food-restricted exercising male rats: a reevaluation. J Appl Physiol 82:399–403

Holloszy JO (2005) Exercise-induced increase in muscle insulin sensitivity. J Appl Physiol 99:338–343

Hsieh CC, Papaconstantinou J (2004) Akt/PKB and p38 MAPK signaling, translational initiation and longevity in Snell dwarf mouse livers. Mech Ageing Dev 125:785–798

Hughes VA, Fiatarone MA, Fielding RA, Kahn BB, Ferrara CM, Shepherd P, Fisher EC, Wolfe RR, Elahi D, Evans WJ (1993) Exercise increases muscle GLUT-4 levels and insulin action in subjects with impaired glucose tolerance. Am J Physiol 264:E855–E862

Jensen MD, Haymond MW, Gerich JE, Cryer PE, Miles JM (1987) Lipolysis during fasting. Decreased suppression by insulin and increased stimulation by epinephrine. J Clin Invest 79:207–213

Kalant N, Stewart J, Kaplan R (1988) Effect of diet restriction on glucose metabolism and insulin responsiveness in aging rats. Mech Ageing Dev 46:89–104

Kemnitz JW, Roecker EB, Weindruch R, Elson DF, Baum ST, Bergmann RN (1994) Dietary restriction increases insulin sensitivity and lowers blood glucose in rhesus monkeys. Am J Physiol 266:E540–E547

Kohrt WM, Malley MT, Coggan AR, Spina RJ, Ogawa T, Ehsani AA, Bourey RE, Martin WH 3rd, Holloszy JO (1991) Effects of gender, age, and fitness level on the response of VO2max to training in 60- to 71-year olds. J Appl Physiol 71:2004–2011

Koyama H, Yamamoto H, Nishizawa Y (2007) RAGE and soluble RAGE: potential therapeutic targets for cardiovascular diseases. Mol Med 13:625–635

Kurosu H, Yamamoto M, Clark JD, Pastor JV, Nandi A, Gurnani P, McGuinness OP, Chikuda H, Yamaguchi M, Kawaguchi H, Shimomura I, Takayama Y, Herz J, Kahn CR, Rosenblatt KP, Kuro-o M (2005) Suppression of aging in mice by the hormone Klotho. Science 309:1829–1833

Lane MA, Ball SS, Ingram DK, Cutler RG, Engel J, Reed V, Roth GS (1995) Diet restriction in rhesus monkeys lowers fasting and glucose-stimulated glucoregulatory end points. Am J Physiol 268:E941–E948

Masoro EJ, McCarter RJM, Katz MS, McMahan CA (1992) Dietary restriction alters the characteristics of glucose fuel use. J Gerontol Biol Sci 47:B202–B208

Matsuda M, DeFronzo RA (1999) Insulin sensitivity indices obtained from oral glucose tolerance testing: comparison with the euglycemic insulin clamp. Diabetes Care 22:1462–1470

Matthews DR, Hosker JP, Rodenski AS, Naylor BA, Treacher DF, Turner RC (1985) Homeostasis model assessment: insulin resistance and β-cell function from fasting plasma glucose and insulin concentrations in man. Diabetologia 28:412–419

McCarter R, Mejia W, Ikeno Y, Monnier V, Kewitt K, Gibbs M, McMahan A, Strong R (2007) Plasma glucose and the action of calorie restriction on aging. J Gerontol A Biol Sci Med Sci 62:1059–1070

Meigs JB, Muller DC, Nathan DM, Blake DR, Andres R, Baltimore Longitudinal Study of Aging (2003) The natural history of progression from normal glucose tolerance to type 2 diabetes in the Baltimore Longitudinal Study of Aging. Diabetes 52:1475–1484

Páez-Espinosa EV, Rocha EM, Velloso LA, Boschero AC, Saad MJ (1999) Insulin-induced tyrosine phosphorylation of Shc in liver, muscle and adipose tissue of insulin resistant rats. Mol Cell Endocrinol 156:121–129

Reaven GM (1995) Pathophysiology of insulin resistance in human disease. Physiol Rev 75:473–486

Rao RH (1995) Adaptations in glucose homeostasis during chronic nutritional deprivation in rats: hepatic resistance to both insulin and glucagon. Metabolism 44:817–824

Salih DA, Brunet A (2008) FoxO transcription factors in the maintenance of cellular homeostasis during aging. Curr Opin Cell Biol 20:126–136

Selman C, Lingard S, Choudhury AI, Batterham RL, Claret M, Clements M, Ramadani F, Okkenhaug K, Schuster E, Blanc E, Piper MD, Al-Qassab H, Speakman JR, Carmignac D, Robinson IC, Thornton JM, Gems D, Partridge L, Withers DJ (2008) Evidence for lifespan extension and delayed age-related biomarkers in insulin receptor substrate 1 null mice. FASEB J 22:807–818

Taguchi A, Wartschow LM, White MF (2007) Brain IRS2 signaling coordinates life span and nutrient homeostasis. Science 317:369–372

Tahara Y, Shima K (1995) Kinetics of HbA1c, glycated albumin, and fructosamine and analysis of their weight functions against preceding plasma glucose level. Diabetes Care 18:440–447

Yu M, Blomstrand E, Chibalin AV, Wallberg-Henriksson H, Zierath JR, Krook A (2001) Exercise-associated differences in an array of proteins involved in signal transduction and glucose transport. J Appl Physiol 90:29–34

Wilkerson HL, Hyman H, Kaufman M, McCuistion AC, Francis JO (1960) Diagnostic evaluation of oral glucose tolerance tests in nondiabetic subjects after various levels of carbohydrate intake. N Engl J Med 262:1047–1053
Acknowledgements
We are grateful to the study participants for their cooperation and to the staff of the Applied Physiology Laboratory and nurses of the General Clinical Research Center at WUMS for their skilled assistance. The study design was developed by LF and JOH; data collection was performed and supervised by LF; data analyses and interpretation were performed by LF, SK, and JOH; writing was performed by LF, SK, and JOH. LF had full access to all of the data in the study and takes responsibility for the integrity of the data and the accuracy of the data analysis. All the authors declare that they participated in the study as mentioned above and that they reviewed and approved the manuscript in its final version.
Financial disclosures
The author had no conflicts of interest.
Funding/support
This study was supported by Grant Number UL1 RR024992 from the National Center for Research Resources (a component of the National Institutes of Health and NIH Roadmap for Medical Research), by Istituto Superiore di Sanità/National Institutes of Health Collaboration Program Grant, a grant from the Longer Life Foundation (an RGA/Washington University Partnership), and a donation from the Scott and Annie Appleby Charitable Trust.
Role of the sponsor
The funding agencies had no role in the analysis or interpretation of the data or in the decision to submit the report for publication.
About this article
Cite this article
Fontana, L., Klein, S. & Holloszy, J.O. Effects of long-term calorie restriction and endurance exercise on glucose tolerance, insulin action, and adipokine production. AGE 32, 97–108 (2010). https://doi.org/10.1007/s11357-009-9118-z
Received:

Accepted:

Published:

Issue Date:
Keywords
Calorie restriction

Endurance exercise

Glucose tolerance

Insulin action

Adipokines

Glycation