Abstract
Microplastics, such as polystyrene microplastics (PS-MPs), have become an emerging environmental hazard for animals and humans. Long-term exposure to PS-MPs has led to neurotoxicity, reproductive dysfunction, and carcinogenesis. The goal of this study was to evaluate the effect of sub-chronic exposure of PS-MPs on metabolic and reproductive functions in female rats. The PS-MPs were prepared by cryogenic technique. The PS-MPs were given orally to female Wistar rats for 45 days at 2.5, 5, and 10 mg/kg/day. The average PS-MPs' size diameter was 876 nm. The PS-MPs administration resulted in a significant decrease in the activity of superoxide dismutase and catalase in the liver and ovary. The effect of PS-MPs on reduced glutathione and lipid peroxidation in the liver and ovarian tissues of rats was statistically insignificant. The PS-MP exposure exhibited an increase in the levels of triglycerides, total cholesterol, and low-density lipoprotein and decrease in high-density lipoprotein. The PS-MPs caused glucose intolerance and increase in insulin. Moreover, the PS-MP exposure increased follicle stimulating hormone, estradiol, and testosterone. Serum level of interleukin-6 and nuclear factor kappa B (NF-κB) was elevated in animals treated with PS-MPs. The PS-MP exposed rats showed normal ovarian histology, but activated hepatic stellate cells and liver fibrosis. It is concluded that the sub-chronic exposure to PS-MPs resulted in metabolic and endocrine disruption in female rats through oxidative damage, hormonal imbalance, and chronic inflammation.
Access options
Buy single article
Instant access to the full article PDF.
USD 39.95
Price excludes VAT (USA)
Tax calculation will be finalised during checkout.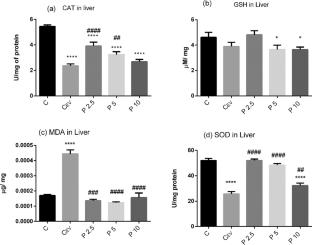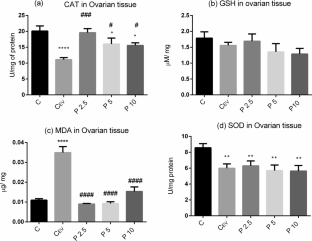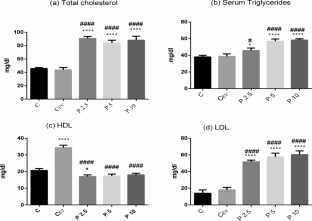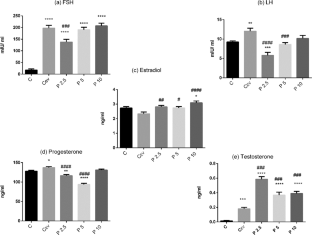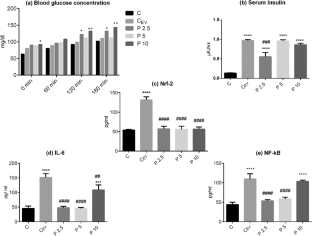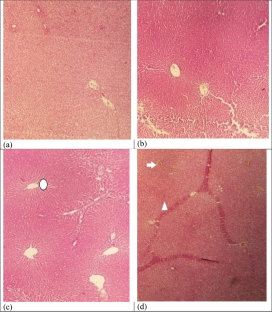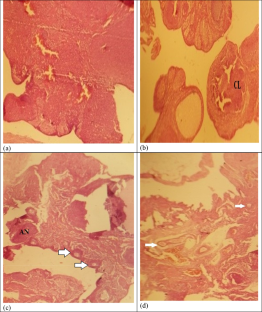 Data availability
All data are available with the author and will be made available on reasonable request.
References
Abtahi-Eivari SH, Moghimian M, Soltani M, Shoorei H, Asghari R, Hajizadeh H, Shokoohi M, Alami S, Ghaderi FK (2018) The effect of Galega officinalis on hormonal and metabolic profile in a rat model of polycystic ovary syndrome. Intl J Womens Health Reprod Sci 6:276–282

Akhtar MF, Younas S, Saleem A, Baig MMFA, Sharif A, Abdel-Daim MM, Rasul A, Saleem M (2021a) Maternotoxicity and fetotoxicity in Rattus norvegicus albinus exposed to tramadol during the late phase of pregnancy. Birth Defects Res 113:1407–1421

Akhtar MF, Zubair S, Saleem A, Alsharif KF, Abdel-Daim MM (2021b) Comparison of individual and combination treatments with naproxen, prednisolone and hydroxychloroquine to treat complete Freund's adjuvant induced arthritis. Inflammopharmacology 29:1719–1731

Amereh F, Babaei M, Eslami A, Fazelipour S, Rafiee M (2020) The emerging risk of exposure to nano (micro) plastics on endocrine disturbance and reproductive toxicity: from a hypothetical scenario to a global public health challenge. Environ Pollut 261:114158

Amini L, Ghorbani B, Afshar B (2020) The comparison of infertility stress and perceived social support in infertile women and spouses of infertile men. Iran J Nurs 32:74–85

An R, Wang X, Yang L, Zhang J, Wang N, Xu F, Hou Y, Zhang H, Zhang L (2021) Polystyrene microplastics cause granulosa cells apoptosis and fibrosis in ovary through oxidative stress in rats. Toxicology 449:152665

Astner A, Hayes D, O'Neill H, Evans B, Pingali S, Urban V, Young T (2019) Mechanical formation of micro-and nano-plastic materials for environmental studies in agricultural ecosystems. Sci Total Environ 685:1097–1106

Avio CG, Gorbi S, Milan M, Benedetti M, Fattorini D, d'Errico G, Pauletto M, Bargelloni L, Regoli F (2015) Pollutants bioavailability and toxicological risk from microplastics to marine mussels. Environ Pollut 198:211–222

Balci A, Ozkemahli G, Erkekoglu P, Zeybek ND, Yersal N, Kocer-Gumusel B (2020) Histopathologic, apoptotic and autophagic, effects of prenatal bisphenol A and/or di(2-ethylhexyl) phthalate exposure on prepubertal rat testis. Environ Sci Pollut Res 27:20104–20116

Bhangale JO, Acharya SR (2016): Anti-Parkinson activity of petroleum ether extract of Ficus religiosa (L.) leaves. Advances in pharmacological sciences 2016

Bilal M, Iqbal HMN, Barceló D (2019) Mitigation of bisphenol A using an array of laccase-based robust bio-catalytic cues – a review. Sci Total Environ 689:160–177

Bin-Jumah MN, Al-Huqail AA, Abdelnaeim N, Kamel M, Fouda MMA, Abulmeaty MMA, Saadeldin IM, Abdel-Daim MM (2021) Potential protective effects of Spirulina platensis on liver, kidney, and brain acrylamide toxicity in rats. Environ Sci Pollut Res 28:26653–26663

Browne MA, Crump P, Niven SJ, Teuten E, Tonkin A, Galloway T, Thompson R (2011) Accumulation of microplastic on shorelines woldwide: sources and sinks. Environ Sci Technol 45:9175–9179

Caglayan C, Kandemir FM, Yıldırım S, Kucukler S, Kılınc MA, Saglam YS (2018) Zingerone ameliorates cisplatin-induced ovarian and uterine toxicity via suppression of sex hormone imbalances, oxidative stress, inflammation and apoptosis in female wistar rats. Biomed Pharmacother 102:517–530

Capdevila S, Giral M, Ruiz de La Torre J, Russell R, Kramer K (2007) Acclimatization of rats after ground transportation to a new animal facility. Lab Anim 41:255–261

Chen Q, Gundlach M, Yang S, Jiang J, Velki M, Yin D, Hollert H (2017) Quantitative investigation of the mechanisms of microplastics and nanoplastics toward zebrafish larvae locomotor activity. Sci Total Environ 584:1022–1031

Chiu H-W, Xia T, Lee Y-H, Chen C-W, Tsai J-C, Wang Y-J (2015) Cationic polystyrene nanospheres induce autophagic cell death through the induction of endoplasmic reticulum stress. Nanoscale 7:736–746

Cole M, Lindeque P, Halsband C, Galloway TS (2011) Microplastics as contaminants in the marine environment: a review. Mar Pollut Bull 62:2588–2597

Cox KD, Covernton GA, Davies HL, Dower JF, Juanes F, Dudas SE (2019) Human consumption of microplastics. Environ Sci Technol 53:7068–7074

Crawford C, Quinn B (2017): The interactions of microplastics and chemical pollutants. Microplastic pollutants, 131–157

Deshpande PS, Gupta AS (2019) Causes and prevalence of factors causing infertility in a public health facility. J Human Reprod Sci 12:287

Ensign LM, Cone R, Hanes J (2012) Oral drug delivery with polymeric nanoparticles: the gastrointestinal mucus barriers. Adv Drug Deliv Rev 64:557–570

Eriksen M, Lebreton LC, Carson HS, Thiel M, Moore CJ, Borerro JC, Galgani F, Ryan PG, Reisser J (2014) Plastic pollution in the world's oceans: more than 5 trillion plastic pieces weighing over 250,000 tons afloat at sea. PLoS ONE 9:e111913

Forte M, Iachetta G, Tussellino M, Carotenuto R, Prisco M, De Falco M, Laforgia V, Valiante S (2016) Polystyrene nanoparticles internalization in human gastric adenocarcinoma cells. Toxicol in Vitro 31:126–136

Fried JR (2014): Polymer science and technology. Pearson Education

Geiser M, Rothen-Rutishauser B, Kapp N, Schürch S, Kreyling W, Schulz H, Semmler M, Hof VI, Heyder J, Gehr P (2005) Ultrafine particles cross cellular membranes by nonphagocytic mechanisms in lungs and in cultured cells. Environ Health Perspect 113:1555–1560

Germoush MO, Fouda MMA, Kamel M, Abdel-Daim MM (2022) Spirulina platensis protects against microcystin-LR-induced toxicity in rats. Environ Sci Pollut Res 29:11320–11331

Ghowsi M, Khazali H, Sisakhtnezhad S (2018) Evaluation of TNF-α and IL-6 mRNAs expressions in visceral and subcutaneous adipose tissues of polycystic ovarian rats and effects of resveratrol. Iran J Basic Med Sci 21:165

Guzzetti E, Sureda A, Tejada S, Faggio C (2018) Microplastic in marine organism: environmental and toxicological effects. Environ Toxicol Pharmacol 64:164–171

Hussain MA, Abogresha NM, Hassan R, Tamany DA, Lotfy M (2016) Effect of feeding a high-fat diet independently of caloric intake on reproductive function in diet-induced obese female rats. Arch Med Sci: AMS 12:906

Iftikhar A, Akhtar MF, Saleem A, Riaz A, Zehravi M, Rahman M, Md Ashraf G Comparative potential of zinc sulfate, l-carnitine, lycopene, and coenzyme Q10 on cadmium-induced male infertility. Intl J Endocrinol 2022, 1–11

Ijaz MU, Shahzadi S, Samad A, Ehsan N, Ahmed H, Tahir A, Rehman H, Anwar H (2021) Dose- dependent effect of polystyrene microplastics on the testicular tissues of the male Sprague Dawley Rats. Dose-Response 19:15593258211019882

Jin H, Ma T, Sha X, Liu Z, Zhou Y, Meng X, Chen Y, Han X, Ding J (2021) Polystyrene microplastics induced male reproductive toxicity in mice. J Hazard Mater 401:123430

Kabir MT, Rahman MH, Akter R, Behl T, Kaushik D, Mittal V, Pandey P, Akhtar MF, Saleem A, Albadrani GM, Kamel M, Khalifa SAM, El-Seedi HR, Abdel-Daim MM (2021) Potential role of curcumin and its nanoformulations to treat various types of cancers. Biomolecules 11:392

Kirici M, Turk C, Caglayan C, Kirici M (2017) Toxic effects of copper sulphate pentahydrate on antioxidant enzyme activities and lipid peroxidation of freshwater fish Capoeta umbla (Heckel, 1843) tissues. Appl Ecol Environ Res 15:1685–1696

Kosuth M, Mason SA, Wattenberg EV (2018) Anthropogenic contamination of tap water, beer, and sea salt. PLoS ONE 13:e0194970

Kumar MV, Gupta Y (2002) Effect of different extracts of Centella asiatica on cognition and markers of oxidative stress in rats. J Ethnopharmacol 79:253–260

Lehner R, Weder C, Petri-Fink A, Rothen-Rutishauser B (2019) Emergence of nanoplastic in the environment and possible impact on human health. Environ Sci Technol 53:1748–1765

Li J, Qu X, Su L, Zhang W, Yang D, Kolandhasamy P, Li D, Shi H (2016) Microplastics in mussels along the coastal waters of China. Environ Pollut 214:177–184

Lingappan K (2018) NF-κB in oxidative stress. Curr Opin Toxicol 7:81–86

Lodge TP (2017): Celebrating 50 years of macromolecules. ACS Publications

Lokind KB, Lorenzen FH, Bundgaard H (1991) Oral bioavailability of 17β-estradiol and various ester prodrugs in the rat. Int J Pharm 76:177–182

Lu Y, Zhang Y, Deng Y, Jiang W, Zhao Y, Geng J, Ding L, Ren H (2016) Uptake and accumulation of polystyrene microplastics in zebrafish (Danio rerio) and toxic effects in liver. Environ Sci Technol 50:4054–4060

Manikkam M, Tracey R, Guerrero-Bosagna C, Skinner MK (2013) Plastics derived endocrine disruptors (BPA, DEHP and DBP) induce epigenetic transgenerational inheritance of obesity, reproductive disease and sperm epimutations. PLoS ONE 8:e55387

Mansouri E, Panahi M, Ghaffari MA, Ghorbani A (2011) Effects of grape seed proanthocyanidin extract on oxidative stress induced by diabetes in rat kidney. Iran Biomed J 15:100

Masjedi A, Hashemi V, Hojjat-Farsangi M, Ghalamfarsa G, Azizi G, Yousefi M, Jadidi-Niaragh F (2018) The significant role of interleukin-6 and its signaling pathway in the immunopathogenesis and treatment of breast cancer. Biomed Pharmacother 108:1415–1424

Mirabolghasemi G, Kamyab Z (2017) Changes of the uterine tissue in rats with polycystic ovary syndrome induced by estradiol valerate. Intl J Fertil Steril 11:47

Mohammed ET, Hashem KS, Ahmed AE, Aly MT, Aleya L, Abdel-Daim MM (2020) Ginger extract ameliorates bisphenol A (BPA)-induced disruption in thyroid hormones synthesis and metabolism: involvement of Nrf-2/HO-1 pathway. Sci Total Environ 703:134664

Park E-J, Han J-S, Park E-J, Seong E, Lee G-H, Kim D-W, Son H-Y, Han H-Y, Lee B-S (2020) Repeated-oral dose toxicity of polyethylene microplastics and the possible implications on reproduction and development of the next generation. Toxicol Lett 324:75–85

Piringer OG, Baner AL (2008) Plastic packaging materials for food: barrier function, mass transport, quality assurance, and legislation. John Wiley & Sons

Pitt JA, Kozal JS, Jayasundara N, Massarsky A, Trevisan R, Geitner N, Wiesner M, Levin ED, Di Giulio RT (2018) Uptake, tissue distribution, and toxicity of polystyrene nanoparticles in developing zebrafish (Danio rerio). Aquat Toxicol 194:185–194

Prata JC, da Costa JP, Lopes I, Duarte AC, Rocha-Santos T (2020) Environmental exposure to microplastics: an overview on possible human health effects. Sci Total Environ 702:134455

Rossi G, Barnoud J, Monticelli L (2014) Polystyrene nanoparticles perturb lipid membranes. J Phys Chem Lett 5:241–246

Saleem A, Akhtar MF, Latif A, Abdel-Daim MM, Baig MMFA, Saleem M, Mehmood MH (2021): Chemical characterisation and appraisal of antidiabetic potential of Terminalia citrina extract in streptozotocin induced hyperglycaemia in Wistar rats. Arch Physiol Biochem, 1–14

Saleem A, Khalid H, Akhtar MF, Zeb A (2022) HPLC-DAD analysis, anti-inflammatory and anti-arthritic potentials of Coronopus didymus (L.) Sm. extracts: effects on pro-and anti-inflammatory cytokines, COX-2, I-κβ, NF-κβ and oxidative stress biomarkers. Food Funct 13:6244–6258

Sharif Z, Akhtar MF, Sharif H, Saleem A, Khan MI, Riaz A (2022) Endocrine disruption: reproductive toxicity of glyceryl trinitrate and isosorbide mononitrate in male Wistar rats. Andrologia 54:e14482

Shen M, Lin F, Zhang J, Tang Y, Chen W-K, Liu H (2012) Involvement of the up-regulated FoxO1 expression in follicular granulosa cell apoptosis induced by oxidative stress. J Biol Chem 287:25727–25740

Tan H, Yue T, Xu Y, Zhao J, Xing B (2020) Microplastics reduce lipid digestion in simulated human gastrointestinal system. Environ Sci Technol 54:12285–12294

Van den Berghe G (1991) The role of the liver in metabolic homeostasis: implications for inborn errors of metabolism. J Inherit Metab Dis 14:407–420

Velma V, Tchounwou PB (2010) Chromium-induced biochemical, genotoxic and histopathologic effects in liver and kidney of goldfish, Carassius auratus. Mutation Research/genetic Toxicology and Environmental Mutagenesis 698:43–51

Wang T, Bai J, Jiang X, Nienhaus GU (2012) Cellular uptake of nanoparticles by membrane penetration: a study combining confocal microscopy with FTIR spectroelectrochemistry. ACS Nano 6:1251–1259

Wei Z, Wang Y, Wang S, Xie J, Han Q, Chen M (2022) Comparing the effects of polystyrene microplastics exposure on reproduction and fertility in male and female mice. Toxicology 465:153059

West-Eberhard MJ (2019) Nutrition, the visceral immune system, and the evolutionary origins of pathogenic obesity. Proc Natl Acad Sci 116:723–731

Yacobi NR, DeMaio L, Xie J, Hamm-Alvarez SF, Borok Z, Kim K-J, Crandall ED (2008) Polystyrene nanoparticle trafficking across alveolar epithelium. Nanomedicine: Nanotechnology. Biology and Medicine 4:139–145

Yeon Lee J, Baw C-K, Gupta S, Aziz N, Agarwal A (2010) Role of oxidative stress in polycystic ovary syndrome. Curr Women's Health Rev 6:96–107

Zulfqar F, Akhtar MF, Saleem A, Akhtar B, Sharif A, Saleem U (2020) Chemical characterization, antioxidant evaluation, and antidiabetic potential of Pinus gerardiana (Pine nuts) extracts. J Food Biochem 44:e13199
Ethics declarations
Ethical approval
The study was certified by the Ethics Committee of Riphah International University, Lahore Reference No. REC/RIPS-LHR/2022/518. Furthermore, to minimize animal suffering, National Institute of Health (NIH) guidelines were followed for the experimental methodologies.
Consent to participate
Not applicable.
Consent for publication
Not applicable.
Competing interests
The authors declare no competing interests.
Additional information
Responsible Editor: Mohamed M. Abdel-Daim
Publisher's note
Springer Nature remains neutral with regard to jurisdictional claims in published maps and institutional affiliations.
Rights and permissions
Springer Nature or its licensor (e.g. a society or other partner) holds exclusive rights to this article under a publishing agreement with the author(s) or other rightsholder(s); author self-archiving of the accepted manuscript version of this article is solely governed by the terms of such publishing agreement and applicable law.
About this article
Cite this article
Saeed, A., Akhtar, M.F., Saleem, A. et al. Reproductive and metabolic toxic effects of polystyrene microplastics in adult female Wistar rats: a mechanistic study. Environ Sci Pollut Res 30, 63185–63199 (2023). https://doi.org/10.1007/s11356-023-26565-6
Received:

Accepted:

Published:

Issue Date:

DOI: https://doi.org/10.1007/s11356-023-26565-6
Keywords