Abstract
The practice of open defecation has persistently remained high in Nigeria despite the grave danger it poses to public and environmental health, and the several intervention programs put in place over the years to curtail the ugly practice. This study quantifies the space and time trends in open defecation practice in Nigeria with the aim of highlighting the changes that have taken place at various locations in Nigeria over a 15-year period. A Bayesian spatio-temporal model was applied to cross-section data obtained from the Nigeria Demographic and Health Survey conducted in 2003, 2008, 2013, and 2018, and inference was based on integrated nested Laplace approximation technique. The findings indicate a north-south spatio-temporal patterns that are similar among the rural and urban dwellers. States such as Kwara, Kogi, Oyo, Ondo, Osun, Ekiti, Enugu, and Ebonyi all of which are neighbors to each other are among those with persistent high prevalence of open defecation in the country. Given the diversity of the Nigerian population groups within the states, a more understanding of the socio-cultural standard of the different communities would be required to implement policies that recognize opportunities to explore, while being culturally responsive to community needs in ending open defecation in Nigeria.
Access options
Buy single article
Instant access to the full article PDF.
USD 39.95
Price excludes VAT (USA)
Tax calculation will be finalised during checkout.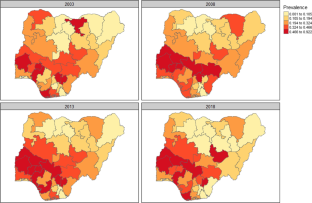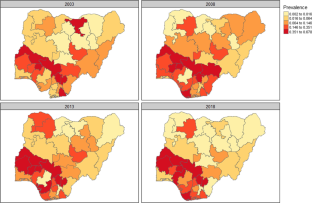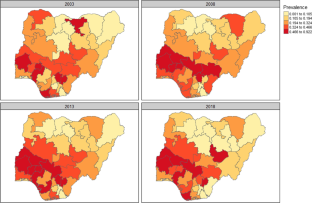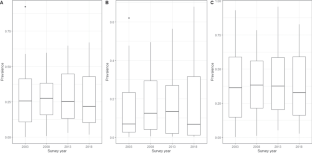 Data Availability
The data set used for the study is freely available upon request from The DHS Program at www.dhsprogram.com. The code used can be made available to individuals upon reasonable request.
References
Abramovsky L, Augsburg B, Oteiza F (2019) Sustainable Total Sanitation - Nigeria: Final Research Report

Abramovsky A, Augsburg B, Oteiza F, Flynn E (2016) Improving CLTS targeting: Evidence from Nigeria. Economic and Social Research Council (ESRC), Institute for Fiscal Studies and WaterAid

Abubakar IR, Dano UL (2018) Socioeconomic challenges and opportunities of urbanization in Nigeria. IGI Global, pp 219–240

Abubakar I (2017) Access to Sanitation Facilities among Nigerian Households: Determinants and Sustainability Implications. Sustainability 9:1–17

Abubakar IR (2018) Exploring the determinants of open defecation in Nigeria using demographic and health survey data. Sci Total Environ 637–638:1455–1465

Blangiardo M, Cameletti M (2015) Spatial and Spatio-temporal Bayesian Models with R-INLA, vol 1. Wiley

Busienei PJ, Ogendi GM, Mokua MA (2019) Open defecation practices in Lodwar Kenya: A mixed-methods research. Environ Health Insight

CLTS (2015) Community-Led Total Sanitation: Nigeria. CLTS Knowledge Hub

CNA (2017) The Role of Water Stress in Instability and Conflict

Crocker J, Saywell D, Bartram J (2017) Sustainability of community-led total sanitation outcomes: Evidence from Ethiopia and Ghana. Int J Hyg Environ Health 220:551–557

Desai R, McFarlane C, Graham S (2015) The politics of open defecation: informality, body, and infrastructure in mumbai. Antipode 47:98–120

Effiong AN (2013) Policy Implementation and its Challenges in Nigeria. Int J Adv Leg Stud Governance 4:26–31

Egbon OA, Somo-Aina O, Gayawan E (2021) Spatial weighted analysis of malnutrition among children in nigeria: A bayesian approach. Stat Biosci 13(3):495–523

Ezeh A, Kissling F, Singer P (2020) Why sub-Saharan Africa might exceed its projected population size by 2100. Lancet 396:1131–1133

FMWR, NBS and UNICEF (2020) Water, Sanitation and Hygiene: National Outcome Routine Mapping (WASH NORM) 2019: A Report of Findings. Federal Ministry of Water Resources (FMWR), Government of Nigeria, National Bureau of Statistics (NBS) and UNICEF, FCT Abuja

FMWR (2016) Making Nigeria Open-Defecation-Free by 2025: A National Road Map. Federal Ministry of Water Resources (FMWR), Abuja

Food and Agriculture Organization of the United Nations (2017) Lake Chad Basin: a crisis rooted in hunger, poverty and lack of rural development

Galan D, Kim S, Graham J (2013) Exploring changes in open defecation prevalence in sub-Saharan Africa based on national level indices. BMC Public Health 13:1–12

Gayawan E, Adebayo SB, Komolafe AA, Akomolafe AA (2019) Spatial distribution of malnutrition among children under five in nigeria: A bayesian quantile regression approach. Appl Spat Anal Policy 12(2):229–254

Gayawan E, Adebayo SB, Waldmann E (2019) Modeling the spatial variability in the spread and correlation of childhood malnutrition in nigeria. Stat Med 38(10):1869–1890

Gbadegesin OA, Akintola SO (2020) A legal approach to winning the 'wash' war in Nigeria. Eur J Environ Pub Health 4:1–9

Gertler P, Shah M, Alzua ML, Cameron L, Martinez S, Patil S (2015) How does health promotion work? Evidence from the dirty business of eliminating open defecation

Giribabu D, Bharadwaj P, Sitiraju R, Burra M, Rao PP, Reddy CS (2019) Combating open defecation through community-led sanitation. Dr Sulaiman Al Habib Med J 1(3–4):45–51

Kashiwase H (2019) Open defecation nearly halved since 2000 but is still practiced by 670 million. World Bank Blogs

Khandelwal S, Tamboli P, Madhup S, Dandabathula G (2020) Assessment of swachh bharat mission-clean india campaign's contribution in combating violence against women. Int J Gend Women's Stud 8:143–154

LIXIL and Oxford Economics (2016) The true cost of poor sanitation, in collaboration with Water Aid

Malik MI, Nawaz SMN, Nadeem M (2021) Overcoming open defecation for healtheir environment in the case of Pakistan. Environ Sci Pollut Res

Maqbool N, Shahid M, Khan S (2022) Situational assessment for fecal sludge management in major cities of pakistan. Environ Sci Pollut Res 1–12

Ngwu U (2017) The practice of open defecation in rural communities in Nigeria: a call for social and behaviour change communication intervention. Int J Commun Res 7:201–206

Njuguna J (2019) Progress in sanitation among poor households in kenya: evidence from demographic and health surveys. BMC Public Health 19

NPC, ICF (2014) Nigeria Demographic and Health Survey 2018. National Population Commission, Federal Republic of Nigeria, Abuja, and ICF International, Rockville

NPC, ICF (2018) Nigeria Demographic and Health Survey 2018. National Population Commission, Federal Republic of Nigeria, Abuja, and ICF International, Rockville

Nwokoro UU, Ugwa O, Onwuliri CD, Obi IF, Ngozi MO, Agunwa C (2020) Water, sanitation and hygiene risk factors associated with diarrhoea morbidity in a rural community of enugu, south east nigeria. Pan Afr Med J 37

Okpala A (1990) Nigerian population growth and its implications for economic development. Scand J Dev Altern 9:63–77

Oluwatuyi S, Ogunyemi K, Sam-Ijadele O, Dada O, Bello M, Agbele A, Olusuyi A (2020) A Dive into the Challenges of Community-Led Total Sanitation [CLTS] in Nigeria. Int J Res Sci Innov (IJRSI) 7:33–37

Rahman MHU, Malik MA, Chauhan S, Patel R, Singh A, Mittal A (2020) Examining the linkage between open defecation and child malnutrition in india. Child Youth Serv Rev 117:105345

Rue H, Martino S, Chopin N (2009) Approximate Bayesian inference for latent gaussian model by using integrated nested laplace approximation (with discussion). J R Stat Soc Ser B 71:319–392

Saleem M, Burdett T, Heaslip V (2019) Health and social impacts of open defecation on women: a systematic review. BMC Public Health 19

Sengupta S, Verma S, Kazmi S (2018) Bottom to the fore: Rural sanitation in sub-saharan africa. Centre for Science and Environment, New Delhi

Somo-Aina O, Gayawan E (2019) Structured additive distributional hurdle Poisson modelling of individual fertility levels in Nigeria. Genus 75:1–16

UN, (2019) Transformational benefits of ending outdoor defecation: Why toilets matter. Global perspective human stories, UN News

UNICEF (2018) UNICEF's game plan to end open defecation The state of the world's sanitation. United Nations Children's Fund (UNICEF) Programme Division/WASH, New York

UNICEF (2021) World toilet day sees limited progress in nigerians' access to sanitation services

UNICEF/WHO (2019) Progress on household drinking water, sanitation and hygiene 2000-2017: Special focus on inequalities

UNICEF/WHO (2020) State of the World's Sanitation: An urgent call to transform sanitation for better health, environments, economies and societies. United Nations Children's Fund (UNICEF) and World Health Organization, New York

United Nations (2017) World Population Prospects: The 2017 Revision. Key Findings and Advance, Department of Economic and Social Affairs, Population Division

WHO/UNICEF (2021) Progress on household drinking water, sanitation, and hygiene: 2000-2020 five years into the sdgs

WHO/UNICEF Joint Monitoring Program for Water Supply and Sanitation (2011) A Snapshot of Sanitation and Open Defecation in Africa - 2010 Update

World Bank (2011) World Bank Development Report 2011: Conflict, Security, and Development

WSP World Bank (2012) Economic Impacts of Poor Sanitation in Africa: Nigeria. Water and Sanitation Program (WSP)

Yaya S, Hudani A, Udenigwe O, Shah V, Ekholuenetale M, Bishwajit G (2018) Improving water, sanitation and hygiene practices, and housing quality to prevent diarrhea among under-five children in nigeria. Trop Med Infect Dis 3(2):41
Ethics declarations
Ethical approval
The study used a secondary data collected as part of the Demographic and Health Survey and available upon request at www.dhsprogram.com.
Consent to participate
Not applicable
Consent for publication
Not applicable
Competing interests
The authors declare no competing interests.
Additional information
Responsible editor: Philippe Garrigues.
Publisher's Note
Springer Nature remains neutral with regard to jurisdictional claims in published maps and institutional affiliations.
Rights and permissions
Springer Nature or its licensor (e.g. a society or other partner) holds exclusive rights to this article under a publishing agreement with the author(s) or other rightsholder(s); author self-archiving of the accepted manuscript version of this article is solely governed by the terms of such publishing agreement and applicable law.
About this article
Cite this article
Gayawan, E., Somo-Aina, O. & Kuti, O. Analysis of the space-time trends in open defecation in Nigeria. Environ Sci Pollut Res 30, 68524–68535 (2023). https://doi.org/10.1007/s11356-023-26161-8
Received:

Accepted:

Published:

Issue Date:

DOI: https://doi.org/10.1007/s11356-023-26161-8
Keywords