Abstract
Uranium (U) is an important strategic resource as well as a heavy metal element with both chemical and radiotoxicity. At present, the rapid and efficient removal of uranium from wastewater remains a huge challenge for environmental protection and ecological security. In this paper, phosphate-modified biochar supporting nano zero-valent iron (PBC/nZVI) was triumphantly prepared and fully characterized. The introduction of polyphosphate can greatly increase the specific surface area of biochar pores, and then the zero-valent iron can be evenly distributed on the surface of material, thus leading to excellent removal performance of the PBC/nZVI for U(VI). The theoretical maximum U(VI) removal capacity of PBC/nZVI was up to 967.53 mg/g at pH 5. The results of adsorption kinetics, isotherm, and thermodynamics showed that the adsorption of uranium by PBC/nZVI was a monolayer physical adsorption and endothermic reaction. And the PBC/nZVI has favorable selectivity toward uranium against the interference of coexisting metal ions. Further mechanism studies show that the excellent uranium removal performance of PBC/nZVI is mainly attributed to the synergistic effect of physical adsorption and chemical reduction. This work proves that the PBC/nZVI has a wide application prospect in the field of uranium wastewater treatment.
Access options
Buy single article
Instant access to the full article PDF.
USD 39.95
Price excludes VAT (USA)
Tax calculation will be finalised during checkout.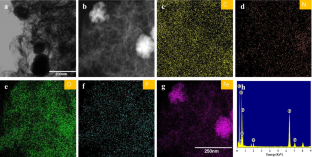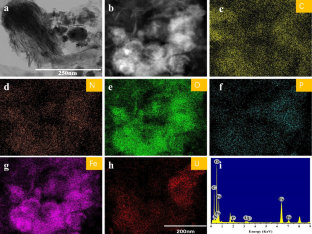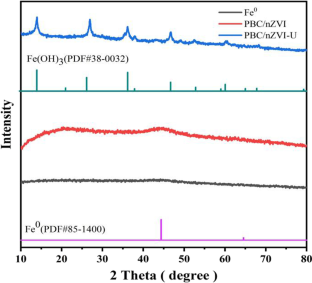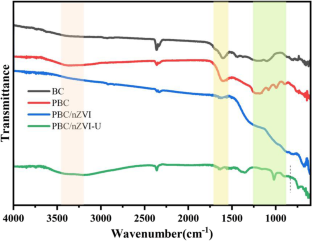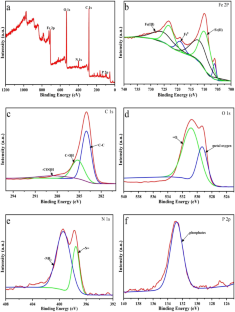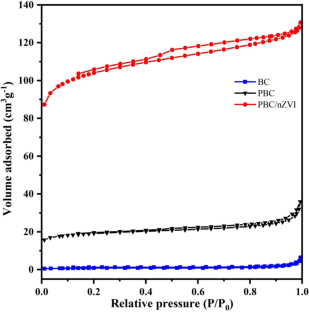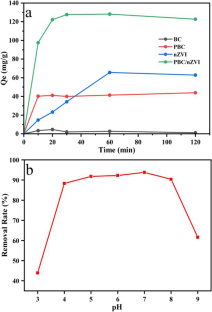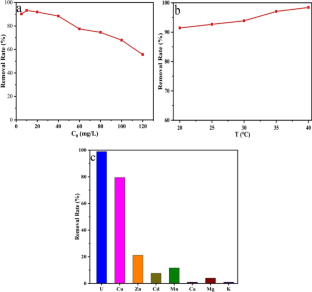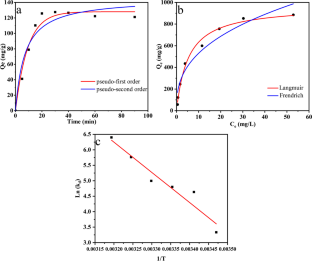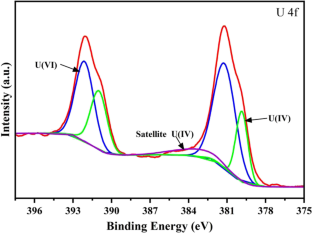 Data availability
All the data and materials applied in the study could be available from the corresponding author only on academic or other non-business requests.
References
Ahmed W, Mehmood S, Nunez-Delgado A, Ali S, Qaswar M, Khan ZH, Ying H, Chen DY (2021) Utilization of citrullus lanatus l. Seeds to synthesize a novel MnFe2O4-biochar adsorbent for the removal of U(VI) from wastewater: insights and comparison between modified and raw biochar. Sci Total Environ 771:144955

Ahmed W, Mehmood S, Qaswar M, Ali S, Khan ZH, Ying H, Chen DY, Nunez-Delgado A (2021) A. Nunez-Delgado, Oxidized biochar obtained from rice straw as adsorbent to remove uranium (VI) from aqueous solutions. J Environ Chem Eng 9(2):105104

Chen C, Zhang XW, Jiang TJ, Li M, Peng Y, Liu XD, Ye J, Hua YL (2021) Removal of uranium(VI) from aqueous solution by Mg(OH)2-coated nanoscale zero-valent iron: Reactivity and mechanism. J Environ Chem Eng 9(1):104706

Cheng YJ, Dong HR, Hao TW (2021) CaCO3 coated nanoscale zero-valent iron (nZVI) for the removal of chromium(VI)in aqueous solution. Sep Purif Technol 257:117967

Dai ZR, Zhen Y, Sun YS, Li L, Ding DX (2021) ZnFe2O4/g-C3N4 S-scheme photocatalyst with enhanced adsorption and photocatalytic activity for uranium(VI) removal. Chem Eng J 415:129002

Devi P, Kothari P, Dalai AK (2020) Stabilization and solidification of arsenic and iron contaminated canola meal biochar using chemically modified phosphate binders. J Hazard Mater 385:121559

Ding L, Tan WF, Xie SB, Mumford K, Lv JW, Wang HQ, Fang Q, Zhang XW, Wu XY, Li M (2018) Uranium adsorption and subsequent re-oxidation under aerobic conditions by leifsonia sp - coated biochar as green trapping agent. Environ Pollut 242:778–787

Dutta DP, Nath S (2018) Low cost synthesis of SiO2/C nanocomposite from corn cobs and its adsorption of uranium (VI), chromium (VI) and cationic dyes from wastewater. J Mol Liq 269:140–151

Fan YH, Wang H, Deng LY, Wang Y, Kang D, Li CZ, Chen H (2020) Enhanced adsorption of pb(II) by nitrogen and phosphorus co-doped biochar derived from camellia oleifera shells. Environ Res 191:110030

Fu MT, Ao JX, Ma L, Kong DX, Qi SM, Zhang P, Xu G, Wu MH, Ma HJ (2022) Uranium removal from waste water of the tailings with functional recycled plastic membrane. Sep Purif Technol 287:120572

Guilhen SN, Mašek O, Ortiz N, Izidoro JC, Fungaro DA (2019) Pyrolytic temperature evaluation of macauba biochar for uranium adsorption from aqueous solutions. Biomass Bioenergy 122:381–390

Guo XJ, Chen RR, Liu Q, Liu JY, Zhang HS, Yu J, Li RM, Zhang ML, Wang J (2018) Superhydrophilic phosphate and amide functionalized magnetic adsorbent: a new combination of anti-biofouling and uranium extraction from seawater. Environ Sci Nano 5(10):2346–2356

Hu R, Xiao J, Wang TH, Chen GC, Chen L, Tian XY (2020) Engineering of phosphate-functionalized biochars with highly developed surface area and porosity for efficient and selective extraction of uranium. Chem Eng J 379:122388

Hua Y, Wang W, Hu N, Gu TH, Ling L, Zhang WX (2021) Enrichment of uranium from wastewater with nanoscale zero-valent iron (nZVI). Environ Sci: Nano 8(3):666–674

Li F, Yu XY, Fang HS, Zong RW (2021) Influence of polymerization degree on the dynamic interfacial properties and foaming ability of ammonium polyphosphate (APP)-surfactant mixtures. J Mol Liq 335:116175

Li HL, Li Y, Zhou YZ, Li BL, Liu DB, Liao HY (2019a) Efficient removal of uranium using a melamineitrimesic acid-modified hydrothermal carbon-based supramolecular organic framework. J Colloid Interface Sci 544:14–24

Li J, Fana MJ, Li M, Liu X (2020) Cr(VI) removal from groundwater using double surfactant-modified nanoscale zero-valent iron (nZVI): effects of materials in different status. Sci Total Environ 717:137112

Li N, Yin ML, Tsang DCW, Yang ST, Liu J, Li X, Song G, Wang J (2019b) Mechanisms of U(VI) removal by biochar derived from ficus microcarpa aerial root: a comparison between raw and modified biochar. Sci Total Environ 697:134115

Li S, Tang JC, Yu C, Liu QL, Wang L (2022a) Efficient degradation of anthracene in soil by carbon-coated nzvi activated persulfate. J Hazard Mater 431:128581

Li TL, Gao CL, Wang W, Teng YX, Li X, Wang HT (2022b) Strong influence of degree of substitution on carboxymethyl cellulose stabilized sulfidated nanoscale zero-valent iron. J Hazard Mater 425:128057

Li ZY, Zhu RM, Zhang PL, Yang M, Zhao RQ, Wang YL, Dai X, Liu W (2022c) Functionalized polyarylether-based cofs for rapid and selective extraction of uranium from aqueous solution. Chem Eng J 434:134623

Liao H, Zhu WK, Duan T, Zhang YD, He GQ, Wei YX, Zhou J (2021) Beaded segments like bi-metallic nano-zero-valent iron-titanium for the fast and efficient adsorption and reduction of U(VI) in aqueous solutions. Colloids Surf A Physicochem Eng Aspects 613:126080

Liu SC, Wu MB, Ye H, Liu L, Ma LL, Yao JM (2021a) Amidoximated cellulose microspheres synthesized via homogenous reactions for high-performance extraction of uranium from seawater. Chem Eng J 426:131378

Liu T, Zhang XB, Wang H, Chen MW, Yuan YH, Zhang RQ, Xie ZJ, Liu YJ, Zhang HQ, Wang N (2021b) Photothermal enhancement of uranium capture from seawater by monolithic mof-bonded carbon sponge. Chem Eng J 412(9):128700

Lu W, Dai ZR, Li L, Liu JQ, Wang SP, Yang HX, Cao C, Liu L, Chen T, Zhu BY, Sun L, Chen L, Li HQ, Zhang P (2020) Preparation of composite hydrogel (PCG) and its adsorption performance for uranium (VI). J Mol Liq 303:112604

Lu Z, Zhang H, Shahab A, Zhang K, Zeng HT, Bacha AUR, Nabi I, Ullah H (2021) Comparative study on characterization and adsorption properties of phosphoric acid activated biochar and nitrogen-containing modified biochar employing eucalyptus as a precursor. J Clean Prod 303:127046

Ran GW, Liu XD, Guo J, Sun J, Li HF, Gu XY, Zhang S (2019) Improving the flame retardancy and water resistance of polylactic acid by introducing polyborosiloxane microencapsulated ammonium polyphosphate. Compos Part B Eng 173:106772

Ruan Y, Zhang HM, Yu ZJ, Diao ZH, Song G, Su MH, Hou LA, Chen DY, Wang S, Kong LJ (2022) Phosphate enhanced uranium stable immobilization on biochar supported nano zero valent iron. J Hazard Mater 424:127119

Sun YB, Zhang HY, Yuan N, Ge YL, Dai Y, Yang Z, Lu L (2021) Phosphorylated biomass-derived porous carbon material for efficient removal of U(VI) in wastewater. J Hazard Mater 413:125282

Sun YW, Zeng BY, Dai YT, Liang XJ, Zhang LJ, Ahmad R, Su XT (2022) Modification of sludge-based biochar using air roasting-oxidation and its performance in adsorption of uranium(VI) from aqueous solutions. J Colloid Interface Sci 614:547–555

Tang HP, Cheng WC, Yi YP, Ding CC, Nie XQ (2021) Nano zero valent iron encapsulated in graphene oxide for reducing uranium. Chemosphere 278:130229

Tian Y, Liu LJ, Ma FQ, Zhu XY, Dong HX, Zhang CH, Zhao FB (2021) Synthesis of phosphorylated hyper-cross-linked polymers and their efficient uranium adsorption in water. J Hazard Mater 419:126538

Wang BL, Li YY, Zheng JL, Hu YW, Wang XJ, Hu BW (2020) Efficient removal of U(VI) from aqueous solutions using the magnetic biochar derived from the biomass of a bloom-forming cyanobacterium (Microcystis aeruginosa). Chemosphere 254:126898

Wang D, Xu YB, Xiao DF, Qiao QG, Yin P, Yang ZL, Li JX, Winchester W, Wang Z, Hayat T (2019a) Ultra-thin iron phosphate nanosheets for high efficient U(VI) adsorption. J Hazard Mater 371:83–93

Wang FH, Xu X, Xia YP, Dong BB, Ke NW, Hao LY, Bi L, Xu X, Liu W (2021) A novel CO2-tolerant Ba0.5Sr0.5Co0.8Fe0.1Ta0.1O3-δ cathode with high performance for proton-conducting solid oxide fuel cells. Int J Hydrogen Energ 46(67):33561–33571

Wang SS, Zhao MY, Zhou M, Li YC, Wang J, Gao B, Sato S, Feng K, Yin WQ, Igalavithana AD, Oleszczuk P, Wang XZ, Ok YS (2019b) Biochar-supported nZVI (nZVI/BC) for contaminant removal from soil and water: a critical review. J Hazard Mater 373:820–834

Wen JX, Fu WY, Ding SH, Zhang Y, Wang W (2022) Pyrogallic acid modified nanoscale zero-valent iron efficiently removed Cr(VI) by improving adsorption and electron selectivity. Chem Eng J 443:136510

Wu S, Liu YH, Wang C, Dai HL, Wang XF, Bi L (2021) Cobalt-free LaNi0.4Zn0.1Fe0.5O3-δ as a cathode for solid oxide fuel cells using proton-conducting electrolyt. Int J Hydrogen Energ 46(77):38482–38489

Yang JW, Ji GZ, Gao Y, Fu W, Irfan M, Mu L, Zhang YL, Li AM (2020) High-yield and high-performance porous biochar produced from pyrolysis of peanut shell with low-dose ammonium polyphosphate for chloramphenicol adsorption. J Clean Prod 2264:121516

Yang PP, Zhang HS, Liu Q, Liu JY, Chen RR, Yu J, Hou JD, Bai XF, Wang J (2019) Nano-sized architectural design of multi-activity graphene oxide (GO) by chemical post-decoration for efficient uranium(VI) extraction. J Hazard Mater 375:320–329

Ye Z, Xu N, Li D, Qian JC, Du CS, Chen M (2021) Vitamin C mediates the activation of green tea extract to modify nanozero-valent iron composites: enhanced transport in heterogeneous porous media and the removal of hexavalent chromium. J Hazard Mater 411:125042

Zhang DW, Zhang KJ, Hu XL, He QQ, Yan JP, Xue YW (2021a) Cadmium removal by MgCl2 modified biochar derived from crayfish shell waste: batch adsorption, response surface analysis and fixed bed filtration. J Hazard Mater 408:124860

Zhang J, Chen Y, Song X, Liu YD, Zhao JH, Wang FY (2022a) Synergistic adsorption and degradation of diclofenac by zero-valent iron modified spent bleaching earth carbon: Mechanism and toxicity assessment. J Hazard Mater 432:128753

Zhang WH, Han X, You J, Zhang XF, Pei DF, Willfor S, Li MJ, Xu CL, Li CX (2022b) Rapid and manual-shaking exfoliation of amidoximated cellulose nanofibrils for a large-capacity filtration capture of uranium. J Mater Chem a 10(14):7920–7927

Zhang Q, Wang YY, Wang Z, Zhang ZJ, Wang XD, Yang ZL (2021b) Active biochar support nano zero-valent iron for efficient removal of U(VI) from sewage water. J Alloys Compd 852:156993

Zhao L, Wang SY, Zhuang HH, Lu B, Sun LN, Wang G, Qiu JS (2022) Facile synthesis of low-cost mnpo4 with hollow grape-like clusters for rapid removal uranium from wastewater. J Hazard Mater 434:128894

Zhao X, Liu W, Cai ZQ, Han B, Qian TW, Zhao DY (2016) An overview of preparation and applications of stabilized zero-valent iron nanoparticles for soil and groundwater remediation. Water Res 100:245–266

Zhou L, Li Z, Yi YQ, Tsang EP, Fang Z (2022) Increasing the electron selectivity of nanoscale zero-valent iron in environmental remediation: a review. J Hazard Mater 421:126709

Zhou YB, Xiao J, Hu R, Wang TH, Shao XL, Chen GC, Chen L, Tian XY (2020) Engineered phosphorous-functionalized biochar with enhanced porosity using phytic acid-assisted ball milling for efficient and selective uptake of aquatic uranium. J Mol Liq 303:112659
Funding
This work was supported by the National Natural Science Foundation of China (12175103), the Key R&D Program of Hunan Province (2018SK2029), the Hunan Provincial Natural Science Foundation for Excellent Young Scholars (2020JJ3028), the Scientifc Research Fund of Hunan Provincial Education Department (21A0259), and the Fund of Hengyang Key Laboratory (202150083891).
Ethics declarations
Ethics approval
Not applicable.
Consent to participate
Not applicable.
Consent for publication
All authors consent when it is submitted.
Competing interests
The authors declare no competing interests.
Additional information
Responsible Editor: Tito Roberto Cadaval Jr
Publisher's note
Springer Nature remains neutral with regard to jurisdictional claims in published maps and institutional affiliations.
Supplementary Information
Below is the link to the electronic supplementary material.
Rights and permissions
Springer Nature or its licensor (e.g. a society or other partner) holds exclusive rights to this article under a publishing agreement with the author(s) or other rightsholder(s); author self-archiving of the accepted manuscript version of this article is solely governed by the terms of such publishing agreement and applicable law.
About this article
Cite this article
Tang, Z., Dai, Z., Gong, M. et al. Efficient removal of uranium(VI) from aqueous solution by a novel phosphate-modified biochar supporting zero-valent iron composite. Environ Sci Pollut Res (2023). https://doi.org/10.1007/s11356-022-25124-9
Received:

Accepted:

Published:

DOI: https://doi.org/10.1007/s11356-022-25124-9
Keywords
Uranium

Biochar

nZVI

Adsorption

Reduction