Abstract
In this study, the corrosion behavior of Q235 carbon steel (CS) under a Bacillus cereus (B. cereus) inoculum in simulated cooling water was evaluated. The weight loss study proved B. cereus inoculum possessed anticorrosion efficiencies of 92.84% and 73.88% for 3-day and 14-day rotation tests, respectively. The electrochemical measurements indicated that the added B. cereus inoculum increased the charge transfer resistance and reduced corrosion current density. B. cereus cells with strong biofilm-forming capacity were able to adhere onto the Q235 CS surface to form compact biofilms and cause biomineralization. Surface characterization analysis demonstrated that the presence of the B. cereus inoculum reduced the amount of Fe2O3 and simultaneously increased the amount of CaCO3 in corrosion products. The corrosion inhibition mechanisms of the B. cereus inoculum involve forming biofilm, generating a biomineralized layer, and consuming dissolved oxygen. Thus, B. cereus inoculum provides a biological strategy for industrial cooling water anticorrosion application.
Access options
Buy single article
Instant access to the full article PDF.
USD 39.95
Price excludes VAT (USA)
Tax calculation will be finalised during checkout.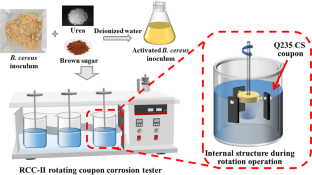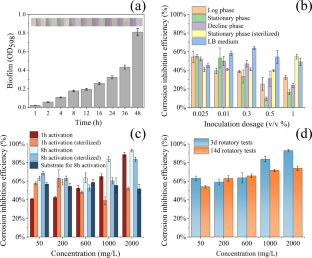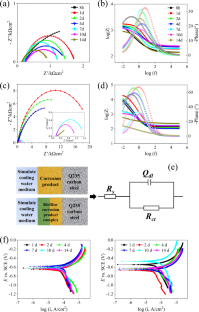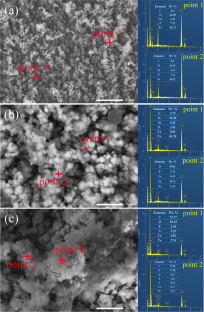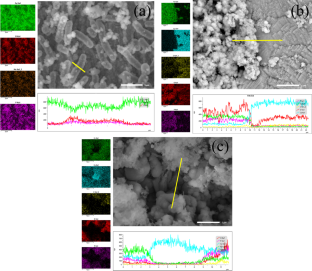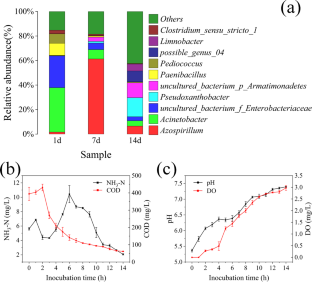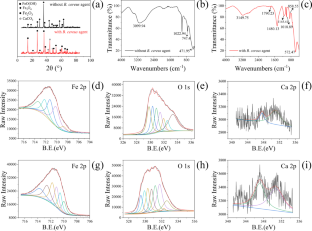 Data availability
The datasets used and/or analyzed during the current study are available from the corresponding author upon reasonable request.
References
Aïmeur N, Houali K, Hamadou L, Benbrahim N, Kadri A (2015) Influence of strain Bacillus cereus bacterium on corrosion behaviour of carbon steel in natural sea water. Corros Eng Sci Technol 50(8):579–588

Amelie P, And S, Kjelleberg A, Malte H (1988) A screening method for bacterial corrosion of metals. J Microbiol Meth 8(4):191–198

Chaudhry A, Bashir F, Adil SF, Saif S, Shaik MR, Hatshan MR, Shaik B (2022) Ascorbic acid-mediated Fe/Cu nanoparticles and their application for removal of COD and phenols from industrial wastewater. J King Saud Univ Sci 34(4):101927

Dong YQ, Li JQ, Xu DK, Song GL, Liu D, Wang HP, Khan MS, Yang K, Wang FH (2021) Investigation of microbial corrosion inhibition of Cu-bearing 316L stainless steel in the presence of acid producing bacterium Acidithiobacillus caldus SM-1. J Mater Sci Technol 64:176–186

Duan J, Wu S, Zhang X, Huang G, Du M, Hou B (2008) Corrosion of carbon steel influenced by anaerobic biofilm in natural seawater. Electrochim Acta 54(1):22–28

Gao Y, Feng D, Moradi M, Yang C, Jin Y, Liu D, Xu D, Chen X, Wang F (2021) Inhibiting corrosion of aluminum alloy 5083 through Vibrio species biofilm. Corros Sci 180:109188

Ghafari MD, Bahrami A, Rasooli I, Arabian D, Ghafari F (2013) Bacterial exopolymeric inhibition of carbon steel corrosion. Int Biodeter Biodegr 80:29–33

Giorgi-Pérez AM, Arboleda-Ordoñez AM, Villamizar-Suárez W, Cardeñosa-Mendoza M, Jaimes-Prada R, Rincón-Orozco B, Niño-Gómez ME (2021) Biofilm formation and its effects on microbiologically influenced corrosion of carbon steel in oilfield injection water via electrochemical techniques and scanning electron microscopy. Bioelectrochemistry 141:107868

Guo N, Wang Y, Hui X, Zhao Q, Zeng Z, Pan S, Guo Z, Yin Y, Liu T (2021) Marine bacteria inhibit corrosion of steel via synergistic biomineralization. J Mater Sci Technol 66:82–90

Hlordzi V, Kuebutornye FKA, Afriyie G, Abarike ED, Lu Y, Chi S, Anokyewaa MA (2020) The use of Bacillus species in maintenance of water quality in aquaculture: a review. Aquac Rep 18:100503

Hu Y, Chen C, Liu S (2022a) State of art bio-materials as scale inhibitors in recirculating cooling water system: a review article. Water Sci Technol 85(5):1500–1521

Hu YL, Chen CM, Liu ST (2022b) Evaluation of microbial agents as corrosion and scale inhibitor for industrial cooling water applications. Water Sci Technol 85(6):1904–1919

Jasinski R (1988) FTIR measurements of iron oxides on low alloy steel. J Electrochem Soc 135(3):551–556

Khan MS, Yang C, Zhao Y, Pan H, Zhao J, Shahzad MB, Kolawole SK, Ullah I, Yang K (2020) An induced corrosion inhibition of X80 steel by using marine bacterium Marinobacter salsuginis. Colloids Surf, B 189:110858

Lekbach Y, Li Z, Xu D, El Abed S, Dong Y, Liu D, Gu T, Koraichi SI, Yang K, Wang F (2019) Salvia officinalis extract mitigates the microbiologically influenced corrosion of 304L stainless steel by Pseudomonas aeruginosa biofilm. Bioelectrochemistry 128:193–203

Li S, Li L, Qu Q, Kang Y, Zhu B, Yu D, Huang R (2019a) Extracellular electron transfer of Bacillus cereus biofilm and its effect on the corrosion behaviour of 316L stainless steel. Colloids Surf, B 173:139–147

Li S, Qu Q, Li L, Xia K, Li Y, Zhu T (2019b) Bacillus cereus s-EPS as a dual bio-functional corrosion and scale inhibitor in artificial seawater. Water Res 166:115094

Liu F, Lu X, Yang W, Lu J, Zhong H, Chang X, Zhao C (2013) Optimizations of inhibitors compounding and applied conditions in simulated circulating cooling water system. Desalination 313:18–27

Liu H, Gu T, Asif M, Zhang G, Liu H (2017a) The corrosion behavior and mechanism of carbon steel induced by extracellular polymeric substances of iron-oxidizing bacteria. Corros Sci 114:102–111

Liu T, Cheng YF, Sharma M, Voordouw G (2017b) Effect of fluid flow on biofilm formation and microbiologically influenced corrosion of pipelines in oilfield produced water. J Petrol Sci Eng 156:451–459

Liu B, Sun M, Lu F, Du C, Li X (2021) Study of biofilm-influenced corrosion on X80 pipeline steel by a nitrate-reducing bacterium, Bacillus cereus, in artificial Beijing soil. Colloids Surf, B 197:111356

Mansfeld F (2007) The interaction of bacteria and metal surfaces. Electrochim Acta 52(27):7670–7680

Maurya A, Kumar PS, Raj A (2022) Characterization of biofilm formation and reduction of hexavalent chromium by bacteria isolated from tannery sludge. Chemosphere 286:131795

Moradi M, Song Z, Tao X (2015) Introducing a novel bacterium, Vibrio neocaledonicus sp., with the highest corrosion inhibition efficiency. Electrochem Commun 51:64–68

Ni M, Ratner BD (2008) Differentiating calcium carbonate polymorphs by surface analysis techniques-an XPS and TOF-SIMS study. Surf Interface Anal 40(10):1356–1361

Qu Q, He Y, Wang L, Xu H, Li L, Chen Y, Ding Z (2015) Corrosion behavior of cold rolled steel in artificial seawater in the presence of Bacillus subtilis C2. Corros Sci 91:321–329

Qu Q, Li S, Li L, Zuo L, Ran X, Qu Y, Zhu B (2017) Adsorption and corrosion behaviour of Trichoderma harzianum for AZ31B magnesium alloy in artificial seawater. Corros Sci 118:12–23

Santos VHJM, Pontin D, Ponzi GGD, Stepanha ASDG, Martel RB, Schütz MK, Einloft SMO, DallaVecchia F (2021) Application of Fourier transform infrared spectroscopy (FTIR) coupled with multivariate regression for calcium carbonate (CaCO3) quantification in cement. Constr Build Mater 313:125413

Shen Y, Dong Y, Yang Y, Li Q, Zhu H, Zhang W, Dong L, Yin Y (2020) Study of pitting corrosion inhibition effect on aluminum alloy in seawater by biomineralized film. Bioelectrochemistry 132:107408

Steenhoudt O, Vanderleyden J (2000) Azospirillum, a free-living nitrogen-fixing bacterium closely associated with grasses: genetic, biochemical and ecological aspects. Fems Microbiol Rev 24(4):487–506

Suma MS, Basheer R, Sreelekshmy BR, Vipinlal V, Sha MA, Jineesh P, Krishnan A, Archana SR, Saji VS, Shibli SMA (2019) Pseudomonas putida RSS biopassivation of mild steel for long term corrosion inhibition. Int Biodeter Biodegr 137:59–67

Videla HA, Herrera LK (2009) Understanding microbial inhibition of corrosion A comprehensive overview. Int Biodeter Biodegr 63(7):896–900

Wada N, Horiuchi N, Nakamura M, Nozaki K, Nagai A, Yamashita K (2018) Calcite crystallization on polarized single calcite crystal substrates in the presence of poly-lysine. Cryst Growth Des 18(2):872–878

Wikieł AJ, Datsenko I, Vera M, Sand W (2014) Impact of Desulfovibrio alaskensis biofilms on corrosion behaviour of carbon steel in marine environment. Bioelectrochemistry 97:52–60

Wu J, Zhang D, Wang P, Cheng Y, Sun S, Sun Y, Chen S (2016) The influence of Desulfovibrio sp. and Pseudoalteromonas sp. on the corrosion of Q235 carbon steel in natural seawater. Corros Sci 112:552–562

Xiao L, Hao J, Wang W, Lian B, Shang G, Yang Y, Liu C, Wang S (2014) The up-regulation of carbonic anhydrase genes of Bacillus mucilaginosus under soluble Ca2+ deficiency and the heterologously expressed enzyme promotes calcite dissolution. Geomicrobiol J 31(7):632–641

Xu S, Xing Y, Liu S, Luo X, Chen W, Huang Q (2020) Co-effect of minerals and Cd(II) promoted the formation of bacterial biofilm and consequently enhanced the sorption of Cd(II). Environ Pollut 258:113774

Yaseen SA, Yiseen GA, Li Z (2019) Elucidation of calcite structure of calcium carbonate formation based on hydrated cement mixed with graphene oxide and reduced graphene oxide. ACS Omega 4(6):10160–10170

Zhao H, Sun Y, Yin L, Yuan Z, Lan Y, Xu D, Yang C, Yang K (2021) Improved corrosion resistance and biofilm inhibition ability of copper-bearing 304 stainless steel against oral microaerobic Streptococcus mutans. J Mater Sci Technol 66:112–120

Zhuang D, Yan H, Tucker ME, Zhao H, Han Z, Zhao Y, Sun B, Li D, Pan J, Zhao Y, Meng R, Shan G, Zhang X, Tang R (2018) Calcite precipitation induced by Bacillus cereus MRR2 cultured at different Ca2+ concentrations: further insights into biotic and abiotic calcite. Chem Geol 500:64–87
Ethics declarations
Ethics approval and consent to participate.
Additional informed consent was obtained from all individual participants for whom identifying information is included in this article.
Consent for publication
All the authors have read and approved this manuscript and take responsibility for its contents. The participant has consented to the submission of the manuscript to the journal.
Competing interests
The authors declare no competing interests.
Additional information
Responsible Editor: Diane Purchase
Publisher's note
Springer Nature remains neutral with regard to jurisdictional claims in published maps and institutional affiliations.
Supplementary Information
Below is the link to the electronic supplementary material.
Rights and permissions
Springer Nature or its licensor (e.g. a society or other partner) holds exclusive rights to this article under a publishing agreement with the author(s) or other rightsholder(s); author self-archiving of the accepted manuscript version of this article is solely governed by the terms of such publishing agreement and applicable law.
About this article
Cite this article
Hu, Y., Chen, C., Liu, S. et al. Biofilm-induced corrosion inhibition of Q235 carbon steel by anaerobic Bacillus cereus inoculum in simulated cooling water. Environ Sci Pollut Res 30, 20833–20848 (2023). https://doi.org/10.1007/s11356-022-23561-0
Received:

Accepted:

Published:

Issue Date:

DOI: https://doi.org/10.1007/s11356-022-23561-0
Keywords
Corrosion inhibition

Carbon steel

Biofilm

Biomineralization

Cooling water