Abstract
Drought is a complex hazard caused by the disruption of rainwater balance, and it always has an impact on ecological, farming and socio-economic. In order to protect farming land in Pakistan, effective and timely drought monitoring is extremely essential. Therefore, a regular drought monitoring is required to study drought severity, its duration and spread, to ensure effective planning and to help reduce their possible adverse impacts. In this study, multi-satellite data were used for reliable drought monitoring. For monitoring changing trend of drought in Pakistan, the NVSWI, DSI, VCI, and NAP indices were chosen as a tool incorporated with Moderate Resolution Imaging Spectroradiometer (MODIS)-based NDVI and ET/PET. Due to the low vegetation and significantly high changing trend of drought, NDVI, DSI and TVDI are useful to characterize drought frequency in Pakistan. The yearly DSI index shows that Pakistan suffered of drought with low vegetation during 2001, 2002 and 2006 study years. The seasonal DSI, VCI, NAP, NDVI, and NVSWI values confirmed that 2001, 2002 and 2006 led to severe drought years in Pakistan. The regression analysis between VHI, VCI, NDVI and NVSWI values are significantly positively correlated. The NAP, DSI, and NVSWI showed the positive signs for good drought monitoring indices for agricultural regions of Pakistan. The trend of drought change from 2001 to 2017 also showed characteristics. The results showed that from 2001 to 2017, the drought trend of the whole region changed obviously, and the overall drought frequency showed a downward trend. The good performance of DSI, and NVSWI could, explicitly, contribute progressively towards improving specific drought mitigation strategies and disaster risk reduction at regional and national levels.
Access options
Buy single article
Instant access to the full article PDF.
USD 39.95
Price excludes VAT (USA)
Tax calculation will be finalised during checkout.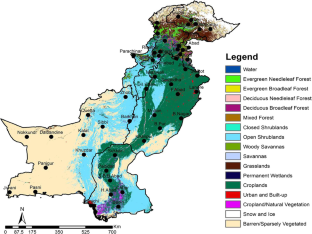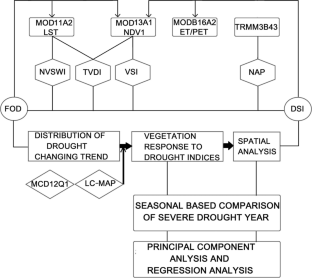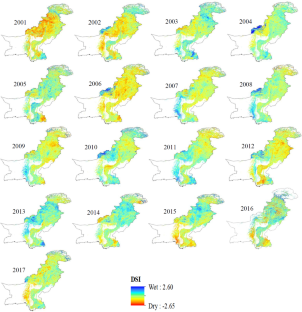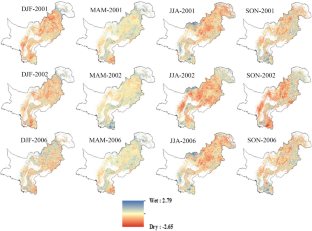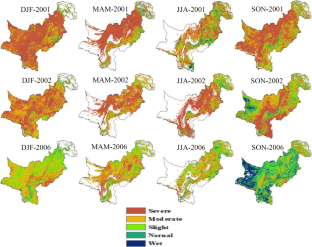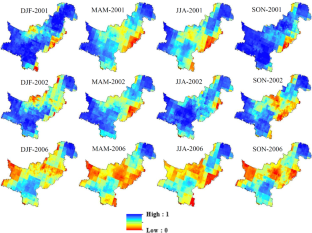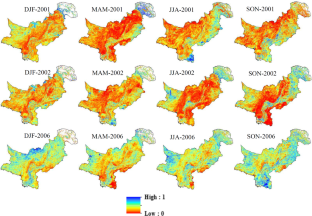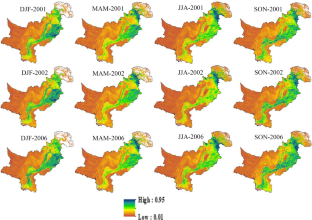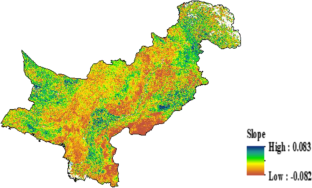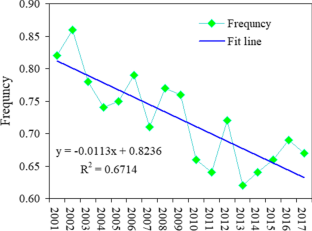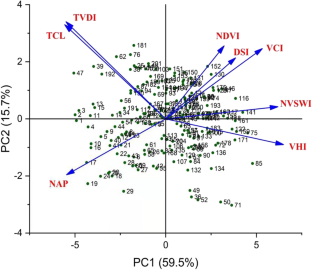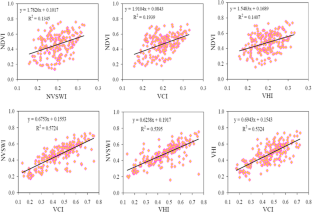 Data availability
The availability of data and materials on the base of personal request.
References
Abbas S, Nichol JE, Qamer FM, Xu J (2014) Characterization of drought development through remote sensing: a case study in Central Yunnan China. Remote Sens 6(6):4998–5018

Abuzar MK, Shafiq M, Mahmood SA, Irfan M, Khalil T, Khubaib N et al (2019) Drought risk assessment in the khushab region of Pakistan using satellite remote sensing and geospatial methods. Int J Econ Environ Geol 10:48–56

Adnan S, Ullah K, Shuanglin L, Gao S, Khan AH, Mahmood R (2018a) Comparison of various drought indices to monitor drought status in Pakistan. Clim Dyn 51:1885–1899. https://doi.org/10.1007/s00382-017-3987-0

Adnan S, Ullah K, Shuanglin L, Gao S, Khan AH, Mahmood R (2018b) Comparison of various drought indices to monitor drought status in Pakistan. Clim Dynam 51:1885–1899

Ain NU, Latif M, Ullah K, Adnan S, Ahmed R, Umar M, Azam M (2019) Investigation of seasonal droughts and related large-scale atmospheric dynamics over the Potwar Plateau of Pakistan. Theor Appl Climatol 140:69–89

Ainuddin S, Aldrich DP, Routray JK, Ainuddin S, Achkazai A (2013) The need for local involvement: Decentralization of disaster management institutions in Baluchistan Pakistan. Int J Disas Risk Reduct 6:50–58

Ali S, Deming T, Zhen TX, Malak H, Kalisa W, Shi S, Jiahua Z (2019) Characterization of drought monitoring events through MODIS and TRMM-based DSI and TVDI over South Asia during 2001–2017. Environ Sci Pollut Res. https://doi.org/10.1007/s11356-019-06500-4

Aljerf L (2017) Biodiversity is Key for more variety for better society. Biodiversity Int J 1(1):4–6. https://doi.org/10.15406/bij.2017.01.00002

Ashraf M (2016) Managing water scarcity in Pakistan: Moving beyond rhetoric. Proceedings of AASSA-PAS Regional Workshop on Challenges in Water Security to Meet the Growing Food Requirement. Pakistan Academy of Sciences, Islamabad, pp. 3–14

Chen C, Zhao S (2016) Drought monitoring and analysis of Huanghuai Hai plain based on TRMM precipitation data. Remote Sens Land Resour 28(1):122–129

Chen C, Zhao S, Duan Z, Qin Z (2015) An improved spatial downscaling procedure for TRMM 3B43 precipitation product using geographically weighted regression. Sel Top Appl Earth Obs Remote Sens IEEE J 8(9):4592–4604

Crow WT, Miralles DG, Cosh MH (2010) A quasi-global evaluation system for satellite based surface soil moisture retrievals. IEEE Trans Geosci Remote Sens 48(6):2516–2527

Dai A (2011) Drought under global warming: a review. Wiley Interdiscip Rev Clim Change 2:45–65

Dhorde AG, Patel NR (2016) Spatio-temporal variation in terminal drought over western India using dryness index derived from long-term MODIS data. Eco Inform 32:28–38

Duan Z, Bastiaanssen WGM, Liu J (2012) Monthly and annual validation of TRMM Mulitisatellite Precipitation Analysis (TMPA) products in the Caspian Sea Region for the period 1999–2003. Geoscience and Remote Sensing Symposium (IGARSS), 2012 IEEE International. IEEE, pp. 3696–3699

Enenkel M, Steiner C, Mistelbauer T, Dorigo W, Wagner W, See L et al (2016) A combined satellite-derived drought indicator to support humanitarian aid organizations. Rem Sens 8:340

Gao J, Li F, Gao H, Zhou C, Zhang X (2017) The impact of land-use change on water-related ecosystem services: a study of the Guishui River Basin, Beijing, China. J Clean Prod 163:S148–S155. https://doi.org/10.1016/j.jclepro.2016.01.049

Guo Y, Huang S, Huang Q, Wang H, Fang W, Yang Y, Wang L (2019) Assessing socioeconomic drought based on an improved multivariate standardized reliability and resilience index. J Hydrol 568:904–918

Hanif M, Khan AH, Adnan S (2013) Latitudinal precipitation characteristics and trends in Pakistan. J Hydrol 492:266–272

Haque M, Basak R (2017) Land cover change detection using GIS and remote sensing techniques: A spatiotemporal study on Tanguar Haor, Sunamganj, Bangladesh. Egyptian J Remote Sens Space Sci 20(2). https://doi.org/10.1016/j.ejrs.2016.12.003

Hou J, Du L, Liu K et al (2018) Characteristics of vegetation activity and its responses to climate change in desert/grassland biome transition zones in the last 30 years based on GIMMS3g. Theor Appl Climatol /. https://doi.org/10.1007/s00704-018-2527-0

Huang S, Huang Q, Leng G, Liu S (2016) A nonparametric multivariate standardized drought index for characterizing socioeconomic drought: a case study in the Heihe River Basin. J Hydrol 542:875–883

IPCC (2014) Climate Change (2014) Impacts, adaptation, and vulnerability. Part A: global and sectoral aspects. Contribution of Working Group II to the Fifth Assessment Report of the Intergovernmental Panel on Climate Change [J]. Guangdong Agricultural Sciences. https://doi.org/10.1017/CBO9781107415379

Jackson TJ, Cosh MH, Bindlish R, Starks PJ, Bosch DD, Seyfried M, Du J (2010) Validation of advanced microwave scanning radiometer soil moisture products. IEEE Trans Geosci Remote Sens 48(12):4256–4272

Jain VK, Pandey RP, Jain MK, Byun H-R (2015) Comparison of drought indices for appraisal of drought characteristics in the Ken River Basin. Weather Clim Extrem 8:1–11

Jain SK, Keshri R, Goswami A, Sarkar A, Chaudhry A (2009) Identification of drought-vulnerable areas using NOAA AVHRR data. Int J Remote Sens 30(10):2653–2668

Khan AN, Khan SN (2015) Drought risk and reduction approaches in Pakistan. Disaster Risk Reduction Approaches in Pakistan. Springer, Tokyo, pp 131–143

Kogan FN (1998) A typical pattern of vegetation conditions in southern Africa during El Nino years detected from AVHRR data using threechannel numerical index. Int J Remote Sens 19:3688–3694

Latif M, Hannachi A, Syed FS (2018) Analysis of rainfall trends over Indo-Pakistan summer monsoon and related dynamics based on CMIP5 climate model simulations. Int J Climatol 38:e577–e595

Leng G, Tang Q, Rayburg S (2015) Climate change impacts on meteorological, agricultural and hydrological droughts in China. Global Planet Change 126:23–34

Lin Y, Qiu R, Yao J, Hu X, Lin J (2019) The effects of urbanization on China's forest loss from 2000 to 2012: Evidence from a panel analysis. J Clean Prod 214:270–278. https://doi.org/10.1016/j.jclepro.2018.12.317

Liu XH, Zhang JH, Xu XH (2015) Drought monitoring in Xinjiang by using MODIS-TVDI. Remote Sens Infor 30(02):111–115

Luo XZ, Chen XQ, Wang LX, Xu L, Tian YH (2014) Modeling and predicting spring land surface phenology of the deciduous broadleaf forest in northern China. Agric for Meteorol 198:33–41

Mu Q, Zhao M, Kimball JS, McDowell NG, Running SW (2013) A remotely sensed global terrestrial drought severity index. Bull Am Meteorol Soc 94:83–98

Qaiser G, Tariq S, Adnan S, Latif M (2021) Evaluation of a composite drought index to identify seasonal drought and its associated atmospheric dynamics in northern punjab, Pakistan. J Arid Environ 185:104332. https://doi.org/10.1016/j.jaridenv.2020.104332

Qin Z, Tang H, Li W, Zhang H, Zhao S, Wang Q (2014) Modelling impact of agrodrought on grain production in China. Int J Disaster Risk Reduct 7:109–121

Rajpoot PS, Kumar A (2019) Impact assessment of meteorological drought on rainfed agriculture using drought index and ndvi modeling: a case study of Tikamgarh district, M. P. India Appl Geomat 11:15–23

Rogelj J, Schaeffer M, Friedlingstein P, Gillett NP, Vuuren DP, Riahi K, ..., Knutti R (2016) Differences between carbon budget estimates unravelled. Nat Clim Change 6(3):245. https://doi.org/10.1038/nclimate2868

Rouse JW, Haas RH, Schell JA, Deering DW (1973) Monitoring vegetation systems in the Great Plains with ERTS. In: Third earth resources technology satellite symposium NASA SP-351, pp 309–317

Safdar U, Shahbaz B, Ali T, Ali S (2014) Impact of climate change on agriculture in North West Pakistan and adaptation strategies of farming community: a case study of Kaghan Valley. J Agric Res 52(4):03681157

Shao EY, Bing-Fang W (2010) Calculation of monthly precipitation anomaly percentage using web-serviced remote sensing data. Advanced computer control (ICACC), 2010 2nd international conference. vol 5. IEEE, pp 621–625

Song X, Li L, Fu G, Li J, Zhang A, Liu W, Zhang K (2014) Spatial– temporal variations of spring drought based on spring-composite index values for the Songnen plain Northeast China. Theor Appl Climatol 116(3–4):371–384

Tadesse T, Demisse GB, Zaitchik B, Dinku T (2014) Satellite-based hybrid drought monitoring tool for prediction of vegetation condition in Eastern Africa: a case study for Ethiopia. Water Resour Res 50:2176–2190

Tucker CJ, Justice CO, Prince SD (1986) Monitoring the grasslands of the Sahel 1984–1985. Int J Remote Sens 7(11):1571–1581

USDA (2011) Drought May Impact China's 2011 Winter Wheat Crop. http://www.pecad.fas.usda.gov/highlights/2011/01/China/. Accessed 15.01.12

Wang J, Price KP, Rich PM (2001) Spatial patterns of NDVI in response to precipitation and temperature in the central Great Plains. Inter J Remote Sens 22(18):3827–3844

Wang H, Lin H, Liu D (2014) Remotely sensed drought index and its responses to meteorological drought in Southwest China. Remote Sens Lett 5(5):413–422

Ward PS, Makhija S (2018) New modalities for managing drought risk in rainfed agriculture: evidence from a discrete choice experiment in Odisha, India, 107. World Development, pp 163–175

White WB, McKeon G, Syktus J (2003) Australian drought: the interference of multispectral global standing modes and travelling waves. Int J Climatol J Royal Meteorol Soc 23:631–662

Wu J, Zhou L, Mo X, Zhou H, Zhang J, Jia R (2015) Drought monitoring and analysis in China based on the integrated surface drought index (ISDI). Int J Appl Earth Obs Geoinf 41:23–33

Yao Y, Liang S, Qin Q, Wang K, Zhao S (2011) Monitoring global land surface drought based on a hybrid evapotranspiration model. Int J Appl Earth Obs Geoinf 13(3):447–457

Zargar A, Sadiq R, Naser B, Khan FI (2011) A review of drought indices. Environ Rev 19:333–349

Zhang J, Mu Q, Huang J (2016a) Assessing the remotely sensed drought severity index for agricultural drought monitoring and impact analysis in North China. Ecol Indic 63:296–330

Zhang Q, Gu X, Singh VP, Kong D, Chen X (2015) Spatiotemporal behavior of floods and droughts and their impacts on agriculture in China. Global Planet Change 131:63–72

Zhang Z, Xu W, Shi Z, Qin Q (2021) Establishment of a comprehensive drought monitoring index based on multisource remote sensing data and agricultural drought monitoring. IEEE J Sel Top Appl Earth Observ Remote Sens 14

Zhao AZ, Zhang AB, Lu CY, Wang DL, Wang HF, Liu HX (2018) Spatiotemporal variation of vegetation coverage before and after implementation of Grain for Green Program in Loess Plateau, China. Ecol Eng 104:13–22
Acknowledgements and Funding
This work was supported by the Key basic research project of China Postdoctoral Science Foundation Funding (2018M642614), and the Shandong Natural Science Youth Project (ZR2020QF281) of Shandong Province. We are also grateful to Zhang Jiahua, Abdul Basit and Malak Henchiri for help during research period.
Ethics declarations
Ethical approval
The manuscript was reviewed and ethical approved for publication by all authors.
Consent to participate
The manuscript was reviewed and consents to participate by all authors.
Consent to publish
The manuscript was reviewed and consents to publish by all authors.
Conflict of interest
The authors declare that they have no conflict of interest.
Additional information
Responsible Editor: Philippe Garrigues
Publisher's note
Springer Nature remains neutral with regard to jurisdictional claims in published maps and institutional affiliations.
Rights and permissions
Springer Nature or its licensor holds exclusive rights to this article under a publishing agreement with the author(s) or other rightsholder(s); author self-archiving of the accepted manuscript version of this article is solely governed by the terms of such publishing agreement and applicable law.
About this article
Cite this article
Ali, S., Basit, A., Ni, J. et al. Impact assessment of drought monitoring events and vegetation dynamics based on multi-satellite remote sensing data over Pakistan. Environ Sci Pollut Res 30, 12223–12234 (2023). https://doi.org/10.1007/s11356-022-22995-w
Received:

Accepted:

Published:

Issue Date:

DOI: https://doi.org/10.1007/s11356-022-22995-w
Keywords
Vegetative changing trends

Drought severity index

NVSWI

Principal component analysis

Pakistan